Nashville Voted To Give Poor People, Locals New Construction Jobs. But the State GOP Blocked It.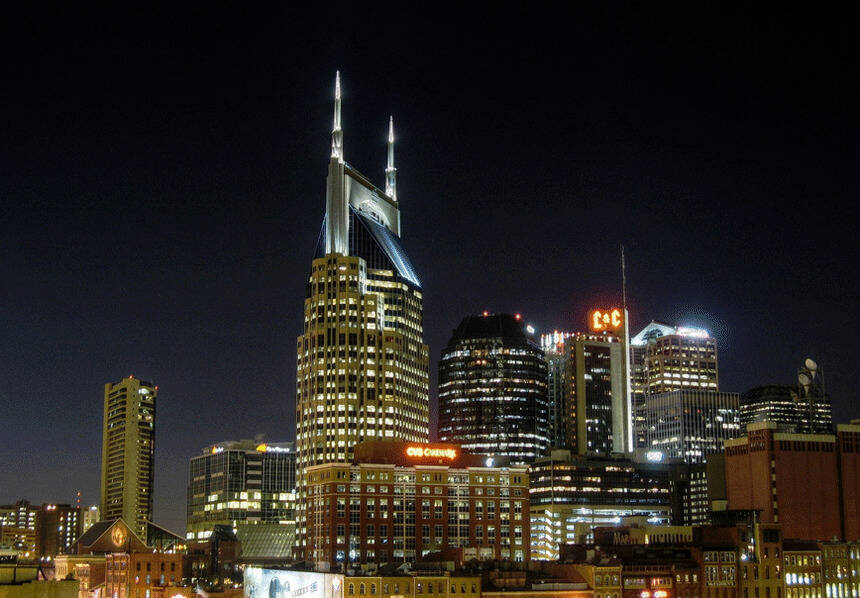 Last sum­mer, with the back­ing of region­al labor lead­ers and com­mu­ni­ty groups, the city of Nashville approved an ordi­nance requir­ing large, munic­i­pal­ly fund­ed con­struc­tion projects to devote 10 per­cent of their hir­ing to low-income res­i­dents. The bal­lot ini­tia­tive, which also stip­u­lat­ed that 40 per­cent of such hires should reside in Nashville's David­son Coun­ty, came amid an his­toric surge in build­ing projects in the city's down­town area.
Last year, the New York Times report­ed that more than $2 bil­lion worth of con­struc­tion projects that devel­op­ers have ini­ti­at­ed in the city are poised to reshape Nashville's sky­line. The local hire ordi­nance, known as Amend­ment 3, sought to make sure that the city's poor­est res­i­dents saw some ben­e­fit por­tions of the city's build­ing boom by lever­ag­ing the Nashville's government's con­tracts with pri­vate busi­ness­es in an attempt to reduce local pover­ty, which stands at near­ly 20 per­cent for adults and at rough­ly 30 per­cent for chil­dren in the Nashville area.
Yet with­in weeks of the ordi­nance pass­ing into law, Repub­li­cans in the state leg­is­la­ture intro­duced a bill to roll back Nashville's new law and pre­vent oth­er cities in the state from imple­ment­ing any­thing like it.
In Sep­tem­ber, a Repub­li­can rep­re­sen­ta­tive also request­ed that the state's Repub­li­can attor­ney gen­er­al issue an opin­ion on whether the city law was legal in the first place. After the attor­ney general's office assert­ed that the local-hire rule indeed vio­lat­ed a state law that gov­erns licens­ing, the bill to inval­i­date Nashville's new law moved steadi­ly through the legislature.
The state's move exas­per­at­ed local lead­ers, who empha­sized that Amend­ment 3 had been strong­ly approved by Nashville res­i­dents in a ref­er­en­dum. Jason Free­man, the co-chair of the Eco­nom­ic Equi­ty and Jobs task­force at Nashville Orga­nized for Action and Hope (NOAH), a local com­mu­ni­ty group, not­ed that Amend­ment 3 by itself was more pop­u­lar with vot­ers that day than any of the lead­ing can­di­dates. ​"Amend­ment 3 was approved a hair under 57,000 votes more votes won by any­one at large or city­wide," says Free­man, ​"of all the options on the bal­lot was the election's high­est vote tally."
Yet Amend­ment 3's hefty win in lib­er­al-lean­ing Nashville seemed to mean lit­tle to the state's legislature.
"Anoth­er issue that has been brought in oppo­si­tion to my bill, which would nul­li­fy the char­ter amend­ment, is that we are over­turn­ing the will of the vot­ers of Nashville," said Repub­li­can state sen­a­tor Jack John­son, who spon­sored the bill to pre­empt Nashville's local hire law, accord­ing to the Ten­nessean. ​"In fact we are."
And the legislature's vote on the bill, which state law­mak­ers approved in Feb­ru­ary, was part of a series of so-called local pre­emp­tion laws that have swept not only Ten­nessee but the rest of the coun­try in recent months and years. State leg­is­la­tures seek­ing to stop local gov­ern­ments from enact­ing their own rules are noth­ing new, but, as many cities have become increas­ing­ly filled with pro­gres­sive val­ues in states with con­ser­v­a­tive leg­is­la­tures, inter­est in pre­emp­tion laws seen a recent uptick. And, respond­ing to a bevy of local efforts to increase local min­i­mum wages and strength­en pro­tec­tions for work­ers, there has been a par­tic­u­lar­ly pro­nounced push in recent months to stop coun­ties and cities from imple­ment­ing their own labor rules. In recent weeks, for instance, a pre­emp­tion bill over­turned Birm­ing­ham, Alabama's ordi­nance that would incre­men­tal­ly raise the city's min­i­mum wage to $10.10 an hour, one of the only local laws of its kind in the South­east. Idaho's leg­is­la­ture also just passed a sim­i­lar measure.
Work­er advo­cates in Ten­nessee say that pre­emp­tion laws have repeat­ed­ly stymied some of their most impor­tant efforts to tack­le pover­ty and work­ing con­di­tions at the local lev­el. Over the past sev­er­al years Tennessee's leg­is­la­ture passed laws ban­ning local­i­ties from strength­en­ing the enforce­ment of wage theft, requir­ing employ­ers to pro­vide paid sick leave, and man­dat­ing pre­vail­ing wages, accord­ing to the man­age­ment-side labor law firm Jack­son Lewis.
Tennessee's pro­hi­bi­tion on local hire laws appears to be the first of its kind to be imple­ment­ed in the coun­try, accord­ing to Ben Beach, legal direc­tor at the Part­ner­ship for Work­ing Fam­i­lies, which has advo­cat­ed for local and tar­get­ed hir­ing laws for over a decade.
"We don't know of any oth­er state that has out­lawed cities and towns to cre­ate jobs by spend­ing their own mon­ey," Beach says, adding that his orga­ni­za­tion will con­tin­ue to close­ly mon­i­tor move­ments against local hire poli­cies across the coun­try. (Beach not­ed that a local hire bill was intro­duced in Ohio's leg­is­la­ture but did not make it to the governor's desk.)
Con­trac­tors' asso­ci­a­tions have opposed local-hir­ing poli­cies across the coun­try as being anti-com­pet­i­tive, dis­crim­i­na­to­ry to non­res­i­dents, and ulti­mate­ly a job-killer. Free­man says that although a local builder and con­trac­tor asso­ci­a­tion had nego­ti­at­ed in good faith over Amend­ment 3, a lob­by­ist rep­re­sent­ing Ten­nessee Con­struc­tion Coali­tion tes­ti­fied in favor of the state's local-hire pre­emp­tion law. The Ten­nessean report­ed that 40 groups had pub­licly opposed Amend­ment 3.
With the back­ing of labor groups like the Part­ner­ship for Work­ing Fam­i­lies, local hire and tar­get­ed hir­ing poli­cies have been enact­ed in var­i­ous iter­a­tions in cities like Boston, Los Ange­les and Oakland's Alame­da County.
"Cities all over the coun­try have done this," Beach says. ​"They've done so because it works to give those left behind in econ­o­my a shot at decent mid­dle class careers. There's some­thing very real and seri­ous here."
For now, Nashville's Amend­ment 3, the result of a local dri­ve that did not coor­di­nate with the Part­ner­ship for Work­ing Fam­i­lies, appears dead. Free­man of NOAH says that he is hope­ful that the builder's cur­rent­ly oper­at­ing in Nashville will work with the city to vol­un­tar­i­ly car­ry out the pro­vi­sions of the ill-fat­ed local hire law. But still, Free­man argues, the sys­tem is like­ly to work bet­ter as a for­mal­ized munic­i­pal rule — some­thing cities in Ten­nessee are see­ing few­er and few­er of.
"We're try­ing to get a han­dle on how to address sys­temic pover­ty," Free­man said. ​"But the best tools that are assail­able are, one by one, being tak­en away from us."
Spencer Wood­man
is a jour­nal­ist based in New York. He has writ­ten on labor for
The Nation
and
The Guardian
.You can fol­low him on Twit­ter at
@spencerwoodman
and reach him via email at Contactspencerwoodman@​gmail.​com.