How To Save Chicago Schools? Fix the Flat Tax, Say Community Members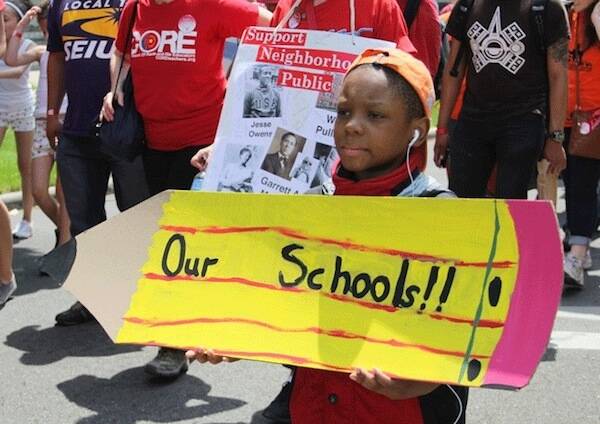 ​"It's just been a lot of chaos," Chica­go par­ent Wendy Kat­ten said to an audi­ence full of Chica­go par­ents and stu­dents regard­ing the pub­lic school district's last two years — and going for­ward, she adds, ​"The fore­cast is kind of gloomy."
Few would dis­pute Katten's assess­ment. Chica­go made nation­al head­lines for a city­wide teacher's strike in Sep­tem­ber 2012 and the con­tro­ver­sial clo­sures of 50 schools last spring, among oth­er upheavals.
Many par­ents, teach­ers and com­mu­ni­ty activists say they are fed up with May­or Rahm Emanuel's aus­ter­i­ty mea­sures and his shift­ing of funds from tra­di­tion­al pub­lic schools to char­ter schools. Emanuel and Chica­go Pub­lic Schools (CPS) Chief Exec­u­tive Offi­cer Bar­bara Byrd-Ben­nett, mean­while, say that they are address­ing long-fes­ter­ing bud­get prob­lems caused by their pre­de­ces­sors in pub­lic office.
The sit­u­a­tion grew worse on Tues­day, when CPS offi­cials acknowl­edged that they had sent lay­off notices to an addi­tion­al 94 employ­ees, due to fund­ing shortages.
Chica­go com­mu­ni­ty activists dis­grun­tled with the city's approach met at a town hall meet­ing on Wednes­day to devel­op their own strat­e­gy to improve the pub­lic schools. Raise Your Hand, a par­ent-led edu­ca­tion non-prof­it in Chica­go cofound­ed by Kat­ten, called the meeting.
Speak­ers most­ly agreed that CPS's next cri­sis is its long-term finances, and that the imme­di­ate focus should be on ways to bet­ter fund neigh­bor­hood schools.
The most-dis­cussed solu­tion: Raise mon­ey for schools through a pro­gres­sive income tax to replace Illi­nois' flat tax. Cur­rent­ly, every res­i­dent, from Oprah Win­frey to a fast-food work­er, hands over 5 per­cent of her year­ly earn­ings to the state.
​"A pro­gres­sive income tax is a pri­or­i­ty for the next year," said Kat­ten to Work­ing In These Times after the meet­ing. ​"It's a lever that can bring in a lot of rev­enue we need."
On the heels of the 50 school clos­ings, which were billed as a cost-sav­ing mea­sure, the Chica­go Board of Edu­ca­tion approved a 2013 – 2014 school year bud­get in August that includ­ed more than $100 mil­lion in cuts to neigh­bor­hood schools and 3,000 layoffs.
Emanuel and Byrd-Ben­nett blame the under­fund­ed teacher pen­sion fund. The dis­trict paid $405 mil­lion more into the fund in 2013 – 14 than 2012 – 13 due to the expi­ra­tion of a so-called state ​"hol­i­day" on full pen­sion pay­ments. Unless the state rein­states this hol­i­day or pass­es leg­is­la­tion that cuts pen­sion ben­e­fits, city lead­ers warn more cuts are on the way. Leg­is­la­tion that would curb pub­lic work­er pen­sion ben­e­fits has pow­er­ful sup­port­ers in the state gov­ern­ment, includ­ing Speak­er of the House Mike Madi­gan and Gov. Pat Quinn, both Chica­go Democ­rats, but no vote has been scheduled.
The Chica­go Teach­ers Union and pro­gres­sive advo­cates have long argued that cut­ting teacher's pen­sion ben­e­fits is unfair to edu­ca­tors who have con­sis­tent­ly paid into the pen­sion sys­tem. It also may vio­late the state con­sti­tu­tion, which guar­an­tees pub­lic employ­ees their con­trac­tu­al­ly stip­u­lat­ed retire­ment benefits.
How­ev­er, all sides of the Chica­go edu­ca­tion debate agree that one prob­lem is a lack of state fund­ing. The Land of Lin­coln ranks dead last among states in per-pupil money.
A pro­gres­sive state income tax with more mon­ey ear­marked for the Illi­nois Board of Education's per-pupil fund has emerged, then, as an alter­na­tive solu­tion to at least par­tial­ly address CPS's finan­cial prob­lems. On Mon­day, mem­bers of the Bet­ter Illi­nois coali­tion deliv­ered a 150,000-signature peti­tion to state law­mak­ers call­ing for such a tax.
​"A pro­gres­sive tax is some­thing that most states do," point­ed out Peter Starzyn­s­ki, field direc­tor for Bet­ter Illi­nois, at Wednesday's meet­ing. Indeed, 34 of the 41 states with an income tax require wealth­i­er res­i­dents to pay a greater per­cent­age of their earnings.
Emanuel and CPS offi­cials have not tak­en a posi­tion on a pro­gres­sive income tax. Gov. Quinn and state Sen­ate Pres­i­dent John Culler­ton, a Chica­go Demo­c­rat, sup­port the tax change.
But the flat income tax is writ­ten into the state con­sti­tu­tion, and an amend­ment requires both a 60 per­cent major­i­ty of state law­mak­ers and the governor's approval. Then, a major­i­ty of Illi­nois vot­ers would have to approve the amend­ment in a bal­lot initiative.
If they were any time that such a sce­nario would be con­ceiv­able, it is now. The Illi­nois leg­is­la­ture is 60 per­cent Demo­c­ra­t­ic, and Illi­nois res­i­dents have spent the last five years hear­ing about the state's finan­cial cri­sis. ​"We real­ly think there is a win­dow of oppor­tu­ni­ty to get this done," Starzyn­s­ki said to the town hall audi­ence. Starzynski's goal is to have the state leg­is­la­ture pass the amend­ment in the spring and to get the mea­sure on state bal­lots next November.
Anoth­er poten­tial source of rev­enue for CPS is sur­plus mon­ey from Chicago's Tax Incre­ment Finance, or TIF, eco­nom­ic devel­op­ment pro­gram. Leg­is­la­tion in Chicago's City Coun­cil calls for the release of what would effec­tive­ly amount to about $200 mil­lion in TIF mon­ey, around half of which would go to CPS. The major­i­ty of alder­men sup­port the mea­sure, but Emanuel oppos­es it. The mayor's bud­get instead pro­pos­es releas­ing 25 per­cent of the TIF surplus.
Kat­ten told Work­ing In These Times that there would be a ​"last push" to pass the TIF ordi­nance next week before the Chica­go City Coun­cil votes on Emanuel's pro­posed 2014 budget.
Non-finan­cial issues that arose at the town hall includ­ed a pre­sen­ta­tion from Cassie Criswell about how par­ents can get their stu­dents to opt of some stan­dard­ized test­ing. Criswell is founder of More than a Score Chica­go, a group that believes that stan­dard­ized tests are poor mea­sures of stu­dent achieve­ment and hurt the qual­i­ty of education.
Criswell acknowl­edged that the dis­trict reduced in August the num­ber of class­room hours ele­men­tary stu­dents must spend tak­ing stan­dard­ized tests. But she argued that ​"over-test­ing is still ram­pant" and that such tests are ​"mis­used" to judge teach­ers as part of the state's teacher per­for­mance eval­u­a­tion system.
Also, sev­er­al atten­dees restat­ed their call for the Chica­go School board to be elect­ed, instead of appoint­ed by the may­or. Chica­go is the only school dis­trict in Illi­nois with an appoint­ed school board, which the teacher's union and many oth­er crit­ics say makes the board a rub­ber stamp for the mayor's policies.
But Rod Est­van, an edu­ca­tion pol­i­cy spe­cial­ist at the dis­abil­i­ty rights group Access Liv­ing, con­tend­ed that the pro­gres­sive tax was the most impor­tant of the pro­pos­als on the table. ​"We need to work on a long-term strat­e­gy for rev­enue gen­er­a­tion," said Est­van in a pre­sen­ta­tion at the meet­ing, ​"and a big part of that strat­e­gy is to look at the income tax structure."
Matthew Blake
is a free­lance jour­nal­ist based in Chica­go. He has writ­ten for the
Chica­go Jour­nal, Wash­ing­ton Month­ly, Wash­ing­ton Inde­pen­dent
and
The Nation
, among oth­er publications.