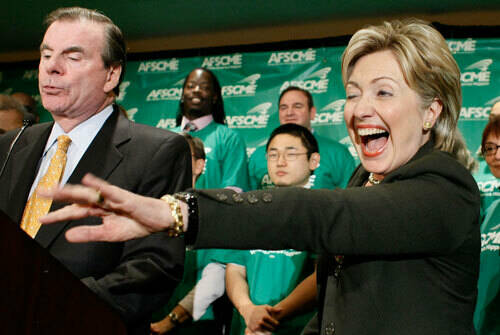 Late last week, AFSCME President Gerry McEntee endorsed former White House Chief of Staff Rahm Emanuel in the Chicago Mayoral Election. McEntee told Politico, ​"If I lived in Chicago, I would vote for him for mayor." The president of the giant public workers union said that Emanuel's record was, on balance, ​"for progressive forces and ideas."

McEntee's words carry a lot of weight within the labor movement. Since 1990, AFSCME has donated $42 million to federal election campaigns, with over 95 percent of that going to Democrats, according to the Center for Responsive Politics. He made headlines in 2007 by telling the Washington Post that ​"I'm the sheriff of the incumbent-protection program." McEntee's opposition to the labor movement knocking corporate Democrat out in primaries has led one union political director to privately label him ​"the Democratic Party's representative on the executive committee of the AFL-CIO."

On Saturday, I had the chance to catch up with Chicago Congressman Luis Gutierrez, who has formed an exploratory committee to run for mayor. Gutierrez had not yet heard the news when I told him of McEntee's endorsement of Rahm Emanuel at the One Nation Working Together rally. He was outraged. ​"I'm shocked that Gerry McEntee would endorse Rahm Emanuel, considering what Rahm has done to working people," Gutierrez told me.
"This is the same Rahm Emanuel who said ​'Fuck the UAW!' " Gutierrez characterized McEntee's endorsement of Emanuel as ​"a disgrace to the labor movement. … What about all my years paying dues as an AFSCME member or all those year walking picket lines as Congressman? I guess that counts for nothing," Gutierrez continued.
The Congressman does indeed have a record as an activist community organizer that is rare among public officials. Union activists say that without Gutierrez's involvement in the Republic Windows and Doors Factory occupation in 2008, they wouldn't have been able to beat Bank of America. Gutierrez was also the only elected official invited to speak at the One Nation Working Together because of his role in mobilizing the immigration rights movement. Earlier this year, Gutierrez was arrested outside the White House in protest of its inaction on immigration policy. Emanuel's track record as an activist willing to stand up for unions and community organizations pales in comparison.
In These Times Senior Editor David Sirota blasted McEntee's endorsement of Rahm, citing his role in passing NAFTA, gutting the public option and opening up free trade to China. Sirota said that McEntee's endorsement represented ​"a form of corruption, cronyism and insiderism whereby leaders of ​"progressive" organizations regularly sell out their organizations' missions on behalf of their fellow D.C. insiders."

McEntee is apparently quite upset about criticism of his decision to endorse Rahm. Sirota said he ​"received a profanity-laced call from McEntee telling me I ​"have no right" to have written what I wrote, and that I have no right to question the decisions he makes." McEntee told me that ​"these pundits and potential candidates who criticize Rahm are ignoring what the Obama team has delivered for working families all across this country."
Anger over the endorsement could affect who succeeds McEntee as president when he retires from AFSCME in 2012. Earlier this year, his clout may have made the difference in the union's secretary treasurer race. On July 1, McEntee-backed Lee Saunders beat reform candidate Danny Donohue by a mere 3,000 votes (652,660 votes to 649,356, as covered here in Working In These Times) to become AFSCME's secretary treasury.