On Trial in a Language You Don't Speak
A shortage of court interpreters means vulnerable, non-English-speakers may not be getting adequate legal support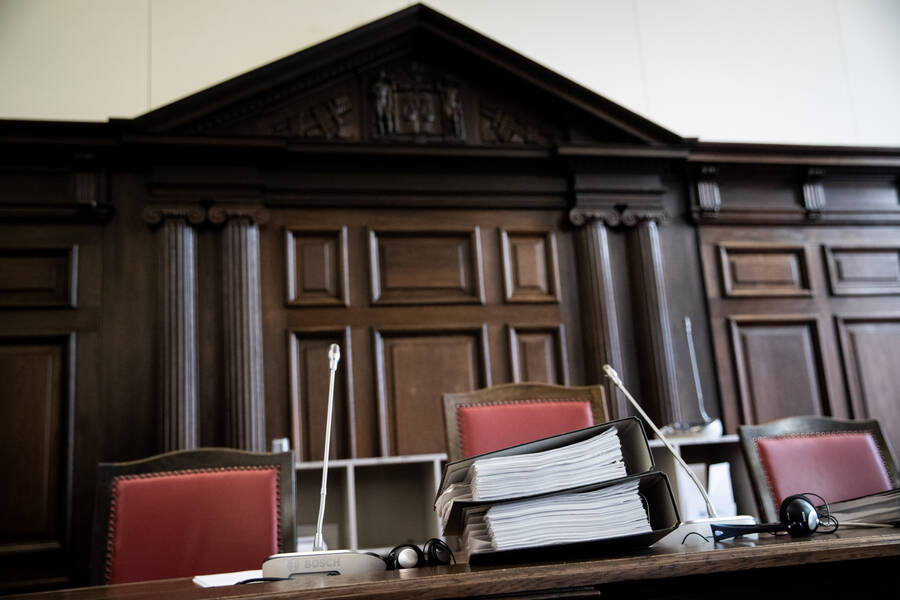 COOK COUN­TY, ILL. — More­lia Oroz­co walks into the George N. Leighton Crim­i­nal Court Build­ing at 8:30 a.m. hold­ing a clip­board with her sched­ule for the day. As a full-time Span­ish court inter­preter in her 40s, she is swamped with sev­en court­rooms to cov­er. Just before her first case, Oroz­co (who pre­ferred not to use her real name) receives an unex­pect­ed text mes­sage urgent­ly call­ing her to anoth­er court­room. She rush­es over to help, leav­ing her assigned case unattended.
"We are literally the voice, the eyes and the ears of people who cannot speak English."
The client is a mid­dle-aged man who has trou­ble express­ing him­self in Eng­lish in a stress­ful court set­ting. At light­ning speed, Oroz­co trans­lates the judge's words for her client and the client's words to the court. About 30 min­utes lat­er, she hur­ries off to her next assignment.
"We are always run­ning from one [court­room] to anoth­er," says Veron­i­ca Rivas, a per-ses­sion Span­ish court inter­preter for Cook County.
Court inter­preters are in high demand in Cook Coun­ty, home to 743,200 peo­ple with lim­it­ed Eng­lish pro­fi­cien­cy — around 15% of the pop­u­la­tion. But in recent years, the num­ber of full-time inter­preters has decreased. In 2014, the coun­ty had 34 full-time inter­preters; now, there are 29.
At the Daley Cen­ter, one of the busiest courts in Cook Coun­ty, an aver­age of 66 cas­es call for an inter­preter dai­ly. Only six Span­ish inter­preters and one Pol­ish inter­preter, includ­ing per-ses­sion inter­preters, are reg­u­lar­ly sta­tioned there.
Advo­cates say the decline in full-time court inter­preters means vul­ner­a­ble, non-Eng­lish-speak­ing com­mu­ni­ties may not be get­ting ade­quate legal sup­port. The Chica­go News Guild, a local of the Com­mu­ni­ca­tion Work­ers of Amer­i­ca (CWA) that rep­re­sents court inter­preters, has col­lect­ed a list of inci­dents when no inter­pre­ta­tion ser­vices were avail­able in courts. (Full dis­clo­sure: In These Times' staff is rep­re­sent­ed by CWA's Wash­ing­ton-Bal­ti­more News Guild.) The list, though not com­pre­hen­sive, records 26 such cas­es since April 2018. For instance, on June 11, 2018, two Span­ish-speak­ing par­ents were unable to get unsu­per­vised vis­its for their child at the Juve­nile Cour­t­house, and on Novem­ber 7, 2018, the court ignored an Ara­bic-speak­ing defendant's request for an inter­preter. Accord­ing to the list, the judge con­duct­ed pro­ceed­ings ​"off the record," and a friend of the defen­dant who speaks a lit­tle Eng­lish attempt­ed to help but did not inter­pret the court pro­ceed­ings unless the Judge asked the defen­dant a ques­tion. At the end, the defen­dant was found guilty.
The unavail­abil­i­ty of court inter­preters often leads to long wait times, con­tin­u­ances or a fam­i­ly mem­ber or friend inter­pret­ing for the case.
"We clear­ly do not have enough inter­preters," says Craig Rosen­baum, exec­u­tive direc­tor of the Chica­go News Guild. ​"The courts are not being served."
In 2018, around 58,000 inter­pre­ta­tion ses­sions were con­duct­ed in Cook Coun­ty courts, a drop of 31% from the 85,000 ses­sions in 2015, accord­ing to the Chief Judge's office. The office main­tains, how­ev­er, that ​"the num­ber of court inter­preters is suf­fi­cient to meet demand, and inter­preters are pro­vid­ed upon request," accord­ing to Pat Mil­hiz­er, com­mu­ni­ca­tions direc­tor at the office.
Inter­pre­ta­tion ser­vices are a low pri­or­i­ty with­in most court bud­gets nation­wide, says Mike Fer­reira, pres­i­dent of the Cal­i­for­nia Fed­er­a­tion of Inter­preters Local 39000 (also a local of CWA). ​"When it comes to lan­guage access in the courts," he says, the courts tend to do ​"what­ev­er is the least expen­sive, min­i­mum lev­el of ser­vice to avoid appel­late issues."
A lack of court inter­preters has caused prob­lems across the coun­try. A short­age of Mayan inter­preters, for lan­guages such as Mam, K'iche' and Q'anjob'al, has caused delays in immi­gra­tion courts. And in one Huntsville, Ala., case, a woman who knew only a few words of Eng­lish unwit­ting­ly relin­quished parental rights to her youngest son in 2016.
"There's a con­sti­tu­tion­al oblig­a­tion to pro­vide every­one with access to the courts," says Alan Mills, exec­u­tive direc­tor of the Uptown People's Law Cen­ter in Cook Coun­ty. ​"Pro­vid­ing an inter­preter is a nec­es­sary part of that. It's not optional."
The Office of the Chief Judge is cur­rent­ly in the process of hir­ing more full-time inter­preters. Mean­while, 54 per-ses­sion inter­preters have been enlist­ed, none of whom are eli­gi­ble for employ­ee benefits.
Clau­dia Perez, a sin­gle moth­er of four, has worked for Cook Coun­ty as a per-ses­sion inter­preter for over 12 years. She has no health plan, no sick pay and no paid vaca­tion, despite work­ing three to four full days per week. ​"I used to work almost every day when I first start­ed," Perez says. ​"Because the coun­ty doesn't want to pay for health insur­ance, they lim­it my hours."
In an ongo­ing con­tract nego­ti­a­tion with Cook Coun­ty, the union is demand­ing 30 full-time Span­ish inter­preters, sev­en Pol­ish, two Ara­bic, and sick pay for per-ses­sion interpreters.
The impor­tance of inter­preters should not be under­es­ti­mat­ed, says Elsa Pra­do, who worked as a per-ses­sion inter­preter in Cook Coun­ty from 1998 to 2013. ​"We are lit­er­al­ly the voice, the eyes and the ears of peo­ple who can­not speak English."
Kim­ber­ly Jin
is an inves­tiga­tive jour­nal­ist and a master's can­di­date at Northwestern's Medill School of Journalism.