Crowd of 8,500 at Fighting Bob Fest Shows Wisconsin Struggle Continues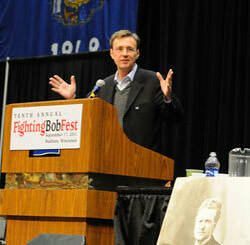 Noted author, activist and Princeton professor Cornell West, Sen. Bernie Sanders, and new Wisconsin Senate candidate Tammy Baldwin were among an impressive cast of speakers who ignited a crowd of about 8,500 in Madison on Saturday by hailing the key role of Wisconsin's labor rebellion this year in revitalizing progressive politics across America.
The massive crowd was participating in the 10th annual ​"Fighting Bob Fest," named after Wisconsin's governor and Senator ​"Fighting Bob" La Follette, a feisty populist who made Wisconsin a pioneer in passing progressive laws to protect workers, stamp out child labor and conserve the environment.
"Something is happening in Wisconsin!" roared West to massive applause. The Wisconsin battle led by labor is crucially important, he said, because ​"We've had a vicious class war going on for the last 30 years against working people as if their very lives were disgusting."
"When ordinary people straighten their backs up…"
But when Gov. Scott Walker began his push to pass legislation to effectively strip public workers of their right to union representation, it triggered a broad movement to reclaim the fundamental rights of workers and the poor, said West. West compared the movement for workers' rights, which drew crowds of 100,000 or more to Madison's State Capitol despite frigid weather, to the U.S. civil rights movement and the anti-apartheid movement in South Africa.
"The key is regular folks discovering that they have earth-shaking power when they act together to assert their humanity," West thundered in his unique rapid-fire-but-precise style. ​"When ordinary people straighten their backs up, they can change the world," he declared to wild cheers.
Sen. Bernie Sanders, the democratic socialist from Vermont, outlined the contours of the class war against workers.
"We now have the most unequal distribution of wealth and income of any major country, and all that has to end," he stressed.
Citing government policies that provide tax breaks to wealthy investors and corporations, Sanders pointed out that ​"the top 1 percent earns more than the bottom half of Americans, and their share of income (about 24 percent) has tripled since 1970. The top 400 richest Americans alone own greater wealth than the bottom 150 million."
"Over the last 25 years, 80 percent of all new income has gone to the top 1 percent," he noted. ​"Yet the wealthy are paying a smaller share of taxes than at any time in our history. Corporate taxes are at or near a 60 year low."
In this context of extreme upward redistribution of wealth, the political right in Wisconsin and elsewhere has vilified the infinitely smaller wages and benefits of teachers, cops, firefighters, nurses and other public employees. As Sanders put it, ​"Corporations and banks that have broken a fundamental trust with the American people are paying less in taxes than these public employees." GE, for example, paid no taxes on $26 billion in profits over the last five years, and in fact got $4.1 billion back from the IRS.
Urging the adoption of a ​"Medicare for All" or single-payer healthcare system (which his home state of Vermont is moving toward), Sen. Sanders said that the current inequities in income and access to healthcare imposed ​"a death sentence" on lower-income people. ​"You will die six and a half years earlier if you are in the bottom 20 percent of income than if you are the top 20 percent," he stated.
TV host and author Thom Hartmann explained how corporations and the super-rich have managed to claim an ever-growing share of wealth and income, at a time of immense suffering for working families, thanks to a political system dominated by big campaign contributions and massive lobbying efforts, reinforced by today's pro-corporate Supreme Court.
Citing the notorious Citizens United ruling of 2010, Hartmann reminded the crowd, ​"Corporations are not people, and money is not free speech!" Hartmann blasted the hypocrisy in the Republicans' concept of ​"freedom." He related how Republican presidential candidate Ron Paul — who spoke of a need to return to self-reliance on healthcare — made that statement after experiencing the pneumonia-caused death of his own uninsured campaign manager in 2008. The medical bills have left the victim's family with a debt of $400,000.
"Let's look at the concept of ​'freedom': is that right to die the gutter if you are uninsured, or is it the right to healthcare for everyone when you are sick?" asked Hartmann. Several years before the birth of the increasingly pro-corporate Tea Party of recent vintage, Hartmann's book Unequal Protection cited the example of the Boston Tea Party as the first revolt against a multinational corporation. He noted the significance of the massive and genuinely grassroots rebellion led by Wisconsin labor, and said that in the face of mounting inequalities, this movement ​"is part of a growing pushback against elites by the American people."
AFL-CIO President Phil Neuenfeldt, who spoke to a packed Barrymore Theatre crowd at a kickoff event, attributed the broad support for public-employee unions — consistently shown to be at 60 percent or above in various polls — to the message that the labor movement maintains standards protecting the incomes, benefits and working conditions for all working and middle-class people.
Madison labor attorney Ed Garvey (with whom I have worked on numerous labor projects), who is often called the original ​"brainchild" behind the Fighting Bob gatherings, said afterward that Saturday's big turnout ​"is a clear statement that the struggle continues."
This summer, labor-led electoral efforts knocked out two Republican senators in special recall elections, and unions are carrying on workplace and legal fights against Gov. Walker's Act 10 designed to cripple their very existence. When Walker and his right-wing allies campaign for a ​"right-to-work" law outlawing union shops in the entire workforce, thereby driving down wages and politically atomizing workers, Garvey says that in Wisconsin, ​"We will be ready."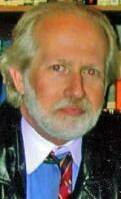 Roger Bybee

is a Milwaukee-based freelance writer and University of Illinois visiting professor in Labor Education. Roger's work has appeared in numerous national publications, including

Z

magazine,

Dollars

&

Sense, The Progressive, Progressive Populist, Huffington Post, The American Prospect, Yes!

and

Foreign Policy in Focus

. More of his work can be found at

zcom​mu​ni​ca​tions​.org/​z​s​p​a​c​e​/​r​o​g​e​r​d​bybee

.