Dear ITT Ideologist,
Luckily for a neophyte like yourself, conservative notions consist of brief talking points that require no study.
My morning news show has been headlining Lady Gaga's brisket beret and Lindsay Lohan's toot tweet. Meanwhile, I understand important changes have been occurring in the Middle East. Could you clue me in?
– G. Stephanopoulos, New York
Dear George,
First things first, I always say. It looks like Iran's mercurial mullahs are up to their protean ploys again. The current U.S. assessment is that they are suicidally seeking to nuke Israel and enjoy 20 minutes of thigh-slapping schadenfreude before retaliatory strikes by Israel and the United States turn Tehran into talcum. Previously, the Bush administration also posited that Iran's proleptic missiles posed a virtual threat to northern Europe, and Iceland in particular. In the immortal phrase of Nixon's press secrtary Ron Ziegler, those scenarios are ​"no longer operative." Fresh thinking in the Pentagon now sees Iran invading Saudi Arabia. Apparently this thinking does not recognize that Iran, neé Persia, hasn't attacked any of its neighbors in centuries and has no reason to do so, particularly if it's contemplating national suicide. To save the Saudis and diminish Persian influence in the Persian Gulf, Obama and the Pentagon are proposing the largest arms deal ($90 bil for a starter) in the history of human conflict. Amazing, isn't it, how the enemy's schemes always fit so neatly with our defense contractors' marketing goals?
Dear ITT Ideologist,
I'm a former coffee klatcher who turned into a tea bagger when a Starbucks clerk called me a doppio. Though my copy of Sarah Palin's Guide to Politicking and Moose Pickling says it's a waste of time, I've decided to bone up on political issues for my run for congress. I hardly know where to start. Could you give me the short course on conservative economics?
– Tia Potty,
Chambersburg, Penn.
Dear Ms. Potty,
I'm always happy to see yet another simple citizen participate in the polity. Luckily for a neophyte like yourself, conservative notions consist of brief talking points that require no study. Though conventionial economics has been called a dismal science, what with all its figures and formulas, conservative economics requires merely the constant repetition of two short sentences. The first is that general prosperity will bloom if business and the wealthy are freed from paying taxes and obeying the laws of God and man. Then, when all that happens is that the rich get richer and everyone else ends up peeling turnips at the poor farm, the second sentence is repeated. It goes: Hey, life is unfair! Voters will think you an honest pol for being so frank about fate.
– Pete Karman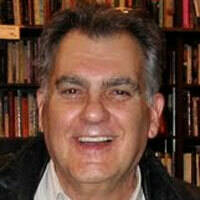 Pete Karman
began working in journalism in
1957
at the awful
New York Daily Mirror
, where he wrote the first review of Bob Dylan for a New York paper. He lost that job after illegally traveling to Cuba (the rag failed shortly after he got the boot). Karman has reported and edited for various trade and trade union blats and worked as a copywriter. He was happy being a flack for Air France, but not as happy as being an on-and-off
In These Times
editor and contributor since
1977
.