Dear ITT Ideologist: Law, Order and Angry Atheists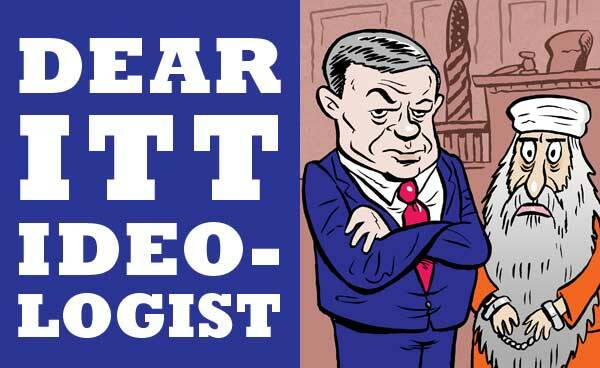 Dear ITT Ideologist,
Angry atheism, or being mad at something that isn't there, is a harmless form of mopery.
Nat­u­ral­ly, our plan at Law and Order for the forth­com­ing 9⁄11 Man­hat­tan ter­ror tri­al is to rip it from the head­lines, melo­dra­ma­tize it, bal­ly­hoo its net­work pre­mier, and then rerun it on TNT for the next three cen­turies. We've got the pros­e­cu­tion part down, but are hav­ing trou­ble dream­ing up a doable defense. I am there­fore ask­ing you to act as ami­cus curi­ae in the case.
D. Wolf, New York
Dear Mr. Wolf,
I am hap­py to be of coun­sel. Coin­ci­den­tal­ly, I mas­tered cor­pus juris by watch­ing 323 episodes of Law and Order after inad­ver­tent­ly sub­scrib­ing to a cable oper­a­tor that car­ries only TNT.
I empha­size that I am offer­ing the fol­low­ing argu­ment advo­ca­tus dia­boli rather than out of per­son­al conviction.
I sug­gest a Black­wa­ter-Bush defense. Defense coun­sel should argue a for­tiori that the accused were pri­vate­ly con­tract­ed to attack U.S. com­mand and con­trol tar­gets for remu­ner­a­tion (vis Army Air Corps v. Milo Min­derbinder). Those actions were tak­en in accord with the Bush doc­trine, which holds that a coun­try may attack any oth­er coun­try that it sur­mis­es might do it harm at some future time (vis Bush v. Iraq). The con­trac­tor claim of sov­er­eign­ty for the pur­pose of invok­ing the Bush Doc­trine is as per stir­pes inher­i­tor of the caliphate (vis Mohammed v. Infi­dels). This is so, whether or not the gov­er­nor of Alas­ka was aware of it (vis Gib­son v. Palin).
Fur­ther, defen­dants should hold that both the Pen­ta­gon and World Trade Cen­ter qual­i­fy as com­mand and con­trol facil­i­ties under pre­vail­ing U.S. mil­i­tary doc­trine. Civil­ian casu­al­ties result­ing from these attacks would there­fore be con­sid­ered col­lat­er­al dam­age. ​"Such dam­age is not unlaw­ful so long as it is not exces­sive in light of the over­all mil­i­tary advan­tage antic­i­pat­ed from the attack" (USDOD Joint Pub­li­ca­tion 3 – 60). Since con­trac­tor antic­i­pat­ed that God's wrath would guide its thun­der­bolts in achiev­ing the great­est of earth­ly vic­to­ries, col­lat­er­al dam­age lev­el was acceptable.
Final­ly, I rec­om­mend that you engage Den­ny Crane from ABC's Boston Legal as first defense chair. The twin­kle in his eye and his col­or­ful cra­vats would be a plus in human­iz­ing the defendants.
Should you have fur­ther ques­tions, do not hes­i­tate to con­tact me at the Pro­fes­sor Irwin Corey Insti­tute for Inchoate Stud­ies at Hud­son University.
Dear ITT Ideologist,
I've been hear­ing a lot about angry athe­ists late­ly. Is this some­thing I should get riled about?
M. Huck­abee, Lit­tle Rock
Dear Gov­er­nor Huckabee,
Not to wor­ry. Angry athe­ism, or being mad at some­thing that isn't there, is a harm­less form of mop­ery, such as expos­ing one's self to a blind person.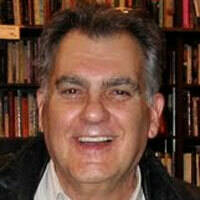 Pete Kar­man
began work­ing in jour­nal­ism in
1957
at the awful
New York Dai­ly Mir­ror
, where he wrote the first review of Bob Dylan for a New York paper. He lost that job after ille­gal­ly trav­el­ing to Cuba (the rag failed short­ly after he got the boot). Kar­man has report­ed and edit­ed for var­i­ous trade and trade union blats and worked as a copy­writer. He was hap­py being a flack for Air France, but not as hap­py as being an on-and-off
In These Times
edi­tor and con­trib­u­tor since
1977
.