Can the Democratic Party's Left Flank Win in 2018? This Illinois Primary Could Be a Bellwether
Progressive challenger Marie Newman is hoping to shock the political establishment by unseating House Rep. Dan Lipinski, a conservative Democrat and longtime incumbent.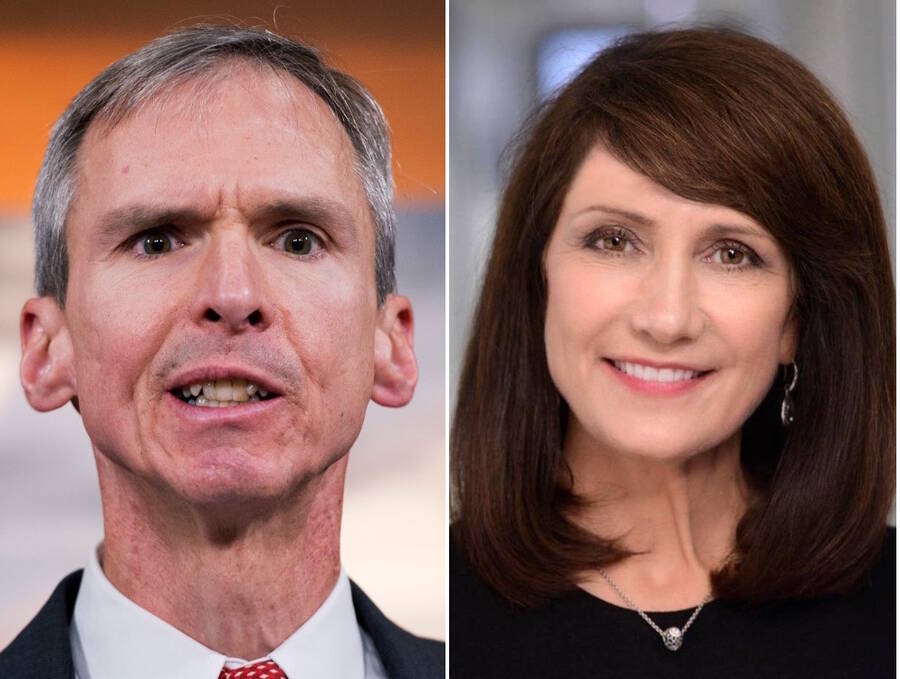 One of the most close­ly watched Demo­c­ra­t­ic pri­ma­ry races of 2018 is tak­ing place in Illinois's 3rd Con­gres­sion­al Dis­trict, an increas­ing­ly diverse patch of Chicago's South­west Side and sur­round­ing suburbs.
"If we do turn it over," Newman says, "I think we can get Medicare for All. I think we can get a comprehensive workers' bill through."
For over 25 years, the dis­trict has been rep­re­sent­ed by the Lip­in­s­ki fam­i­ly — but that could be about to change. Chicagoland busi­ness­woman Marie New­man is mount­ing an increas­ing­ly for­mi­da­ble chal­lenge to Rep. Dan Lip­in­s­ki, a sev­en-term incum­bent who has made a name for him­self as one of the most con­ser­v­a­tive-lean­ing Democ­rats in Con­gress. Lip­in­s­ki is a staunch oppo­nent of abor­tion rights who refus­es to back a $15 min­i­mum wage and has vot­ed against LGBT rights, the DREAM Act and Obamacare.
Lip­in­s­ki, who iden­ti­fies Ronald Rea­gan as a polit­i­cal hero, votes against his par­ty near­ly twice as often as the aver­age Demo­c­rat. In recent years, he's received harsh rat­ings from civ­il lib­er­ties, civ­il rights, edu­ca­tion, wom­en's rights, immi­grant rights, pro-envi­ron­ment, anti-war and LGBT orga­ni­za­tions. He also has a 100 per­cent rat­ing from the anti-abor­tion Nation­al Right to Life com­mit­tee. In 2012, Lip­in­s­ki even refused to endorse Barack Oba­ma for reelection.
New­man is run­ning as a pro­gres­sive alter­na­tive. A sup­port­er of Medicare for All and the Fight for 15, she's racked up a string of endorse­ments from left-lean­ing orga­ni­za­tions includ­ing NAR­AL Pro-Choice Amer­i­ca, Democ­ra­cy for Amer­i­ca, MoveOn​.org and Our Rev­o­lu­tion, an offi­cial orga­ni­za­tion­al off­shoot of Bernie Sanders' pres­i­den­tial campaign.
New­man has also received the sup­port of Sen. Kirsten Gilli­brand (D‑NY), who recent­ly head­lined a Chica­go fundrais­er for Newman's cam­paign. And New­man has been endorsed by two of Lipinski's House col­leagues, Rep­re­sen­ta­tives Luis Gutiér­rez (D‑IL‑4) and Jan Schakowsky (D‑IL‑9).
"That tells you, frankly, how ter­ri­ble he is on the issues," New­man says by phone from her home in La Grange, Ill. ​"Not just my polls, but many polls, iden­ti­fy that sev­en out of 10 peo­ple in the dis­trict are pro-choice. About 75 per­cent are for health­care for all or Medicare for All. The dis­trict has changed dra­mat­i­cal­ly since Mr. Lip­in­s­ki took office — even though it was a solid­ly blue dis­trict already."
The 3rd Dis­trict has leaned Demo­c­ra­t­ic for decades — and today, it is home to a grow­ing base of Lati­no and Mus­lim vot­ers, a dif­fer­ent set of Democ­rats from the old Daley diehards. In the decade since Lip­in­s­ki took office, the district's pop­u­la­tion has gone from about one-quar­ter Lati­no to one-third, despite redis­trict­ing that trans­ferred many Lati­no vot­ers to Gutiérrez's adja­cent 4th Dis­trict. In the 2016 pres­i­den­tial pri­ma­ry, Bernie Sanders won the 3rd dis­trict by rough­ly 8 points, a vote New­man sees as a sign of change.
An inter­nal poll con­duct­ed by the New­man cam­paign in Jan­u­ary shows the chal­lenger actu­al­ly lead­ing Lip­in­s­ki by five points, when vot­ers are made aware of the incumbent's con­ser­v­a­tive pol­i­cy posi­tions and views.
Change doesn't always come easy to Chica­go-area Democ­rats, and Lip­in­s­ki is a case in point. He suc­ceed­ed his father, 11-term rep­re­sen­ta­tive Bill Lip­in­s­ki, who stepped down days after win­ning the Demo­c­ra­t­ic pri­ma­ry in 2004 and tagged in his son to replace him.
The elder Lip­in­s­ki co-spon­sored the Clin­ton-era Defense of Mar­riage Act, con­sis­tent­ly vot­ed against abor­tion rights, and took a con­ser­v­a­tive tack on issues rang­ing from restrict­ing immi­gra­tion to enabling stop-and-frisk policies.
Alle­ga­tions of nepo­tism and oth­er wrong­do­ing didn't stop the younger Lip­in­s­ki from pick­ing up where his father left off, using his safe seat to oppose abor­tion rights, immi­grant pro­tec­tions and gay marriage.
Bill Lip­in­s­ki, a Chica­go polit­i­cal heavy­weight, had strong rela­tion­ships with Wash­ing­ton and Illi­nois pow­er bro­kers — includ­ing the pow­er­ful Daley and Madi­gan fam­i­lies. Those con­nec­tions haven't hurt his son, who picked up many of Bill's rich­est back­ers, includ­ing local bil­lion­aires such as mem­bers of the Crown Fam­i­ly and Jer­ry Reins­dorf, a promi­nent donor to Repub­li­can Gov. Bruce Rauner.
Dan Lip­in­s­ki is also a co-chair of the Blue Dog Coali­tion, the orga­ni­za­tion rep­re­sent­ing the Demo­c­ra­t­ic Party's con­ser­v­a­tive wing. While many Blue Dogs rep­re­sent swing dis­tricts, Lip­in­s­ki stands out as a con­ser­v­a­tive Demo­c­rat rep­re­sent­ing a solid­ly blue urban area who has nev­er faced a strong GOP threat or been forced to run a com­pet­i­tive gen­er­al elec­tion race.
Like many con­ser­v­a­tive-to-mod­er­ate Illi­nois Democ­rats, Lip­in­s­ki has also received sup­port from estab­lish­ment orga­nized labor. The Illi­nois AFL-CIO is a Lip­in­s­ki ally. And about a fifth of his cam­paign funds come from skilled-trade unions.
New­man sees this as a prime oppor­tu­ni­ty to replace Lip­in­s­ki with a pro­gres­sive, despite the fact that she's a polit­i­cal new­com­er who trails her oppo­nent finan­cial­ly. Newman's cam­paign has raised just over half a mil­lion dol­lars, a strong show­ing for a chal­lenger but bare­ly a third of what Lip­in­s­ki has on hand.
If she does win, New­man has a list of pri­or­i­ties ready to go. ​"Medicare for All, then work­ers' and work­ing fam­i­lies' issues," she says, ​"not just hav­ing $15 an hour, but paid leave, parental and sick leave — advanc­ing everybody's rights around immi­gra­tion, mov­ing on to LGBTQ rights, women's rights and women's healthcare."
New­man also has the sup­port of Nation­al Nurs­es Unit­ed (NNU), a pro­gres­sive union that backed Bernie Sanders' 2016 cam­paign. NNU, which coor­di­nates its Chicagoland can­vass­ing through the com­mu­ni­ty orga­ni­za­tion Reclaim Chica­go, is a vocal sup­port­er of sin­gle-pay­er campaigns.

​"We see real poten­tial in Marie New­man," says Jan Rodol­fo, NNU's Mid­west direc­tor. ​"She real­ly believes in the pub­lic sec­tor and the com­mon good. We also feel it's impor­tant to send a mes­sage to incum­bents that if they fail to act as pro­gres­sives, there's con­se­quences for them electorally."
As for Lip­in­s­ki, Rodol­fo says, ​"He's just not respon­sive to his con­stituen­cy. We don't see him work­ing with his con­stituents to build a move­ment to make their lives better."
New­man has also received the endorse­ment of oth­er unions in the state includ­ing the SEIU State Coun­cil and the Illi­nois Fed­er­a­tion of Teachers.
But is New­man, a mar­ket­ing con­sul­tant with no record in office, the best con­tender to car­ry the pro­gres­sive ban­ner? Plen­ty of can­di­dates have run from the left only to gov­ern from the cen­ter, espe­cial­ly those with­out long expe­ri­ence in office. And once in office, House mem­bers aren't always easy to hold to account.
Rodol­fo says that New­man is ​"com­mit­ted to co-gov­ern" with Reclaim Chica­go and NNU, ​"and while you can't phys­i­cal­ly force some­body to be in a room if they break that promise, we can mobi­lize our base to put sig­nif­i­cant pres­sure on her. At the end of the day, I believe that she'll care what her con­stituents think."
While she has self-financed her cam­paign to the tune of $75,000, New­man points to her rel­a­tive­ly small dona­tions (around $50 on aver­age) as evi­dence that her cam­paign and can­di­da­cy are being fueled by grass­roots sup­port from con­stituents in her district.
For his part, Lip­in­s­ki is sit­ting on $1.65 mil­lion for the 2018 race. Some of his top cam­paign con­trib­u­tors include defense con­trac­tors Northrop Grum­man, Raytheon, and Lock­heed Mar­tin. With a war chest six times big­ger than Newman's, Lip­in­s­ki has no need to self-finance.
And he appears to have at least one pow­er­ful group in his cor­ner: The Demo­c­ra­t­ic Con­gres­sion­al Cam­paign Com­mit­tee (DCCC). The DCCC hasn't offi­cial­ly tak­en a stance in the race, or respond­ed to inquiries about whether it will con­tin­ue to back Lip­in­s­ki. But the orga­ni­za­tion has cozied up to Lipinski's Blue Dog Coali­tion since the 2016 elec­tions. The DCCC sees the Blue Dogs as the key to retak­ing Con­gress in 2018 — and endors­ing Lipinski's chal­lenger could seri­ous­ly hurt that relationship.
The DCCC has made it clear that the anti-abor­tion views held by some Blue Dogs aren't a deal break­er, and has accused Blue Dog oppo­nents of set­ting ​"puri­ty tests" by hold­ing out for pro­gres­sives. DCCC chair­man Ben Ray Luján has called the cau­cus ​"incred­i­ble partners."
When it comes to the DCCC, New­man says she's ​"not at all" sur­prised at the lack of sup­port. ​"If you're in a fam­i­ly," she says, ​"and a dis­tant neighbor's friend of a friend wants to be in the fam­i­ly, do you just get to be in the fam­i­ly? No. Those orga­ni­za­tions, of course they're going to pro­tect their fam­i­ly." If she wins the pri­ma­ry, New­man will like­ly be expect­ed to work with the DCCC on fundrais­ing and oth­er efforts.
With a post-Trump upswing in pro­gres­sive pri­ma­ry chal­lenges, there's been more pub­lic debate about the Demo­c­ra­t­ic estab­lish­ment, includ­ing the DCCC, and its some­times con­tro­ver­sial choic­es on which can­di­dates to sup­port. At the end of the day, though, the ques­tion for vot­ers will be whether Lip­in­s­ki fits the dis­trict — and whether New­man would fit it better.
Lip­in­s­ki has run hard neg­a­tive cam­paigns against past pri­ma­ry oppo­nents such as Mark Pera, then a Cook Coun­ty Assis­tant State's Attor­ney, who chal­lenged Lip­in­s­ki in 2008.
That year, a fly­er fund­ed in part by the Lip­in­s­ki cam­paign and dis­trib­uted across the dis­trict car­i­ca­tured Pera as a car­pet­bag­ger who didn't rep­re­sent the district's work­ing-class val­ues. This time around, Lip­in­s­ki is call­ing his oppo­si­tion a ​"Tea Par­ty of the Left."
A decade ago, the Tea Par­ty inject­ed pri­ma­ry pan­ic into safe GOP dis­tricts, forc­ing out blind­sided incum­bents or push­ing sit­ting rep­re­sen­ta­tives far to the right. For activists and orga­niz­ers who want to drag Democ­rats left, the upcom­ing pri­ma­ry elec­tions will serve as an impor­tant test.
Vic­to­ries for can­di­dates like New­man, pub­licly com­mit­ted to pro­gres­sive plat­forms, will point to the grow­ing pow­er of the Demo­c­ra­t­ic Party's left flank. And the pro­gres­sive groups back­ing Newman's can­di­da­cy hope that such vic­to­ries will help win back con­trol of Con­gress from Repub­li­cans in November.
"If we do turn it over," New­man says, ​"I think we can get Medicare for All. I think we can get a com­pre­hen­sive work­ers' bill through."
If New­man pulls off a win on March 20, it will be the clear­est indi­ca­tion yet that a pro­gres­sive groundswell is trans­lat­ing into elec­toral vic­to­ries. In such a solid­ly Demo­c­ra­t­ic dis­trict, New­man would be all but assured to win the House seat in Novem­ber. She's hop­ing to be part of a big fresh­man class.