When Detained Immigrant Children Got Adult Dose of Hep A Vaccine, Mothers Objected, To No Avail
250 children at the Dilley, Texas, detention center were improperly vaccinated, even when mothers showed proof of prior vaccinations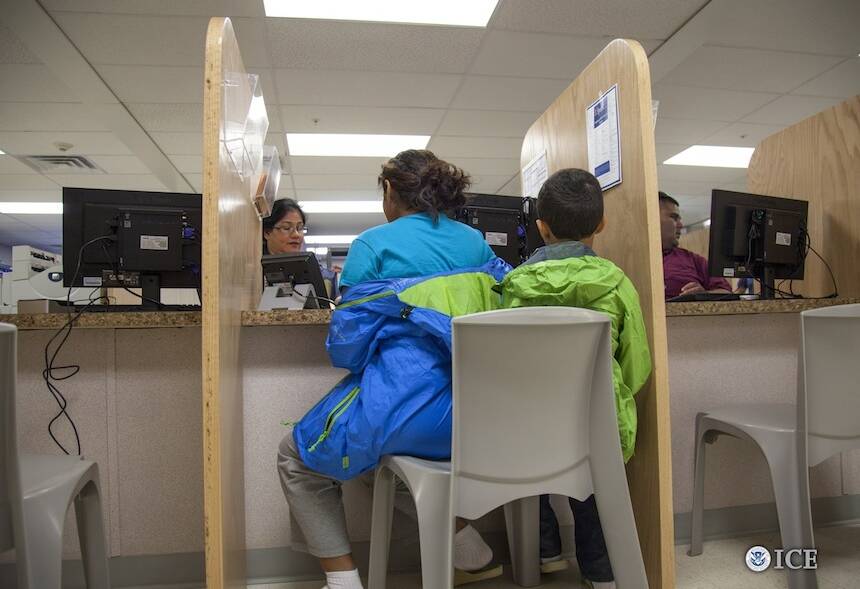 In late June and ear­ly July, Cen­tral Amer­i­can chil­dren detained at the ​"Fam­i­ly Res­i­den­tial Cen­ter" in Dil­ley, Texas were inject­ed with as many as six vac­cines. In many cas­es, moth­ers at the cen­ter say, their chil­dren were vac­ci­nat­ed over their objec­tions, some­times even after proof of pri­or vac­ci­na­tion had been shown.
'I asked what the papers said but they would not tell me,' Lorenzano says. 'But I signed them.'
In addi­tion, about 250 chil­dren were mis­tak­en­ly inject­ed with an adult dose of Hepati­tis A vac­cine, which is about twice a child's dose. Immi­gra­tion and Cus­toms Enforce­ment (ICE) has said it is inves­ti­gat­ing the inci­dent and ​"no sig­nif­i­cant adverse reac­tions" to the adult dosage had been observed.
The Dil­ley deten­tion cen­ter opened late last year in response to the large num­ber of Cen­tral Amer­i­can women and chil­dren cross­ing into the Unit­ed States. It, and oth­er fam­i­ly deten­tion cen­ters, came under fire almost imme­di­ate­ly. Attor­neys and advo­cates argue that, accord­ing to a 1997 judi­cial rul­ing known as Flo­res, chil­dren may not be held in deten­tion. A fed­er­al court sided with advo­cates last week, and the Depart­ment of Home­land Secu­ri­ty must respond by August 6.
Accord­ing to affi­davits, as well as inter­views with sev­er­al women and attor­neys who are part of the CARA Pro Bono legal project at the cen­ter, women were awak­ened by guards, some as ear­ly as 4:00 a.m., over the course of a week begin­ning in late June. They were told to bring their chil­dren to the chapel for a med­ical appoint­ment, where some then wait­ed as long as four hours.
Susana San­ti­a­go says she wait­ed an hour before her 13-year-old daugh­ter was vac­ci­nat­ed, and dur­ing that time received no infor­ma­tion or request for con­sent. Her daugh­ter had already been vac­ci­nat­ed, she says, but, ​"I nev­er had an oppor­tu­ni­ty to say any­thing," and, worse, ​"I have no idea what was injected."
"I was told it was for chick­en­pox," says Bri­ana Arman­doza, a 27-year-old refugee from El Sal­vador with a 2‑year-old son. She says she informed offi­cials that her son had already been vac­ci­nat­ed and was told that didn't mat­ter; he had to be vac­ci­nat­ed. When she expressed fear about a sec­ond dose, ​"They told me, ​'Do not worry.' "
Some moth­ers say they were giv­en papers with infor­ma­tion in Span­ish on the vac­cines their chil­dren were going to receive. Sonia Loren­zano says she was giv­en papers to sign in Eng­lish, a lan­guage she nei­ther speaks nor reads. ​"I asked what the papers said but they would not tell me," she says. ​"But I signed them."
Even when the papers were in Span­ish, women still weren't always sure what they were sign­ing. ​"The woman I met with [said] she was told to sign a doc­u­ment," says Aseem Mehta, an Immi­grant Jus­tice Corps fel­low work­ing with the CARA Pro Bono Project. ​"The offi­cials would not speak to them or answer their ques­tions… I do not know if they had time to read the doc­u­ment but … their ques­tions were not being answered. It is also impor­tant to note that there are vary­ing degrees of lit­er­a­cy among the women and many women who do not even speak Spanish."
The papers list­ed five of the vac­cines giv­en to the chil­dren, includ­ing Hepati­tis B, but, accord­ing to Mehta, omit­ted Hepati­tis A, which the chil­dren also received. ​"On some of the papers we've seen," he says, ​"a check-off box for Hepati­tis A vac­cine was writ­ten in by hand."
With­in a short time — in some cas­es, hours, and in oth­ers, days — at least ten of the chil­dren became severe­ly ill, says Mehta. ​"My son was sick for a week," says Arman­doza. ​"He had a fever and was vom­it­ing. He could not walk for two days." Arman­doza was told by ICE offi­cials that her son had received the adult dose of Hepati­tis A vac­cine. Oth­er moth­ers report­ed the same symptoms.
In These Times can­not con­firm whether the children's symp­toms were due to the vac­cines, and Dr. Deb­o­rah Wexler (among oth­ers), exec­u­tive direc­tor of the Immu­niza­tion Action Coali­tion, has writ­ten that an adult dosage of the Hepati­tis A vac­cine is ​"unlike­ly" to cause ​"unto­ward side effects." Accord­ing to the CDC, fever and sore­ness are com­mon side effects from some of the vac­cines the chil­dren were giv­en, includ­ing the Hepati­tis B, HiB, DTaP and PCV13 vac­cines. Vom­it­ing is more rare but can still occur.
The CDC's web­site does not link vom­it­ing and fever specif­i­cal­ly to the Hepati­tis A vac­cine. ​"Get­ting hepati­tis A vac­cine," writes the CDC, ​"is much safer than get­ting the dis­ease," a sen­ti­ment they repeat about DTaP and oth­er vaccines.
Accord­ing to the US Depart­ment of Health and Human Ser­vices, Hepati­tis A vac­cine is giv­en as two injec­tions, six months apart and Hepati­tis B vac­cine is usu­al­ly giv­en as three to four injec­tions over a six-month peri­od. Accord­ing to Richard Rocha, Com­mu­ni­ca­tions Advi­sor at ICE, the women would be respon­si­ble for see­ing that their chil­dren received the full vac­ci­na­tion. ​"The fam­i­lies are able to take vac­ci­na­tion records when they leave … [and] receive the appro­pri­ate fol­low-up immu­niza­tions as necessary."
Moham­mad Abdol­lahi, Advo­ca­cy Direc­tor at RAICES, an orga­ni­za­tion pro­vid­ing legal assis­tance to detainees, doesn't see this as a viable option. Fol­low-up is ​"not rea­son­able since women are not being explained their rights," he wrote in an email. ​"We all thought one vac­cine [injec­tion] was enough, we didn't even know you need­ed fol­low-up and it is doubt­ful the women will either. No one is telling them anything."
It's dif­fi­cult to know how many moth­ers believe their chil­dren had side effects from the vac­ci­na­tions, says Mehta. In part, this is because women and chil­dren are being released from the deten­tion cen­ters and advo­cates have lost con­tact with them. Anoth­er rea­son is fear.
"Many women are not talk­ing because they are afraid they will be deport­ed," says San­ti­a­go. ​"Many have sim­i­lar sto­ries, but they will not talk."
All names of the detainees have been changed at their request.
This arti­cle was writ­ten with sup­port from the Fund for Inves­tiga­tive Journalism
Joseph Sor­renti­no
is a writer and pho­tog­ra­ph­er. He has been doc­u­ment­ing the lives of agri­cul­tur­al work­ers on both sides of the U.S./Mexico bor­der for
12
years.