Uranium Mine and Mill Workers are Dying, and Nobody Will Take Responsibility
In the Southwest, poisoned uranium workers are still seeking justice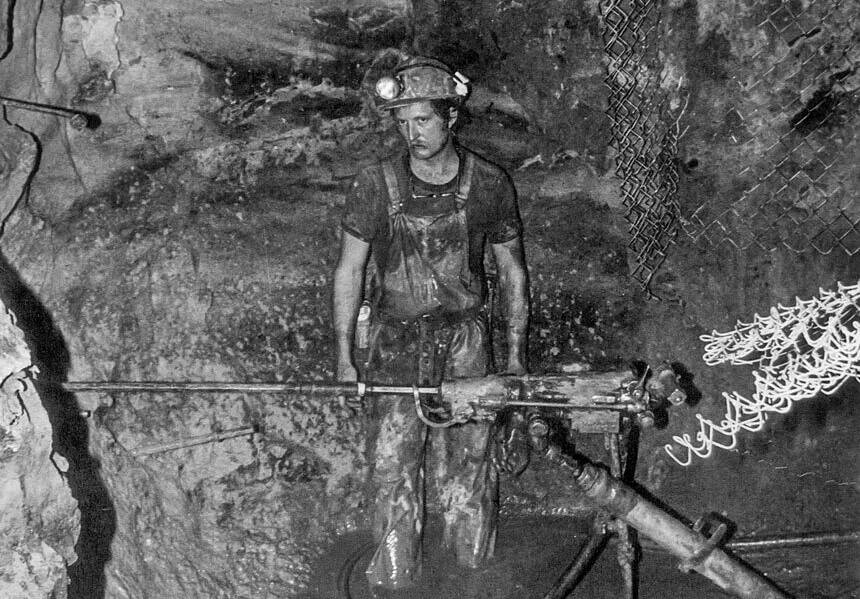 To talk to for­mer ura­ni­um min­ers and their fam­i­lies is to talk about the dead and the dying. Broth­ers and sis­ters, cowork­ers and friends: a litany of names and dis­eases. Many were, as one work­er put it, ​"ate up with can­cer," while oth­ers died from var­i­ous lung and kid­ney dis­eases. When the for­mer work­ers men­tion their own dis­eases, it's clear, though unspo­ken, that they're also dying. Some don't wait for the dis­ease to take them: ​"Poor guy says he don't wan­na be in a dia­per," says one work­er of his broth­er-in-law, a for­mer min­er with lung dis­ease who was fac­ing hos­pice. ​"He got a gun and shot himself."
"No one told us of the hazards of radiation, uranium or radon." Seventy-nine percent of the workers questioned in the Post '71 survey believed that safety measures—including information and equipment—were inadequate.
Women who worked in the mines and mills also bore the risk of repro­duc­tive dis­or­ders and babies with birth defects. "[Super­vi­sors] told me … as long as I could do the job, there was no rea­son to wor­ry about my baby," says Lin­da Evers, 57. Both of her chil­dren had birth defects. Her daugh­ter was born with­out hips.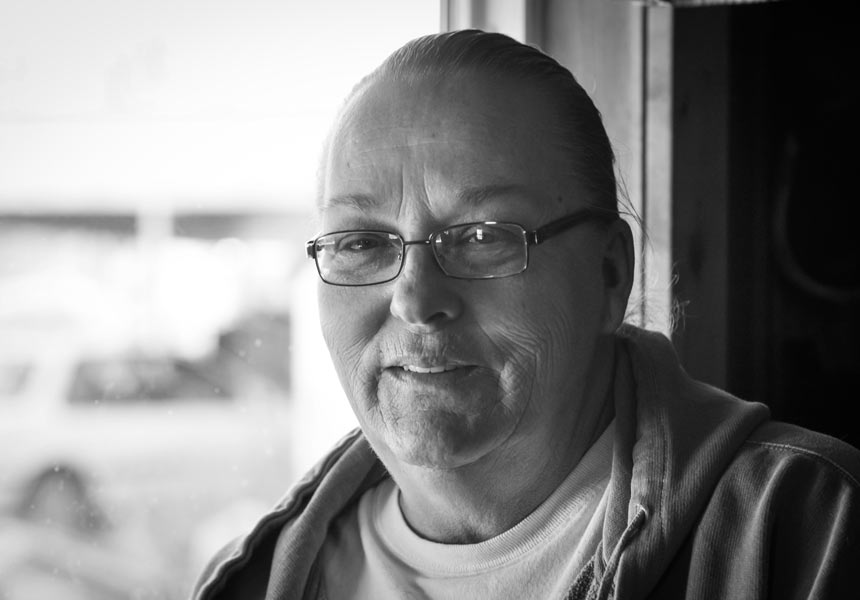 Lin­da Evers, who worked in a ura­ni­um mill in the 1970s, says, ​"Every day, they told us we were doing our part for the Cold War effort." (Pho­to­graph by Joseph Sorrentino)
I spent a week inter­view­ing for­mer ura­ni­um work­ers (those who worked in the mines and the mills and, some­times, both) and their fam­i­lies in the towns of Grants and Church Rock, N.M.: ground zero for ura­ni­um min­ing from the mid-1950s until the ear­ly 1980s. Years, some­times decades, after labor­ing in the mines and mills, work­ers exhib­it dis­eases asso­ci­at­ed with ura­ni­um expo­sure. The fed­er­al gov­ern­ment, under a pro­gram called the Radi­a­tion Expo­sure Com­pen­sa­tion Act (RECA), has paid more than $750 mil­lion in resti­tu­tion to ura­ni­um work­ers on near­ly 8,000 claims. But in order to receive com­pen­sa­tion, work­ers have to have been employed before 1972—the year the fed­er­al gov­ern­ment stopped pur­chas­ing ura­ni­um for its nuclear arms build-up. The work­ers I spoke with are part of a group of thou­sands who worked in ura­ni­um mines or mills after Decem­ber 31, 1971, and have dis­eases linked to ura­ni­um expo­sure, but, so far, can­not get com­pen­sa­tion from RECA.
Spous­es of for­mer work­ers also suf­fer health effects, even though they may have nev­er set foot in a mine or mill. The Post ​'71 Ura­ni­um Work­ers Com­mit­tee, an advo­ca­cy orga­ni­za­tion cofound­ed by Lin­da Evers, sur­veyed 421 wives of ura­ni­um work­ers and found that 40 per­cent report­ed mis­car­riages, still­births or chil­dren with birth defects. One vec­tor of con­t­a­m­i­na­tion may have been laun­dry brought home from the mines. Cipri­ano Lucero, 61, worked in the Ana­con­da mill, where ura­ni­um was processed into yel­low­cake, a tox­ic sub­stance. "[His clothes] were stinky and yel­low and no mat­ter how much bleach, they would nev­er come out, they were still yel­low," says his wife, Liz, adding, ​"I would wash his clothes with our clothes."
Liz was diag­nosed with tumors in her ovaries when she was 28 and had to have a hys­terec­to­my. She says the doc­tor told her it was ura­ni­um-relat­ed. Liz and Cipri­ano cofound­ed the Post ​'71 Ura­ni­um Work­ers Com­mit­tee with Evers.
So who's to blame?
Ura­ni­um min­ing has long been known to be dan­ger­ous work. As ear­ly as 1546, in Schnee­berg, Ger­many, it was not­ed that large num­bers of ura­ni­um min­ers were dying from lung dis­ease. The first sci­en­tif­ic report link­ing ura­ni­um min­ing and lung dis­ease was pub­lished in Ger­many in 1879, and that dis­ease was shown in 1913 to be lung can­cer. More sci­en­tif­ic arti­cles in the 1930s and 1940s seemed to indi­cate that radon and ​"radon daugh­ters," byprod­ucts of ura­ni­um decay, were the pri­ma­ry cause.
But, dri­ven by the Cold War push for nuclear arms, ura­ni­um min­ing con­tin­ued unchecked with ​"lit­tle atten­tion… paid to the health of ura­ni­um min­ers," accord­ing to a Depart­ment of Labor his­to­ri­an.
In 1950, an Irish-Nava­jo sheep herder named Pad­dy Mar­tinez found a bright yel­low rock of ura­ni­um ore near Haystack, N.M. That set off a min­ing boom in the Four Cor­ners (where New Mex­i­co, Ari­zona, Utah and Col­orado meet), pro­vid­ing sore­ly need­ed jobs.
"[The men] want­ed to pro­vide for their fam­i­lies, and the [min­ing] com­pa­nies came in and said, ​'Hey, you guys are gonna make good mon­ey, have good ben­e­fits,' " says Liz Lucero. When she and Cipri­ano first got mar­ried, in 1976, he was work­ing in a gas sta­tion for $3.85/hour. He took a job at the Ana­con­da mill the next year in order to get ben­e­fits and more mon­ey; about, he fig­ures, $6 an hour. ​"Had to," he says. ​"Had to sup­port our family."
Com­pa­nies also lured work­ers with patri­o­tism. ​"Every day, they told us we were doing our part for the Cold War effort," says Lin­da Evers. ​"They'd tell us, ​'We won the Cold War because of you guys.'"
As the boom took off, Grants declared itself ​"The Ura­ni­um Cap­i­tal of the World."
Work­ers like Evers say they didn't under­stand the dan­gers of ura­ni­um expo­sure, in part because the dis­eases take years to man­i­fest. ​"When I was work­ing, no one had been get­ting sick," says Evers.
Dur­ing the 1960s, Nava­jos work­ing in ura­ni­um mines, few of whom smoked cig­a­rettes, start­ed expe­ri­enc­ing high rates of lung can­cer. Advo­cates and work­ers pres­sured the fed­er­al gov­ern­ment — the sole pur­chas­er of ura­ni­um from 1948 until 1971 — for reme­dies. In 1979, Sen. Ted Kennedy (D‑Mass.) intro­duced the first bill to com­pen­sate ura­ni­um work­ers and oth­ers for dis­eases attrib­ut­able to radi­a­tion expo­sure, but it wasn't until 1990 that RECA became law. With RECA, the gov­ern­ment rec­og­nized its respon­si­bil­i­ty for the harm done to ura­ni­um min­ers and apol­o­gized ​"on behalf of the nation." A 2000 bill expand­ed RECA to cov­er ura­ni­um mill work­ers, ore trans­porters and above-ground min­ers. Work­ers with dis­eases such as lung can­cer, pul­monary fibro­sis and sil­i­co­sis are eli­gi­ble for $100,000 in resti­tu­tion. But the act only cov­ers work­ers who were employed before 1972.
The Four Cor­ners min­ing boom con­tin­ued, how­ev­er, thanks to nuclear pow­er. It didn't slow until 1979, when a glut of ura­ni­um on the world mar­ket led to a steep price drop, and lay­offs began. By 1989, the last con­ven­tion­al ura­ni­um mine in New Mex­i­co had closed.
All of the dozen for­mer work­ers inter­viewed for this arti­cle worked after 1971 and are there­fore denied RECA ben­e­fits. Tom­my Reed, who worked in the mines until 1983 and has a con­stant cough, as well as skin and lung prob­lems, finds this unten­able. ​"We did the same work, have the same dis­eases, but we're not cov­ered," he says. ​"What's the ratio­nale behind that?"
Accord­ing to Chris Shuey, who directs the Ura­ni­um Impact Assess­ment Study at the South­west Research and Infor­ma­tion Cen­ter in Albu­querque, the gov­ern­ment rea­soned its respon­si­bil­i­ty end­ed in 1971 when it stopped pur­chas­ing ura­ni­um. Many Con­gress mem­bers, he adds, believe the new stan­dards on radi­a­tion expo­sure passed in 1969 pro­tect­ed ura­ni­um work­ers. Yet, post-1971 work­ers are still dying. Some­thing didn't work.
A fail­ure to regulate
Health and safe­ty pro­tec­tions for ura­ni­um work­ers were, for many years, spot­ty at best and neg­li­gent at worst. The Depart­ment of the Interior's Bureau of Mines (BOM), estab­lished in 1910 to reduce acci­dents, had lit­tle reg­u­la­to­ry author­i­ty and was also tasked with ​"min­er­al resource devel­op­ment." State laws were piece­meal: In 1958, for exam­ple, New Mex­i­co insti­tut­ed a pol­i­cy to ​"clear all areas" of mines that exceed­ed safe lev­els of radon, but ​"there was lim­it­ed enforce­ment," accord­ing to a 2002 Nation­al Insti­tutes of Health paper by Doug Brugge and Rob Goble.
Fed­er­al respon­si­bil­i­ty for mine safe­ty was reshuf­fled twice in the 1970s. The Min­ing Enforce­ment and Safe­ty Admin­is­tra­tion (MESA) took over for the BOM in 1973 due to con­cerns about con­flicts of inter­est. In 1978, the Depart­ment of Labor's Mine Safe­ty and Health Admin­is­tra­tion (MSHA) replaced MESA as part of the sweep­ing reforms of the Fed­er­al Mine Safe­ty and Health Act. MSHA also assumed respon­si­bil­i­ty for ura­ni­um mills.
MSHA's mot­to is ​"Pro­tect­ing Min­ers' Safe­ty and Health Since 1978." For­mer ura­ni­um work­ers inter­viewed — all of whom worked at mines and mills from the mid-1970s through 1982 or 1983— don't believe it did a very good job.
Radon is ​"one of the most potent car­cino­gens known," accord­ing to Dr. Gor­don Edwards, pres­i­dent of the Cana­di­an Coali­tion for Nuclear Respon­si­bil­i­ty. But dur­ing the 1970s, gov­ern­ment reg­u­la­tions didn't man­date reg­u­lar fed­er­al inspec­tions to mea­sure radon lev­els at ura­ni­um mines. Nei­ther MSHA nor the Nation­al Insti­tute for Occu­pa­tion­al Health and Safe­ty (which inher­it­ed some of the BOM's respon­si­bil­i­ties) could pro­vide In These Times with con­fir­ma­tion that the gov­ern­ment con­duct­ed inspec­tions for radon lev­els at that time. Com­pa­nies were sup­posed to self-mon­i­tor, and if they detect­ed high lev­els of radon, imple­ment safe­ty measures.
By 1981, MSHA was sup­posed to be check­ing radon lev­els at the mines annu­al­ly. Sev­er­al work­ers remem­ber inspec­tions, but told In These Times that when inspec­tors were com­ing, super­vi­sors had work­ers bar­ri­cade the unsafe areas. When the inspec­tors left, the bar­ri­cades came down and the work­ers went back in. At mills, "[inspec­tors] nev­er got out of the trucks," says Evers. ​"Maybe they did, but I nev­er saw them."
One effec­tive way to reduce expo­sure to radon is through ven­ti­la­tion. All under­ground mines are sup­posed to be well-ven­ti­lat­ed, and accord­ing to 1973 guide­lines, ura­ni­um mines specif­i­cal­ly had to have ​"an ade­quate quan­ti­ty of good-qual­i­ty air" in work­ing areas so as to keep radon lev­els below the thresh­old. But in a sur­vey of 1,302 post-1971 work­ers con­duct­ed by the Post ​'71 Ura­ni­um Work­ers Com­mit­tee in 2009, only 14 per­cent said their work areas had ade­quate ven­ti­la­tion; 36 per­cent said no and almost half answered ​"some­times."
The ven­ti­la­tion guide­lines didn't extend to ura­ni­um mills, despite expo­sure haz­ards there as well. At mills, ura­ni­um ore is refined into yel­low­cake, which is 80 per­cent to 90 per­cent ura­ni­um oxide. When inhaled, it can become embed­ded in the lungs, increas­ing the risk of pul­monary fibro­sis, which can be fatal. When ingest­ed, it can dam­age the kidneys.
Cipri­ano Lucero worked in ura­ni­um mills from 1977 to 1982. He has pul­monary fibro­sis, and one of his kid­neys failed when he was 48, neces­si­tat­ing a trans­plant. He uses a con­tin­u­ous pos­i­tive pres­sure air­way machine at night and uses an oxy­gen tank dur­ing the day. Asked whether there was prop­er ven­ti­la­tion in the mills where he worked, Lucero sim­ply replies, ​"Not real­ly." Lin­da Evers says the dust was so bad in mills that she some­times couldn't see. ​"They had exhaust fans," she says, ​"but it wasn't any­thing dif­fer­ent than an over­sized box fan. They just moved [the dust] around.
"We were allowed one dust mask a month, a paper dust mask," she con­tin­ues. ​"After one shift, they were clogged, so we just wore ban­danas, or nothing."
Lucero agrees: ​"We had masks but they were use­less … paper masks only. Some­times you wouldn't even have a mask, breath­ing in all that dust." Work­ers often coughed up black soot.
Giv­en the dan­gers of work­ing with ura­ni­um, it would seem that com­pa­nies should have pro­vid­ed exten­sive train­ing on radi­a­tion haz­ards — but they did so at their own dis­cre­tion. ​"We had a class, last­ed about an hour or two," said Lucero. ​"Most­ly about first aid, if you hurt your­self, how to wrap it." They didn't talk about radi­a­tion. Lar­ry King, who worked in the mines, main­ly as a sur­vey­or, for eight years, said he had only one safe­ty meet­ing and that was when he start­ed work.
"No one told us of the haz­ards of radi­a­tion, ura­ni­um or radon," he says. Sev­en­ty-nine per­cent of the work­ers ques­tioned in the Post ​'71 sur­vey believed that safe­ty mea­sures — includ­ing infor­ma­tion and equip­ment — were inadequate.
Sur­round­ed
Church Rock is locat­ed in the Nava­jo Nation, 55 miles west of Grants. Nes­tled in red rock hills, the town gets its name from a for­ma­tion that looks like a steeple. Local Nava­jo were drawn to the mines, like the res­i­dents of Grants, because of the well-pay­ing jobs. Because Nava­jo min­ers often worked with­in walk­ing dis­tance of their homes, their risk of expo­sure was heightened.
Lar­ry King, who is Nava­jo, lives about five miles from the entrance to Church Rock Mine, off a grav­el road just past a hand-paint­ed ​"Old Church Rock Mine Road" sign. In addi­tion to the over­whelm­ing like­li­hood of ura­ni­um expo­sure at work in the mine, there's a strong chance he was, and may still be, exposed at home. His house is a short dis­tance from where, on July 16, 1979, a tail­ings pond dam broke, releas­ing 93 mil­lion gal­lons of radioac­tive water. It was, by vol­ume, the largest sin­gle release of radioac­tiv­i­ty in the Unit­ed States.
King is a stur­dy-look­ing 58-year-old, but he suf­fers from res­pi­ra­to­ry prob­lems that leave him fatigued and short of breath when he works on his prop­er­ty, which includes 13 cat­tle. ​"I used to do quite a bit of work sev­er­al years ago, and now I'm lim­it­ed," he says.
Five miles north of where King lives is the home of Edith Hood, also a Nava­jo for­mer mine work­er. She worked as a probe tech­ni­cian in the Kerr McGee mine for a total of six years. A qui­et 64-year-old, she's still ener­getic despite hav­ing been diag­nosed with lym­phoma in 2006. Her front yard is less than half a mile from the aban­doned mine where she once worked. Just a short dis­tance away is a buried tail­ings pile — mine waste that con­tains ura­ni­um and may still be giv­ing off radon. ​"Since we live and work here," she says, ​"it's a dou­ble whammy."
Wait­ing
In 2015, bills to amend RECA to include post-1971 work­ers were intro­duced in the House and Sen­ate, spear­head­ed by three Demo­c­ra­t­ic New Mex­i­co leg­is­la­tors: Sens. Tom Udall and Mar­tin Hein­rich and Rep. Ben Ray Luján.
It's the fourth attempt since 2000. Kei­th Kil­lian, a pri­vate attor­ney in Grand Junc­tion, Colo., who is fight­ing to get com­pen­sa­tion for post-1971 work­ers, sees rea­son for ​"guard­ed" opti­mism. ​"There are bipar­ti­san spon­sors," he says. ​"That's real­ly good. In the past we didn't have a lot of Repub­li­cans interested."
Still, no bill has received a hear­ing and noth­ing is sched­uled. Nei­ther Sen­ate Judi­cia­ry Com­mit­tee Chair Chuck Grass­ley (R‑Iowa), rank­ing mem­ber Patrick Leahy (D‑Vt.) nor House Judi­cia­ry Com­mit­tee Chair Bob Good­lat­te respond­ed to requests for comment.
Cipri­ano Lucero, a soft-spo­ken man of few words, did what he was told when he worked in the mills. He, like many oth­er ura­ni­um work­ers, said if he com­plained about work­ing con­di­tions, he risked los­ing his job. One of his tasks, wash­ing ura­ni­um off air fil­ters, required him to stand in foot-deep water con­tain­ing ura­ni­um runoff. Doc­tors, he says, told him radi­a­tion expo­sure had made his left leg brit­tle; it broke three times and even­tu­al­ly had to be ampu­tat­ed. Now he has a pros­the­sis, with a paint­ing of the Vir­gin of Guadalupe on it. Lucero has trou­ble walk­ing and usu­al­ly uses a cane or, when he gets too tired, a motor­ized wheelchair.
"Some days are ter­ri­ble," he says. ​"I can bare­ly get out of bed. I just won­der how I'm gonna die…suffocate or what­ev­er." He's only 61.
"It's haunt­ing us," says Jer­ry Sanchez, who worked as both a min­er and miller. ​"If you worked there, you got it com­ing. If you don't have it, it's coming."
Grants is the quin­tes­sen­tial boom town, post-boom. Now, the best jobs are in the pris­ons. Along its main street, a stretch of Route 66, there are almost as many weed-infest­ed lots as there are occu­pied build­ings. A half-mile stretch con­tains six pay­day loan com­pa­nies — four in one block. A few large neon signs beck­on peo­ple to build­ings that no longer exist. An aban­doned gas sta­tion has a large sign adver­tis­ing Marl­boro for $1.69 a pack. Lucero says that in its prime, Grants had ​"lots and lots of peo­ple. … The restau­rants were full all the time, peo­ple [were] buy­ing cars and hous­es." But the streets are most­ly desert­ed now. Asked if his friends and fam­i­ly have moved away, he answers, ​"No. Most of them died because of cancer."
Eli Massey con­tributed research to this article.
Joseph Sor­renti­no
is a writer and pho­tog­ra­ph­er. He has been doc­u­ment­ing the lives of agri­cul­tur­al work­ers on both sides of the U.S./Mexico bor­der for
12
years.