The Refugee Crisis No One's Talking About
The Central American refugee crisis is just as large and urgent as the Syrian refugee crisis. Why are we ignoring it?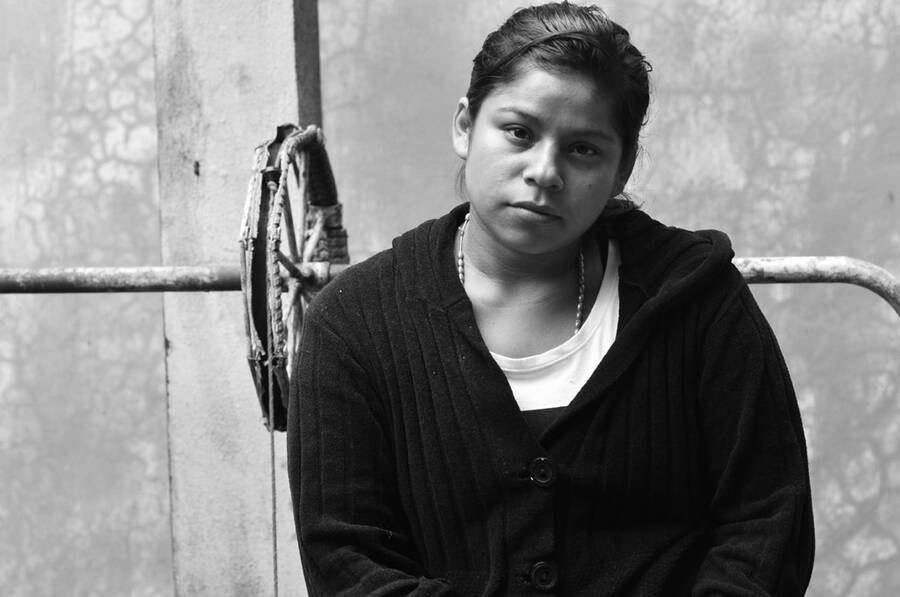 The refugee cri­sis isn't over. I'm not talk­ing about the tens of thou­sands pour­ing into Europe over the last sev­er­al months, but about the tens of thou­sands who are still try­ing to get to the Unit­ed States from Cen­tral America.
But you'd nev­er know it from lis­ten­ing to our gov­ern­ment or our media. After the pan­ic over the ​"surge" of chil­dren at the bor­der last sum­mer, sto­ries about Cen­tral Amer­i­can refugees all but dis­ap­peared. Now, Cus­toms and Bor­der Pro­tec­tion (CBP) is crow­ing about a near­ly 50 per­cent drop in appre­hen­sions of fam­i­ly units at the South­west Bor­der over the last 12 months, com­pared to the pre­vi­ous year.
Yet, accord­ing to staff in refugee shel­ters across Mex­i­co, shel­ters are full and refugees are still stream­ing into that coun­try, hop­ing to make it to the Unit­ed States. If we're appre­hend­ing few­er peo­ple, it is because more are being deport­ed by Mex­i­co or falling prey to gangs, drug car­tels or dan­ger­ous ter­rain on a voy­age that is becom­ing as treach­er­ous as the Mediter­ranean crossing.
And like the Syr­i­ans, they meet the UN cri­te­ria for a refugee: any­one flee­ing their home coun­try because of vio­lence and who fears per­se­cu­tion upon return. I spent sev­en weeks in Mex­i­co between late Jan­u­ary and March of this year, inter­view­ing Cen­tral Amer­i­can refugees in shel­ters stretch­ing from Oax­a­ca to Mex­i­co City. Although sev­er­al men­tioned eco­nom­ic con­cerns, almost all said it was vio­lence that drove them from their homes; vio­lence main­ly per­pe­trat­ed by the incred­i­bly bru­tal gangs Mara 18 and Mara Sal­va­trucha (MS-13). Guatemala, Hon­duras and El Sal­vador have some of the high­est mur­der rates in the world. Peo­ple told me of hav­ing to pay la renta, extor­tion mon­ey, to oper­ate a busi­ness or even to live in a par­tic­u­lar neigh­bor­hood. If they did not pay, the gang would kill their chil­dren. Gangs also forcibly recruit young men; if they refuse, they or their fam­i­lies turn up dead.
I heard so many such sto­ries that it's dif­fi­cult to pick a quote that sums up the dan­gers, but one sticks with me: Eve­lyn Noeme Durán was a 22-year-old Guatemalan trav­el­ing alone through Mex­i­co. She walked, some­times took a bus and also rode the freight train the migrants call La Bes­tia, ​"The Beast." On the train, a gang — she iden­ti­fied them as one of the ​"Maras" because they were tat­tooed — stole all her mon­ey and even her shoes. With­out mon­ey, she would have to cross the rest of the coun­try on foot or by cling­ing to the top of La Bes­tia (many migrants fall off and lose limbs). When I told her the trip was dan­ger­ous, she looked at me with tired eyes and said patient­ly, ​"It is as dan­ger­ous on a bus … in Guatemala as being on the train. It is only dif­fer­ent in the moun­tains here [because] there are animals."
Why are we ignor­ing this cri­sis? Maybe it's eas­i­er for Amer­i­cans to feel com­pas­sion for refugees who are across an ocean and stand lit­tle chance of mak­ing it to the Unit­ed States. We don't have to wor­ry about them strain­ing our pub­lic assis­tance pro­grams or fear they'll take our low-wage jobs. We don't have to lis­ten to pres­i­den­tial can­di­dates call­ing immi­grants of their eth­nic­i­ty drug deal­ers and rapists.
When it comes to the Syr­i­ans, we seem to rec­og­nize that refugees deserve asy­lum: We demand that Euro­pean coun­tries take more refugees, and we're even pledg­ing to do our part. In Sep­tem­ber, the White House announced the Unit­ed States would take in at least 10,000 Syr­i­ans over the next year, while U.S. Sen­a­tor Dick Durbin recent­ly said that num­ber should be 100,000. Durbin vis­it­ed refugee camps in Europe and called the refugee cri­sis, ​"the most sig­nif­i­cant human­i­tar­i­an chal­lenge of our time." He added, ​"There is great suf­fer­ing and exploita­tion of refugees…You have to imag­ine how des­per­ate peo­ple would be to send a 15 year old boy with his 8 year old sis­ter alone." Then there's that gut-wrench­ing pho­to of the drowned Syr­i­an child, lying face down by the water's edge.
The fact is, we have a human­i­tar­i­an cri­sis right here. CBP may announce that few­er refugees are reach­ing our bor­der, but it's not because few­er are try­ing; it's because more are being stopped in Mex­i­co. A New York Times arti­cle pub­lished last June — a rare excep­tion to the near-silence of the U.S. press — report­ed that Mex­i­co deport­ed almost 93,000 Cen­tral Amer­i­cans in the first sev­en months of fis­cal year 2015; 23,000 more than the Unit­ed States did. And the Migra­tion Pol­i­cy Insti­tute report­ed in Sep­tem­ber that Mex­i­co is on tar­get to deport 70 per­cent more Cen­tral Amer­i­cans this year than last, while U.S. depor­ta­tions are expect­ed to be halved. Not only is Mex­i­co doing our dirty work by deport­ing Cen­tral Amer­i­cans, we're pay­ing for it: Accord­ing to an Octo­ber 10 New York Times arti­cle, we gave Mex­i­co tens of mil­lions of dol­lars in fis­cal year 2015 to pre­vent these refugees from reach­ing our border.
It's stun­ning that CBP is ignor­ing the fact that, by its own admis­sion, the Cen­tral Amer­i­cans it wants to deport are flee­ing vio­lence that has not ceased — which would make them legit­i­mate refugees. CBP recent­ly announced that ​"con­di­tions relat­ed to the econ­o­my and vio­lence in El Sal­vador, Hon­duras and Guatemala have not improved." Yet in the same announce­ment, the agency calls peo­ple ​"ille­gal­ly cross­ing the bor­der" from these coun­tries ​"a top pri­or­i­ty for removal."
When refugees do make it across the bor­der, they are locked up like crim­i­nals. Many of the women and chil­dren in ​"fam­i­ly" deten­tion cen­ters were held for months, even after estab­lish­ing that they feared return­ing to their home coun­tries. Recent­ly, under a fed­er­al judge's order, they have been released more quick­ly—with­in three to five weeks. But almost all of the women released are fit­ted with an ankle bracelet (which advo­cates call ​"shack­les") — the same device used to track pris­on­ers released on parole.
In Mex­i­co, I inter­viewed and pho­tographed hun­dreds of refugees on their jour­ney north: José Luís, a fright­ened 11-year-old Hon­duran rid­ing alone on La Bes­tia; men who'd lost limbs to that train; Noël, a 16-year-old Sal­vado­ran walk­ing alone to the Unit­ed States. In Ixte­pec, I vis­it­ed a small ceme­tery that held the remains of 15 unknown migrants; in Chahuites, I saw dis­card­ed women's cloth­ing lying in a place near the train tracks where, locals told me, refugee women were dragged to be raped by local thugs. I've heard sto­ries like those Durbin heard from refugees in Europe. I know, as much as I know any­thing, that peo­ple who are so des­per­ate that they'll lit­er­al­ly risk their lives to reach the Unit­ed States won't be stopped by Mex­i­can immi­gra­tion agents drag­ging them off trains and using Tasers on them; by Mex­i­can police forcibly remov­ing them from bus­es; or by the threat of local gangs rob­bing, kid­nap­ping, maim­ing or killing them. And they cer­tain­ly won't be stopped at the U.S. bor­der by more walls, fences and agents. As long as con­di­tions in Cen­tral Amer­i­ca don't improve, refugees will keep flee­ing north. And by law, we should be tak­ing them in. Why are we ignor­ing the cri­sis that is hap­pen­ing right on our doorstep?
Joseph Sor­renti­no
is a writer and pho­tog­ra­ph­er. He has been doc­u­ment­ing the lives of agri­cul­tur­al work­ers on both sides of the U.S./Mexico bor­der for
12
years.