Divesting for a Greener Planet?
Critics say divestment campaigns won't hurt polluters' profits. But Bill McKibben and student activists say that's not the point.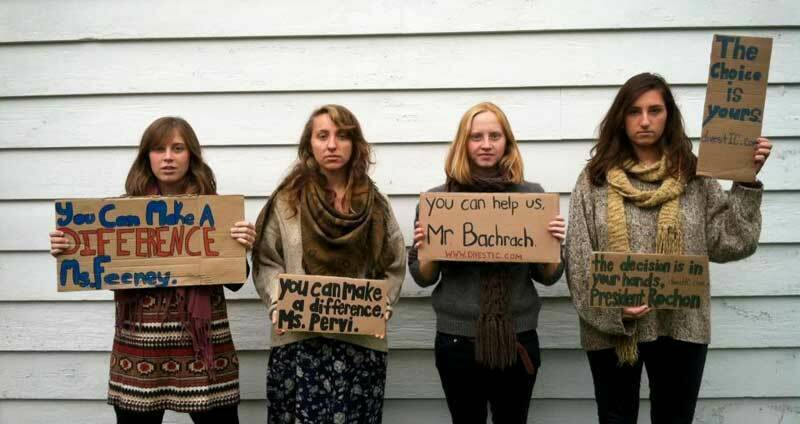 ​"We're jump­start­ing a new move­ment, and we need your help," announced author and 350​.org founder Bill McK­ibben as he launched a cross-coun­try tour in Novem­ber 2012.
"Obviously Exxon is not going to blink twice if a single university⎯or even 30 universities⎯divest," says Sophie Lasoff, an organizer of New York University's divestment campaign.
McK­ibben and 350​.org have long been at the fore­front of the fight against glob­al warm­ing, but the ​"Do the Math" tour sought to enlist cli­mate activists in a new phase of the strug­gle. McK­ibben asked cit­i­zens to take direct aim at the fos­sil fuel indus­try, or, as he puts it, ​"Pub­lic Ene­my Num­ber One to the sur­vival of our plan­e­tary civ­i­liza­tion." Heed­ing his call, activists have launched a cam­paign to pres­sure uni­ver­si­ties, reli­gious insti­tu­tions and local gov­ern­ments to divest their hold­ings in oil and gas com­pa­nies — freez­ing any new invest­ments imme­di­ate­ly and dump­ing any cur­rent ones with­in five years.
With more than 200 such cam­paigns now under­way at col­leges and uni­ver­si­ties across the coun­try, stu­dents are tak­ing the lead.
​"Stu­dents are look­ing for a way to fight for change com­men­su­rate with the scale of the prob­lem," McK­ibben tells In These Times. ​"They've already con­vinced most of their schools to ​'green the cam­pus,' which is great⎯but every­one soon real­izes that an ener­gy-effi­cient arts cen­ter is not going to solve cli­mate change."
The movement's first suc­cess was at Uni­ty Col­lege in Maine, where the board of trustees vot­ed to divest in Novem­ber 2012. Two oth­er col­leges have since fol­lowed, but stu­dents at most schools face an uphill bat­tle. At Har­vard, where 72 per­cent of stu­dents vot­ed in Novem­ber to divest from the fos­sil fuel indus­try, Pres­i­dent Drew Faust oppos­es divest­ment. Instead she is start­ing an alter­na­tive uni­ver­si­ty fund, through which a por­tion of Harvard's $30.7 bil­lion endow­ment would be invest­ed accord­ing to social­ly respon­si­ble criteria.
​"Obvi­ous­ly Exxon is not going to blink twice if a sin­gle university⎯or even 30 universities⎯divest," says Sophie Lasoff, an orga­niz­er of New York University's divest­ment cam­paign. ​"But I think it is an edu­ca­tion­al cam­paign. It's cre­at­ing a move­ment and it's cre­at­ing awareness."
Since the anti-apartheid move­ment of the 1980s, divest­ment and eco­nom­ic boy­cotts have become com­mon tac­tics for stu­dent orga­niz­ing, and they are now reg­u­lar­ly used in strug­gles against an array of tar­gets. At schools through­out the coun­try, stu­dents are also work­ing on cam­paigns to pres­sure their uni­ver­si­ties to divest from big banks such as JPMor­gan Chase, Wells Far­go, and
Bank of Amer­i­ca, which prof­it­ed from the 2008 hous­ing cri­sis and are lead­ers in home foreclosures.
​"Uni­ver­si­ties are big enough to mat­ter and small enough to be moved," says Angus John­ston, a his­to­ri­an at the City Uni­ver­si­ty of New York and the founder of the web­site stu​den​tac​tivism​.net. For stu­dents, divest­ment cam­paigns also have the ben­e­fit of focus­ing action around a clear tar­get: the trustees who gov­ern universities.
Since unveil­ing this cam­paign, McK­ibben and 350​.org have also faced crit­i­cism. In a Nov. 29, 2012 op-ed for the Huff­in­g­ton Post, author Chris­t­ian Par­en­ti argues that fos­sil fuel com­pa­nies respond only to their bot­tom lines — and that they make mon­ey from sell­ing oil, not stocks.
Par­en­ti is also con­cerned that activists are echo­ing a neolib­er­al assump­tion that only mar­ket forces can effect change, by dis­count­ing the pow­er of the state in curb­ing fos­sil fuel use. The Envi­ron­men­tal Pro­tec­tion Agency, he notes, has laws on the books that would reg­u­late fos­sil fuel com­pa­nies if it would only enforce them.
​"If you actu­al­ly look at the details of pre­vi­ous strug­gles you will see that sym­bol­ic pow­er [of divest­ment] has to even­tu­al­ly crys­tal­lize as gov­ern­ment action," Par­en­ti tells In These Times. ​"Take tobac­co. The moral spec­ta­cle of dump­ing tobac­co stock was itself not eco­nom­i­cal­ly painful. But once that moral pow­er was crys­tal­lized as legal pow­er in the form of anti-tobac­co laws, then con­sump­tion of tobac­co and tobac­co prof­its began to decline."
John­ston, how­ev­er, argues that even with­out gov­ern­ment action, a divest­ment cam­paign draw­ing atten­tion to an industry's mis­deeds can even­tu­al­ly cut into its prof­its. ​"A cam­paign that's begun on the lev­el of sym­bol­ic pol­i­tics may rise to the lev­el of prac­ti­cal impact over time," says John­ston. ​"Bad pub­lic­i­ty can have a quite pow­er­ful effect on a company's bot­tom line."
McK­ibben stress­es that the ​"Do the Math" cam­paign is one aspect of the larg­er cli­mate jus­tice move­ment. ​"It's all part of one big fight. … We've already done the biggest civ­il dis­obe­di­ence in 30 years," says McK­ibben, refer­ring to the Sep­tem­ber 2011 sit-in at the White House in which 1,252 peo­ple were arrest­ed in protest of the Key­stone XL pipeline.
On Feb­ru­ary 17, cli­mate activists returned to Wash­ing­ton, D.C. for anoth­er mass action call­ing on Pres­i­dent Oba­ma to reject the pipeline. 350​.org was joined by the Sier­ra Club, which par­tic­i­pat­ed in an act of civ­il dis­obe­di­ence for the first time in its 120-year existence.
As Lasoff sees it, divest­ment cam­paigns are sim­i­lar­ly impor­tant. ​"What we're real­ly try­ing to accom­plish — shift­ing from a par­a­digm in which we're depen­dent on fos­sil fuels to a par­a­digm in which we're depen­dent on renew­ables⎯starts with aware­ness," she says. ​"And then from aware­ness comes the action."
Rebec­ca Nathanson

is a free­lance writer in New York City. She has writ­ten for

Al Jazeera Amer­i­ca, n+

1

, The Nation

, NewYork​er​.com,

The Pro­gres­sive

, Rolling​Stone​.com, and more.