These Students Are Leading a Movement for Free College in the United States
At last, real organizing for tuition-free college is taking off in America.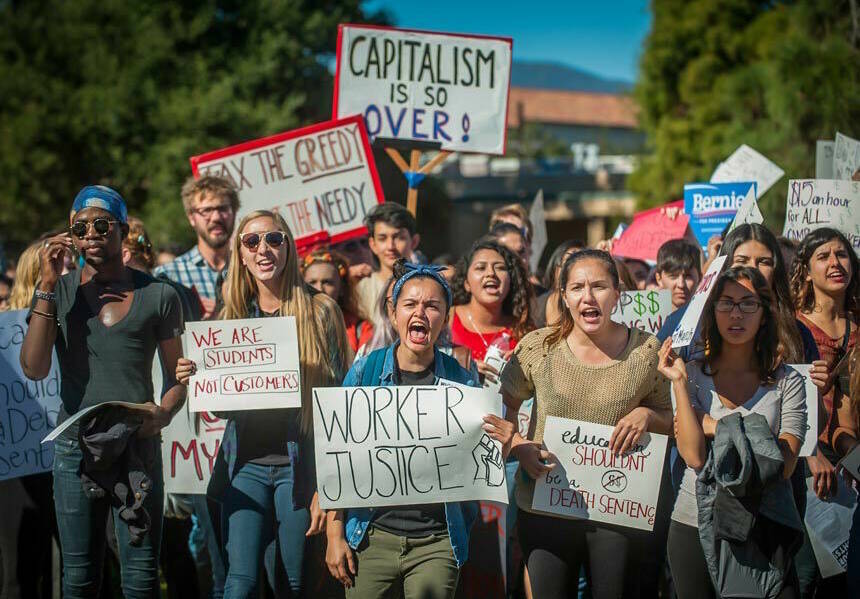 On Nov. 12, 2015, stu­dents at the Uni­ver­si­ty of Cal­i­for­nia, Berke­ley, redec­o­rat­ed their idyl­lic cam­pus with a ​"wall of shame." On pieces of paper taped to the admin­is­tra­tion build­ing, stu­dents pro­claimed how much debt they had assumed in order to attend the pres­ti­gious uni­ver­si­ty — for some, more than $160,000.
In the past three decades, average tuition at U.S. public universities has more than tripled.
With chants of, ​"Free col­lege: That's our right. What do we do? Fight, fight, fight," the stu­dents called for an increas­ing­ly pop­u­lar solu­tion to the grow­ing bur­den of stu­dent debt: abol­ish­ing tuition entire­ly at pub­lic col­leges and universities.
Through­out most of the 20th cen­tu­ry, many pub­lic col­leges and uni­ver­si­ties were free, or near­ly so. California's land­mark 1960 Mas­ter Plan for High­er Edu­ca­tion, for exam­ple, was essen­tial­ly a pledge to edu­cate all res­i­dents of the state who want­ed an edu­ca­tion for free or for a nom­i­nal fee. But the plan was soon attacked by Gov. Ronald Rea­gan, who paint­ed free pub­lic high­er edu­ca­tion as wel­fare for priv­i­leged twen­ty-some­things and began shift­ing costs to stu­dents when he took office in 1967. Today, the total cost of tuition and fees at the state's pub­lic Uni­ver­si­ty of Cal­i­for­nia cam­pus­es stands at $12,240 for in-state res­i­dents. City Uni­ver­si­ty of New York (CUNY), like­wise, didn't begin charg­ing tuition until 1976. It now costs $6,330 per year for in-state stu­dents, not includ­ing fees.
The idea of free high­er edu­ca­tion has gained new polit­i­cal life thanks in part to a high-pro­file cham­pi­on. Sen. Bernie Sanders has made tuition-free col­lege a sig­na­ture issue of his pres­i­den­tial cam­paign, call­ing it the key to a ​"stronger econ­o­my and a stronger democ­ra­cy." Under Sanders' plan, the fed­er­al gov­ern­ment would cov­er the cost by impos­ing a finan­cial trans­ac­tion tax on Wall Street. Sanders has stressed that pub­lic uni­ver­si­ties are already tuition- free in Ger­many, Mex­i­co and many oth­er coun­tries, and said in a June 2015 inter­view that he believed they could be free in the Unit­ed States, as well, if a mil­lion young peo­ple marched in the streets to demand it.
Stu­dents rose to the chal­lenge this fall, stag­ing a Mil­lion Stu­dent March on Nov. 12, 2015 with demon­stra­tions on more than 100 cam­pus­es. The protests cen­tered on three demands: tuition-free pub­lic uni­ver­si­ties, a $15 min­i­mum wage for all cam­pus work­ers and can­cel­la­tion of stu­dent debt.
In the past three decades, aver­age tuition at U.S. pub­lic uni­ver­si­ties has more than tripled. The mon­ey has gone to off­set deep cuts in state fund­ing, but also to fuel a bal­loon­ing of admin­is­tra­tions and state-of-the art cam­pus facil­i­ties. Giv­en that stu­dents have borne the brunt of these changes — aver­age stu­dent debt at col­lege grad­u­a­tion grew from $18,550 in 2004 to $28,950 in 2014 — one might ask, why weren't U.S. stu­dents flood­ing the streets sooner?
Places with far low­er high­er edu­ca­tion costs have seen the rise of mil­i­tant stu­dent move­ments oppos­ing tuition hikes and pri­va­ti­za­tion. In 2012, tens of thou­sands of stu­dents in Québec, Cana­da, boy­cotted class­es and took to the streets in response to a pro­pos­al to raise uni­ver­si­ty tuition. A province-wide stu­dent strike last­ed more than 100 days — the longest in Québec's his­to­ry — and won a tuition freeze. Begin­ning in 2011, Chilean stu­dents held two years of mass protests, orga­niz­ing hun­dreds of thou­sands of stu­dents through the Con­fed­eración de Estu­di­antes de Chile, a nation­al coali­tion of stu­dent unions. In Jan­u­ary 2015, the Chilean Con­gress passed a land­mark law pro­hibit­ing state-sub­si­dized schools and uni­ver­si­ties from oper­at­ing as for- prof­its, but pro­test­ers con­tin­ue to demand free edu­ca­tion for all.
How­ev­er, both Québec and Chile had long his­to­ries of stu­dent activism around afford­able edu­ca­tion, with coali­tions that could mobi­lize stu­dents quick­ly across cam­pus­es. While U.S. col­leges have his­tor­i­cal­ly been key bat­tle­grounds for a range of social issues— sex­u­al vio­lence, inter­na­tion­al human rights, envi­ron­men­tal jus­tice, and most recent­ly, racial jus­tice — they lack the same tra­di­tion of stu­dent union­ism. Orga­niz­ing across geo­graph­i­cal­ly dis­parate cam­pus­es also presents a hurdle.
But stu­dent orga­niz­ers from New York to Cal­i­for­nia are ris­ing to the chal­lenge, led by CUNY and UC stu­dents who want to revive their schools' mis­sions to pro­vide uni­ver­sal access to edu­ca­tion. ​"Being able to build stu­dent pow­er sys­tem-wide and even statewide is the place to start," says Art Mot­ta, a senior at UC San­ta Cruz. The Mil­lion Stu­dent March was the first nation­wide action; orga­niz­ers came togeth­er from activist groups across the coun­try via Face­book and con­fer­ence calls. They are con­sid­er­ing a fol­low-up in the spring. Although most orga­niz­ing takes place on the cam­pus or at the statewide lev­el, there are a hand­ful of nation­al stu­dent orga­ni­za­tions with mem­bers or chap­ters through­out the coun­try. The largest, Unit­ed States Stu­dent Asso­ci­a­tion, focus­es pri­mar­i­ly on using its exten­sive net­work to push for leg­isla­tive change, rather than mass direct actions.
Politi­cians are begin­ning to take notice of grow­ing pub­lic sup­port for the idea: Though she oppos­es Sanders' plan for tuition-free col­lege, Hillary Clin­ton has a $350 bil­lion plan to reduce debt in high­er edu­ca­tion by cut­ting costs at pub­lic uni­ver­si­ties and expand­ing income-based loan repay­ment, among oth­er mea­sures. Clin­ton has also endorsed tuition-free com­mu­ni­ty col­lege, a pro­pos­al that is cur­rent­ly being pur­sued by Pres­i­dent Oba­ma, based on a pol­i­cy in Ten­nessee.
 And by join­ing forces with work­ers demand­ing a $15 min­i­mum wage, stu­dents may be able to draw on the pow­er of the labor move­ment. At the UC Berke­ley march for tuition-free col­lege, mem­bers of the Cal­i­for­nia Nurs­es Asso­ci­a­tion showed up in the hun­dreds to lend support.
To tru­ly make high­er edu­ca­tion acces­si­ble to all, any plan will have to address not only its cost, but its his­to­ry of seg­re­ga­tion and exclu­sion of stu­dents of col­or, notes Daisy Vil­lalo­bos, a junior at CUNY's Hunter Col­lege. The two issues are far from sep­a­rate: 42 per­cent of African-Amer­i­can fam­i­lies had stu­dent loans in 2013, com­pared to 24 per­cent of white fam­i­lies. And the debt protests have coin­cid­ed with a wave of stu­dent protests high­light­ing oth­er ways that insti­tu­tion­al racism func­tions on cam­pus. While the two stu­dent move­ments have only just begun to artic­u­late their links, some cam­pus­es includ­ed racial jus­tice in their Mil­lion Stu­dent March demands.
"I do believe that a stu­dent move­ment is grow­ing," Vil­lalo­bos says. ​"But I think it's going to have to be about chang­ing what high­er edu­ca­tion looks like in Amer­i­ca to bet­ter fit our needs as a nation."
Rebec­ca Nathanson

is a free­lance writer in New York City. She has writ­ten for

Al Jazeera Amer­i­ca, n+

1

, The Nation

, NewYork​er​.com,

The Pro­gres­sive

, Rolling​Stone​.com, and more.