How Donald Trump Hopes to John Wayne His Way Into the White House
Why the American Hero trope is so dangerous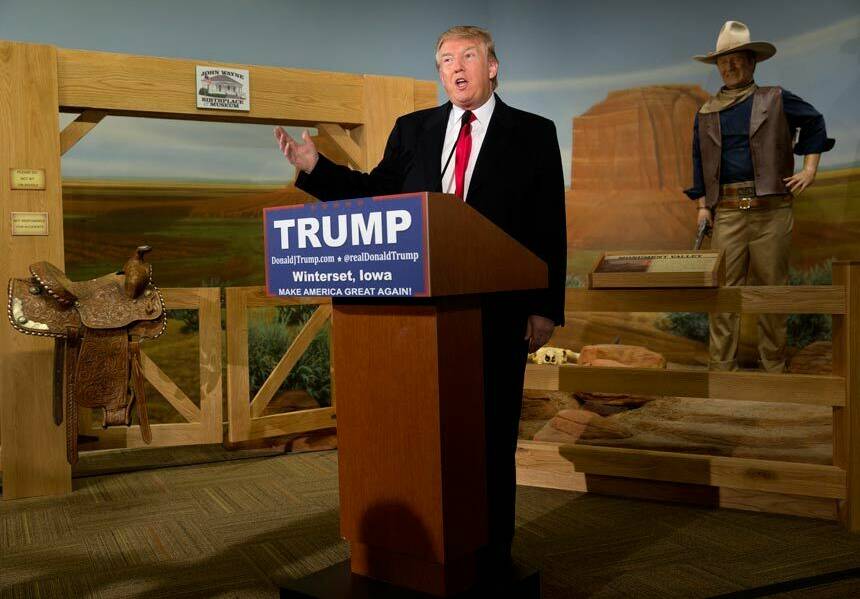 Repub­li­can pres­i­den­tial can­di­date Don­ald Trump says that if he had been present for the Paris ter­ror attacks, he would have per­son­al­ly shot the attackers.
We must recognize that Trump is a canny performer who taps into enduring fantasies Americans have imbibed for decades—not from the news or political talk shows, but from TV, movie and console screens.
"I'm licensed to car­ry," he explains. ​"If I were there, if some­body were there, if we had some fire­pow­er in the oppo­site direc­tion, those peo­ple would've been gone."
Such shoot-from-the-hip rhetoric, which has swollen his poll num­bers, has defied con­ven­tion­al wis­dom about what you can let your id blurt out on the cam­paign trail.
Much ink — too much — has been spilled on the bizarre phe­nom­e­non of a bom­bas­tic, self-pro­mot­ing real­i­ty-TV star and real-estate mogul cap­tur­ing Repub­li­can pri­ma­ry vot­ers' hearts by spurn­ing tra­di­tion­al scripts. But that's the point with Trump. We need to think about him not through the frame­works of pol­i­tics, or how the main­stream news media cov­er cur­rent affairs. Rather, we must rec­og­nize that Trump is a can­ny per­former who taps into endur­ing fan­tasies Amer­i­cans have imbibed for decades — not from the news or polit­i­cal talk shows, but from TV, movie and con­sole screens. Too often we for­get how polit­i­cal val­ues are embed­ded in and advanced by what pass­es for ​"just enter­tain­ment." Some of these val­ues are pro­gres­sive, oth­ers quite regres­sive. But a per­sis­tent trope is that there are sim­ple solu­tions to com­plex problems.
One incar­na­tion of this fan­ta­sy, a noble one, is about politi­cians speak­ing truth to pow­er and, in the end, redeem­ing nation­al pol­i­tics. This is the Mr. Smith Goes to Wash­ing­ton dream, in which James Stew­art takes on the press (to one reporter, ​"Why don't you tell the truth for a change?") and cor­rupt politi­cians, fil­i­bus­ter­ing for truth and decen­cy on the Sen­ate floor and sham­ing a col­league into con­fess­ing his wrong­do­ing. An impressed radio com­men­ta­tor casts him as ​"one lone and sim­ple Amer­i­can hold­ing the great­est floor in the land. What he lacked in expe­ri­ence, he's made up in fight." Only an out­sider could see and speak the truth. A more recent ver­sion of this fan­ta­sy was War­ren Beatty's 1998 Bul­worth, in which a cor­rupt politi­cian, think­ing he's about to die, spouts obscen­i­ty-laced raps about almost every injus­tice he sees, from the mass incar­cer­a­tion of black men to the need for social­ism, and expe­ri­ences a spike in his pop­u­lar­i­ty as a result. While these media dreams — which Trump both chan­nels and per­verts — speak to our bet­ter angels, a lone hero sim­ply speak­ing his ​"truth" to the estab­lish­ment has rarely, by itself, changed anything.
Anoth­er ver­sion of this mass-enter­tain­ment fan­ta­sy exploit­ed by Trump fea­tures the tough, mas­sive­ly armed lone hero — think Die Hard, or most Schwarzeneg­ger films — who tri­umphs against mur­der­ous hordes, be they ter­ror­ists, crim­i­nals or for­eign armies. In her 1993 book Hard­bod­ies, Susan Jef­fords laid out how these action films of the 1980s meshed beau­ti­ful­ly with both Ronald Reagan's cow­boy image and his for­eign pol­i­cy stances, and came to stand for a vision of our nation­al char­ac­ter as ​"hero­ic, aggres­sive and deter­mined." As Trump pro­claimed in a recent Repub­li­can debate, ​"We need tough­ness. We need strength."
Trump also relent­less­ly pro­motes the delu­sion that stereo­types are most­ly true and thus should guide our pub­lic poli­cies. For most Amer­i­cans, enter­tain­ment and news media are the pri­ma­ry sources of infor­ma­tion about Arabs and Mus­lims (two groups often con­flat­ed). What they see, over­whelm­ing­ly, are both groups por­trayed as ter­ror­ists. As the author of a 2013 study on stereo­types in video games put it, ​"Being an Arab video game char­ac­ter is almost syn­ony­mous with being a ter­ror­ist." Trump's pro­pos­al to ban Mus­lims from enter­ing the Unit­ed States draws from this stereo­type to present the com­fort­ing illu­sion that racial pro­fil­ing is a sim­ple way to keep us safe. Add the pro­pos­al to ​"take out" the fam­i­lies of ter­ror­ists and you have a soupçon of strat­e­gy from all the God­fa­ther movies.
These media-dri­ven macho fan­tasies are clear­ly pro­vid­ing sus­te­nance to some, giv­en the size of Trump's ral­lies and his stand­ing in the polls. But they are also why, accord­ing to the most recent polls from Wall Street Journal/​MSNBC, 56 per­cent of Amer­i­cans have a ​"some­what neg­a­tive" or ​"very neg­a­tive" view of him; for women 18 – 49, the ​"very neg­a­tive" rat­ings are 58 per­cent. In the real world, when politi­cians per­vert ​"truth telling" to pro­pose vio­lent and hate­ful poli­cies, fan­ta­sy even­tu­al­ly morphs into nightmare.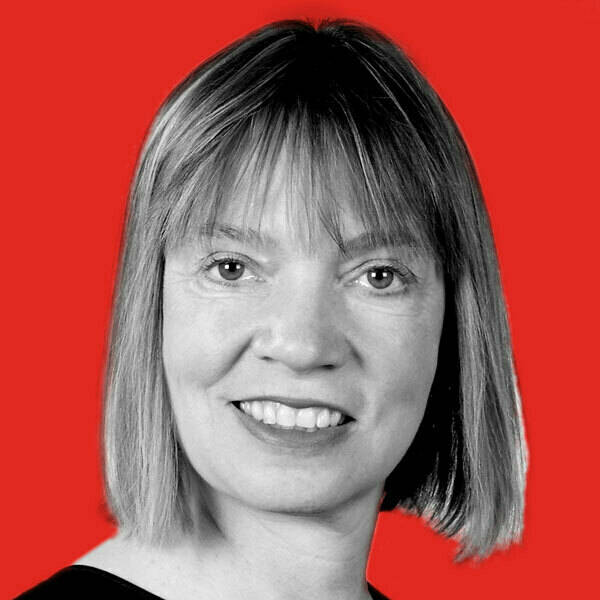 Susan J. Dou­glas
is a pro­fes­sor of com­mu­ni­ca­tions at the Uni­ver­si­ty of Michi­gan and a senior edi­tor at
In These Times
. Her forth­com­ing book is
In Our Prime: How Old­er Women Are Rein­vent­ing the Road Ahead.
.