Trump Plans to Make It Easier to Kill Civilians with Drones. We Can Thank Obama for Paving the Way.
As the war on terror enters its 17th year, it's clear that abuses of power by one administration lead to abuses by the next.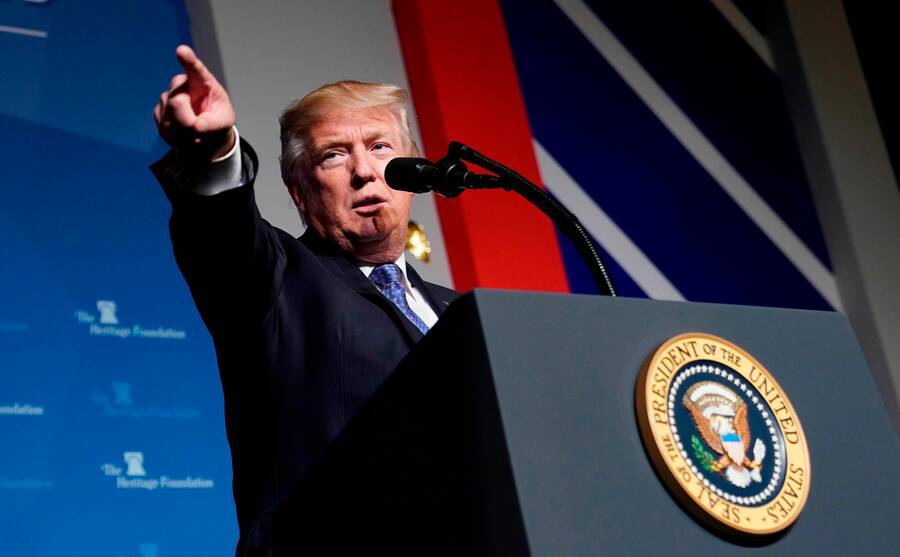 This arti­cle was pro­duced by a part­ner­ship between In These Times and For­eign Pol­i­cy in Focus.
Trump may be driving it more recklessly, but he's still operating a machine the Obama administration built.
Bare­ly a month after Pres­i­dent Don­ald Trump announced plans to deep­en and extend the now 16-year-old U.S. war in Afghanistan, reports sur­faced of plans to expand anoth­er sig­na­ture Oba­ma-era pol­i­cy: the drone war.
Specif­i­cal­ly, The New York Times report­ed in late Sep­tem­ber that the admin­is­tra­tion is relax­ing Oba­ma-era restric­tions on who can be tar­get­ed and remov­ing a require­ment that strikes receive high-lev­el vet­ting before they're car­ried out. Accord­ing to the paper, the new rules would also ​"ease the way to expand­ing such gray-zone acts of spo­radic war­fare" into new coun­tries, expand­ing the pro­gram's already glob­al footprint.
Across admin­is­tra­tions, the use of drones has increased expo­nen­tial­ly through­out the course of the war on ter­ror. Even before the rule change, Mic­ah Zenko of the Coun­cil on For­eign Rela­tions esti­mat­ed that the pace of drone strikes and spe­cial forces raids had increased from one every 5.4 days under Pres­i­dent Oba­ma to one every 1.25 days under Pres­i­dent Trump.
In addi­tion to increas­ing the pace of these oper­a­tions, the Trump admin­is­tra­tion has also loos­ened guide­lines designed to pro­tect civil­ians in areas like Yemen and Soma­lia, and over­seen a notable increase in civil­ian casu­al­ties in war zones like Iraq and Syria.
In this envi­ron­ment, rescind­ing the Oba­ma admin­is­tra­tion's already lax restric­tions on drone attacks — cou­pled with Trump's overt and express dis­re­gard for human rights and the rule of law — is clear­ly cause for con­cern. But that also should­n't be a path­way toward nor­mal­iz­ing the Oba­ma administration's own use of drones.
Instead, we need to under­stand the excess­es of the war on ter­ror as a tra­jec­to­ry: The abuse of pow­er under one admin­is­tra­tion leads to the abuse of pow­er under anoth­er. Trump may be dri­ving it more reck­less­ly, but he's still oper­at­ing a machine the Oba­ma admin­is­tra­tion built.
Licensed to Kill
The con­tro­ver­sy over drones dur­ing the Oba­ma admin­is­tra­tion reached an ear­ly flash­point in 2011, when a drone pilot assas­si­nat­ed a U.S. cit­i­zen in Yemen by the name of Anwar Al-Awla­ki — fol­lowed, two weeks lat­er, by the U.S. killing of his 16-year-old son.
It was anoth­er two years before Oba­ma's Depart­ment of Jus­tice released a white paper that detailed its legal argu­ment sanc­tion­ing Al-Awlaki's mur­der. As the ACLU's Jameel Jaf­fer explained, the paper said the gov­ern­ment would only tar­get ​"immi­nent" threats, and only when ​"cap­ture was infea­si­ble." But in prac­tice, Jaf­fer not­ed, the admin­is­tra­tion used an extreme­ly expan­sive def­i­n­i­tion of ​"immi­nent" that ​"deprives the word of its ordi­nary meaning."
"With­out say­ing so explic­it­ly," Jaf­fer wor­ried, the gov­ern­ment was effec­tive­ly claim­ing ​"the author­i­ty to kill Amer­i­can ter­ror­ism sus­pects in secret," vir­tu­al­ly any­where in the world.
That same year, respond­ing to increas­ing crit­i­cism, Oba­ma him­self gave a speech attempt­ing to clar­i­fy the bound­aries of this par­tic­u­lar tac­tic. ​"America's actions are legal," the pres­i­dent assert­ed of the drone war, which he claimed was being ​"waged pro­por­tion­al­ly, in last resort, and in self-defense."
So it was per­fect­ly legal, in the Oba­ma admin­is­tra­tion's view, to launch 10 times more strikes than the Bush admin­is­tra­tion, accord­ing to the Bureau of Inves­tiga­tive Jour­nal­ism, in a vast arc extend­ing from Libya to the Philippines.
Mean­ing­less Standards
But if the war on ter­ror has taught us any­thing, it's that legal­i­ty is mal­leable — and nev­er trans­par­ent. It's taught us that account­abil­i­ty is impos­si­ble when the laws obscure the crime.
In his 2013 speech, for instance, Oba­ma ref­er­enced a set of pres­i­den­tial pol­i­cy guide­lines on drone strikes. Yet these weren't released until August 2016, more than three years after Obama's attempt at ​"trans­paren­cy." Two of those guide­lines stat­ed that there must be ​"near cer­tain­ty" that a law­ful tar­get is present before a strike is approved, as well as a ​"near cer­tain­ty that non-com­bat­ants will not be injured or killed."
Yet it was nev­er clear what this meant. ​"The [Unit­ed States] has nev­er described what post-strike stan­dards, pro­to­cols, and mech­a­nisms exist to sys­tem­at­i­cal­ly ver­i­fy com­pli­ance with this pol­i­cy stan­dard," Amnesty Inter­na­tion­al not­ed in a crit­i­cal 2013 report.
Indeed, the Oba­ma admin­is­tra­tion seemed to take an expan­sive view of who counts as a ​"law­ful tar­get." It embraced a prac­tice of launch­ing ​"sig­na­ture strikes" where the tar­gets were unknown alto­geth­er to the peo­ple who approved them. Such tar­get­ing was based on behav­iors deemed to be indica­tive of ter­ror­ist activ­i­ty, though what exact­ly that means was nev­er clear either.
In fact, the White House appar­ent­ly did­n't des­ig­nate many vic­tims as ​"law­ful tar­gets" until after they'd been killed. ​"It in effect counts all mil­i­tary-age males in a strike zone as com­bat­ants," the Times report­ed in 2012, ​"unless there is explic­it intel­li­gence posthu­mous­ly prov­ing them innocent."
That's why gov­ern­ment esti­mates of civil­ian causal­i­ties have been rou­tine­ly low­er than counts by NGOs. For exam­ple, the U.S. gov­ern­ment esti­mat­ed civil­ian deaths at between 64 and 116 in Pak­istan, Yemen, Soma­lia and Libya com­bined between Jan­u­ary 2009 and Decem­ber 2015. The Bureau of Inves­tiga­tive Journalism's esti­mate was sub­stan­tial­ly high­er — between 380 and 801, using rel­a­tive­ly con­ser­v­a­tive criteria.
Worse still, there's been no account­abil­i­ty for the gov­ern­ment offi­cials respon­si­ble for civil­ian deaths. "[N]o such amends exist for civil­ians harmed by US drones in Pak­istan," the Cen­ter for Civil­ians in Con­flict report­ed in 2012. And no one in Pak­istan or Yemen had received ​"apolo­gies, expla­na­tions or mon­e­tary pay­ments as amends from the U.S. government."
In oth­er words, not only was the White House­'s com­mit­ment to avoid­ing civil­ian deaths a large­ly sym­bol­ic ges­ture, there was in fact no appa­ra­tus for jus­tice at all. If legal­i­ty is an asser­tion, and if breach­es of the law have no con­se­quences, what could ever make the drone war illegal?
Under­ly­ing Violence
These are a mere hand­ful of the seri­ous moral, eth­i­cal, and legal prob­lems sur­round­ing Oba­ma's use of drones. They point to incon­sis­ten­cies, per­for­ma­tive jus­tice and a whole­sale lack of account­abil­i­ty — all of which char­ac­ter­ized the mod­est restric­tions Trump is now rolling back on the glob­al killing program.
Across all admin­is­tra­tions, the log­ic that main­tains a seem­ing­ly insignif­i­cant line between legal and ille­gal tac­tics in the war on ter­ror has a great deal to do with Islam­o­pho­bia. The vic­tims are all Mus­lims, or those racial­ized as Mus­lims, and are most­ly out of sight and out of mind.
Most Amer­i­cans don't see the vio­lence and can't com­pre­hend it — a fact that's abet­ted not only the esca­la­tion of drone war­fare, but also the end­less wars in the greater Mid­dle East and the ero­sion of civ­il lib­er­ties at home under the war on ter­ror more gen­er­al­ly. And it's why Mus­lim vic­tims have few prospects for accountability.
It is this sys­tem of oppres­sion that ulti­mate­ly under­lies drone war­fare, whether under Bush, Oba­ma, or Trump. It's what allows the vio­lence to esca­late each year as the war on ter­ror con­tin­ues — and Octo­ber 7 marked the start of its 17th year.
Human rights safe­guards are meant to be absolute, not rel­a­tive. Obama's Demo­c­ra­t­ic Par­ty affil­i­a­tion doesn't make his drone war­fare pro­gram any less ille­gal than Trump's brutish brand of Repub­li­can pol­i­tics. It was Oba­ma's skirt­ing of these stan­dards, in fact, that enables Trump to be all the more brutal.
We must demand stan­dards for the war on ter­ror that are based on inter­na­tion­al human rights and human­i­tar­i­an law. As Trump's abus­es become increas­ing­ly clear, let's re-imag­ine what the pro­tec­tion and preser­va­tion of human rights looks like and work to ensure that it's our stan­dard regard­less of who's in power.
Dr.
Maha Hilal
​
'
s research and exper­tise is on Insti­tu­tion­al­ized Islam­o­pho­bia in the War on Ter­ror. She's the co-direc­tor of the Jus­tice for Mus­lims Col­lec­tive, an orga­niz­er with Wit­ness Against Tor­ture, and a coun­cil mem­ber of School of the Amer­i­c­as Watch. Pre­vi­ous­ly, she was the inau­gur­al Michael Rat­ner fel­low at the Insti­tute for Pol­i­cy Studies.