As Long as Guantanamo Exists, Trump Has a Torture Chamber Ready To Use
The administration has discussed warehousing refugee children at the notorious prison.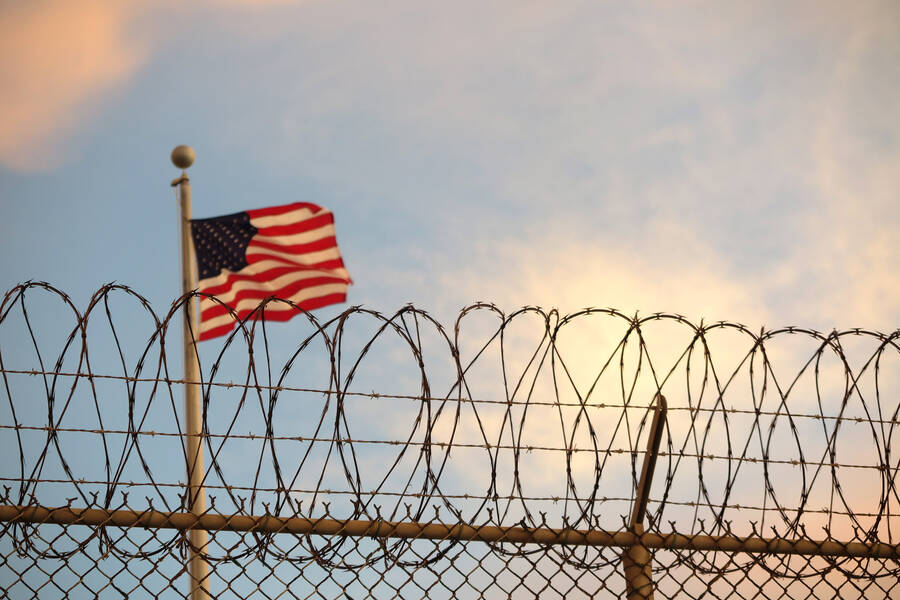 There are few things that could give the Guan­tanamo Bay prison a more hor­rif­ic rep­u­ta­tion for vio­lence than it already has.
Despite nearly 18 years of near constant controversy — up to and including an order by the Obama administration to close it — the prison looks more likely to be expanded than closed.
From indef­i­nite­ly detain­ing a Mus­lim pop­u­la­tion (many for years after being cleared for release) to charg­ing Omar Khadr (a child detained and tor­tured at the age of 15) with war crimes, there are few sur­pris­es when it comes to the lengths to which the U.S. gov­ern­ment will go to inflict vio­lence on vul­ner­a­ble communities.
Yet, accord­ing to one rumor, the Trump admin­is­tra­tion has just deliv­ered a shock: Numer­ous reports com­ing out of the admin­is­tra­tion sug­gest that this noto­ri­ous prison has been con­sid­ered as a site to imprison migrant children.
For more cyn­i­cal observers, this pro­pos­al for asy­lum seek­ers is no sur­prise at all. After all, it was rough­ly a year ago that the Trump admin­is­tra­tion adopt­ed a pol­i­cy of sep­a­rat­ing fam­i­lies, and has since detained thou­sands of chil­dren in remote desert facil­i­ties. In many cas­es those sep­a­ra­tions weren't tem­po­rary but per­ma­nent, giv­en the fact that the admin­is­tra­tion lost tabs on many of those chil­dren, or deport­ed their parents.
The legal­i­ty of the administration's immi­gra­tion deten­tion poli­cies has been fierce­ly debat­ed. But Guan­tanamo has long been a site where the law­less­ness main­tained by the state remains, as the proverb says, out of sight, out of mind.
In fact, the prison has been used to house asy­lum seek­ers before. In 1994, Hait­ian chil­dren were held at the prison in ​"Camp Nine" — a site reserved exclu­sive­ly for them. It was ​"cat­a­stroph­ic," TIME reports. ​"Old­er chil­dren staged hunger strikes to protest their incar­cer­a­tion. ​'House­p­a­r­ents' who lived in the camps described the chil­dren as deeply trau­ma­tized, often scream­ing and sob­bing as they lay awake at night. Reports of abuse proliferated."
The gov­ern­ment has dis­missed sim­i­lar com­plaints about its present camps, sug­ar-coat­ing the con­di­tions under which chil­dren have been held. They get piz­za and ice cream and soc­cer fields, spokes­peo­ple say.
For all these sup­posed com­forts, numer­ous asy­lum-seek­ing chil­dren have died in U.S. cus­tody with zero account­abil­i­ty, sug­gest­ing that the range of pos­si­ble out­comes for migrant chil­dren includes deten­tion at best, and death at worst. Being detained at Guan­tanamo, a mil­i­tary prison noto­ri­ous for indef­i­nite deten­tion and tor­ture, may col­lapse this bleak range even fur­ther — and even more insid­i­ous­ly, make it expo­nen­tial­ly more dif­fi­cult to track what hap­pens to these children.
For now, the reports sug­gest that the admin­is­tra­tion has held off on trans­fer­ring chil­dren there, report­ed­ly over con­cerns about the optics of detain­ing chil­dren near ​"ter­ror suspects."
But the dan­ger of Guan­tanamo isn't just what hap­pens to the peo­ple inside the prison — it's how their impris­on­ment there appears to peo­ple out­side the prison. Today, migrant chil­dren might be housed next to ​"ter­ror sus­pects." But, like so many Mus­lim pris­on­ers who were sum­mar­i­ly abduct­ed and impris­oned with­out any evi­dence of con­nec­tion to ter­ror­ism, it may be only a mat­ter of time before oth­ers impris­oned there — even chil­dren seek­ing asy­lum — ­­become pre­sumed ​"ter­ror sus­pects" them­selves. After all, prison bars don't just pre­vent move­ment. They also lock away nar­ra­tives that counter the U.S. government's.
That may help explain the noto­ri­ous prison's extra­or­di­nary resilience. Despite near­ly 18 years of near con­stant con­tro­ver­sy — up to and includ­ing an order by the Oba­ma admin­is­tra­tion to close it — the prison looks more like­ly to be expand­ed than closed.
Over his two years in office, Trump has signed an exec­u­tive order to reverse Obama's, advo­cat­ed for the return of tor­ture, ham­pered a detainee art pro­gram after a suc­cess­ful trav­el­ing exhib­it human­ized the pris­on­ers, and elim­i­nat­ed the Spe­cial Envoy for the clo­sure of Guan­tanamo. And while for­mer pris­on­ers had few resources to help them restart their lives even before Trump, any lucky enough to be released now are all but guar­an­teed to be sent to third-par­ty coun­tries, with no sup­port sys­tem to help rebuild their lives.
What Guantanamo's con­tin­ued oper­a­tion demon­strates is that if its lega­cy of impris­on­ment with­out charge, indef­i­nite deten­tion, and tor­ture is not con­front­ed direct­ly, this and future admin­is­tra­tions will only dream up ever more sin­is­ter uses for it.
This arti­cle was pro­duced in part­ner­ship with For­eign Pol­i­cy In Focus.
Dr.
Maha Hilal
​
'
s research and exper­tise is on Insti­tu­tion­al­ized Islam­o­pho­bia in the War on Ter­ror. She's the co-direc­tor of the Jus­tice for Mus­lims Col­lec­tive, an orga­niz­er with Wit­ness Against Tor­ture, and a coun­cil mem­ber of School of the Amer­i­c­as Watch. Pre­vi­ous­ly, she was the inau­gur­al Michael Rat­ner fel­low at the Insti­tute for Pol­i­cy Studies.