Why Trump's Muslim Ban 3.0 Is So Dangerous
The new ban shows us what institutionalized Islamophobia looks like during the Trump era of the War on Terror.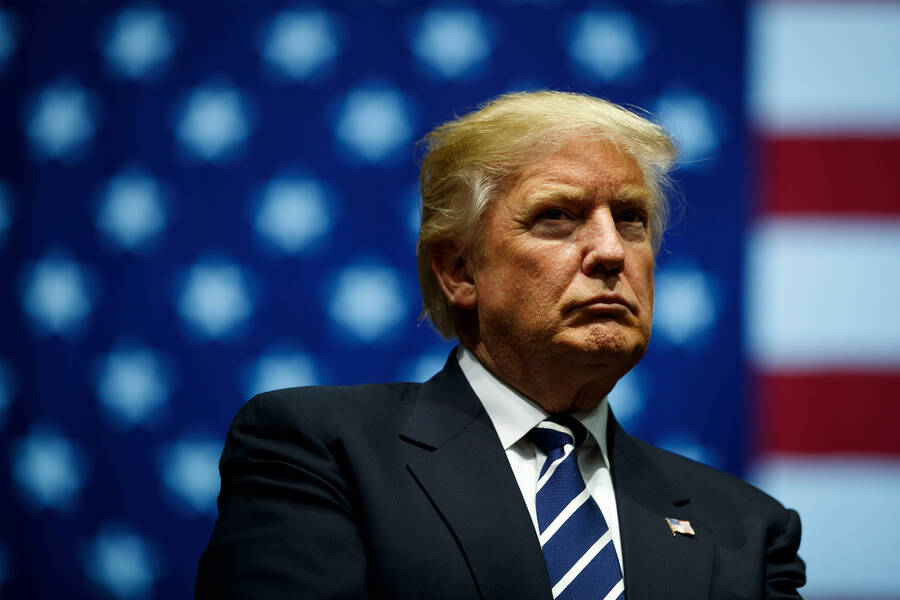 This arti­cle was pro­duced in part­ner­ship with For­eign Pol­i­cy in Focus.
By positing Muslims as a threat to the safety and security of the United States — even when they're the victims of a terrorist attack — Trump builds support for the idea that restricting Muslim rights will always be the solution.
Two years ago this Decem­ber, Don­ald Trump issued his now infa­mous state­ment: ​"Don­ald J. Trump is call­ing for a total and com­plete shut­down of Mus­lims enter­ing the Unit­ed States until our coun­try's rep­re­sen­ta­tives can fig­ure out what the hell is going on."
Near­ly a year into his pres­i­den­cy, Trump has sought to put three dif­fer­ent Mus­lim bans into place, with the last now mak­ing its way through the courts.
In a Decem­ber 4 rul­ing, the Supreme Court decid­ed to allow Mus­lim ban 3.0 to be imple­ment­ed while chal­lenges to its con­sti­tu­tion­al­i­ty make their way through the low­er courts. In this, the Supreme Court over­turned appel­late courts' ear­li­er deci­sions to halt its imple­men­ta­tion dur­ing the appeal process.
To be clear, this deci­sion was not based on the mer­its of the case or the ban's con­sti­tu­tion­al­i­ty. Nonethe­less, for many Mus­lims, it indi­cates that insti­tu­tion­al­ized Islam­o­pho­bia isn't going any­where any­time soon. In the con­text of a pres­i­dent and admin­is­tra­tion that has repeat­ed­ly stoked anti-Mus­lim sen­ti­ments, this lat­est act of state vio­lence is depress­ing­ly unsurprising.
Unlike ear­li­er ver­sions of the ban, which ini­tial­ly imposed three-month restric­tions on six or sev­en Mus­lim-major­i­ty coun­tries, ver­sion 3.0 indef­i­nite­ly tar­gets nation­als from eight coun­tries. Syr­i­an and Soma­li nation­als are being banned alto­geth­er, while nation­als from Iran, Libya, Yemen and Chad face a range of restric­tions and bar­ri­ers to entry.
North Korea and Venezuela are also includ­ed in the lat­est ban, as a fig leaf to cov­er Trump's expressed inten­tion to tar­get Mus­lims' entry to the Unit­ed States in argu­ments before the courts.
In the case of the pre­vi­ous bans, the time lim­its meant that when they reached the Supreme Court, they were essen­tial­ly moot — no longer in effect. How­ev­er, because of Mus­lim ban 3.0's indef­i­nite nature, it vir­tu­al­ly ensures that the court will even­tu­al­ly have to rule on the mer­its of the ban. Its next action may depend on what hap­pens in the 4th and 9th Cir­cuit courts, which are weigh­ing the con­sti­tu­tion­al­i­ty of the ban.
Mean­while, the Supreme Court's deci­sion to let the ban go for­ward will cer­tain­ly embold­en Trump and his base of sup­port­ers, who believe that that Mus­lims are essen­tial­ly ter­ror­ists until proven otherwise.
For instance, it took only hours after Akayed Ullah, a Mus­lim immi­grant from Bangladesh, attempt­ed to bomb New York's Port Author­i­ty bus sta­tion before White House spokesper­son Sarah Huck­abee Sanders called for dra­mat­i­cal­ly tight­en­ing immi­gra­tion rules. ​"The pres­i­den­t's pol­i­cy calls for an end to chain migra­tion," she said, ​"which is what this indi­vid­ual came to the Unit­ed States through. And if his pol­i­cy had been in place, then that attack­er would not have been allowed to come in the country."
And it was­n't so long ago that Trump re-tweet­ed inflam­ma­to­ry anti-Mus­lim pro­pa­gan­da from the British right-wing group Britain First. When British Prime Min­is­ter There­sa May protest­ed those tweets, Trump respond­ed by ques­tion­ing her abil­i­ty to deal with extrem­ists. Trump bleat­ed that she should ​"focus on the destruc­tive Rad­i­cal Islam­ic Ter­ror­ism that is tak­ing place with­in the Unit­ed King­dom. We are doing just fine!"
In short, Trump respond­ed by crim­i­nal­iz­ing the British Mus­lim com­mu­ni­ty. Huck­abee Sanders lat­er cred­it­ed the pres­i­dent with ​"ele­vat­ing the con­ver­sa­tion" around Islam and ter­ror­ism, even while acknowl­edg­ing that videos of alleged Mus­lim vio­lence in the tweets may have been fake.
And a week ear­li­er, when ISIS killed over 300 Egyp­tians in a mosque bomb­ing in Sinai, Trump tweet­ed to height­en domes­tic fears of ter­ror­ism. ​"We have to get TOUGHER AND SMARTER than ever before, and we will. Need the WALL, need the BAN!" he tweet­ed.
In oth­er words, he sought to posi­tion acts of ter­ror­ism by Mus­lims as proof of the entire group's propen­si­ty to com­mit acts of vio­lence — even though all 300-plus vic­tims were Mus­lims as well, and even though Egypt (whose mil­i­tary dic­ta­tor Trump warm­ly wel­comed to the White House ear­li­er this year) isn't even on the list of banned countries.
In each of these cas­es, the White House has demo­nized the glob­al Mus­lim com­mu­ni­ty to jus­ti­fy extreme mea­sures against them. By posit­ing Mus­lims as a threat to the safe­ty and secu­ri­ty of the Unit­ed States — even when they're the vic­tims of a ter­ror­ist attack — Trump builds sup­port for the idea that restrict­ing Mus­lim rights will always be the solution.
If the 4th and 9th Cir­cuit courts deem the ban uncon­sti­tu­tion­al, Trump will almost cer­tain­ly chal­lenge the rul­ing. In the mean­time, Mus­lims will con­tin­ue to face the chal­lenge of being at the fore­front of court deci­sions and the court of pub­lic opin­ion. What hap­pens next will define the course of the legal sys­tem when it comes to Mus­lims in the Trump era of the War on Terror.
Dr.
Maha Hilal
​
'
s research and exper­tise is on Insti­tu­tion­al­ized Islam­o­pho­bia in the War on Ter­ror. She's the co-direc­tor of the Jus­tice for Mus­lims Col­lec­tive, an orga­niz­er with Wit­ness Against Tor­ture, and a coun­cil mem­ber of School of the Amer­i­c­as Watch. Pre­vi­ous­ly, she was the inau­gur­al Michael Rat­ner fel­low at the Insti­tute for Pol­i­cy Studies.