Why Evangelicals Are Flocking To Donald Trump
Trump is beating Bible-thumping Ted Cruz among evangelicals. What do they see in a formerly pro-choice New York real estate mogul?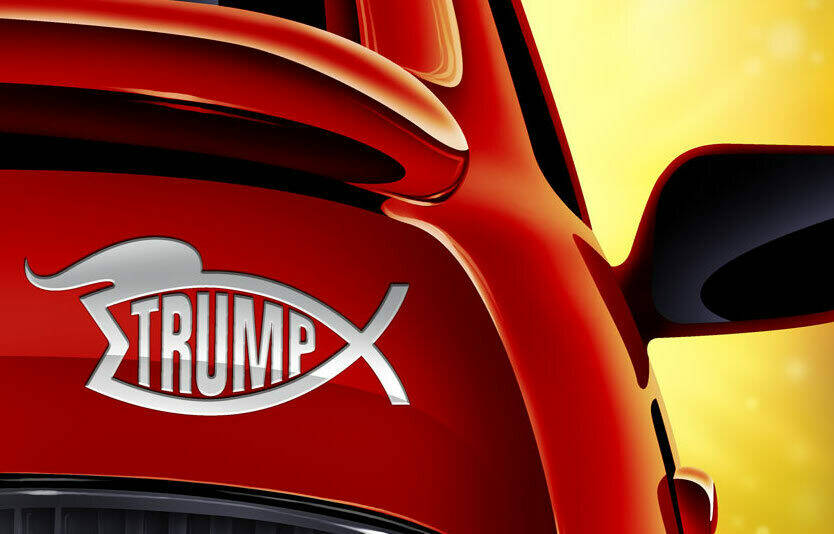 The cur­rent GOP race for the pres­i­den­tial nom­i­na­tion pos­es this great puz­zle. A par­ty whose base con­sists of white evan­gel­i­cal Chris­tians is enam­ored of Don­ald Trump, the Repub­li­can can­di­date most out of step with evan­gel­i­cals on social issues and the most tin-eared regard­ing reli­gion. Rus­sell Moore, the pres­i­dent of the Ethics and Reli­gious Lib­er­ty Com­mis­sion of the South­ern Bap­tist Con­ven­tion, recent­ly warned that a Trump pres­i­den­cy would jeop­ar­dize ​"the three pri­ma­ry goals of reli­gious con­ser­v­a­tives" — pro­tect­ing reli­gious lib­er­ty, and oppos­ing abor­tion rights and same-sex mar­riage. Trump, a Pres­by­ter­ian who was once pro-choice and a fre­quent attendee of gay wed­dings, claims now to oppose abor­tion and same-sex mar­riage, but gives lit­tle time to either issue.
The vacuum of meaning is filled by religious and political prophets who know precisely what it all means, where the problem lies, who betrayed us and how to get to Heaven.
Oth­ers dis­agree with Moore: Trump has been endorsed by high-pro­file evan­gel­i­cals such as Lib­er­ty Uni­ver­si­ty Pres­i­dent Jer­ry Fal­well Jr. One thing is cer­tain — no GOP can­di­date can win the nom­i­na­tion with­out the sup­port of white evan­gel­i­cals, who com­prised 26 per­cent of the elec­torate in the last midterm elec­tions and are over­whelm­ing­ly Repub­li­can. In the first 27 pri­maries of 2012, white evan­gel­i­cals made up 50 per­cent of Repub­li­can vot­ers, accord­ing to CBS News polling.
Sev­en­ty-nine per­cent of evan­gel­i­cals went on to vote for Mor­mon Mitt Rom­ney in the gen­er­al elec­tion, but Repub­li­can strate­gists like Ralph Reed main­tain their turnout was low and that the ​"miss­ing evan­gel­i­cals" account­ed for Obama's vic­to­ry. As Texas Sen. Ted Cruz said in Decem­ber in a speech to his vol­un­teers: ​"If we awak­en and ener­gize the body of Christ — if Chris­tians and peo­ple of faith come out and vote our val­ues — we will win and we will turn this coun­try around."
For Cruz, raised South­ern Bap­tist, evan­gel­i­cal reli­gious lan­guage comes nat­u­ral­ly. Yet a recent New York Times/ CBS News poll found that Trump had the sup­port of 42 per­cent of evan­gel­i­cal vot­ers nation­wide, com­pared to Cruz's 25 per­cent. In Trump's South Car­oli­na blow-out on Sat­ur­day, he beat Cruz and Rubio among all vot­ers by 10 points, and he beat them among evan­gel­i­cals by a sim­i­lar mar­gin. Trump won 34 per­cent of their sup­port, and Cruz, whose aggres­sive out­reach to evan­gel­i­cals is crit­i­cal to his cam­paign strat­e­gy, won 26 per­cent. In fact, Trump's sup­port among evan­gel­i­cals — who make up about 67 per­cent of Repub­li­can pri­ma­ry vot­ers in the state — was slight­ly high­er than his over­all support.
Tony Beam, a pas­tor and the host of an evan­gel­i­cal radio show in South Car­oli­na, recent­ly told This Amer­i­can Life that he was ​"stunned" by his lis­ten­ers' pas­sion for Trump. ​"I thought I was doing some­body else's talk show," Beam said after lis­ten­ers weighed in fol­low­ing the first Repub­li­can debate. ​"This is crazy. This is not who we are." One caller told him, "[Trump is] say­ing all the right things. And whether his con­ser­v­a­tive cre­den­tials are bona fide, that's not the point."
The answer to the Trump conun­drum may lie, in part, in one Iowa poll's find­ing that Trump cap­tured 46 per­cent of Repub­li­can cau­cus­go­ers who want­ed a pres­i­dent from out­side the estab­lish­ment. Across par­ty lines, there appears to be a des­per­a­tion among the elec­torate for can­di­dates who will, as Sarah Palin enthused when endors­ing Trump, ​"tear the veil off … the way that the sys­tem real­ly works." The truth will set us free, as the Bible verse has it. ​"Trump is the only hope to defeat the king­mak­ers," as one key fig­ure in the rise of the con­tem­po­rary reli­gious Right, Phyl­lis Schlafly, said in her endorse­ment of him. ​"Because every­body else will fall in line. The king­mak­ers have so much mon­ey behind them."
But ​"anti-estab­lish­ment" doesn't ful­ly cap­ture the vein of dis­con­tent that Trump has tapped. Despite his lack of evan­gel­i­cal roots, he is almost as skill­ful as Cruz at per­form­ing a cer­tain style with­in Amer­i­can pol­i­tics — the prophet­ic style — that speaks to evan­gel­i­cal vot­ers at a pri­mal lev­el. The prophet­ic style points to decline — but also to a path toward sal­va­tion. It is defined by a con­vic­tion that the faith­ful pos­sess high­er truths, sealed off from and immune to cri­tique from evi­dence-based sources of author­i­ty. Across a range of issues, from cli­mate change to vot­ing rights, Cruz and Trump use the prophet­ic style to deliv­er such ​"truths."
Trump's speech­es and social media out­put are a stream of false­hoods that speak to the cer­tain­ty — the ​"high­er truth" — that white Chris­tians, and the nation they love, are being betrayed and tar­get­ed. That was the upshot of his claim that he saw ​"thou­sands and thou­sands" of ter­ror­ist sym­pa­thiz­ers in Jer­sey City cheer the attacks of Sep­tem­ber 11. It was the point of his tweet that 81 per­cent of white homi­cide vic­tims are killed by African-Amer­i­cans (FBI sta­tis­tics put the actu­al num­ber at 15 per­cent). It was the basis for his oppo­si­tion to the Trans-Pacif­ic Part­ner­ship, which, he said, ​"was designed for Chi­na to come in, as they always do, through the back door and total­ly take advan­tage of every­one." (Chi­na wasn't part of the deal.) Poli­ti­Fact gave all three claims its low­est rat­ing: ​"pants on fire." Over­all, it ranked more than three-fourths of Trump's claims as either most­ly or flat­ly false. Indeed, the orga­ni­za­tion des­ig­nat­ed his over­all out­put on the cam­paign trail in 2015 as its ​"Lie of the Year."
This style of call­ing upon high­er truths is one famil­iar to con­ser­v­a­tive Chris­tians, whose dis­tinc­tive world­view is nur­tured in the Right's alter­na­tive media ecosys­tem. The devel­op­ment of that ecosys­tem is often attrib­uted to Fox News, but Fox has sim­ply cap­i­tal­ized on a cen­tu­ry-old con­flict between pro­gres­sives and con­ser­v­a­tives. The object of this 100 years war: the nature of truth itself. That is both the source of our deep­en­ing polit­i­cal paral­y­sis and the basis for Trump's — and the GOP's — evan­gel­i­cal appeal.
The gospel truth
The pow­er of the prophet­ic style in our pol­i­tics can be traced to two relat­ed trans­for­ma­tions — one edu­ca­tion­al and one reli­gious — that fos­tered the sense of alien­ation, anger and betray­al that many con­ser­v­a­tives, espe­cial­ly reli­gious con­ser­v­a­tives, feel toward main­stream Amer­i­can institutions.
The first is the spe­cial­iza­tion of knowl­edge in high­er edu­ca­tion — the divi­sion of labor among dis­ci­plines, fields and sub­fields. This process began in the late 19th cen­tu­ry but accel­er­at­ed rapid­ly through the ear­ly decades of the 20th cen­tu­ry, as the reli­gious ori­gins and mis­sions of many col­leges fad­ed and the pro­duc­tion of new knowl­edge — as opposed to the pass­ing on of received, reli­gious and estab­lished truth — became central.
The sec­ond, relat­ed trend was a lib­er­al­iza­tion of reli­gion, as schol­ars began to probe the ori­gins of sacred texts and view the Bible as a repos­i­to­ry of human wis­dom that per­haps — but not nec­es­sar­i­ly — revealed the word of God. These ​"mod­ernists," as they were called, focused on the metaphor­i­cal truths of scrip­ture and down­played or denied lit­er­al­ism: Jesus was a great moral leader and prophet but not lit­er­al­ly the son of God. Hell is not an actu­al place. Faith in Jesus as the son of God is not required to gain sal­va­tion and eter­nal life — what­ev­er eter­nal life might mean. Evan­gel­i­cals and fun­da­men­tal­ists, in the mean­time, tend­ed to favor lit­er­al­ism with regard to Jesus, cre­ation, the Bible, Heav­en and Hell.
In the 1910s and 1920s, divi­sions and quar­rels over these fun­da­men­tal ques­tions roiled the main­stream Protes­tant denom­i­na­tions, cre­at­ing fis­sures that remain deep and wide. The Scopes Tri­al of 1925, in which a Ten­nessee biol­o­gy teacher was con­vict­ed of teach­ing evo­lu­tion, was the sym­bol­ic break­ing point, and cre­ation­ism has remained an acid test of faith­ful­ness for many con­ser­v­a­tive Chris­tians ever since. A writer for Answers in Gen­e­sis, an orga­ni­za­tion that pro­motes cre­ation­ism, laid out the stakes in 2009:
Each of us must choose which we will vest with ulti­mate author­i­ty: God's Word or incom­plete human knowl­edge. … There is one God who cre­at­ed all of real­i­ty, and His Word is equal­ly author­i­ta­tive in all that it reveals to us. If we treat evo­lu­tion­ary ideas as author­i­ta­tive about the his­to­ry of the world, this leads us to a dis­tort­ed view of truth.
Dis­mayed and angry at the sec­u­lar­iz­ing and ​"mod­ern­iz­ing" trends, con­ser­v­a­tive Chris­tians began sep­a­rat­ing from the main­stream, build­ing their own inde­pen­dent net­work of insti­tu­tions in the 1920s. They excelled in par­tic­u­lar at broad­cast­ing — first on radio and, even­tu­al­ly, on television.
Among the most influ­en­tial radio preach­ers of the ear­ly years was Charles E. Fuller, whose Los Ange­les-based pro­gram The Old Fash­ioned Revival Hour reached a nation­al audi­ence from 1937 to 1968. Jer­ry Fal­well, founder of Lib­er­ty Uni­ver­si­ty, admired Fuller in his youth and named his own tele­vi­sion broad­cast The Old Fash­ioned Gospel Hour. He used it as a spring­board for launch­ing the Moral Major­i­ty, in 1979 — 37 years before his son, Jer­ry Jr., would endorse Trump for president.
Most radio preach­ers reached more lim­it­ed audi­ences than Fuller. But the best of them, what­ev­er the size of their min­istry, cul­ti­vat­ed a bond with their audi­ence, forged through a com­bi­na­tion of faith and hope. One of them, Howard Cadle, built a 10,000-seat ​"Cadle Taber­na­cle" in down­town Indi­anapo­lis and, in 1931, began broad­cast­ing a radio pro­gram that could be heard all over the Mid­west and South via WLW, a Cincin­nati AM ​"megas­ta­tion."
In the 1990s, a small frac­tion of the peo­ple who had lis­tened to Cadle on the radio as chil­dren or young adults were still alive, and I talked to as many as I could find. ​"It was a breath of fresh air," one woman who had grown up dur­ing the Great Depres­sion in Alleghany Coun­ty, Va., told me. ​"It brought spir­it and a goal to life. We got up by it every morn­ing. It's still a spe­cial mem­o­ry in the recess­es of my mind."
Anoth­er of the ear­li­est and most suc­cess­ful Chris­t­ian radio preach­ers, Paul Rad­er of Chica­go, cap­tured the grow­ing sense of skep­ti­cism evan­gel­i­cals felt toward high­er edu­ca­tion in a brief essay telling his life sto­ry. Rader's faith was shak­en, he explained, by one of his lit­er­a­ture pro­fes­sors in col­lege. As Rad­er began read­ing books rec­om­mend­ed by the pro­fes­sor, his cri­sis of faith deep­ened: ​"From the first day of doubt a wob­ble appeared in my nature. I did not have the old-time armor against sin. … I had a dou­ble mind, and, true to Scrip­ture, became unsta­ble in all my ways." Rad­er found peace and a renewed faith, he wrote, dur­ing a three­day marathon of pray­ing. ​"Alone in my room with [God], he opened up his word to me and ban­ished my doubt."
Fools for Christ
The suc­cess of con­ser­v­a­tive Chris­t­ian radio preach­ers like Fuller, Cadle and Rad­er — and their suc­ces­sors across the decades — helps to explain the vital­i­ty of reli­gion in the Unit­ed States com­pared with oth­er devel­oped coun­tries. A 2005 sur­vey by Bar­na Group, a Chris­t­ian mar­ket­ing firm, found that near­ly half of adults in the U.S. lis­ten to at least one Chris­t­ian radio broad­cast each month. A 2015 Pew Research poll found that 53 per­cent of U.S. respon­dents described reli­gion as ​"very impor­tant" to their lives, ver­sus 11 per­cent in Japan, 14 per­cent in France, and 21 per­cent in Ger­many, Spain and the Unit­ed Kingdom.
Evan­gel­i­cal Chris­t­ian broad­cast­ers pio­neered the prophet­ic style that has become a trade­mark of the mod­ern con­ser­v­a­tive move­ment. Many of them had loose ties to denom­i­na­tion­al struc­tures, and they con­scious­ly thought of them­selves as oper­at­ing on the fringes of ​"the estab­lish­ment," both reli­gious and sec­u­lar. Their sense of alien­ation was height­ened by their the­ol­o­gy, which por­trayed the ever-more evil world as mov­ing toward an apoc­a­lyp­tic show­down between the forces of good and evil. Their sense of a bet­ter, more right­eous Amer­i­ca locat­ed some­where in the past was root­ed in a the­ol­o­gy of inevitable decline and increas­ing depravity.
In truth, con­ser­v­a­tive Chris­tians have good rea­son to feel mar­gin­al­ized. Even though their radio and tele­vi­sion out­lets draw mas­sive audi­ences, and even though their par­ty, the GOP, dom­i­nates the nation's polit­i­cal machin­ery at the state and con­gres­sion­al lev­els, evan­gel­i­cals are cul­tur­al­ly marginal.
In the ear­ly 20th cen­tu­ry, the spe­cial­iza­tion of knowl­edge became the reign­ing par­a­digm with­in acad­e­mia: Truth is arrived at through the accu­mu­la­tion of new evi­dence. This par­a­digm has worked in giv­ing us the med­ical break­throughs and rev­o­lu­tion­ary con­sumer goods of the mod­ern era. What it can't give — isn't designed to give — is ulti­mate truth. In fact, in an essen­tial sense, ever­in­creas­ing knowl­edge is a destroy­er of mean­ing. It leads to the con­stant ero­sion of tak­en-for-grant­ed truths. A telling exam­ple is the public's exas­per­a­tion with the con­stant­ly chang­ing dietary guide­lines from gov­ern­ment agen­cies, telling us — based on evi­dence from some new set of sci­en­tif­ic stud­ies — that cof­fee either is or isn't good for us, or that we should or shouldn't be eat­ing more eggs, often in con­tra­dic­tion to the last set of guide­lines. Con­ser­vatism, in con­trast, offers the promise of fixed prin­ci­ples and absolute truth. The vac­u­um of mean­ing is filled by reli­gious and polit­i­cal prophets who know pre­cise­ly what it all means, where the prob­lem lies, who betrayed us and how to get to Heav­en. The basis of their author­i­ty isn't exper­tise or mas­tery of a body of knowl­edge; it's their claim to the truth — to high­er truths. Truth doesn't emerge from evi­dence but from the strength of will to reject the evi­dence put forth by cor­rupt sec­u­lar — ungod­ly — insti­tu­tions like the main­stream media and its ally, the lib­er­al polit­i­cal establishment.
Con­sid­er Trump's focus on immi­grants from Mex­i­co, which pro­pelled him to fron­trun­ner sta­tus in the ear­ly stages of the GOP race. His facts con­tra­dict the avail­able evi­dence — most notably, more Mex­i­cans are now leav­ing the Unit­ed States than enter­ing it. But for many of his sup­port­ers, the por­trait of chaos at the bor­der is true regard­less of whether it is lit­er­al­ly true: The high­er truth is that they believe them­selves— espe­cial­ly their reli­gion — to be threat­ened by forces beyond their con­trol. Chris­tian­i­ty is ​"under siege," as Trump said in an address at Lib­er­ty Uni­ver­si­ty in Jan­u­ary, a few days before Jer­ry Fal­well Jr. endorsed him for president.
Trump and Cruz appeal to con­ser­v­a­tives pre­cise­ly because they present them­selves as deliv­er­ing such truths. When Ted Cruz went to Ken­tucky to defend Kim Davis, the Rowan Coun­ty Clerk who refused to grant mar­riage licens­es to same-sex cou­ples, he pro­claimed, ​"For the first time in his­to­ry, a Chris­t­ian was put in jail for stand­ing up for her beliefs." The claim was false, as Cruz sure­ly knew. As the Wash­ing­ton Post's Can­di­da Moss point­ed out, Rosa Parks is one among many Chris­t­ian women jailed for their beliefs. Yet Cruz's claim taps into the prophet­ic style's high­er truth that the nation — or, at least, a per­se­cut­ed sub­set with­in the nation, Chris­t­ian Amer­i­ca — is under siege by the forces of dark­ness lurk­ing with­in, or just beyond, our borders.
Not coin­ci­den­tal­ly, this own­er­ship of high­er truth is also the par­a­digm for polit­i­cal conservatism's most influ­en­tial pun­dits, from Rush Lim­baugh to Ann Coul­ter to Bill O'Reilly. In a recent mono­logue about cli­mate change, for exam­ple, Lim­baugh claimed that the high­er truth of God's benev­o­lence trumps the sci­ence: ​"The premise [of cli­mate change is that] you, and the way you're liv­ing your life, are caus­ing this destruc­tion. And I'm sor­ry, but I don't believe that. … It is my devout belief in God that gives me every bit of con­fi­dence that man is not destroy­ing — and fur­ther­more, can­not destroy — the cli­mate." For his part, Cruz has said that cli­mate change ​"is not sci­ence — it's reli­gion," because the sci­en­tists who study it aren't suf­fi­cient­ly skep­ti­cal of their data.
Such acts of resis­tance are core to the iden­ti­ty of many right-wing evan­gel­i­cal and fun­da­men­tal­ist Chris­tians. The phrase used to describe this mind­set— ​"fools for Christ" — is tak­en from pas­sages writ­ten by the apos­tle Paul, who in First Corinthi­ans explored the idea of Chris­tians as ​"fools":
For the fool­ish­ness of God is wis­er than human wis­dom, and the weak­ness of God is stronger than human strength. But God chose the fool­ish things of the world to shame the wise; God chose the weak things of the world to shame the strong.
The impli­ca­tions are mad­den­ing. The ​"fool­ish" spir­it of evan­gel­i­cal Chris­tian­i­ty is the tap­root of the GOP's oppo­si­tion to evi­dence-based pol­i­cy, and it serves the inter­est of cor­po­rate Amer­i­ca quite well, most urgent­ly in the realm of cli­mate change. But mock­ing it only rein­forces and hard­ens the evan­gel­i­cal iden­ti­ty, becom­ing fur­ther proof of betray­al by the main­stream elite. In oth­er words, if evan­gel­i­cals are not being mocked, they are fail­ing to do their job. They are fail­ing to be fools.
The truth and the noise
When announc­ing his run for the Repub­li­can pres­i­den­tial nom­i­na­tion at Lib­er­ty Uni­ver­si­ty, Sen. Ted Cruz said: ​"It is a time for truth. It is a time for lib­er­ty. … This is our fight. The answer will not come from Wash­ing­ton. It will come only from … peo­ple of faith, from lovers of lib­er­ty, from peo­ple who respect the Con­sti­tu­tion." In his Jan­u­ary speech at Lib­er­ty, Trump put these ideas less elo­quent­ly: ​"We're going to pro­tect Chris­tian­i­ty. … Some­how we have to uni­fy, we have to band togeth­er, we have to do real­ly — in a real­ly large ver­sion — what they've done at Liberty."
The pow­er that this lan­guage exerts over cer­tain audi­ences is easy to under­es­ti­mate. The Left's cri­tique that work­ing-class Repub­li­cans vote against their own inter­ests is hard­ly obvi­ous, or even true, for those vot­ers. It comes down to a def­i­n­i­tion of inter­ests. The GOP may cut tax­es for the wealthy and dis­in­vest in social ser­vices and pub­lic insti­tu­tions, but its lead­ers at least have the courage to speak high­er truths about nation­al decay, about the betray­al of the elites, about the fight for lib­er­ty. As one evan­gel­i­cal Trump sup­port­er told the New York Times, ​"He is the only one who can pull us back from the abyss" — the descent into com­plete cor­rup­tion and sec­u­lar­iza­tion. Or, as a meme post­ed on the Face­book page ​"Chris­tians for Don­ald Trump" expressed it, above a pic­ture of Trump against an Amer­i­can flag, ​"We will fight to pre­serve our lib­er­ty until hell freezes over. And then we will fight on the ice." A com­men­tor added: ​"Vote Trump. Nobody likes the truth."
The con­ser­v­a­tive Chris­t­ian cri­tique of the estab­lish­ment con­tains a large grain of truth. Pro­gres­sives and the evan­gel­i­cal GOP base can at least agree that the nation has often been betrayed by its insti­tu­tions and lead­ers, if not on the nature and sources of the betray­al. For the con­ser­v­a­tive Chris­t­ian base of the GOP, the betray­al goes back to the sec­u­lar­iza­tion of insti­tu­tion­al life, and espe­cial­ly of high­er edu­ca­tion. It often finds unfor­tu­nate expres­sion, but the con­vic­tion that they can — and must — take back Amer­i­ca from the ​"king­mak­ers" and the elites has a gen­uine­ly grass­roots, demo­c­ra­t­ic dimen­sion. The prophet­ic style is a pow­er­ful move­ment builder. But its suc­cess has come at a steep price. One of the GOP's great dilem­mas, beyond its demo­graph­ic chal­lenges, is that the hos­til­i­ty of its base to the par­a­digm of evi­dence-based truth pulls the par­ty ever fur­ther away from the real­i­ties of both pub­lic opin­ion and the sci­en­tif­ic main­stream — and makes the GOP ever more depen­dent on white evan­gel­i­cal Christians.
That vot­ing bloc may sim­ply be beyond the reach of pro­gres­sives — the gap in world­view may be too wide to bridge. But is it pos­si­ble that the prophet­ic style could cut more than one way? Haven't the ideals of ​"all men are cre­at­ed equal" and ​"lib­er­ty and jus­tice for all," set against the often hideous real­i­ty of our his­to­ry, some­times prod­ded the nation to action and reform? Con­sid­er the high­er truths of Mar­tin Luther King Jr., not strict­ly tied to empir­i­cal evi­dence but pow­er­ful­ly mov­ing nonetheless:
"We are caught in an inescapable net­work of mutu­al­i­ty, tied in a sin­gle gar­ment of des­tiny," he wrote in his ​"Let­ter from a Birm­ing­ham Jail." ​"What­ev­er affects one direct­ly, affects all indirectly."
If there were prophet­ic voic­es in our elec­toral pol­i­tics that actu­al­ly artic­u­lat­ed a vision of deep reform, could they find an audience?
The evi­dence sug­gests that they might. The right-wing radio and tele­vi­sion star Glenn Beck recent­ly said that he ​"liked" Bernie Sanders for his hon­esty (lat­er clar­i­fy­ing that Sanders would be a ​"dis­as­ter" as pres­i­dent). ​"Hon­esty, faith and truth are basic require­ments," Beck said. ​"I can actu­al­ly sit at a table with a man who says, ​'Yes, I'm a social­ist, and yes, I don't like what we are doing.' " Time report­ed, a few days lat­er, that Sanders had cap­tured the atten­tion of con­ser­v­a­tives in Iowa — con­ser­v­a­tives who ​"just can't stop talk­ing about him."
Right-wing pop­ulists like Beck, and politi­cians like Trump and Cruz, cap­i­tal­ize on the public's sense that our pol­i­tics is tilt­ed against the pos­si­bil­i­ty of truth break­ing through the noise — or even being spo­ken. Palin does the same when she says that Trump rips the veil off the way the sys­tem works. Her buf­foon­ery, and that of the oth­ers, is easy to mock and par­o­dy, and the sub­stance of their cri­tique is off tar­get. Yet Palin and her cohort get at some­thing real: They tap a deep vein of pop­u­lar frus­tra­tion and anger that finds few out­lets for expres­sion in elec­toral pol­i­tics out­side of the GOP.
Democ­rats would do well to pon­der why that might be.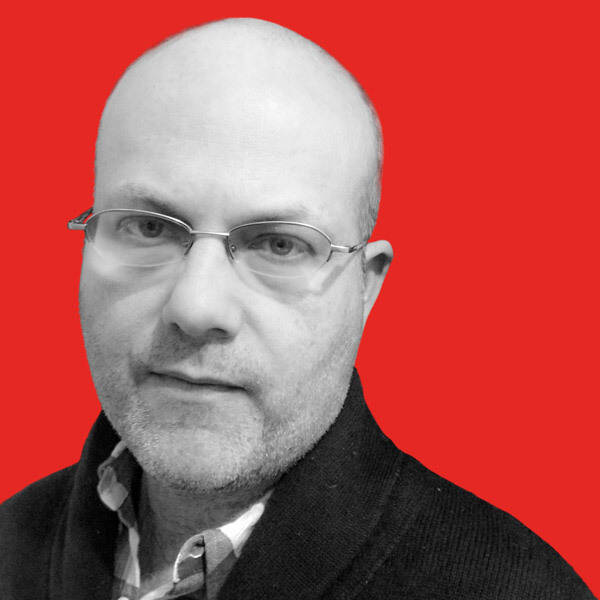 Theo Ander­son
is an In These Times con­tribut­ing writer. He has a Ph.D. in mod­ern U.S. his­to­ry from Yale and writes on the intel­lec­tu­al and reli­gious his­to­ry of con­ser­vatism and pro­gres­sivism in the Unit­ed States. Fol­low him on Twit­ter @Theoanderson
7
.