Biggest Labor Stories of 2017: The Attacks From Above and the Fight From Below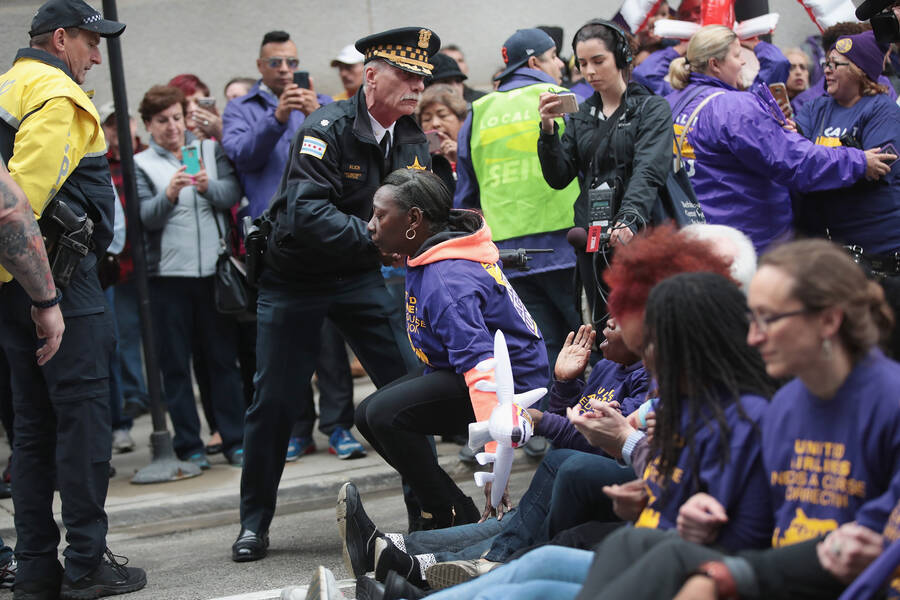 The first year of any Repub­li­can pres­i­den­tial admin­is­tra­tion is sure to bring new attacks on unions and their allies. This year has seen plen­ty of anti-labor offen­sives, as well as inspir­ing fights and encour­ag­ing signs for the future.
Let's start with the most over-blown ​"fake news" labor sto­ry of 2017: the asi­nine notion that Don­ald Trump has a cun­ning plan to cleave white work­ing-class vot­ers away from the Demo­c­ra­t­ic par­ty by pro­tect­ing Amer­i­can jobs and giv­ing unions a fair shake. From the coalmines of West Vir­ginia to the Car­ri­er plant of Indi­ana, Trump's claims of sav­ing jobs have been spec­ta­cles of huck­ster­ism that result­ed in few­er good jobs.
His invi­ta­tion of build­ing-trades lead­ers to the White House in his first week on the job — once seen as a can­ny exploita­tion of union lead­ers' sim­mer­ing resent­ment towards Demo­c­ra­t­ic par­ty indif­fer­ence — is now under­stood as the ges­ture of a clue­less buf­foon strug­gling vain­ly to treat his new job like his busi­ness ven­tures. ​"Let's bring in a few deal­mak­ers and talk about con­struc­tion projects," he prob­a­bly thought. ​"Maybe they have some good sug­ges­tions for how my idiot son-in-law might go about bar­gain­ing for peace in the Mid­dle East."
Mean­while, his Depart­ment of Labor and Nation­al Labor Rela­tions Board (NLRB) appoint­ments, and the speed with which they are revers­ing any gains that work­ers made under the Oba­ma admin­is­tra­tion, are all bog-stan­dard right-wing moves. The offi­cial labor poli­cies of the Trump admin­is­tra­tion are exact­ly the same as would have been Jeb Bush's or Mitt Romney's.
But work­ers refuse to wait until Trump is impeached, vot­ed out or felled by his nau­se­at­ing­ly unhealthy diet. The year was marked by some impres­sive orga­niz­ing cam­paigns that offer hope for the future.
Beat­ing Trump in the rebel cities
Some of the most strate­gic orga­niz­ing of this Trump moment has been focused on win­ning real gains for work­ers where we can: in our rebel cities and blue states. Alt-labor orga­ni­za­tions have been lead­ing this fight.
The Fair Work­week Ini­tia­tive has been fight­ing the most­ly non-union retail, fast-food and oth­er min­i­mum wage ser­vice indus­tries that have kept their employ­ees vir­tu­al­ly on-call through abysmal short-staffing poli­cies. From New York City to the entire state of Ore­gon, work­ers won new laws in 2017 that force employ­ers to post work sched­ules at least one week in advance, pay work­ers sur­charges for last-minute changes and abol­ish the preva­lent prac­tice of sched­ul­ing work­ers for ​"clopens" (work­ing a first shift the morn­ing after clos­ing up).
The New York City fair sched­ul­ing ordi­nance was part of a com­pre­hen­sive labor law passed by the city coun­cil in May. One part that will be watched close­ly by union allies and haters alike is a require­ment that fast-food estab­lish­ments cre­ate a mech­a­nism to allow employ­ees to make vol­un­tary con­tri­bu­tions from their pay­checks to a qual­i­fied non­prof­it to pro­vide ser­vices and advo­ca­cy on their behalf.
This is dues check-off for Fight for $15, and that is amazing.
One of the biggest chal­lenges for alt-labor is fund­ing the work. Col­lect­ing vol­un­tary mem­ber­ship dues from more than a few hun­dred of your most hard­core sup­port­ers is a mas­sive chal­lenge if you don't have access to pay­roll deduc­tions. With­out those deduc­tions, a union or work­ers cen­ter is rely­ing on auto-renew­ing cred­it card con­tri­bu­tions or Auto­mat­ed Clear­ing House direct deposit arrange­ments with mem­bers' check­ing accounts.
Speak­ing from expe­ri­ence, even teach­ers bounce checks and miss cred­it card pay­ments with dis­tress­ing reg­u­lar­i­ty in our new age of inequality.
If New York City's vol­un­tary-for-work­ers-but-legal­ly-man­dat­ed-for-employ­ers dues check-off sys­tem helps Fight for $15 find a sus­tain­able fund­ing stream, it will be a mod­el for oth­er rebel cities and even­tu­al­ly for fed­er­al legislation.
Also of note is the return of the big May 1 ​"Day With­out Immi­grants" protests that first rocked the coun­try in 2006, this time as an obvi­ous rebuke to our racist pres­i­dent. Not near­ly enough atten­tion was paid to the fact that in the midst of the May Day actions, immi­grant work­ers and small busi­ness own­ers shut down the small city of Read­ing, Pa. in a gen­er­al strike. The action was orga­nized by Make the Road PA. In the end­less orga­niz­ing debates about the val­ue of going wider vs. deep­er with com­mu­ni­ty orga­niz­ing, Make the Road's impres­sive action is a pow­er­ful exam­ple of what can be done with scant resources but long-term com­mit­ments in work­ing-class communities.
The Empire strikes back
In July, the Trump admin­is­tra­tion offi­cial­ly aban­doned Obama's effort to dou­ble the min­i­mum pay that salaried employ­ees should legal­ly be paid. That effort was spear-head­ed by Tom Perez, the most dogged Labor Sec­re­tary we've seen in half a cen­tu­ry. It aimed to raise the wage of over­worked employ­ees clas­si­fied as ​"pro­fes­sion­als" and ​"super­vi­sors" by cor­po­ra­tions seek­ing to avoid pay­ing over­time to the still-insuf­fi­cient sum of $47,476. Many cor­po­ra­tions—Wal­mart most promi­nent­ly—raised their mid­dle ranks' pay in antic­i­pa­tion of the new rule. For­tu­nate­ly, few com­pa­nies have rescind­ed those rais­es now that they are no longer legal­ly oblig­at­ed to pay (prob­a­bly out of fear of mass res­ig­na­tions and lawsuits).
Two months after this effort was ditched, the Supreme Court agreed to hear a lazy remake of a bad sequel of an attempt to force pub­lic sec­tor unions to go ​"right-to-work" that had seem­ing­ly died along with Antonin Scalia. The new case, Janus vs. AFSCME, is wrong on facts and legal prece­dent. But it has the ben­e­fit of a stolen Supreme Court seat — and the bless­ing of the U.S. gov­ern­ment, which has filed an ami­cus brief against the very con­cept of a strong labor movement.
More recent­ly, the right-wing hack who Trump appoint­ed to befoul the for­mer office of Tom Perez declared his intent to restrict and over-reg­u­late work­ers cen­ters as if they were statu­to­ri­ly-rec­og­nized unions. This is an attempt to silence these shoe­string bud­get orga­ni­za­tions by mak­ing their boy­cott activ­i­ties pun­ish­able by crip­pling mul­ti-mil­lion dol­lar fines. As Sharon Block writes, it's a back-hand­ed com­pli­ment that cor­po­rate inter­ests see these alt-labor groups as a threat to their agen­da. It also shows why we need a new Labor's Bill of Rights.
New hope in the pri­vate sector
Work­ers in the pri­vate sec­tor con­tin­ue to orga­nize. Even where there are notable suc­cess­es, there are also chal­lenges relat­ed to how bad­ly any Repub­li­can pres­i­dent can dam­age the legal paths to jus­tice for workers.
Respond­ing to tumul­tuous changes in their indus­try, jour­nal­ists and oth­er con­tent pro­duc­ers for major media com­pa­nies have been orga­niz­ing at a rapid-fire pace. Jour­nal­ists at Salon, The Inter­cept, Thril­list and Vox, video writ­ers at Vice, and edi­to­r­i­al pro­duc­ers at MTV News all orga­nized with the Writ­ers Guild of Amer­i­ca East this year. Mean­while, the reporters at the Los Ange­les Times—long a bas­tion of anti-union­ism—orga­nized with the News Guild.
But, in a move that threat­ened to chill this orga­niz­ing heat wave, bil­lion­aire Joe Rick­etts abrupt­ly shut down his Gothamist and DNAin­fo news net­works days after work­ers pre­vailed in an NLRB elec­tion. This move is per­haps the stark­est exam­ple of how our labor-rela­tions sys­tem is bro­ken beyond repair — and why new mod­els of work­er rep­re­sen­ta­tion are needed.
In high­er edu­ca­tion, fol­low­ing a frus­trat­ing­ly late-in-term Oba­ma NLRB deci­sion to restore the right of grad­u­ate employ­ees to orga­nize, grad­u­ate work­ers have begun to do so in great num­bers. Grad­u­ate employ­ees at Amer­i­can Uni­ver­si­ty, Bran­deis, the Uni­ver­si­ty of Chica­go and beyond have joined the ranks of adjuncts and oth­er con­tin­gent fac­ul­ty who orga­nized with a crowd­ed and com­pet­i­tive field of unions who seek to rep­re­sent them.
There are vary­ing degrees of resis­tance. Rare is the col­lege that doesn't at least put up a fan­cy F.A.Q. that bemoans the poten­tial ​"dimin­ish­ment of the col­le­gial rela­tion­ship between some stu­dents and their men­tors." But some uni­ver­si­ties — led by the Ivy Leagues — are refus­ing to bar­gain with cer­ti­fied unions or coop­er­ate with the NLRB at all. They're drag­ging out the clock, wait­ing for Trump's board to over­turn Obama's prece­dent and strip grads of their orga­niz­ing rights all over again.
To be clear, that means that the Ivy League uni­ver­si­ties — which tout them­selves as bul­warks of lib­er­al democ­ra­cy — are appeal­ing to an increas­ing­ly author­i­tar­i­an Trump admin­is­tra­tion to rule that their employ­ees have no rights.
Final­ly, as a part of their ​"Bet­ter Deal," Sen­ate Democ­rats intro­duced a com­pre­hen­sive reform bill to reshape the Nation­al Labor Rela­tions Act. It would ban ​"right to work," restore work­ers' right to engage in sol­i­dar­i­ty activism, expand the act to cov­er pub­lic sec­tor work­ers and ​"inde­pen­dent con­trac­tors," stream­line union cer­ti­fi­ca­tion pro­ce­dures and cre­ate finan­cial penal­ties to boss­es who will­ful­ly break the law.
It's exact­ly the bill we need­ed Jim­my Carter to sign into law in 1978.
I don't mean to be churl­ish. These reforms would sure­ly be help­ful in restor­ing work­ers' rights. But they also wouldn't go far enough towards expand­ing the mem­ber­ship and polit­i­cal reach of unions in all states and all sec­tors of the econ­o­my as rapid­ly as we need if we're going to stop the creep­ing spread of fascism.
For that, we need ​"all-in" sys­tems of labor rights like just cause and sec­toral labor stan­dards. These ideas are being dis­cussed in Wash­ing­ton. I've been in some of the con­ver­sa­tions. Repeal­ing Taft-Hart­ley, as the ​"Bet­ter Deal" would essen­tial­ly do, is – amaz­ing­ly — the cen­trist com­pro­mise with­in the Demo­c­ra­t­ic estab­lish­ment right now. Big­ger and bold­er reform ideas are possible!
There are two key dynam­ics at play. First, while the Repub­li­cans' con­trol Con­gress, any Demo­c­ra­t­ic bill is a dead let­ter. This actu­al­ly makes the next year an ide­al time to float rad­i­cal tri­al bal­loons, which, if they gain any trac­tion could remain a part of the agen­da in 2021. Sec­ond, the race for the Demo­c­ra­t­ic pres­i­den­tial nom­i­na­tion is quick­ly shap­ing up into a race to the left, and most poten­tial can­di­dates want to make their mark on work­ers' issues.
These polit­i­cal dynam­ics, plus con­tin­ued on-the-ground orga­niz­ing, are rea­sons for opti­mism in 2018.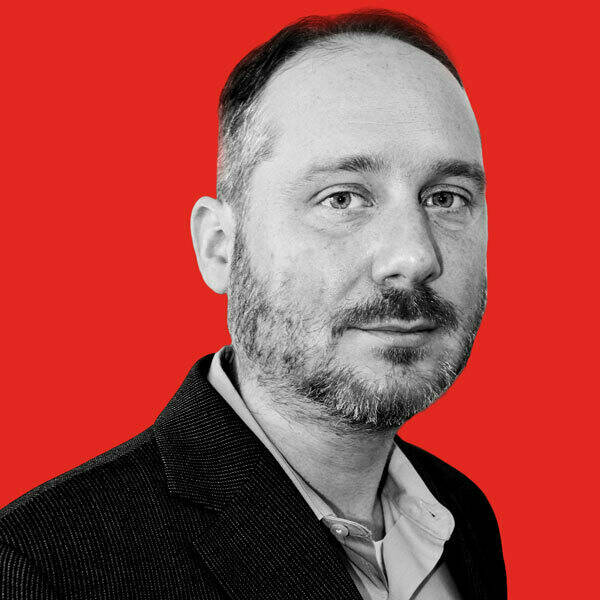 Shaun Rich­man
is an In These Times con­tribut­ing writer and the Pro­gram Direc­tor of the Har­ry Van Ars­dale Jr. School of Labor Stud­ies at SUNY Empire State Col­lege. His Twit­ter han­dle is @Ess_Dog.