Don't Call It a Comeback, Quinn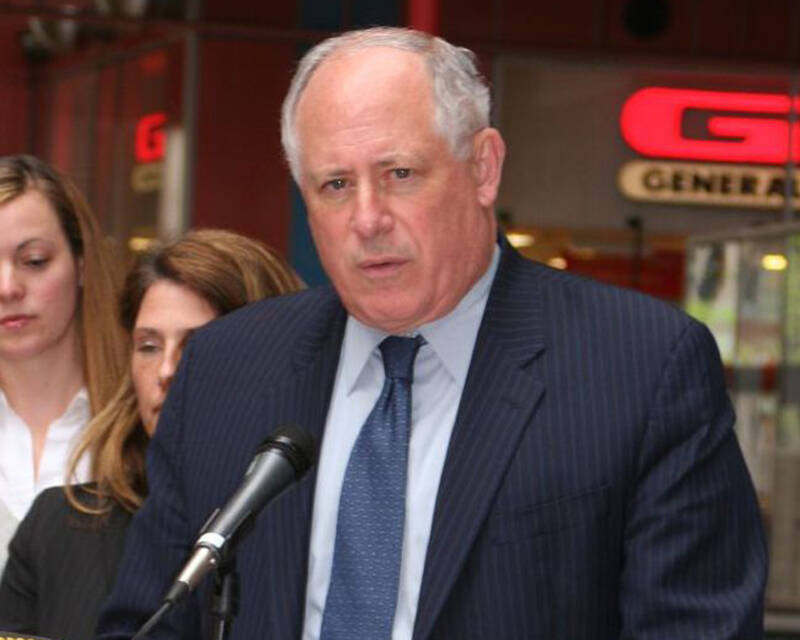 In his year­ly ​"State of the State" address on Wednes­day, Illi­nois Gov. Pat Quinn (D) enthused that, after numer­ous finan­cial and eth­i­cal crises, the Land of Lin­coln is ​"mak­ing a come­back." The state's sav­ior, accord­ing to Quinn, was ​"com­pre­hen­sive pen­sion reform" leg­is­la­tion that will pro­duce con­sid­er­able tax­pay­er sav­ings, but slash the retire­ment ben­e­fits of Illi­nois pub­lic employees.
But just one day ear­li­er, Illi­nois' biggest pub­lic sec­tor unions filed suit to over­turn this land­mark pen­sion law. The unions, who call them­selves the We Are One Illi­nois coali­tion, include AFSCME Coun­cil 31, the largest pub­lic work­ers' union in Illi­nois, as well as the Illi­nois Fed­er­a­tion of Teach­ers and SEIU Local 73.
State offi­cials have cal­cu­lat­ed that Illi­nois tax­pay­ers will save $145 bil­lion over the next 30 years under the new law.
The major­i­ty of that sav­ings will come from reduc­ing the annu­al retire­ment ben­e­fit increas­es of any state work­er that start­ed their job pri­or to 2011 (the state has a sep­a­rate pen­sion sys­tem for pub­lic work­ers who start­ed employ­ment after Jan. 1, 2011). All these work­ers will be impact­ed, though employ­ees with high­er year­ly salaries and those who have recent­ly start­ed work­ing for the state will see the biggest cuts to their pensions.
Accord­ing to the suit, which was filed in Sang­a­mon Coun­ty Cir­cuit Court, the pen­sion mea­sure ​"unlaw­ful­ly harms hun­dreds of thou­sands of cur­rent and retired state employ­ees and teach­ers and breach­es the trust that all Illi­nois cit­i­zens" place in the gov­er­nor and state legislature.
Though Quinn shep­herd­ed the pen­sion law through the Illi­nois Gen­er­al Assem­bly in Decem­ber, elect­ed offi­cials and influ­en­tial media lead­ers have long demand­ed leg­is­la­tion that would draw down the state's pen­sion lia­bil­i­ty. That gap, esti­mat­ed last year at $100 bil­lion, is large­ly why Illi­nois has the worst cred­it rat­ing in the nation, as judged by Stan­dards & Poor's.
Stan­dards & Poor's actu­al­ly upgrad­ed Illinois's cred­it rat­ing out­look from ​"neg­a­tive" to ​"devel­op­ing" in Decem­ber in light of the pen­sion reform bill. But pub­lic sec­tor unions say the new law is legal­ly fishy and unjust to state employ­ees who reli­ably paid their con­tri­bu­tions while state gov­ern­ment loot­ed the pen­sion funds over the last twen­ty years, includ­ing dur­ing the terms of now impris­oned gov­er­nors George Ryan ® and Rod Blago­je­vich (D).
The unions point out that the Illi­nois con­sti­tu­tion states, ​"Mem­ber­ship in any pen­sion or retire­ment sys­tem of the state … shall be an enforce­able con­trac­tu­al rela­tion­ship, the ben­e­fits of which shall not be dimin­ished or impaired." Yet the law would, in fact, effec­tive­ly dimin­ish con­trac­tu­al­ly agreed-upon annu­al cost-of-liv­ing increas­es for state retirees, with exact fig­ures most­ly depend­ing upon annu­al earn­ings and years remain­ing pri­or to retirement.
In a nod to the legal idea of ​"con­sid­er­a­tion" — that the state can legal­ly break a con­tract if they are pro­vid­ing ben­e­fits to the work­ers that are not cur­rent­ly in the con­tract — the law saves work­ers mon­ey in the short term by trim­ming their annu­al pen­sion con­tri­bu­tion by about 1 percent.
But We Are One Illi­nois cal­cu­lates that the law will cost work­ers mon­ey in the long run by huge­ly dimin­ish­ing their return on invest­ment. For exam­ple, a 40-year-old earn­ing an aver­age salary of $30,000 will end up pay­ing a total of $8,453 less into her pen­sion due to the reduced con­tri­bu­tion. But after she retires, We Are One Illi­nois says, she will end up receiv­ing $107,062 less in total ben­e­fits, assum­ing she retires at 60 hav­ing spent 30 years in pub­lic service.
Ann Lousin, a state con­sti­tu­tion­al law pro­fes­sor at John Mar­shall Law School, says that the unions have craft­ed a strong case. ​"I think that they have done a lot of research in respect to the lit­i­ga­tion," Lousin says. ​"I think they can show that parts of it are unconstitutional."
Quinn and leg­isla­tive authors of the pen­sion bill such as state Sen. Daniel Biss (D‑Evanston) have argued that the fis­cal health of the state depends on pub­lic employ­ees' reduced retire­ment funds. The greater pub­lic good accom­plished by the law — one that will ben­e­fit all Illi­nois res­i­dents includ­ing pubic work­ers, this legal argu­ment goes, must be part of the ​"con­sid­er­a­tion" the courts look at when review­ing the measure's constitutionality.
Per­haps in antic­i­pa­tion of this posi­tion, the law­suit notes that We Are One Illi­nois tried to work with Quinn on alter­na­tive leg­is­la­tion that would have done less dam­age to state work­ers' pock­et­books while still ben­e­fit­ing Illinois.
The We Are One Illi­nois suit fol­lows three pri­or suits filed less than a month after Quinn signed the law by small­er orga­ni­za­tions also rep­re­sent­ing pub­lic employ­ees. Though Quinn has request­ed that these suits be con­sol­i­dat­ed, Anders Lin­dall, spokesper­son for We Are One Illi­nois, says that the coali­tion has not decid­ed whether it will do so.
Mean­while, Lin­dall says We Are One Illi­nois may file an injunc­tion to pre­vent the pen­sion law from tak­ing effect as sched­uled on June 1.
Nei­ther We Are One Illi­nois nor Quinn's office could offer a rough time­line of when the case might be heard, let alone decid­ed. Kent Red­field, a polit­i­cal sci­ence pro­fes­sor at the Uni­ver­si­ty of Illi­nois-Spring­field and long­time observ­er of the state legal sys­tem, pre­dicts, ​"We're prob­a­bly going to get all these cas­es con­sol­i­dat­ed [by the court] and the court's going to expe­dite it."
Red­field also fore­casts, how­ev­er, that the case will either be appealed to the Illi­nois Supreme Court or moved there by the Sang­a­mon Coun­ty Cir­cuit Court Judge. There­fore, the unions may not have their day in court until after Quinn's bid for re-elec­tion in November.
The legal action is just the lat­est con­flict in the ongo­ing feud between Quinn and pub­lic work­ers. AFSCME Coun­cil 31 alone has had two extend­ed legal bat­tles with Quinn, once over pay rais­es and state facil­i­ty clos­ings; and the union near­ly went on strike last win­ter amid con­tract talks with the governor.
Even so, Robert Bruno, direc­tor of the Uni­ver­si­ty of Illi­nois-Chica­go labor edu­ca­tion pro­gram, antic­i­pates that most Illi­nois unions, and per­haps even the nation­al AFL-CIO, will ulti­mate­ly sup­port Quinn's cam­paign — par­tic­u­lar­ly if Bruce Rauner, an anti-labor North Shore ven­ture cap­i­tal­ist, grabs the GOP nomination.
And Quinn will like­ly need them on his side. Union mon­ey and get-out-the-vote efforts were instru­men­tal in his nar­row 2010 guber­na­to­r­i­al vic­to­ry over State Sen­a­tor Bill Brady. As Bruno puts it, ​"There is prob­a­bly no oth­er insti­tu­tion in the state that car­ries as much polit­i­cal weight as labor."
Still, Lin­dall declined to com­ment on whether or not the mem­bers of We Are One Illi­nois will back Quinn's race even as they take him to court. ​"This law­suit doesn't have any­thing to do with pol­i­tics," Lin­dall says.
Matthew Blake
is a free­lance jour­nal­ist based in Chica­go. He has writ­ten for the
Chica­go Jour­nal, Wash­ing­ton Month­ly, Wash­ing­ton Inde­pen­dent
and
The Nation
, among oth­er publications.