The Robots Are Coming. Whether They'll Be Job Terminators or Job Transformers Is Up to Us.
Don't fear the robot.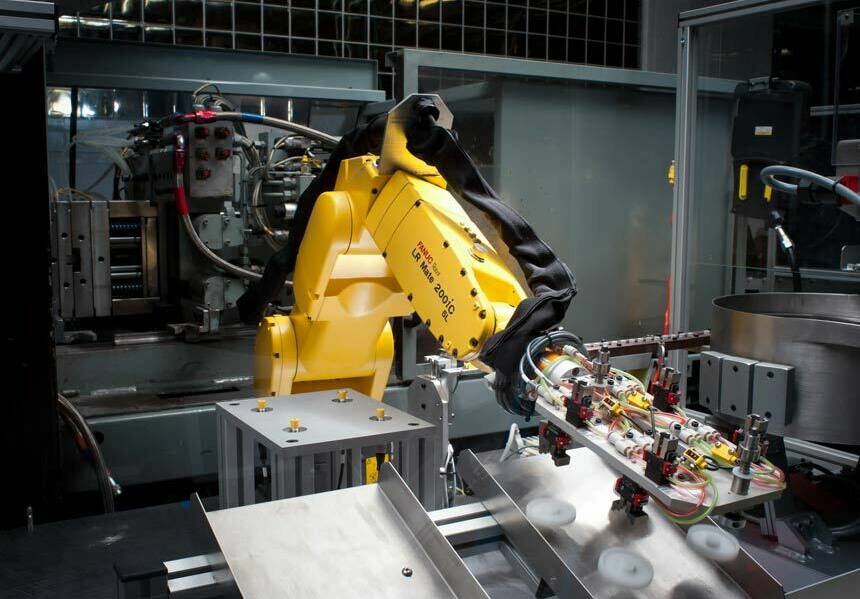 Far more machines than peo­ple were work­ing as John Winzel­er showed me around the clean, qui­et Chica­go fac­to­ry of Winzel­er Gear, the 75-year-old fam­i­ly-owned firm that makes plas­tic gears for the glob­al auto­mo­bile indus­try. Only four of the 43 machines had per­son­al ten­ders; the oth­ers moved the small gears through the stages of fab­ri­ca­tion day and night, with lit­tle human intervention.
If we embrace the robots that humanity is on the brink of creating, the issue will be whether these machines and people can coexist in solidarity, within a world of unprecedented wealth.
Big fac­to­ries have employed such robots for the past 50 years, but few small com­pa­nies have pushed robot­ics as far as Winzel­er Gear, which will soon be adding a cut­ting-edge ​"col­lab­o­ra­tive" robot to its work­force — a flex­i­ble robot that is eas­i­ly pro­gram­ma­ble for dif­fer­ent tasks.
Despite stiff com­pe­ti­tion from fac­to­ries in low-wage coun­tries, Winzel­er Gear has thrived in Chica­go thanks to its robots. In 1985, the fac­to­ry employed 60 peo­ple and pro­duced 2 mil­lion gears a month. Now, with 43 robots, 35 full­time human work­ers and 15 part-timers, it turns out up to 15 mil­lion gears a month (aver­age price: one nick­el). Winzel­er hopes robots will ulti­mate­ly replace all flesh-and-blood pro­duc­tion work­ers, leav­ing just the high­er-skilled, bet­ter-paid tech­ni­cal and admin­is­tra­tive staff, and mak­ing it pos­si­ble for his com­pa­ny to remain a glob­al­ly com­pet­i­tive manufacturer.
"The vision I have and won't live to see is a com­plete­ly ​'lights out' oper­a­tion," says Winzel­er, who is 72. ​"I'm not try­ing to dri­ve labor out just to dri­ve labor out, but for con­sis­ten­cy and effi­cien­cy. My posi­tion is that robots are good."
Robots can be good — and bad. They fuel both fan­tasies and fears. Recent­ly, they've sparked an abun­dance of both. Engi­neer­ing break­throughs in robot­ics, arti­fi­cial intel­li­gence and machine learn­ing are com­ing faster than expect­ed. In 2013, two Oxford Uni­ver­si­ty researchers, Carl Benedikt Frey and Michael Osborne, esti­mat­ed that 47 per­cent of U.S. work­ers are at risk of replace­ment by robots or oth­er com­put­er-based technologies.
The rapid progress in robot devel­op­ment rais­es sober­ing ques­tions: How many jobs — and which ones — will be lost or trans­formed? What poli­cies should we pur­sue as we pre­pare for a robot-depen­dent world? And what will become of human work if robots do much of what peo­ple do now?
Much will depend on whether we humans leave robo­t­i­za­tion to the free mar­ket or whether we take delib­er­ate steps to shape our future rela­tion­ships with robots, work and each other.
Not as bad as you think
Robots can eas­i­ly pro­voke human pan­ic. To the anx­ious and pre­car­i­ous work­ers of today, a ​"lights out" fac­to­ry rais­es the specter of a job­less future. Cor­po­ra­tions, well aware of this, hap­pi­ly use the prospect of a robot­ic future as a threat — just as they use off­shoring — to dis­ci­pline their human work­force and hold down wages.
Two years ago, when fast-food work­ers nation­wide began demand­ing $15 an hour, the Employ­ment Poli­cies Insti­tute — a front group for the restau­rant indus­try — took out a full-page ad in the Wall Street Jour­nal that read, ​"Why Robots Could Soon Replace Fast Food Work­ers Demand­ing a High­er Min­i­mum Wage." And indeed, robot­ic ham­burg­er mak­ers and order-tak­ers are cur­rent­ly in devel­op­ment, poten­tial­ly turn­ing fast-food fran­chis­es into high-tech vend­ing machines.
Employ­ers have long used tech­nol­o­gy to under­cut the pow­er of work­ers. In the 1880s, McCormick Har­vest­ing Machine Com­pa­ny, the man­u­fac­tur­er of the McCormick reaper, installed new equip­ment — even though it did an infe­ri­or job at a high­er cost — in order to break the pow­er­ful iron mold­ers' union. The gam­bit worked.
Yet, on an econ­o­my-wide scale, robots may not be as rev­o­lu­tion­ary as we think. Last year, a Pew Research Cen­ter sur­vey of 1,896 dig­i­tal experts found them even­ly split on whether robots will elim­i­nate more jobs than they will cre­ate. Robert Gor­don, an econ­o­mist at North­west­ern Uni­ver­si­ty, argues that the steam engine, elec­tric­i­ty and even indoor plumb­ing (which freed women from much drudgery) have brought more pro­found changes to our lives and labor prac­tices than dig­i­ti­za­tion, com­put­ers and robots.
So far, robots appear to have played a lim­it­ed role in dis­plac­ing work­ers. Gen­er­al Motors installed the first indus­tri­al robot, a spot welder, at its New Jer­sey auto­mo­bile fac­to­ry in 1961. By 2000, the num­ber of indus­tri­al robots had climbed to 92,900. Yet between 1970 and 2000, U.S. man­u­fac­tur­ing employ­ment held steady at around 18 mil­lion jobs. Man­u­fac­tur­ing only saw a steep decline after the Unit­ed States agreed to estab­lish per­ma­nent nor­mal trade rela­tions with Chi­na in 2000. Indus­tri­al robot use did accel­er­ate in the new mil­len­ni­um, but Robert Scott of the Eco­nom­ic Pol­i­cy Insti­tute and Dean Bak­er of the Cen­ter for Eco­nom­ic and Pol­i­cy Research argue that many more man­u­fac­tur­ing jobs were lost to off­shoring than to robots. As for the slug­gish job growth since the most recent reces­sion, econ­o­mist Dani Rodrik of the Insti­tute for Advanced Study says it can be attrib­uted not to new tech­nolo­gies, but to lack of demand from house­holds, busi­ness­es and gov­ern­ment, which chose aus­ter­i­ty over stimulus.
Coun­ter­in­tu­itive though it may seem, the con­ven­tion­al eco­nom­ic view is that labor-sav­ing machin­ery need not reduce over­all employ­ment. That's because busi­ness­es typ­i­cal­ly use pro­duc­tiv­i­ty improve­ments to low­er prices and increase sales, which leads to more hir­ing. At Winzeler's fac­to­ry, for exam­ple, some machin­ist job loss­es have been off­set by new sales and sup­port jobs. New tech­nol­o­gy also requires peo­ple to man­u­fac­ture, repair and (some­times) oper­ate it. Most econ­o­mists argue that after a new tech­nol­o­gy is intro­duced, employ­ment will bounce back in the long run and per­haps even increase.
If this mod­el is cor­rect, the worst we have to fear from robots is an ini­tial peri­od of dis­rup­tion. How­ev­er, dur­ing this time, some work­ers will be more vul­ner­a­ble than oth­ers. Frey and Osborne, the Oxford researchers, found that the jobs most endan­gered by robots were low-skilled and low-paid, pre­cise­ly the peo­ple who already have the most dif­fi­cul­ty find­ing anoth­er job. This rais­es the specter of a bur­geon­ing under­class and the atten­dant strains on the social fabric.
Here is where pub­lic pol­i­cy comes into play, and where we can learn from both his­to­ry and oth­er countries.
A New Deal for the Robot Age
Cor­po­rate cap­i­tal­ism has always been marked by dis­rup­tions, start­ing with the mas­sive dis­place­ments of peas­ant farm­ers by com­mer­cial agri­cul­ture and of crafts­peo­ple by mech­a­niza­tion. Work­ers often resist­ed. In ear­ly- 19th-cen­tu­ry Eng­land, the Lud­dites smashed new tech­nol­o­gy such as the ​"stock­ing frame," a mechan­i­cal knit­ting machine that obvi­at­ed their skills and low­ered their wages. His­to­ri­an Eric Hob­s­bawm described the acts as a form of ear­ly trade union­ism, a kind of ​"col­lec­tive bar­gain­ing by riot" that did often raise pay.
By the 20th cen­tu­ry, most indus­tri­al unions grudg­ing­ly accom­mo­dat­ed tech­no­log­i­cal change as long as work­ers shared in the result­ing eco­nom­ic gains. As new tools and meth­ods boost­ed pro­duc­tiv­i­ty in the auto indus­try, for exam­ple, prices fell, sales expand­ed and jobs increased. Auto work­ers pushed for high­er wages, which increased their pur­chas­ing pow­er and cre­at­ed more jobs. Oth­er work­ers fol­lowed their lead, fur­ther expand­ing mar­kets for goods, includ­ing cars.
If we're on the brink of a peri­od of robot­ic upheaval, labor orga­niz­ing will be more cru­cial than ever. Work­ers will need unions with the pow­er to nego­ti­ate the needs of the displaced.
Anoth­er aspect of the dis­rup­tion could be an exac­er­ba­tion of eco­nom­ic inequal­i­ty. MIT econ­o­mist David Autor argues that the advent of com­put­ing in the late 1970s helped dri­ve our cur­rent strat­i­fi­ca­tion. As demand increased for abstract labor (col­legee­d­u­cat­ed work­ers using com­put­ers) and decreased for man­u­al, rou­tine labor (ser­vice work­ers with few skilled tasks), he says, the pay for dif­fer­ent occu­pa­tions con­se­quent­ly became more polar­ized, fuel­ing the rise of inequality.
But Lawrence Mishel and his Eco­nom­ic Pol­i­cy Insti­tute col­leagues, along with Dean Bak­er, argue that this mod­el of polar­iza­tion miss­es impor­tant nuances of con­tem­po­rary labor mar­kets and ignores the pri­ma­ry dri­ver of inequal­i­ty: pub­lic pol­i­cy, not robots. They point to a range of U.S. poli­cies, includ­ing encour­age­ment of finan­cial sec­tor growth and sup­pres­sion of the min­i­mum wage, as con­tribut­ing to bur­geon­ing inequality.
No mat­ter who is right, it's indis­putable that pub­lic pol­i­cy, in addi­tion to unions, can play a pow­er­ful role in curb­ing the ill effects of tech­no­log­i­cal disruption.
Luck­i­ly, we don't need to rein­vent the wheel. Sev­er­al Euro­pean coun­tries already have strong mod­els from which we can learn. The Scan­di­na­vian pol­i­cy of ​"flex­i­cu­ri­ty," for exam­ple, has long served as a com­pro­mise between cap­i­tal­ists eager to embrace cut­tingedge tech­nol­o­gy and work­ers seek­ing eco­nom­ic secu­ri­ty. In exchange for work­ers' com­mit­ment to ​"flex­i­bil­i­ty" in accept­ing work­place inno­va­tions, gov­ern­ments help ease work­ers' tran­si­tion through the ​"secu­ri­ty" of strong social wel­fare poli­cies such as unem­ploy­ment insur­ance. Gov­ern­ments also fund retrain­ing pro­grams to pre­pare work­ers for new kinds of jobs.
To keep ahead of robots, work­ers will need such train­ing oppor­tu­ni­ties in order to devel­op the cre­ative and social intel­li­gence that are unique to humans (at least for now). That requires access to life­long learn­ing oppor­tu­ni­ties far beyond most job training.
That's the min­i­mum we must do as we enter the Age of Robots. But if robots were to dis­place mass amounts of work­ers, ​"flex­i­cu­ri­ty" poli­cies would almost cer­tain­ly be inad­e­quate. Even if today's robots have left sur­pris­ing­ly small foot­prints, we shouldn't dis­miss the pos­si­bil­i­ty that an explo­sion of next-gen­er­a­tion robots could throw the old rules to the wind.
The worst-case scenario
The pace of change is speed­ing up. Frey and Osborne did not put a clock on their pre­dic­tion of 47 per­cent job loss, but robot enthu­si­asts talk of immense shifts in the next few decades. Sales of indus­tri­al robots have been grow­ing by about 17 per­cent a year, and advances in robot devel­op­ment are occur­ring faster than expect­ed. The Boston Con­sult­ing Group pre­dicts that by 2025, pur­chas­ing an indus­tri­al robot will cost 16 per­cent less than than hir­ing a human.
Fox­conn, the hard-dri­ving Tai­wanese con­tract man­u­fac­tur­er that churns out the iPhone, has placed its bets on an auto­mat­ed future. It announced three years ago that it would install 1 mil­lion robots in its Chi­nese plants. That proved impos­si­ble, part­ly because of sna­fus with its cus­tom ​"Foxbot." Even its scaled-back plans, how­ev­er, remain ambi­tious and are a major rea­son Chi­na is pro­ject­ed to be home to the most robots of any coun­try by 2017. Fox­conn sees robots as essen­tial to stay­ing com­pet­i­tive as it faces demands for pay increas­es and work­er short­ages. What's more, Foxconn's robots may con­vert its pub­lic rela­tions prob­lems — a rash of work­er sui­cides and wide­spread strikes — into mechan­i­cal ones.
Man­u­fac­tur­ing is among the rou­tine tasks — both cog­ni­tive and man­u­al— that are obvi­ous tar­gets for robo­t­i­za­tion. But Frey and Osborne argue that even non-rou­tine jobs like legal writ­ing are vul­ner­a­ble. For years, ana­lysts have thought that robots would be lim­it­ed to rule-dri­ven tasks, and humans would reign where prob­lem-solv­ing was need­ed. Now robots are increas­ing­ly adept at what is known as ​"pat­tern recog­ni­tion." We're on the cusp of liv­ing with robots that see, hear, talk, learn, sort and pick up diverse objects, dri­ve a car or truck, beat experts in triv­ia con­tests, do legal research, diag­nose patients, per­form knee surgery, write news sto­ries, com­pose orig­i­nal music and give com­fort to the aged.
As robots spread beyond man­u­fac­tur­ing, the job loss­es could become cat­a­stroph­ic. Take the dri­ver­less car. Google is rac­ing to cre­ate robot­ic cars and trucks, and Tes­la, Mer­cedes-Benz and Apple are at its heels. Today, as many as 4 mil­lion Amer­i­cans make their liv­ing dri­ving trucks, taxis, bus­es and oth­er vehicles.
A pro­lif­er­a­tion of robots across many job cat­e­gories could present those dis­placed dri­vers with a dif­fi­cult job search. If every busi­ness is replac­ing peo­ple with robots, and robots are able to man­u­fac­ture, pro­gram and repair oth­er robots, or fill the burg­er-flip­ping jobs that dis­lo­cat­ed work­ers might take, employ­ment growth will be unable to off­set the loss­es. The see-saw of job cre­ation and elim­i­na­tion could tip per­ma­nent­ly downward.
Some of this may come down to how we design our robots. In his new book, Machines of Lov­ing Grace: The Quest for Com­mon Ground Between Humans and Robots, John Markoff, a New York Times sci­ence writer, argues that the big ques­tion is: Will robots be designed to replace humans (as the devel­op­ment of ​"arti­fi­cial intel­li­gence," or AI, por­tends) or will they enhance human capa­bil­i­ties (becom­ing tools of ​"intel­li­gence aug­men­ta­tion," or IA)? Google's dri­ver­less car, for exam­ple, flows from AI and is intend­ed to sup­plant the human dri­ver. But its close cousin, the dri­ver assis­tance pack­age now sold by Tes­la, helps peo­ple avoid dan­ger­ous dri­ving errors and thus falls under the human­friend­ly rubric of IA.
The dif­fer­ences between AI and IA are root­ed in the eco­nom­ic par­a­digms in which they are devel­oped, Markoff sug­gests. IA is attrac­tive to those who want humans to remain cen­tral. AI is attrac­tive to a prof­it-dri­ven sys­tem that seeks to min­i­mize the role of the work­er. As Hen­ry Ford apoc­ryphal­ly put it, ​"Why, when I ask for a cou­ple hands, do they always come with a brain?"
Should free-mar­ket cap­i­tal­ism have its way, much of the world may come to resem­ble the ​"lights out" fac­to­ry of John Winzeler's dreams, where machines buzz away on their own in dark, cold work­shops. Human labor will be pret­ty much obso­lete, oth­er than for sales and design work, and for some lim­it­ed form of remote over­sight and machine maintenance.
In this cold future, we will see even greater dis­par­i­ties between the bot­tom 90 and the top 10 per­cents. Elites will reap the robot div­i­dend in the wealth cre­at­ed and the tech­no­log­i­cal mar­vels afford­ed, from robot­ic pets to per­son­al aides. But the major­i­ty of the pop­u­la­tion will be left out of the won­drous new world.
Could this robot dystopia even sus­tain itself? A down­ward spi­ral is like­ly: As dis­placed work­ers have less — or no — income to spend, con­sump­tion will decline. This threat­ens both the work­er and the sys­tem, as Unit­ed Auto Work­ers Pres­i­dent Wal­ter Reuther once point­ed out to an auto com­pa­ny exec­u­tive. Show­ing Reuther a factory's array of new robot­ic machines, the exec­u­tive asked, accord­ing to Reuther, ​"How are you going to col­lect union dues from all these machines?" Reuther replied, ​"That is not what's both­er­ing me. I'm trou­bled by the prob­lem of how to sell auto­mo­biles to these machines."
Enter the Transformers
Ulti­mate­ly, the impact and the char­ac­ter­is­tics of robots will be deter­mined as much by the val­ues of the soci­ety that devel­ops them as by pure­ly tech­ni­cal achieve­ments. The poli­cies that might head off a robot-induced cri­sis could also shape the devel­op­ment of the new robot­ics and improve lives now.
These go beyond the strength­en­ing of unions, unem­ploy­ment leave and life­long learn­ing nec­es­sary to cush­ion even a short-term robot dis­rup­tion. If we want robots that help peo­ple rather than replace them, the gov­ern­ment should also increase invest­ment in robot devel­op­ment toward IA through civil­ian agen­cies, not the mil­i­tary. Cur­rent­ly, most such fund­ing comes through the Defense Advanced Research Projects Agency (DARPA). The birth­place of the Inter­net, DARPA has served as the de fac­to indus­tri­al and research pol­i­cy agency of the gov­ern­ment for decades. Although much DARPA-fund­ed research claims to be ​"dual use," mil­i­tary inter­ests pre­dictably dom­i­nate. On robot research, DARPA leans towards arti­fi­cial intel­li­gence. After all, war with­out war­riors is less messy. As we've seen with drone war­fare, when no Amer­i­can youth are at risk, killing can be out of sight, out of mind and moral­ly adrift. That has also had the insid­i­ous effect of advanc­ing AI over IA as mil­i­tary tech­nol­o­gy is adapt­ed for civil­ian uses.
The case for IA goes beyond pre­serv­ing jobs. Nobel prize-win­ning econ­o­mist Amartya Sen advo­cates that we rede­fine ​"wealth" to mean the fullest real­iza­tion of each indi­vid­ual. Robots that aug­ment us could expand such wealth.
As Markoff sees it, AI and IA offer fun­da­men­tal­ly dif­fer­ent visions of the future: ​"In one world humans coex­ist and pros­per with the machines they've cre­at­ed. … It is equal­ly pos­si­ble [that these] tech­nolo­gies, rather than free­ing human­i­ty, will instead facil­i­tate a fur­ther con­cen­tra­tion of wealth, foment­ing vast new waves of tech­no­log­i­cal unem­ploy­ment, cast­ing an inescapable sur­veil­lance net around the globe, while unleash­ing a new gen­er­a­tion of autonomous superweapons."
To avoid such anti­so­cial tech­no­log­i­cal devel­op­ment, we will also need to equi­tably share the ben­e­fits of robo­t­i­za­tion. An impor­tant step is to reduce the hours of work with­out cut­ting pay. The robot div­i­dend could be paid out through a 30-hour work week, more paid vaca­tions, gen­er­ous fam­i­ly and med­ical leave, and ear­li­er retire­ment eli­gi­bil­i­ty — all tools to effec­tive­ly spread work more widely.
On a more fun­da­men­tal lev­el, the prospect of a robot­ics rev­o­lu­tion prompts us to rethink the divi­sions of labor that have held since the Indus­tri­al Rev­o­lu­tion. These divi­sions obscure the essen­tial work that falls out­side of the mar­ket, such as cook­ing, clean­ing and car­ing for chil­dren, the elder­ly and the infirm. These tasks require the cre­ative and empa­thet­ic tal­ents that robots are unlike­ly to mas­ter, but our soci­ety has inad­e­quate ways of assign­ing eco­nom­ic val­ue to much of it. Poli­cies like giv­ing a cap­i­tal grant to each new­born child or expand­ing the non­prof­it sec­tor could cre­ate pay­ing jobs out of such activ­i­ties. The work now done through non­prof­it groups could be expand­ed, and com­mu­ni­ties could more ful­ly sup­port the work of artists, musi­cians, actors and oth­er cul­tur­al laborers.
Robot enthu­si­asts like Mar­tin Ford, author of Rise of the Robots, offer a more rad­i­cal solu­tion: a uni­ver­sal basic income (UBI). By decou­pling labor from remu­ner­a­tion entire­ly, UBI upends our notions of what moti­vates us and who deserves basic sustenance.
At a crossroads
The human dream of abun­dant pro­duc­tion by robots with lit­tle direct human labor may be fea­si­ble in the future. Whether that world will be utopic or dystopic depends on whether we are able to change our cur­rent notions of which human activ­i­ties deserve eco­nom­ic reward. If we are unable to adapt, we may find our­selves, as the line from ​"Sol­i­dar­i­ty For­ev­er" puts it, stand­ing ​"out­cast and starv­ing amid the won­ders we have made."
If we embrace the robots that human­i­ty is on the brink of cre­at­ing, the issue will be whether these machines and peo­ple can coex­ist in sol­i­dar­i­ty, with­in a world of unprece­dent­ed wealth. This robot-assist­ed world could bring both mate­r­i­al well-being and the intan­gi­ble rich­es that come from each indi­vid­ual cre­ative­ly real­iz­ing her poten­tial. If we can use robots to rein­force human sol­i­dar­i­ty, this new world could indeed emerge from the ash­es of the old.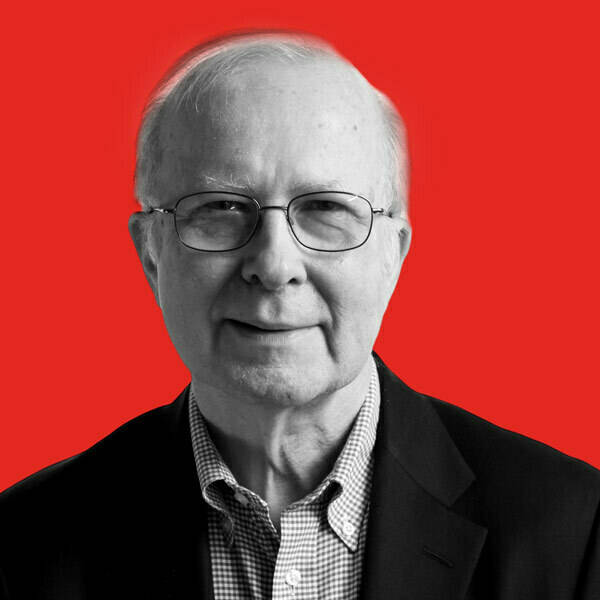 David Moberg, a senior edi­tor of In These Times, has been on the staff of the mag­a­zine since it began pub­lish­ing in 1976. Before join­ing In These Times, he com­plet­ed his work for a Ph.D. in anthro­pol­o­gy at the Uni­ver­si­ty of Chica­go and worked for Newsweek. He has received fel­low­ships from the John D. and Cather­ine T. MacArthur Foun­da­tion and the Nation Insti­tute for research on the new glob­al economy.