Electronic Monitors: How Companies Dream of Locking Us in Our Homes
These are the corporations profiting from e-carceration.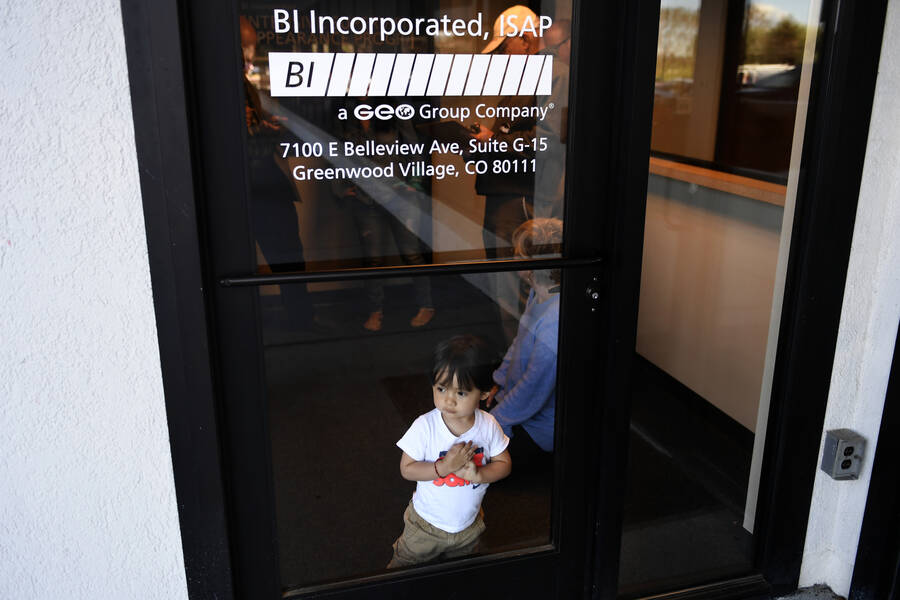 Despite the law-and-order offen­sive of Pres­i­dent Don­ald Trump and Attor­ney Gen­er­al Jeff Ses­sions, the momen­tum for decarcer­a­tion and end­ing cash bail con­tin­ues to grow. This is cause for opti­mism. How­ev­er, decarcer­a­tion may not ulti­mate­ly mean free­dom. In many cas­es, wel­com­ing arms are wait­ing for those com­ing out of prison gates, ready to strap plas­tic GPS shack­les around their ankles. The num­ber of elec­tron­ic mon­i­tor­ing (EM) devices in the Unit­ed States has more than dou­bled in the past decade. This means decarcer­a­tion may presage a mas­sive shift of the costs of incar­cer­a­tion onto fam­i­lies and com­mu­ni­ties, and the trans­for­ma­tion of the nation's cor­rec­tion­al sys­tem from pub­lic con­trol to pri­vate com­pa­nies. Activist Rebec­ca Brown, the direc­tor of Reen­try Solu­tions Group and a keen ana­lyst of mon­i­tor­ing, told In These Times, ​"Rather than advanc­ing a more equi­table and effec­tive crim­i­nal jus­tice sys­tem, elec­tron­ic monitoring's enor­mous and unchecked capac­i­ties trans­form entire com­mu­ni­ties into open-air jails, inten­tion­al­ly depriv­ing a whole class of peo­ple of lib­er­ty and pri­va­cy even as its effi­ca­cy, neces­si­ty and appro­pri­ate­ness go entire­ly unchal­lenged." Wel­come to the era of e‑carceration, and carcer­al conglomerates.
Carceral conglomerates like BI and Securus are on the move. Their continued growth poses serious challenges for activists fighting against mass incarceration.
Let's track that lit­tle canary with a cou­ple of exam­ples. State author­i­ties in Ohio are imple­ment­ing Tar­get­ed Com­mu­ni­ty Alter­na­tives to Prison (T‑CAP) to reduce prison pop­u­la­tions. But these peo­ple will not be ​"free." T‑Cap will force peo­ple with low-lev­el felonies to do their time in coun­ty jails or be fit­ted with EM devices. In oth­er states, the use of EM dur­ing parole is mush­room­ing. In New York, accord­ing to a Free­dom of Infor­ma­tion Act query, the num­ber of elec­tron­i­cal­ly mon­i­tored peo­ple on parole has increased more than 2.5 times since 2010.
The law-and-order agen­da of the Trump-Ses­sions régime also has EM spin­offs, with over­flow pop­u­la­tions from immi­grant deten­tion cen­ters increas­ing­ly being placed on what Span­ish-speak­ers refer to as the ​"gril­lete" (shack­le). A par­al­lel process has occurred in juve­nile jus­tice where, accord­ing to a 2017 report by UC Berkeley's Samuel­son Law Clin­ic and East Bay Com­mu­ni­ty Law Cen­ter, ​"one of the most sig­nif­i­cant changes in the juve­nile jus­tice sys­tem in recent decades has been the pro­lif­er­a­tion of elec­tron­ic mon­i­tor­ing of youth."
Pri­vate sec­tor com­pa­nies are the main providers of EM devices and mon­i­tor­ing tech­nol­o­gy. Crit­ics of mass-incar­cer­a­tion are famil­iar with the (often overblown) threats of pri­vate pris­ons. If we trace the growth of EM back to the com­pa­nies that sell, main­tain and sur­veille those ankle shack­les, we dis­cov­er the growth of a new par­al­lel cor­rec­tion­al sys­tem that has been qui­et­ly build­ing over the last decade. A recent report by the Urban Jus­tice Cen­ter and Cor­rec­tions Account­abil­i­ty Project pro­vides use­ful data to out­line this process. While the scale of state oper­a­tions in the prison indus­tri­al com­plex still dwarfs the pro­file of pri­vate oper­a­tors, carcer­al con­glom­er­ates are reach­ing into new areas, deliv­er­ing new prod­ucts and ​"ser­vices." These com­pa­nies' activ­i­ties not only crowd out state enti­ties at times, but also fur­ther insert prof­it-dri­ven prac­tices into a pub­lic-sec­tor ethos already large­ly dom­i­nat­ed by neolib­er­al values.
Carcer­al Conglomerates
BI Incor­po­rat­ed and Secu­rus Tech­nolo­gies are the two largest providers of elec­tron­ic mon­i­tor­ing devices in the Unit­ed States. With long his­to­ries of uneth­i­cal prof­i­teer­ing and abuse of crim­i­nal­ized pop­u­la­tions, both have also been the tar­gets of con­sid­er­able protest and lit­i­ga­tion.
While pres­sure for reform has grown, there's also been a sea change in the oppor­tu­ni­ties pre­sent­ed to these firms to raid and pri­va­tize the ser­vices of pub­lic cor­rec­tions. With new friends on Capi­tol Hill and in the White House, firms like BI and Secu­rus are pulling pieces out of the very heart of the pub­lic prison-indus­tri­al com­plex and reshap­ing them for pri­vate prof­it. And they're mak­ing it sound like an exer­cise in human­ism: carcer­al human­ism, that is.
BI Incor­po­rat­ed
Found­ed in 1978, Col­orado-based BI Incor­po­rat­ed is like­ly the largest oper­a­tor in the EM sec­tor, con­trol­ling about 30 per­cent of the nation's mon­i­tor­ing devices, accord­ing to the com­pa­ny. In 2011, BI was bought out by GEO Group, the world's largest pri­vate prison oper­a­tor. Under the ban­ner, ​"We believe that every human being should be treat­ed with dig­ni­ty and that his or her basic human rights should be respect­ed and pre­served at all times," the GEO Group's largest divi­sion, GEO Cor­rec­tions, runs 141 pris­ons, deten­tion cen­ters and ​"com­mu­ni­ty reen­try facil­i­ties" hold­ing up to 96,000 peo­ple, includ­ing its inter­na­tion­al oper­a­tions in the Unit­ed King­dom, Aus­tralia and South Africa. The GEO Group is also a prime mover in find­ing new ways to mon­e­tize cor­rec­tions. In 2013 it secured Real Estate Invest­ment Trust (REIT) sta­tus, which grants com­pa­nies the abil­i­ty to write off tax­es on income that comes from rentals, if 75 per­cent or more of their rev­enue comes from rent. The GEO Group claims that pay­ments from gov­ern­ment enti­ties to keep peo­ple behind bars con­sti­tute rental income and there­fore are tax exempt.
With­in the GEO Group, BI is housed in the Orwellian GEO Care divi­sion. Cre­at­ing a sug­ary-sweet ​"car­ing" unit has also opened up new mar­kets and prod­uct oppor­tu­ni­ties for the GEO Group beyond EM. The GEO Group pro­motes a ​"con­tin­u­um of care" through which it offers class­es, treat­ment and work­shops inside pris­ons, as well as tran­si­tion hous­es, elec­tron­ic mon­i­tor­ing and day-report­ing cen­ters for those who leave prison — a wrap­around carcer­al ser­vice. This pro­gram received the annu­al ​"Inno­va­tion in Cor­rec­tions Award of the Amer­i­can Cor­rec­tion­al Asso­ci­a­tion" in 2018 for its work at Graceville Cor­rec­tion­al Facil­i­ty in Flori­da. Anoth­er key com­po­nent of the con­tin­u­um is the GEO Group's 2014 open­ing of a gen­der respon­sive prison for women in McFar­land, Cal­i­for­nia. The BI web­site offers a link to GEO Reen­try ser­vices, which pro­vide poten­tial clients with work­shops and cours­es whole­some­ly pack­aged as ​"evi­dence-based pro­gram­ming."
As a com­pa­ny, BI reflects the dual approach of the GEO Group over­all: care and cor­rec­tions oper­a­tions. BI has mon­i­tor­ing con­tracts for tens of thou­sands of peo­ple with state depart­ments of cor­rec­tions in at least nine states, includ­ing Illi­nois, Wis­con­sin, New Mex­i­co and Arkansas. It also has agree­ments to pro­vide oth­er ​"com­pli­ance tech­nolo­gies," such as alco­hol mon­i­tor­ing devices, voice ver­i­fi­ca­tion sys­tems and mobile per­son­al sur­veil­lance appli­ca­tions. How­ev­er, its largest rev­enue stream now comes from Immi­gra­tion and Cus­toms Enforce­ment (ICE). While the par­ent GEO Group has been busy build­ing Immi­grant Deten­tion Cen­ters in sup­port of the Trump agen­da, BI has been devel­op­ing sur­veil­lance sys­tems for immi­grants. BI's Inten­sive Super­vi­sion and Appear­ance Pro­gram (ISAP) includes var­i­ous forms of com­mu­ni­ty super­vi­sion for about 70,000 immi­grants. Though pre­cise fig­ures are not avail­able, like­ly about half of those are on GPS mon­i­tors. ISAP con­tracts have brought at least $600 mil­lion into BI coffers.
Orga­ni­za­tion­al­ly posi­tion­ing BI in the busi­ness of ​"car­ing" pro­motes the notion that elec­tron­ic mon­i­tor­ing and house arrest are dif­fer­ent from pub­lic mass incar­cer­a­tion, con­sti­tut­ing soft­er, nicer approach­es to crim­i­nal jus­tice. In fact, many peo­ple who have been on elec­tron­ic mon­i­tors agree with John­ny Page's assess­ment. After more than 20 years in Illi­nois pris­ons, Page came home to an elec­tron­ic mon­i­tor. The rules were so con­fin­ing, he told In These Times, ​"It's like being locked up but you're pay­ing your own bills. You get to feed your­self, you don't have to fight for the tele­phone, you don't have to fight for the show­er, but you're still in jail."
Secu­rus
Secu­rus, like­ly the sec­ond-largest EM provider in the Unit­ed States, rep­re­sents a dif­fer­ent mod­el of cor­po­rate con­glom­er­ate. Formed in 2004 by HIG Cap­i­tal via a merg­er between T‑Netix and Ever­com, Secu­rus' core busi­ness has been prison and jail phone sys­tems. By 2015, it was oper­at­ing in 2,200 pris­ons and jails, prof­it­ing from 1.2 mil­lion peo­ple behind bars. Secu­rus first entered the EM mar­ket­place in 2013 by acquir­ing mar­ket giant Satel­lite Track­ing of Peo­ple (STOP). At the time, STOP held the largest sin­gle mon­i­tor­ing con­tract in the coun­try, and it con­tin­ues to prof­it from elec­tron­i­cal­ly mon­i­tor­ing morethan 6,000 peo­ple for the Cal­i­for­nia Depart­ment of Cor­rec­tions andReha­bil­i­ta­tion. Secu­rus still holds the Cal­i­for­nia con­tract and pro­vides EM ser­vices to ten oth­er states includ­ing Ten­nessee, Maine and Oregon.
Secu­rus has also been a leader in diver­si­fy­ing its involve­ment in the prison-indus­tri­al com­plex. In 2013, the com­pa­ny acquired jail man­age­ment sys­tem spe­cial­ist Archonix. Oth­er acqui­si­tions include the 2014 addi­tion of Job­View, pro­duc­er of job search kiosks used inside pris­ons; the 2015 pur­chase of JPay, an online prison por­tal for carcer­al finan­cial trans­ac­tions like deposit­ing funds in phone and com­mis­sary accounts for incar­cer­at­ed loved ones; the 2018 takeover of Gov​Pay​.net, a por­tal for online pay­ment of courts fines and fees; and the 2016 pur­chase of Wire­less Con­tain­ment Solu­tions, cre­ator of ​"Cell Defend­er" — a plat­form that blocks cell­phone calls from inside prisons.
While the GEO Group func­tions more like a par­al­lel Depart­ment of Cor­rec­tions, Secu­rus sits at the apex of a grow­ing carcer­al net­work that uses tech­no­log­i­cal inno­va­tion to mon­e­tize ser­vices that were either pre­vi­ous­ly not pro­vid­ed in jails and pris­ons (video vis­i­ta­tion and email) or were pro­vid­ed by the state (phones, fee col­lec­tion and man­ag­ing com­mis­sary finances). Secu­rus sub­sidiaries also pro­vide plat­forms for prison record keep­ing and oth­er admin­is­tra­tive functions.
At a finan­cial lev­el, the strate­gies of both these con­glom­er­ates have been strik­ing­ly suc­cess­ful. The GEO Group's expan­sion has been dra­mat­ic, almost dou­bling rev­enue from 2010 ($1.2 bil­lion) to 2017 ($2.2 bil­lion). The source of its rev­enue shift­ed as the share of the GEO Care unit grew from 17 per­cent to 22 per­cent while that of GEO Cor­rec­tions fell by 4 percent.
From 2014 to 2016, Secu­rus' rev­enue grew from $404 mil­lion to $583 mil­lion, an increase of 44 per­cent, mak­ing the com­pa­ny itself an increas­ing­ly attrac­tive acqui­si­tion. Over the course of six years, Secu­rus changed hands three times. In 2011, Cas­tle Har­lan bought the com­pa­ny for an esti­mat­ed $440 mil­lion, then sold it to to Abry Part­ners for $640 in 2013, which put it into the hands of Plat­inum Equi­ty for $1.5 bil­lion in 2017.
E‑carceration: The next challenge
Carcer­al con­glom­er­ates like BI and Secu­rus are on the move. Their con­tin­ued growth pos­es seri­ous chal­lenges for activists fight­ing against mass incarceration.
If the pres­sure for decarcer­a­tion is invis­i­bly linked, as it is now, with the expan­sion of EM, one unfor­tu­nate result could be exten­sive ​"e‑carceration": the depri­va­tion of lib­er­ty by means of pri­vate­ly-run tech­nol­o­gy rather than pub­licly main­tained walls and bars. E‑carceration shifts the site and costs of incar­cer­a­tion from state facil­i­ties to vul­ner­a­ble com­mu­ni­ties of col­or which have already been dec­i­mat­ed by mass impris­on­ment. EM with con­di­tions of house arrest is the most com­mon form of e‑carceration in oper­a­tion today, but the advance of the sur­veil­lance state and the rapid evo­lu­tion of track­ing tech­nol­o­gy open the door to a num­ber of oth­er equal­ly wor­ry­ing scenarios.
A per­son may be con­fined to a neigh­bor­hood, a block or a house via devices indi­vid­u­al­ly pro­grammed for vary­ing lev­els of con­trol, depend­ing on the ​"risk assess­ment" of that indi­vid­ual. This is already hap­pen­ing with exclu­sion zones pro­grammed into the ankle mon­i­tors of some indi­vid­u­als with sex offense or gang his­to­ries. In New York City, some alleged gang mem­bers are cur­rent­ly put on a GPS mon­i­tor with­out house arrest. The device is pro­grammed to keep them out of cer­tain parts of the city at cer­tain times of the day.
Pri­va­cy is also a cen­tral con­cern. GPS mon­i­tors, which make up 70 per­cent of devices cur­rent­ly in oper­a­tion in the Unit­ed States, store loca­tion track­ing data. At present, the stor­age and dis­pos­al of that data are almost entire­ly unreg­u­lat­ed in the Unit­ed States. In Ger­many author­i­ties are required to delete track­ing data with­in in two months. In the Unit­ed States, some elec­tron­ic mon­i­tor­ing con­tracts with STOP call for keep­ing the data for a min­i­mum of sev­en years. Giv­en the recent rev­e­la­tions of leaks of data from Face­book, as well as the hack of 70 mil­lion records of Secu­rus Tech­nolo­gies in 2015, any expan­sion of e‑carceration with­out more rig­or­ous usage guide­lines and the imple­men­ta­tion of trans­par­ent dig­i­tal secu­ri­ty sys­tems rais­es a num­ber of alarms.
In the field of re-entry, deep­er involve­ment of firms like GEO Care into sys­tems of com­mu­ni­ty-based super­vi­sion will doubt­less increase fees for elec­tron­ic mon­i­tor­ing, as well as add more manda­to­ry com­po­nents that require pay­ment. Many of these costs are already imposed on indi­vid­u­als under super­vi­sion, who pay for things like drug test­ing, com­pul­so­ry anger man­age­ment cours­es and gen­er­al super­vi­sion fees. Not only do these regimes increase costs for the per­son, but the entrance of carcer­al con­glom­er­ates into the reen­try field blocks com­mu­ni­ty-based ini­tia­tives that are more like­ly to be suc­cess­ful at a low­er cost.
These devel­op­ments have seri­ous impli­ca­tions for move­ments fight­ing for decarcer­a­tion. The con­di­tions of indi­vid­u­als who are released need to be care­ful­ly watched. Decarcer­a­tion that only lands indi­vid­u­als under restric­tive and cost­ly house arrest, for exam­ple, is an out­come to be avoid­ed. Get­ting peo­ple out of prison and jails in ways that enhance the pow­er and prof­it of com­pa­nies like Secu­rus and the GEO Group could be a step back­wards in the long run.
Orga­ni­za­tions across the coun­try have staged hero­ic resis­tance to these com­pa­nies in the past. Activists have pre­vent­ed the GEO Group from build­ing new pris­ons by expos­ing the vio­lence and abuse that has been ram­pant in its facil­i­ties. Sim­i­lar­ly, incar­cer­at­ed peo­ple and their loved ones joined a mass cam­paign in 2015 and 2016 to curb the abu­sive rates and fees for prison phone calls that were charged by Secu­rus. The next stage of this strug­gle will require a new form of vig­i­lance about the increas­ing dan­gers of e‑carceration and the prof­it-mak­ing strate­gies of carcer­al con­glom­er­ates like BI, the GEO Group and Secu­rus work­ing in tan­dem with increas­ing­ly cor­po­ra­tized depart­ments of corrections.
James Kil­go­re
is a for­mer­ly incar­cer­at­ed activist and researcher based in Urbana, Illi­nois. He is the author of five books, includ­ing
Under­stand­ing Mass Incar­cer­a­tion: A People's Guide to the Key Civ­il Rights Strug­gle of Our Time
. He is cur­rent­ly a Soros Jus­tice Fel­low whose work involves build­ing a cam­paign, Chal­leng­ing E‑Carceration, which is focused on the issue of elec­tron­ic mon­i­tor­ing. He can be reached at waazn
1
@​gmail.​com or @waazn
1
. He would like to thank Ter­ri Barnes and Emmett Sanders for their work on this article.