Shackles Aren't "Bracelets": Why We Should Be Concerned About the Marketing of Punitive Technology
Electronic monitors are devices of unfreedom—not decoration.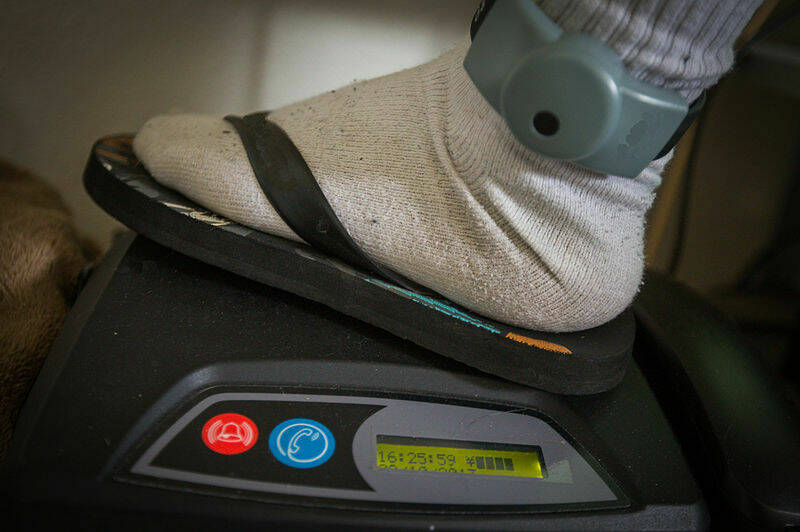 Courts, parole offi­cers and sher­iffs do not issue ankle bracelets. J‑Lo wears ankle bracelets. Women in Egypt have worn gold and sil­ver ankle bracelets for cen­turies. These acces­sories have lit­tle in com­mon with the black box­es the crim­i­nal legal sys­tem straps on ankles as pun­ish­ment. The most benign word we can use for them is ​"mon­i­tors." Span­ish-speak­ing immi­grants have anoth­er term: ​"gril­letes," or shack­les. What­ev­er you call them, they are devices of unfree­dom — not decoration.
Ultimately, the pathway to ending mass incarceration is not devising new punitive technologies nor re-packaging current measures by pretending they are jewelry.
Why does this mat­ter? The terms we use shape our under­stand­ing of peo­ple, tech­nol­o­gy and pol­i­cy. Neu­tral or pos­i­tive ter­mi­nol­o­gy dilutes the real­i­ty of pun­ish­ment and depri­va­tion. Hence, we have ​"cor­rec­tion­al facil­i­ties" and ​"secure hous­ing units," rather than ​"intern­ment camps" and ​"tor­ture chambers."
With the move toward decarcer­a­tion gain­ing steam in many juris­dic­tions, shack­les are gain­ing cre­dence as a tech­no­log­i­cal quick-fix. Many peo­ple in prison or jail jump at the chance to get out, regard­less of the con­di­tions. But once they get that ​"band" on their ankles, their per­spec­tive often changes. John­ny Page told In These Times he spent 23 years and nine months in prison in Illi­nois, only to be put on a gril­lete for 90 days.
He summed up his expe­ri­ence, explain­ing that ​"you don't have to fight for the tele­phone, you don't have to fight for the show­er, but you're still in jail." Richard Sta­ple­ton, who head­ed up elec­tron­ic mon­i­tor­ing in the Michi­gan Depart­ment of Cor­rec­tions, appears to agree. He told In These Times that putting some­one on parole with a mon­i­tor is just ​"anoth­er bur­den­some con­di­tion of extend­ing their incarceration."
The impli­ca­tions of gril­letes go far beyond tra­di­tion­al incar­cer­a­tion. Increas­ing­ly, these devices have GPS capac­i­ty — giv­ing them the abil­i­ty to mon­i­tor a person's every move in real time. But they can also be pro­grammed to incor­po­rate ​"exclu­sion zones," places where a per­son can­not go with­out trig­ger­ing an alarm or a re-arrest. Giv­en that just 10 years ago, a major­i­ty of the pop­u­la­tion was still using flip phones, it is dif­fi­cult to imag­ine where the tech­no­log­i­cal capac­i­ty of phones and GPS is head­ed. What will it mean to be tracked in 2027?
Sev­er­al pos­si­ble dystopi­an sce­nar­ios emerge. The sim­plest is that we move hun­dreds of thou­sands of peo­ple out of pris­ons and jails into their hous­es, which become their new cells. This form of urban renew­al recasts inner-city spaces as pris­ons beyond the walls, with fam­i­lies and indi­vid­u­als foot­ing the bills for home incar­cer­a­tion and ​"mon­i­tor­ing ser­vice." I call this e‑carceration: the next step in the pri­va­ti­za­tion of punishment.
But mon­i­tors are also sur­veil­lance devices, gath­er­ing data on people's move­ments and stor­ing it in a cloud some­where. Most juris­dic­tions have few, if any, rules about how this infor­ma­tion is stored, who has access to it or how long it is kept. In many Ger­man elec­tron­ic mon­i­tor­ing pro­grams, author­i­ties delete all such infor­ma­tion after two months.
In con­trast, state con­tracts with elec­tron­ic mon­i­tor­ing providers in Michi­gan and Flori­da require con­trac­tors to retain data for at least sev­en years. Through my years of research into elec­tron­ic mon­i­tor­ing con­tracts, I deter­mined that while state or local author­i­ties usu­al­ly own elec­tron­ic mon­i­tor­ing track­ing data, pri­vate com­pa­nies typ­i­cal­ly main­tain the data­bas­es. This gives rise to con­cerns about where this data may end up and if it could poten­tial­ly be monetized.
The dystopi­an night­mare doesn't stop there. As sur­veil­lance devices, gril­lettes can also enforce racial­ized, class-based zon­ing. We already have trou­bling his­tor­i­cal prece­dent for racial­ized zon­ing, even with­out this tech­no­log­i­cal capac­i­ty. Apartheid South Africa had a pol­i­cy called influx con­trol. Black peo­ple were issued a ​"pass­book" which was like a domes­tic pass­port. For a Black per­son to enter a city, or even a cer­tain sec­tion of the city, they need­ed to have a per­mit stamped in their pass­book. Police were post­ed around the cities tasked with South Africa's ver­sion of ​"stop and frisk," ask­ing Black peo­ple for their pass­book. If they didn't have a per­mit to be where they were, they went to jail.
With GPS, the state no longer needs pass­books or cops on the cor­ner. Most of us already car­ry our pass­books with us in our cell­phones. So, apart from e‑carceration, we could even envi­sion a form of e‑gentrification, using tech­no­log­i­cal track­ing to keep cer­tain peo­ple out of the rar­efied areas des­ig­nat­ed for priv­i­leged con­sumers. While such sce­nar­ios are spec­u­la­tive, the exam­ple of South Africa shows that they are not out­side the realm of pos­si­bil­i­ty. The point is that we don't know where this tech­nol­o­gy is head­ed, and we can't trust the com­pa­nies and politi­cians who are deter­min­ing its direction.
So what is to be done? Throw­ing away our cell­phones is unlike­ly to be the answer. Scrap­ping the term ​"ankle bracelet" for ​"gril­lette" or ​"shack­le" is a start but hard­ly enough.
First, we need to legal­ly rec­og­nize that putting some­one on a mon­i­tor with house arrest is a depri­va­tion of lib­er­ty — a form of incar­cer­a­tion. Any­one on a mon­i­tor should be get­ting cred­it for time served, whether it is in pre-tri­al release or as part of a sen­tence (In most of the juris­dic­tions I have exam­ined through­out my years of research, this is not the case). And they should not be pay­ing fees for it.
Sec­ond, we need to seri­ous­ly reg­u­late access to track­ing infor­ma­tion so that it does not become a vehi­cle to facil­i­tate fur­ther pun­ish­ment or restric­tion of movement.
Third, we must rein in elec­tron­ic mon­i­tor­ing as a busi­ness, to keep the net from widen­ing. The major play­ers in elec­tron­ic mon­i­tor­ing are The GEO Group, a pri­vate-prison cor­po­ra­tion, and Secu­rus, a prison-phone prof­i­teer. These com­pa­nies doubt­less have strate­gic visions of how to expand their share in the mar­ket­place of tech­no­log­i­cal punishment.
Ulti­mate­ly, the path­way to end­ing mass incar­cer­a­tion is not devis­ing new puni­tive tech­nolo­gies nor re-pack­ag­ing cur­rent mea­sures by pre­tend­ing they are jew­el­ry. The path­way lies in tak­ing hun­dreds of thou­sands of peo­ple out of cages, stem­ming the admis­sion of new bod­ies and re-direct­ing resources to indi­vid­u­als who are released from prison to their com­mu­ni­ties. They need access to oppor­tu­ni­ties, not ​"bracelets."
James Kil­go­re
is a for­mer­ly incar­cer­at­ed activist and researcher based in Urbana, Illi­nois. He is the author of five books, includ­ing
Under­stand­ing Mass Incar­cer­a­tion: A People's Guide to the Key Civ­il Rights Strug­gle of Our Time
. He is cur­rent­ly a Soros Jus­tice Fel­low whose work involves build­ing a cam­paign, Chal­leng­ing E‑Carceration, which is focused on the issue of elec­tron­ic mon­i­tor­ing. He can be reached at waazn
1
@​gmail.​com or @waazn
1
. He would like to thank Ter­ri Barnes and Emmett Sanders for their work on this article.