Nationwide Prison Strike Against "Slavery in America" Rolls On—Despite Media Blackout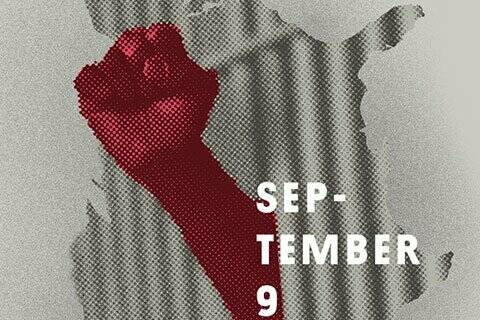 This arti­cle was first post­ed at Truthout.
The first nation­al prison labor strike in US his­to­ry launched on Sep­tem­ber 9. Billed as a ​"Call to Action Against Slav­ery in Amer­i­ca," the spark for the action came from the Free Alaba­ma Move­ment (FAM), a prison-based orga­ni­za­tion that has been mobi­liz­ing across the state since 2012. Alaba­ma has one of the most over­crowd­ed prison sys­tems in the country.
Reports from FAM's base with­in Hol­man Prison indi­cat­ed a uni­ver­sal refusal of the pop­u­la­tion to go to work on Sep­tem­ber 9. Pas­tor Ken­neth Glas­gow, the chief out­side spokesper­son for FAM, speak­ing to Truthout on the day of the launch, said sig­nif­i­cant strike action also took place with­in pris­ons in South Car­oli­na, Vir­ginia and Ohio.
"These men have gone beyond reli­gious bar­ri­ers and race bar­ri­ers and most of all, incar­cer­a­tion bar­ri­ers," Glas­gow told Truthout. By Wednes­day evening, the Incar­cer­at­ed Work­ers' Orga­niz­ing Com­mit­tee (IWOC) esti­mat­ed that 15,310 peo­ple in pris­ons were on lock­down in facil­i­ties where orga­niz­ing or strikes had been confirmed.
Sev­er­al actions relat­ed to the strike have gained con­sid­er­able atten­tion. The night before the nation­al action, some 400 men in Flori­da's Holmes prison staged a rebel­lion that last­ed most of Thurs­day night. By Mon­day, col­lec­tive resis­tance had spread to five Flori­da pris­ons, includ­ing civ­il dis­obe­di­ence by 40 men in Colum­bia Cor­rec­tion­al Insti­tu­tion in Lake City and a two-day work stop­page at near­by Mayo. In North­ern Michi­gan's Kin­ross Cor­rec­tion­al Facil­i­ty, the men took a more low-key approach, with about 400 incar­cer­at­ed indi­vid­u­als stag­ing a demon­stra­tion inside the gates. Imme­di­ate­ly after the action, 150 of them were put on bus­es and sent to oth­er institutions.
Polit­i­cal pris­on­er Chelsea Man­ning also began a hunger strike on Sat­ur­day, Sep­tem­ber 10, appar­ent­ly timed to coin­cide with the nation­al actions. By Wednes­day morn­ing she had report­ed­ly won her demand for gen­der-affirm­ing surgery.
The lega­cy of slavery
The link­age between the strike action and slav­ery large­ly grew out of the extreme labor con­di­tions inside Alaba­ma pris­ons. In these facil­i­ties, many peo­ple work in license plate fac­to­ries and on plan­ta­tion-like farms for a few cents a day or, in some cas­es, no remu­ner­a­tion at all. The exploita­tion of prison labor in the state has been accen­tu­at­ed since the state leg­is­la­ture passed a law in 2012 to per­mit pri­vate con­trac­tors to employ peo­ple behind bars.
But the FAM vision also sit­u­at­ed the exploita­tion of prison labor in the con­text of broad­er notions of injus­tice. Their launch­ing state­ment said: ​"Our protest against prison slav­ery is a protest against the school-to-prison pipeline, a protest against police ter­ror, a protest against post-release con­trols." They went on to posit the poten­tial sys­temic impact of their actions: ​"When we abol­ish slav­ery, they'll lose much of their incen­tive to lock up our chil­dren, they'll stop build­ing traps to pull back those who they've released. When we remove the eco­nom­ic motive and grease of our forced labor from the US prison sys­tem, the entire struc­ture of courts and police, of con­trol and slave-catch­ing must shift to accom­mo­date us as humans, rather than slaves." As Free Alaba­ma mem­ber Melvin Ray summed it up, ​"We're free­dom fight­ers. We're not just fight­ing for wages, we're sim­ply point­ing out the fact that this is a slave mod­el of free labor."
His­tor­i­cal roots
This action has deep his­tor­i­cal roots. The day cho­sen to launch the strike, Sep­tem­ber 9, coin­cid­ed with per­haps the most famous prison upris­ing in mod­ern US his­to­ry – the rebel­lion in New York's Atti­ca prison in 1971. On that occa­sion men of Atti­ca's D yard took over their sec­tion of the prison and held it for four days. They issued a set of demands for improved con­di­tions, but the bot­tom line was artic­u­lat­ed by one of the lead­ers, L.D. Barkley: ​"We are men, we are not beasts, and do not intend to be beat­en or dri­ven as such." In the end, Barkley and 38 oth­er men died in that prison yard after an armed assault launched by state troop­ers. The dead includ­ed 10 prison staff.
While the Atti­ca lega­cy has drawn much atten­tion as an inspi­ra­tion for the recent strike, the rebel­lion in upstate New York was an expres­sion of a nation­al aware­ness among peo­ple on the inside dur­ing that peri­od. Sun­di­a­ta Tate spoke to Truthout about this his­to­ry. Tate was a long-time activist inside Cal­i­for­nia state insti­tu­tions and close asso­ciate of leg­endary prison rev­o­lu­tion­ary George Jack­son, who was mur­dered at San Quentin prison in August 1971. Tate told Truthout that there were often-for­got­ten links between resis­tance in Cal­i­for­nia pris­ons and the events in New York. Tate recalled that the seizure of D yard took place less than a month after the mur­der of Jack­son. ​"Peo­ple on the East Coast had heard about him, peo­ple in the pris­ons… George was able to reach out into soci­ety," he said. Once the men in Atti­ca seized the yard, Tate not­ed, ​"One of the things they men­tioned was the death of ​'Com­rade' (Jack­son)." At the time, Jack­son was a well-known mem­ber of the Black Pan­ther Par­ty as well as well as the author of a best­seller writ­ten from behind prison walls, Soledad Broth­er.
In Alaba­ma, the his­tor­i­cal roots of the strike also lie in the day-to-day polit­i­cal work done by many incar­cer­at­ed activists and their fam­i­lies over the years. For instance, for­mer polit­i­cal pris­on­er Sek­ou Kam­bui, who spent 47 years in Alaba­ma state pris­ons, used his decades behind bars as an edu­ca­tor and orga­niz­er, build­ing polit­i­cal aware­ness and com­mit­ment amongst the pop­u­la­tion and the com­mu­ni­ty, lay­ing the ground­work for present-day activists.
The sig­nif­i­cance of the strike
The strike rep­re­sents the nexus of sev­er­al waves of recent social jus­tice activism: the grow­ing move­ment against mass incar­cer­a­tion; offen­sives against sys­temic racism, led by the Move­ment for Black Lives; and the actions by low-wage work­ers to gain the $15-an-hour min­i­mum wage. The call for a liv­ing wage on the streets res­onates behind prison walls, where wages have stag­nat­ed for decades while those in prison have seen their liv­ing con­di­tions dete­ri­o­rate due to the cut­backs in edu­ca­tion­al pro­grams and job train­ing, and the addi­tion of copays for ser­vices like health care.
This lat­est prison strike also con­sti­tut­ed an ambi­tious esca­la­tion in scale and tac­tics of a wave of resis­tance in prison in recent years. The three hunger strikes in Cal­i­for­nia pris­ons – large­ly a protest against soli­tary con­fine­ment in the Pel­i­can Bay Secu­ri­ty Hous­ing Unit and the use of ​"gang val­i­da­tion" to jus­ti­fy pro­longed iso­la­tion of prisoner/​organizers – have drawn the most atten­tion. How­ev­er, those in Pel­i­can Bay are not alone. In June of this year, sev­er­al men inside the Waupun Cor­rec­tion­al Insti­tute in Wis­con­sin embarked on a pro­longed ​"Dying to Live" hunger strike that result­ed in forced feed­ing by prison authorities.
Many oth­er actions have also occurred: labor strikes in Geor­gia pris­ons in 2010 along with recent work stop­pages in Texas and sev­er­al Alaba­ma pris­ons, includ­ing an April upris­ing in Hol­man. Immi­gra­tion deten­tion cen­ters have also been the scene of many actions, sev­er­al led by women. Last fall, women pris­on­ers at Yuba Coun­ty Jail in Cal­i­for­nia joined a hunger strike ini­ti­at­ed by their coun­ter­parts who were held in immi­grant deten­tion cen­ters in Cal­i­for­nia, Col­orado and Texas. These mobi­liza­tions are large­ly a protest against the crim­i­nal­iza­tion of peo­ple seek­ing asy­lum in the Unit­ed States as a result of polit­i­cal vio­lence in Cen­tral Amer­i­can coun­tries like Hon­duras, Guatemala and El Salvador.
Assess­ing the strike
Though infor­ma­tion on the lev­el of activ­i­ty remains lim­it­ed, the strike appears to have fall­en short of the pre­dic­tions by FAM of the involve­ment of incar­cer­at­ed peo­ple from 25 states and 54 pris­ons. The rea­sons why the action may not have reached antic­i­pat­ed lev­els are not dif­fi­cult to dis­cern. To begin with, since prison offi­cials were fore­warned, many insti­tu­tion­al author­i­ties may have sim­ply imposed a lock­down before Sep­tem­ber 9, short-cir­cuit­ing any oppor­tu­ni­ty for peo­ple to refuse to go to work. Evi­dence of this came via video from one man in a South Car­oli­na prison who post­ed a clip of water in his cell after men on his block flood­ed the area as a protest against four days of lockdown.
Sec­ond, orga­niz­ers both inside and out­side prison pos­si­bly under­es­ti­mat­ed the dif­fi­cul­ty in mobi­liz­ing peo­ple who are incar­cer­at­ed, espe­cial­ly at a nation­al lev­el. Most pris­ons and jails ban meet­ings or even doing phys­i­cal exer­cis­es in groups. In addi­tion, prison offi­cials have a range of puni­tive tools avail­able to block coor­di­na­tion and com­mu­ni­ca­tion. Apart from the pos­si­bil­i­ties of phys­i­cal beat­ings, indi­vid­u­als sus­pect­ed of orga­niz­ing col­lec­tive resis­tance can be placed in soli­tary or have vis­it­ing and phone priv­i­leges denied. Most impor­tant­ly, for those who do not have a life sen­tence, receiv­ing a dis­ci­pli­nary infrac­tion can result in an exten­sion of their sen­tence. In addi­tion, pris­ons typ­i­cal­ly have sur­veil­lance capac­i­ty. They can lis­ten to out­go­ing phone calls and eaves­drop on visits.
Plus, the wide­spread use of con­fi­den­tial infor­mants with­in the insti­tu­tions pro­vides author­i­ties with an ear to the ground of the details of planned actions. Sev­er­al instances of reprisals against indi­vid­u­als iden­ti­fied as strike lead­ers have already been report­ed. All of these, when com­bined with the lack of access to infor­ma­tion tech­nol­o­gy inside pris­ons, pose for­mi­da­ble obsta­cles to coor­di­nat­ed action.
Per­haps the sur­prise is not that the strike did­n't reach the lev­el hoped for, but that the spir­it of protest and rebel­lion pen­e­trat­ed as wide­ly as it did.
The suc­cess­es
Ulti­mate­ly, this strike achieved a num­ber of impor­tant mile­stones. Most impor­tant­ly, strike orga­niz­ers high­light­ed the oppres­sive labor and liv­ing con­di­tions inside pris­ons. No oth­er action in recent times has shone as bright a light on the fact that incar­cer­at­ed peo­ple per­form the bulk of the work that keeps the insti­tu­tions run­ning, from cook­ing to clean­ing to man­ag­ing the HVAC sys­tems and repair­ing the elec­tri­cal cir­cuits. And they do this for lit­tle or no pay.
The strike also raised the specter of coor­di­nat­ed nation­al action to empha­size the sys­temic, nation­al qual­i­ty of not only con­di­tions of pris­ons as a work­place, but also as a site of pun­ish­ment and enslavement.
In addi­tion, although as not­ed above, most pris­ons pro­vide no access to the inter­net or cell phones, the action offered a show­case for how infor­ma­tion tech­nol­o­gy can become an effec­tive tool for shar­ing the expe­ri­ences and aspi­ra­tions of incar­cer­at­ed peo­ple. Indi­vid­u­als on the inside are dis­cov­er­ing new ways to make their voic­es heard on social media. While peo­ple like Mumia Abu-Jamal have long com­mu­ni­cat­ed with the out­side through inter­locu­tors, the men at Hol­man went fur­ther – pro­duc­ing videos ear­li­er this year that exposed the oppres­sive con­di­tions under which they live. They also cap­tured real-time action of their upris­ing in April. Kinetik Jus­tice, one of the lead­ers of FAM, spoke live on Democ­ra­cy Now! dur­ing a strike in May, telling the world that ​"the prison sys­tem is a con­tin­u­a­tion of the slave sys­tem." Jus­tice has been in soli­tary con­fine­ment for 28 months since play­ing a lead­ing role in a 2014 protest at Hol­man but still found his way to the airwaves.
More­over, social media were cru­cial in orga­niz­ing sup­port for prison resis­tance in com­mu­ni­ties across the coun­try. IWOC, a rel­a­tive­ly small orga­ni­za­tion, has main­tained a con­stant vocal pres­ence on Face­book and Twit­ter, with local activists post­ing videos, pho­tos and writ­ten updates in real time. As a result, com­mu­ni­ties across the coun­try stood up in sup­port of the strike. Actions took place in some 60 loca­tions, includ­ing all major cities. Even small towns like Hutchi­son, Ken­tucky; Cham­paign, Illi­nois; and Merced, Cal­i­for­nia staged noise demon­stra­tions, edu­ca­tion­al events and mobi­liza­tions out­side of pris­ons. IWOC's web­page pro­duced a dai­ly log of dozens of sol­i­dar­i­ty actions, which began in ear­ly August, while a Google doc tracked strike actions. IWOC's reach, cou­pled with the moral appeal of the voic­es from inside prison, even suc­ceed­ed in draw­ing state­ments of sol­i­dar­i­ty from Euro­pean coun­tries, such as Ser­bia, Lithua­nia, Ger­many, France, Spain, Swe­den and the UK.
Last­ly, the strike has added fur­ther momen­tum to recon­struct or replace the 13th Amend­ment to the US Con­sti­tu­tion. This amend­ment bans slav­ery and invol­un­tary servi­tude ​"except as a pun­ish­ment for crime where­of the par­ty shall have been duly con­vict­ed," effec­tive­ly per­mit­ting the enslave­ment of those who have been con­vict­ed of a crime. The spir­it of this amend­ment flies in the face of increas­ing pres­sure for full rights of cit­i­zen­ship and equal­i­ty for all those con­vict­ed of a crime or with a record of incar­cer­a­tion. As Pas­tor Glas­gow put it, ​"As long as it sits in our Con­sti­tu­tion, along with it sits slav­ery in our Con­sti­tu­tion… the 13th Amend­ment needs to be reconstructed."
Atten­tion to the 13th Amend­men­t's legal­iza­tion of slav­ery for peo­ple who have been con­vict­ed of crimes is like­ly to fur­ther height­en lat­er this month when Ava Duver­nay's Net­flix film, The 13th, launch­es at the New York Film Festival.
Key issues for social movements
This strike has also brought to the fore a num­ber of impor­tant issues relat­ing to the strug­gle against mass incar­cer­a­tion and the build­ing of broad move­ments for social jus­tice and liberation.
The fun­da­men­tal nature of the strike action rais­es inter­est­ing ques­tions. In a tele­phone inter­view with Truthout, talk show host, writer and activist Bill Fletch­er, also a for­mer trade union offi­cial, expressed uncer­tain­ty as to whether the nation­al action was a rebel­lion or an effort to orga­nize a union. If it was a union­iza­tion effort, he was unclear what the spe­cif­ic objec­tives were and, giv­en the lack of col­lec­tive bar­gain­ing rights inside pris­ons, ​"if there is a way to sus­tain any kind of vic­to­ry." Cer­tain­ly the demands of FAM, as well as those in Kin­ross and oth­er pris­ons, went well beyond tra­di­tion­al labor notions of increased pay, short­er work­ing hours and bet­ter work­ing con­di­tions. More­over, a large num­ber of the actions were not refusals to work but oth­er forms of protest, includ­ing hunger strikes and demon­stra­tions. While the IWOC lit­er­a­ture on the strike has stressed the low wage lev­els and encour­aged the for­ma­tion of union chap­ters at the prison lev­el, FAM has not adopt­ed this strat­e­gy. Pas­tor Glas­gow stat­ed that FAM views prison labor as slave labor that must be end­ed rather than fall under a union ambit.
The issue is fur­ther com­pli­cat­ed by attempt­ing to iden­ti­fy the ben­e­fi­cia­ries of prison labor: Who is mak­ing mon­ey? Accord­ing to Glas­gow, com­pa­nies in Alaba­ma are not out­sourc­ing labor over­seas – they are ​"insourc­ing" to peo­ple in prison. Yet, much of the pro­duc­tion tak­ing place in Alaba­ma pris­ons, such as license-plate mak­ing and agri­cul­ture, is designed for use by gov­ern­ment rather than for pri­vate prof­it. This is the case across the coun­try, where a rel­a­tive­ly small num­ber of peo­ple behind bars actu­al­ly work under con­tract to pri­vate com­pa­nies. The ques­tion then emerges as to whether pris­ons are pri­mar­i­ly prof­it cen­ters for exploit­ing labor or a polit­i­cal project dri­ven by white suprema­cy and neolib­er­al eco­nom­ic restructuring.
In oth­er words, are peo­ple incar­cer­at­ed in order to mobi­lize their labor pow­er inside prison, or to erase them from urban land­scapes that are being gen­tri­fied into enclaves of race and class privilege?
The com­plex­i­ties of solidarity
A sec­ond cru­cial ques­tion aris­ing from this strike con­cerns the chal­lenges of build­ing sol­i­dar­i­ty between peo­ple inside prison and those on the out­side. IWOC has played the major role in pro­mot­ing aware­ness of the strike and get­ting the state­ments and voic­es of FAM and oth­ers behind bars onto the streets. An off­shoot of an ear­ly 20th cen­tu­ry labor union, the Indus­tri­al Work­ers of the World (IWW or Wob­blies), the IWOC says its key aim is to ​"fur­ther the rev­o­lu­tion­ary goals of incar­cer­at­ed peo­ple and the IWW through mutu­al orga­niz­ing of a world­wide union for eman­ci­pa­tion from the prison system."
In mobi­liz­ing sup­port for the Sep­tem­ber 9 action, IWOC has helped cre­ate one of the most wide­spread, social-media-savvy net­works in the his­to­ry of the strug­gle against mass incar­cer­a­tion. Yet IWOC also has a deter­mi­na­tion to build the strength of its own orga­ni­za­tion by cre­at­ing local chap­ters inside pris­ons. Its web­site even includes a link to donate mon­ey to pay the annu­al dues of an ​"incar­cer­at­ed work­er." Accord­ing to activist Claude Marks, the sup­port efforts for the Pel­i­can Bay Hunger Strik­ers, of which he was a part, took a dif­fer­ent approach. He told Truthout: ​"We focused on rais­ing mon­ey to mobi­lize the fam­i­lies of those incar­cer­at­ed to orga­nize and speak out."
While clear­ly there is a need to incor­po­rate peo­ple who are incar­cer­at­ed into the move­ment against mass incar­cer­a­tion and for social jus­tice, the com­plex­i­ties of the dif­fer­ence between ampli­fy­ing the voic­es of those inside and speak­ing for them pose key chal­lenges for all those involved in such work. The dif­fer­ences in these approach­es have impor­tant gen­der and racial impli­ca­tions. While most of the peo­ple involved in the actions inside are men, their fam­i­ly sup­port net­works are pre­dom­i­nant­ly women. By lift­ing up the voic­es of the fam­i­lies, orga­niz­ers are acknowl­edg­ing that indi­vid­u­als who are incar­cer­at­ed do not do their time alone. Their loved ones also suf­fer and are will­ing to fight back. To date, in the Sep­tem­ber 9 strike, the voic­es of the fam­i­lies have been faint.
More­over, efforts to build sol­i­dar­i­ty and the pro­file of the move­ment cre­ate uncer­tain­ties about how to han­dle infor­ma­tion that comes from unver­i­fi­able sources, be they prison offi­cials or indi­vid­u­als who are incar­cer­at­ed. The repres­sive con­di­tions in pris­ons dur­ing moments of con­flict height­en the com­plex­i­ties of ver­i­fi­ca­tion. This con­text per­haps leads to attempts by orga­niz­ers and sup­port­ers to engage in ques­tion­able prac­tices like imply­ing that the ongo­ing hunger strikes at Guan­tanamo have some rela­tion to the Sep­tem­ber 9 action.
The third ques­tion is per­haps the most obvi­ous: Where was orga­nized labor dur­ing this strike and the run-up to Sep­tem­ber 9? As Fletch­er points out, ​"Orga­nized labor has, up until recent­ly, ignored the issue of mass incar­cer­a­tion." While pris­ons and jails hold mil­lions of mar­gin­al­ized work­ers, the unions' reluc­tance to take a posi­tion on mass incar­cer­a­tion relates to mem­ber­ship issues. Some of the coun­try's largest and most sig­nif­i­cant unions, the Ser­vice Employ­ees Inter­na­tion­al Union (SEIU) and the Amer­i­can Fed­er­a­tion of State, Coun­ty and Munic­i­pal Employ­ees (AFSCME), count on prison and jail work­ers, includ­ing guards, to boost their mem­ber­ship. Push­ing back against incar­cer­a­tion could like­ly jeop­ar­dize these jobs. How­ev­er, over the years union lead­ers have con­sis­tent­ly crit­i­cized the use of prison labor, argu­ing that it under­cuts the bar­gain­ing posi­tion of prison staff. Still, when the incar­cer­at­ed labor force actu­al­ly took action, the trade unions remained mute. Repeat­ed efforts by Truthout to elic­it a com­ment on the strike from nation­al and region­al offi­cials of the AFL-CIO as well as the SEIU and AFSCME drew silence, apart from one AFL-CIO offi­cial who said that they ​"have not done work around prison labor for many, many years."
More fire to come?
In addi­tion to the strike not sur­fac­ing on trade union agen­das, main­stream and even alter­na­tive media sources have large­ly steered clear of the sto­ry. Though in some ways this strike may be as sig­nif­i­cant as Atti­ca, media cov­er­age and his­tor­i­cal mem­o­ry are more eas­i­ly trig­gered when there is blood on the ground, espe­cial­ly the blood of rebel­lious, polit­i­cal­ly-con­scious Black peo­ple. In last week's strike, we have an appar­ent­ly unspec­tac­u­lar case of peo­ple stand­ing up for their dig­ni­ty by refus­ing to work. In tak­ing this action, the activists behind bars, despite the intense efforts by IWOC, FAM and many oth­ers to pub­li­cize their actions, may not have done any­thing dra­mat­ic enough to draw sig­nif­i­cant media atten­tion. The invis­i­bil­i­ty of work­er issues blends with the invis­i­bil­i­ty of prison activ­i­ties to cre­ate a low pro­file. More­over, the abil­i­ty of prison author­i­ties to both sup­press infor­ma­tion and pun­ish the rebels with­out recrim­i­na­tion rel­e­gates the hero­ic efforts of the strike to a side­bar in the chron­i­cle of social jus­tice struggles.
But it seems unlike­ly that those who want to silence or erase these actions for­ev­er will win the day. A flame of resis­tance inside pris­ons and in com­mu­ni­ties across the coun­try is def­i­nite­ly burn­ing. The prison strik­ers, along with their allies and accom­plices on the street, will be on fire again soon.
Copy­right, Truthout​.org. Reprint­ed with permission.
James Kil­go­re
is a for­mer­ly incar­cer­at­ed activist and researcher based in Urbana, Illi­nois. He is the author of five books, includ­ing
Under­stand­ing Mass Incar­cer­a­tion: A People's Guide to the Key Civ­il Rights Strug­gle of Our Time
. He is cur­rent­ly a Soros Jus­tice Fel­low whose work involves build­ing a cam­paign, Chal­leng­ing E‑Carceration, which is focused on the issue of elec­tron­ic mon­i­tor­ing. He can be reached at waazn
1
@​gmail.​com or @waazn
1
. He would like to thank Ter­ri Barnes and Emmett Sanders for their work on this article.