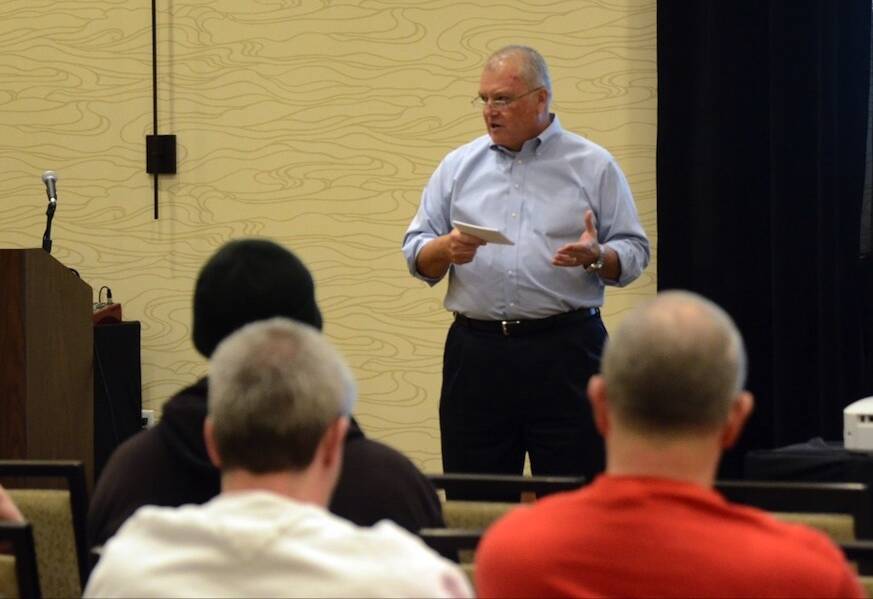 Dur­ing the near­ly two years he worked at the Volk­swa­gen plant in Chat­tanooga, Tenn., Ed Hunter, 43, spent his days bent over, crawl­ing in and out of cars on the assem­bly line. He believes the pos­ture slow­ly destroyed his body and led to an acci­dent he suf­fered in June 2011. ​"When I got into the car I felt some­thing go," he says. ​"I just lost my foot — I couldn't feel it."
When he went to the doc­tor the next month, Hunter learned that he had rup­tured sev­er­al disks in his back. Despite this, Hunter says, his team leader called him a ​"pussy" for tak­ing light duty. So Hunter sucked it up and worked through the pain.
Hunter even­tu­al­ly began throw­ing up blood on the assem­bly line from an ulcer, which he thinks was caused by tak­ing too many painkillers. He could no longer work on the line, so he was put on unpaid leave in Novem­ber 2011. Now, he's unable to make his mort­gage pay­ments; rather than fall behind and dam­age his cred­it, he and his wife decid­ed to sell their home.
​"When I got hurt at the plant my whole world came to an end," Hunter told me over Texas steak melts at a Waf­fle House in Chat­tanooga last month.
When Chat­tanooga Volk­swa­gen work­ers began to talk about orga­niz­ing with the Unit­ed Auto Work­ers, Hunter cam­paigned vig­or­ous­ly for the union, hop­ing in part that it would help him get a job at the plant again doing light work. But more broad­ly, he and sev­er­al oth­er pro-union work­ers say they thought a union could com­bat the cul­ture of bul­ly­ing and machis­mo that pushed employ­ees like Hunter to the break­ing point.
Last month, Hunter's dreams were dashed when the UAW lost the union elec­tion at the plant by a mere 43 votes. The defeat came as a sur­prise to many, includ­ing Hunter. Volk­swa­gen had pledged to be neu­tral, remov­ing the typ­i­cal man­age­ment road­blocks to union­iza­tion. How­ev­er, politi­cians, spe­cial-inter­est groups and—accord­ing to exclu­sive In These Times inter­views with work­ers—low-lev­el Volk­swa­gen super­vi­sors engaged in unsanc­tioned anti-union activity.
Con­ver­sa­tions with work­ers on both sides of the union bat­tle reveal that the macho cul­ture at the plant — which Hunter and oth­ers hoped a union could com­bat — helped fuel the anti-union cam­paign by low-lev­el man­age­ment and work­ers, who stressed obe­di­ence to author­i­ty and mas­cu­line self-reliance as rea­sons to reject the UAW.
As pro-union work­ers at Volk­swa­gen attempt to orga­nize to win over the addi­tion­al votes that will be need­ed to union­ize the plant in the future, they are seek­ing ways to over­come this cul­ture. It's a tough one to shake, how­ev­er, because it draws on deeply ingrained codes of South­ern white mas­culin­i­ty, which hold great sway at a plant that work­ers esti­mate is about 90 per­cent white and over­whelm­ing­ly male. (In These Times reached out to sev­er­al of the plant's black work­ers for inter­views, but they declined.)
While acknowl­edg­ing these his­tor­i­cal cur­rents, many of the pro-union Volk­swa­gen work­ers inter­viewed by In These Times were crit­i­cal of out­siders who say that the South is impos­si­ble to orga­nize. These work­ers are look­ing to alter­na­tive nar­ra­tives of the South, and even the role of anti-Con­fed­er­a­cy white South­ern­ers in the Civ­il War, for inspiration.
The Toy­ota Way
Lon Gravett, 46, who was placed on leave from Chat­tanooga Volk­swa­gen in Novem­ber 2012 after blow­ing out his elbow, says he was moti­vat­ed to form a union because of what he calls a high-school ​"bul­ly" men­tal­i­ty he's seen in many fac­to­ries, includ­ing Volkswagen.
​"Work is not sup­posed to be a pop­u­lar­i­ty con­test, but that's exact­ly what it is, unless you're pro­tect­ed [by a union]," says Gravett, who since grad­u­at­ing from high school in 1985 has worked in var­i­ous fac­to­ries, includ­ing Dupont, Cleve­land Tub­ing, Poly­loom and Volk­swa­gen. ​"You're either a whip­ping boy that'll go in and break your back while oth­ers stand around, or you're the one stand­ing around [doing the whipping]."
​"I have been in too many fac­to­ries too many times and I'm rarely in the clique," he con­tin­ues. ​"I'm usu­al­ly over there nurs­ing a sore back."
Gravett and oth­er Volk­swa­gen work­ers trace this super­vi­so­ry style to a man­age­ment cul­ture known as the Toy­ota Way, devel­oped at the non-union Toy­ota fac­to­ries that dot the South and even­tu­al­ly adopt­ed by super­vi­sors at Volk­swa­gen and oth­er plants.
The Toy­ota Way refers to 14 prin­ci­ples that are drilled into the heads of work­ers and super­vi­sors. In 2004, engi­neer­ing pro­fes­sor Jef­frey K. Lik­er, who'd stud­ied the Toy­ota plants exten­sive­ly, pop­u­lar­ized the style with his hot-sell­ing book The Toy­ota Way, which quick­ly became the bible for man­agers who want­ed to learn the secrets of Toyota's suc­cess. (In the most recent quar­ter, Toy­ota made as much in prof­its as its two clos­est com­peti­tors — Volk­swa­gen and Gen­er­al Motors — combined.)
"'Toy­ota Way' can mean a bun­dle of things," explains Nel­son Licht­en­stein, direc­tor of the Cen­ter for the Study of Work, Labor and Democ­ra­cy at the Uni­ver­si­ty of Cal­i­for­nia-San­ta Bar­bara. ​"The orig­i­nal [mean­ing] is lean pro­duc­tion and so-called team pro­duc­tion — mul­ti­skilling — which is a way of hav­ing just enough work­ers to strew the line and keep every­one work­ing full out."
In oth­er words, super­vi­sors trained in the Toy­ota Way pro­mote a sense of team loy­al­ty and an unques­tion­ing alle­giance to the com­pa­ny, which deters work­ers from speak­ing up against management.
​"The real ​'Toy­ota Way' is a cul­ture of con­trol," Masa­ki Saru­ta, a Japan­ese busi­ness pro­fes­sor at Chukyo Uni­ver­si­ty who wrote sev­er­al books on Toy­ota, told the Los Ange­les Times in 2010. Saru­ta explained that the fear of buck­ing super­vi­sors is so strong that many inside of Toy­ota were afraid of speak­ing up about accel­er­a­tor flaws that led to one of the biggest recalls of vehi­cles in Amer­i­can history.
Don Jack­son, the plant man­ag­er who got oper­a­tions under­way when the Chat­tanooga Volk­swa­gen fac­to­ry first opened four years ago, was a 20-year vet­er­an of Toy­ota. He boast­ed to the Chat­tanooga Times Free Press of import­ing prac­tices and per­son­nel from Toy­ota and oth­er plants.
Hunter says that the cul­ture in the plant changed dra­mat­i­cal­ly when the orig­i­nal Volk­swa­gen man­agers, who are accus­tomed to work­ing with unions and encoun­ter­ing dis­sent, returned to Ger­many, and Jackson's man­agers came in.
​"The Ger­mans were much more friend­ly and will­ing to teach. As they left, the man­age­ment became more and more off-putting. They did­n't want to be both­ered and did not take our sug­ges­tions kind­ly," says Hunter. ​"It was their way or no way."
Hunter says that the super­vi­sors who pushed his body to the break­ing point con­tin­u­al­ly cit­ed the Toy­ota Way prin­ci­ples of team loy­al­ty. When Hunter com­plained that he couldn't do the stren­u­ous work, he says that his super­vi­sor ​"taunt­ed [him] with not being a team play­er when the line was short."
Hunter is not the only work­er who spoke of harsh treat­ment on the assem­bly line lead­ing to injury. Anoth­er Volk­swa­gen work­er, Lau­ren Fein­auer, says that she has been over­worked to the point where her hands go numb.
A rogue anti-union campaign
Licht­en­stein explains that the Toy­ota Way style of man­age­ment seeks to pro­mote the idea that every work­er is a val­ued mem­ber of a team, and to instill in employ­ees a sense of invest­ment in this team­work. That sense of invest­ment helps increase pro­duc­tion, but it can also be used to turn work­ers away from unions seek­ing a role in the workplace.
That may help to explain why, while Volk­swa­gen remained neu­tral dur­ing the union dri­ve, low-lev­el super­vi­sors active­ly cam­paigned against the union, accord­ing to work­ers inter­viewed by In These Times. Byron Spencer, a pro-union work­er at the plant, iden­ti­fied one of those anti-union super­vi­sors as a man­ag­er who worked at the Toy­ota plant in San Anto­nio at the same time that Jack­son did.
Jack­son, too, played a role in fight­ing the union effort. Although he had left the plant by the time the UAW cam­paign began, he made pub­lic state­ments against the union, lever­ag­ing his rep­u­ta­tion as the busi­ness­man who had suc­cess­ful­ly opened the Volk­swa­gen facil­i­ty and brought jobs to Chat­tanooga. At an anti-UAW forum in July 2013, he boast­ed that at Toy­ota and Volk­swa­gen, he had cre­at­ed a total of ​"10,000 direct jobs based on doing things the right way and man­ag­ing the right way." He implied that ​"man­ag­ing the right way" includ­ed keep­ing out unions, say­ing of his expe­ri­ences at Toy­ota plants in Ken­tucky and Texas, ​"I've learned … how to set up a non-union envi­ron­ment." (The UAW has been try­ing unsuc­cess­ful­ly for more than 20 years to orga­nize the Toy­ota plant in George­town, Ky., where Jack­son worked.)
As the union cam­paign at Volk­swa­gen pro­gressed, Jack­son con­tin­ued to cam­paign against the UAW, appear­ing at an event orga­nized by the anti-union group South­ern Momen­tum on Feb­ru­ary 8, just a few days before the elec­tion. He also may have been in direct touch with anti-union work­ers — Mike Bur­ton, a leader of the anti-union effort at the plant, says, "[Don Jack­son] and I have got­ten to know each oth­er through this experience."
The pro-union work­ers believe that state­ments by Jack­son and the low-lev­el super­vi­sors were a major fac­tor in turn­ing the tide against the union.
​"There is a rev­er­ence of the low­er-lev­el man­age­ment," says work­er Fein­auer. She attrib­ut­es this atti­tude in part to a pater­nal­is­tic cul­ture at the plant that rewards loy­al­ty over all else. ​"I … sus­pect the good ol' boy sys­tem appeals to some of [the work­ers] because it may be the only strength they have to get them­selves ahead," she says. ​"If the play­ing field were more fair and lev­el, they may have noth­ing to offer in skill, mer­it or education."
Volk­swa­gen work­er Wayne Cli­ett agrees. ​"Yes, I see it dai­ly. [Work­ers] are yes-men. They are ass-kissers. … All this, hop­ing to get ahead, and it works, because the super­vi­sors eat it up."
Experts and work­ers say this rev­er­ence for low-lev­el super­vi­sors may be strength­ened by aspects of South­ern cul­ture. ​"There is this long tra­di­tion in the region of a (some­times intense) per­son­al iden­ti­fi­ca­tion with the com­pa­ny, espe­cial­ly among floor-lev­el super­vi­sors, [which] under­mines sol­i­dar­i­ty and union orga­niz­ing," says Beth Eng­lish, direc­tor of the Pro­gram on Women in the Glob­al Com­mu­ni­ty at Prince­ton Uni­ver­si­ty and author of A Com­mon Thread: Labor, Pol­i­tics, and Cap­i­tal Mobil­i­ty in the Tex­tile Indus­try.
Eng­lish, whose work cen­ters on the tex­tile indus­try in the South, notes that even as man­age­ment posi­tions became increas­ing­ly pro­fes­sion­al­ized over the past cen­tu­ry, with deci­sion-mak­ing iso­lat­ed from the real­i­ty of the shopfloor, ​"upper-lev­el man­age­ment con­tin­ued to frame rela­tions between work­ers and them­selves as inti­mate and per­son­al. The long-stand­ing pater­nal­is­tic cul­ture of see­ing an employ­er as a bene­fac­tor … per­pet­u­at­ed among floor super­vi­sors," she explains. ​"The floor super­vi­sor was the embod­i­ment of that per­son­al man­age­ment style, so … floor super­vi­sors' loy­al­ty to man­age­ment was­n't framed as dis­loy­al­ty to the rank and file."
​"One of the rewards of being a super­vi­sor in the South is the pow­er that you wield over the peo­ple that work for you," agrees for­mer Volk­swa­gen work­er Gravett. ​"When this pow­er is threat­ened, many mem­bers of man­age­ment go to extremes to keep their pow­er. Harass­ment and the tar­get­ing of employ­ees that threat­en the sys­tem that gives man­age­ment their pow­er is fair­ly common."
Indeed, Spencer, the work­er who first went on the record to allege unsanc­tioned union-bust­ing by low-lev­el super­vi­sors, says he is receiv­ing blow­back for speak­ing to In These Times.
​"I have already alien­at­ed myself from all super­vi­sion with the quote I gave you elec­tion night," says Spencer. ​"They are def­i­nite­ly going to get me when they get the chance. Hope­ful­ly we union­ize some­day and I still work there by then."
Oth­er work­ers inter­viewed by In These Times dur­ing the UAW cam­paign say that since that defeat, a cloud of uncer­tain­ty has hung over the work­ers who cam­paigned for the union. Spencer says that sev­er­al pro-union work­ers have been trans­ferred from the fin­ish­ing area of the plant, where turnover is low, to the much more phys­i­cal­ly stren­u­ous assem­bly line of the plant, where turnover is much higher.
Licht­en­stein says that the fact that Volk­swa­gen did not dis­ci­pline man­agers and salaried employ­ees for cam­paign­ing against the union rais­es ques­tions about Volkswagen's true com­mit­ment to its neu­tral­i­ty agree­ment, which also barred the union from vis­it­ing work­ers unso­licit­ed in their homes or mak­ing any neg­a­tive state­ments about work­ing con­di­tions at Volkswagen.
​"If VW man­agers from fore­men on up were involved in anti-union activ­i­ties, by word or deed, when the pol­i­cy of the com­pa­ny was neu­tral­i­ty, then those same low­er-lev­el man­agers should have been dis­ci­plined for vio­lat­ing com­pa­ny pol­i­cy," says Licht­en­stein. ​"In anti-union cam­paigns all across Amer­i­ca, it is stan­dard oper­at­ing pro­ce­dure for top man­age­ment to dis­ci­pline, trans­fer or fire any super­vi­sor who is not ful­ly engaged in the effort to stop the union," he con­tin­ues. ​"This is a reac­tionary fea­ture of Amer­i­can labor law, but to the extent that top man­age­ment can wield such pow­er, then the ham­mer should also fall on fore­men and super­vi­sors when they are insuf­fi­cient­ly neu­tral or even pro-union when that is com­pa­ny policy."
The codes of masculinity
Going for­ward, Cli­ett and oth­er pro-union work­ers see their task as repro­gram­ming their fel­low employ­ees so that they no longer see kow­tow­ing to their super­vi­sors as the only way to secure pro­tec­tion at work. Instead, they hope work­ers will learn to rely on sol­i­dar­i­ty and col­lec­tive action.
But in addi­tion to the union-bust­ing efforts of low-lev­el super­vi­sors, pro-union work­ers are up against codes of mas­cu­line self-reliance that hold great sway with the pre­dom­i­nant­ly white and male work­force at the Volk­swa­gen facility.
​"There is a kind of machis­mo to the ​'I don't need no union to speak for me' atti­tude," says Fein­auer, one of the few women work­ing the line at the VW plant.
Those codes were on full dis­play dur­ing
a Feb­ru­ary

12

meet­ing of South­ern Momen­tum
, an out­side group that backed the ​
"
No
2
UAW" anti-union com­mit­tee at the plant. ​
"
Nobody is going to fight for Mike Jarvis like Mike Jarvis," said Jarvis, one of the work­ers behind No
2
UAW. ​
"
Mike Jarvis is going to fight for his fam­i­ly — and that's the guys on the line. So we can han­dle our own issues."
Cor­nell School of Indus­try and Labor Rela­tions Pro­fes­sor Kate Bron­fen­bren­ner says this kind of men­tal­i­ty helps explain why anti-union­ism fre­quent­ly appeals to work­ing-class white men.
Anti-union cam­paigns, she says, typ­i­cal­ly com­bine threats with the promise that ​"real men can work hard through tough times [to earn] just rewards." This ide­ol­o­gy empha­sizes that ​"there are lots of white men who start­ed out poor just like them who made it all on their own to the very top, and sure­ly they stayed as far away from unions as they could to get there," Bron­fen­bren­ner says.
By con­trast, she says, ​"Women and peo­ple of col­or know that they nev­er would have sur­vived with­out their sup­port net­works and com­mu­ni­ty allies. Nor do they have any rea­son to trust any employ­er who says, ​'Stick with me and some day you will make it to the top,' because the peo­ple who are telling them that are the same white men who are sex­u­al­ly and racial­ly harass­ing them."
Indeed, union-busters often play on notions of self-reliance and inde­pen­dence, as per one of the argu­ments advanced pub­licly by Don Jack­son: that a union is ​"a third par­ty that dri­ves a wedge between man­age­ment and employ­ees." In Mar­tin Jay Levitt's sem­i­nal 1993 book, Con­fes­sions of a Union Buster, he brags that one of his favorite open­ing lines in anti-union ses­sions was to ask a mar­ried work­er if he liked sleep­ing with his wife. The man would blush, but then would often say yes. Levitt would then ask, ​"How would you like it if your moth­er-in-law slept between you and your wife every night?" and explain in demas­culin­iz­ing terms that this was what a union would do.
But the pro-union Volk­swa­gen work­ers point out that the tough-guy ide­al, if left unchecked, can also dri­ve work­ers over the edge.
Gravett, who comes from a fam­i­ly of poor white farm­ers in Day­ton, Tenn., knows this all too well. ​"My dad's father com­mit­ted sui­cide because he got sick and he couldn't work in the field any­more," says Gravett. ​"When he was 9 years old, they would leave a plow at the edge of the field, pack him lunch and feed him break­fast and send him out in the field. When my grand­dad­dy couldn't work in the fields any­more [at 46], he wasn't an asset to his fam­i­ly any­more, he was a bur­den, [and that drove him to suicide]."
To injured work­er Hunter, this shows an inher­ent con­tra­dic­tion of the cul­ture of mas­culin­i­ty: Men must nev­er com­plain about their work, even if doing so breaks them and means they can no longer do their job.
​"Here I'm sup­posed to be this big strong man. I'm sup­posed to pro­vide for my fam­i­ly," says Hunter. ​"Now all of a sud­den, I was sen­tenced to sit in the house."
Iron­i­cal­ly, the ethos of inde­pen­dence that fueled the anti-union argu­ment didn't extend to its fund­ing. South­ern Momen­tum raised some $100,000 for anti-union bill­boards, fly­ers and 800 T‑shirts, as well as a slick, well-pro­duced anti-union web­site. Of this mon­ey, ​"not one of us [work­ers] raised a pen­ny," No 2 UAW Com­mit­tee leader Mike Bur­ton told In These Times.
​

'

Anne Braden Southerners'
In the days fol­low­ing the UAW loss, many promi­nent labor ana­lysts, such as Wash­ing­ton Post colum­nist Harold Mey­er­son, were quick to dis­miss any mis­steps by the UAW, instead blam­ing the loss almost entire­ly on a South­ern cul­ture of resent­ment dat­ing back to the Civ­il War.
​"In much of the white South, par­tic­u­lar­ly among the Scotch-Irish descen­dants of Appalachia, the very log­ic of col­lec­tive bar­gain­ing runs counter to the indi­vid­u­al­ist ethos," wrote Los Ange­les native Harold Mey­er­son in a col­umn for the Amer­i­can Prospect enti­tled ​"When Cul­ture Eclipses Class." ​"It was no great chal­lenge for UAW oppo­nents to depict the union as the lat­est in a long line of North­ern invaders."
It's true that Chattanooga's bloody lega­cy in the Civ­il War played a large role, rhetor­i­cal­ly and psy­cho­log­i­cal­ly, in the union fight on the same ground a cen­tu­ry-and-a-half lat­er. Anti-union forces went so far as to com­pare the UAW dri­ve to the 1863 Bat­tle of Chicka­mau­ga, in which the Con­fed­er­a­cy defeat­ed Union troops.
​"Today South­east­ern Ten­nessee faces inva­sion from anoth­er union — an actu­al labor union, the Unit­ed Auto Work­ers (UAW)," Grover Norquist's top anti-union con­sul­tant, Matt Pat­ter­son, wrote in a Chat­tanooga Times Free Press op-ed that was lat­er turned into a pam­phlet and hand­ed out to work­ers. ​"One hun­dred and fifty years ago … the peo­ple of Ten­nessee rout­ed such a force in the Bat­tle of Chickamauga."
But not all South­ern­ers read their his­to­ry this way. In the days fol­low­ing the union defeat, Michael Gilliland, head of the pro-labor com­mu­ni­ty group Chat­tanooga for Work­ers (and my host dur­ing my trip to Chat­tanooga), com­plained about how North­ern­ers ana­lyzed the UAW loss by rely­ing on a blan­ket char­ac­ter­i­za­tion of South­ern cul­ture. Gilliland describes him­self as an ​"Anne Braden South­ern­er," after the white Ken­tuck­ian anti-racist cru­sad­er. A civ­il rights activist, Braden became ensnared in a legal bat­tle after she pur­chased a home in her name for a black fam­i­ly in 1954. The home was locat­ed in a Louisville neigh­bor­hood with a restric­tive covenant keep­ing out blacks, and Braden faced crim­i­nal charges of sedi­tion, though they were lat­er dropped.
To try to define the South sole­ly by its role in the Civ­il War, Gilliland believes, is a gross over­sim­pli­fi­ca­tion of the strug­gles that have always been waged by some white South­ern­ers against the main­stream cul­ture of oppres­sion. Gilliland points to the reli­gious white South­ern­ers who marched in sol­i­dar­i­ty on the Trail of Tears with Chero­kees and died doing so, as well as those who took up guns in the Coal Creek War of 1891 to fight the use of lease con­vict labor, lead­ing Ten­nessee to become one of the first South­ern states to end the prac­tice in 1896.
Even the Civ­il War itself has a mixed lega­cy, says Gilliland. ​"There were huge divi­sions of pow­er in the South dur­ing the Civ­il War, and that inequal­i­ty is still evi­dent," he says. There is a long tra­di­tion of low­er-class whites in the South who, while not nec­es­sar­i­ly anti-racist, advo­cat­ed for eco­nom­ic equal­i­ty because their wages were dri­ven down by slave labor and then, after the Civ­il War, by the low wages paid to African Americans.
Those divi­sions were on dis­play dur­ing the Bat­tle of Chat­tanooga, which fol­lowed the Union's defeat at Chicka­mau­ga in Sep­tem­ber 1863. Gilliland feels an affin­i­ty with the poor white South­ern­ers from near­by Bled­soe Coun­ty, Tenn., who vol­un­teered to fight for the Union dur­ing the bat­tle because they were pro-free labor and anti-planter class. Also among the men who fought in that bat­tle were ​"Nick­a­jack" free-labor fight­ers: Appalachi­an men from East­ern Ten­nessee and North­ern Alaba­ma who viewed the Con­fed­er­a­cy as the pet cause of the rich and engaged in gueril­la war­fare behind Con­fed­er­ate lines for years. (This mix of these forces was com­plex: Fight­ing along­side the pro-free-labor con­tin­gent were oth­er men from East­ern Ten­nessee who, while not nec­es­sar­i­ly anti-slav­ery, fought for the North out of rea­sons of nation­al loy­al­ty or dis­trust of those who want­ed to secede.)
After Chicka­mau­ga, retreat­ing Union troops were besieged for near­ly two months. A break­through came in Novem­ber 1863, when 14,000 Union troops depart­ed from a hill called Orchard Knob (which faces Gilliland's house), for what would become known as the Bat­tle of Chat­tanooga. At the head of the col­umn was the Ger­man-born Union Brigadier Gen­er­al August Willich of the 32nd Indi­ana. Willich had resigned his com­mis­sion in the Pruss­ian Army in 1846 and com­mand­ed an armed fac­tion of the Com­mu­nist League in Germany's 1848 Rev­o­lu­tion, with Friedrich Engels serv­ing as his aide-de-camp. After the fail­ure of the 1848 Rev­o­lu­tion, Willich emi­grat­ed to Amer­i­ca and vol­un­teered as an offi­cer in the Union Army because of his Com­mu­nist and anti-slav­ery views.
As Union troops advanced that day in Novem­ber, they were tak­ing heavy casu­al­ties. But as Nation writer John Nichols — a native of of Union Grove, Wis. — loves to recount, in the des­per­ate moments that fol­lowed, 1st Lieu­tenant Arthur MacArthur of the 24th Wis­con­sin Vol­un­teer Infantry Reg­i­ment picked up the reg­i­men­tal flag from a fall­en col­or bear­er. MacArthur charged the hill, shout­ing ​"On Wis­con­sin!" — a bat­tle cry that would echo again dur­ing the pro-labor occu­pa­tion of Wis­con­sin State Capi­tol 150 years lat­er. The troops charged onwards and took the top of Mis­sion­ary Ridge, open­ing a gate­way to the Deep South.
Anti-union forces have won the first round in Chat­tanooga: Much like the Bat­tle of Chicka­mau­ga, the first dri­ve for a union at Volk­swa­gen end­ed in defeat. But anoth­er Bat­tle of Chat­tanooga has just begun. Once again, it will be decid­ed by a rag­tag group — includ­ing Ger­mans, Mid­west­ern­ers, and pro-union South­ern whites — fight­ing in sol­i­dar­i­ty against the hier­ar­chi­cal, pater­nal­is­tic aspects of South­ern culture.
Gilliland believes that while the chal­lenges are for­mi­da­ble, South­ern his­to­ry shows that a vic­to­ry at Volk­swa­gen is pos­si­ble with time and education.
​"There are cer­tain themes that play strong­ly here because they have gone so long unchal­lenged, like the near total rights of a busi­ness own­er," he says. ​"Most peo­ple have hon­est­ly nev­er heard the oth­er side; they've nev­er been real­ly chal­lenged to think through the inequal­i­ties of pow­er, how wages are set, the prof­itabil­i­ty of their labor, etc."
​"In the same way, most whites have vir­tu­al­ly no under­stand­ing of the black expe­ri­ence here," Gilliland con­tin­ues. ​"They have nev­er been taught any his­to­ry past [World War II], know noth­ing about the civ­il rights move­ment or Jim Crow, much less about mass incar­cer­a­tion or the effect of the War on Drugs on com­mu­ni­ties of col­or … In this sense, there is an aspect of South­ern cul­ture that is an insu­la­tor, but it isn't some­thing nat­ur­al or unique to us. There is a hump set by the sta­tus quo, and we have to con­stant­ly get over that hump to do real work."
But ulti­mate­ly, Gilliland asks, ​"What does it mean to be South­ern? Is the Con­fed­er­a­cy real­ly ​'more South­ern' than the civ­il rights move­ment? Is an ingrained dis­trust for unions more South than Moral Mon­day? Who gets to say?"
Full dis­clo­sure: Elk's moth­er, Cyn­thia Hold­en Elk, was a mem­ber of the Unit­ed Auto Work­ers before the Volk­swa­gen plant she worked at in West­more­land, Pa. closed in 1988. UAW is a web­site spon­sor of In These Times. Spon­sors have no role in edi­to­r­i­al content.