Endorsement Up for Grabs
AFSCME withdraws Dean backing and looks to support frontrunner Kerry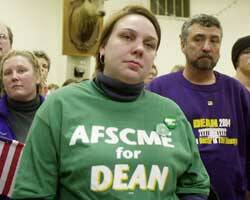 As Mass­a­chu­setts Sen­a­tor John Ker­ry con­tin­ued to rack up ear­ly pri­ma­ry vic­to­ries, exit polls con­sis­tent­ly showed that the elu­sive char­ac­ter­is­tic of ​"elec­tabil­i­ty" was weigh­ing heav­i­ly on the minds of Demo­c­ra­t­ic vot­ers. The same can be said of labor unions, it seems.
On Feb­ru­ary 9, the Amer­i­can Fed­er­a­tion of State, Coun­ty and Munic­i­pal Employ­ees (AFSCME) announced that it was with­draw­ing its sup­port for the flag­ging can­di­da­cy of for­mer Ver­mont Gov­er­nor Howard Dean. The group, along with the Ser­vice Employ­ees Inter­na­tion­al Union (SEIU), endorsed Dean in November.
"We can't be wast­ing time sup­port­ing a can­di­date who will not be the nom­i­nee," explained one AFSCME orga­niz­er who worked for Dean in Iowa. ​"We need to focus on tak­ing back the White House."
After fail­ing to win any of the first 11 pres­i­den­tial con­tests, Dean met Feb­ru­ary 7 with SEIU Pres­i­dent Andrew Stern and AFSCME Pres­i­dent Ger­ald McEn­tee to dis­cuss the campaign's direc­tion. James Williams, pres­i­dent of the Inter­na­tion­al Union of Painters and Asso­ci­at­ed Trades (IUPAT) — anoth­er union that offered ear­ly sup­port — par­tic­i­pat­ed by telephone.
Accord­ing to an inter­nal AFSCME e‑mail, McEn­tee expressed con­cerns about the effect a con­tin­ued Dean cam­paign would have on the even­tu­al nom­i­nee and sug­gest­ed that he quit the race. Dean wasn't will­ing to do that, so AFSCME took the unusu­al step of rescind­ing its endorse­ment by announc­ing that the orga­ni­za­tion would no longer work on the candidate's behalf.
In a joint state­ment released by Dean and McEn­tee, McEn­tee put a pos­i­tive spin on Dean's accom­plish­ments, say­ing that he ​"has bro­ken new ground in con­duct­ing pres­i­den­tial cam­paigns." And Dean, in turn, praised AFSCME, say­ing the union and its mem­bers ​"are a tire­less and effec­tive part of the polit­i­cal process and will con­tin­ue to play a lead­ing role in this election."
After the meet­ing, SEIU released a state­ment reaf­firm­ing its com­mit­ment to Dean, and IUPAT vot­ed lat­er that week in favor of a res­o­lu­tion offered by the AFL-CIO's Build­ings and Con­struc­tion Trades Depart­ment in sup­port of Ker­ry. (The res­o­lu­tion was not an endorse­ment because two-thirds of the AFL-CIO is need­ed to back can­di­dates officially.)
Many observers saw the AFSCME deci­sion as a clear polit­i­cal cal­cu­la­tion, not­ing that McEn­tee has long tried to gain max­i­mum lever­age by mak­ing ear­ly picks, a suc­cess­ful tac­tic in 1992, when he gave under­dog Bill Clin­ton an ear­ly nod.
But Ker­ry was said to be McEntee's ear­ly favorite until the Mass­a­chu­setts senator's cam­paign began to fade in the fall and the pres­i­dent shift­ed his union's sup­port to the ris­ing Dean.
"One of the things about McEn­tee, he likes to make endorse­ments ear­ly," says labor his­to­ri­an Michael Kazin. ​"But he also likes to make good bets; obvi­ous­ly he made a bad bet here. … He sees that, bar­ring some cat­a­stro­phe or scan­dal, Kerry's going to get the nom­i­na­tion, and they want to be in there when that happens."
When the SEIU and AFSCME joint­ly endorsed Dean in Novem­ber, many insid­ers thought it would secure vic­to­ry. Dean already had built a pow­er­ful, tech-savvy fol­low­ing of ​"lat­te-drink­ing" soft­ware pro­gram­mers, anti-war col­lege stu­dents, high­ly edu­cat­ed white lib­er­als and thou­sands of peo­ple who pre­vi­ous­ly had been polit­i­cal­ly unen­gaged. But miss­ing was the core Demo­c­ra­t­ic con­stituen­cy of blue-col­lar wage earn­ers and peo­ple of col­or — the con­stituen­cy SEIU, with its 1.6 mil­lion mem­bers, and AFSCME, with its 1.4 mil­lion, represented.
Dean's endorse­ments from the nation's two largest ser­vice unions, it was thought, would give him ammu­ni­tion in his bat­tle against Mis­souri Rep. Dick Gephardt, whose long­time con­nec­tion with labor had result­ed in a bevy of endorse­ments from indus­tri­al unions.
The strat­e­gy didn't pan out. In fact, poor show­ings by both of the major labor-backed can­di­dates start­ing in Iowa — where Gephardt was forced to drop out after a dis­mal fourth-place fin­ish and Dean was grave­ly wound­ed by tak­ing third — has some ques­tion­ing whether the move­ment still has the need­ed clout to turn can­di­dates into frontrunners.
Iowa, with its com­pli­cat­ed cau­cus­es, was sup­posed to be the kind of place where the orga­ni­za­tion­al strength of unions would pro­vide an extra advantage.
But the AFSCME orga­niz­er who worked in Iowa notes that the union exceed­ed its goals for mem­ber par­tic­i­pa­tion in the cau­cus­es there, and says both can­di­dates' dis­ap­point­ing fin­ish­es were large­ly their own doing. ​"It real­ly isn't our fault in any way," he says. ​"The struc­ture of the Dean cam­paign had been flawed, the image of the angry can­di­date, the attack ads that he and Gephardt ran against each oth­er, they all hurt and you saw them both start drop­ping in the polls."
Lane Wind­ham, a spokes­woman for the AFL-CIO, says too much is being read into Dean and Gephardt's pri­ma­ry per­for­mance. ​"I think you can't real­ly judge labor's abil­i­ty to turn out peo­ple based on Iowa," she says. ​"A bet­ter way to look at the impact work­ing fam­i­lies have had is to look at the [last two pres­i­den­tial] elec­tions." In those elec­tions, she notes, vot­ers from union house­holds made up near­ly a quar­ter of the elec­torate, ​"which is a far greater share than they make up of the gen­er­al population."
Pri­maries are always a time when feuds are played out, loy­al­ty is test­ed and polit­i­cal expe­di­en­cy is of the utmost impor­tance. But what those in the labor move­ment all seem to agree on is that every­one will be quick­ly unit­ed in the com­ing months as a nom­i­nee emerges and the quest to defeat Bush offi­cial­ly gets under way.
"It's fas­ci­nat­ing the role that labor could poten­tial­ly play this year," says Kazin. ​"The states that look like they are going to be the swing states, Wis­con­sin, Michi­gan, Ohio, are states with pret­ty high union density."
With man­u­fac­tur­ing jobs hem­or­rhag­ing, wages stag­nat­ing, and cash-strapped states and munic­i­pal­i­ties offer­ing stingi­er con­tracts for their employ­ees, union rank and file are the vot­ers most like­ly to be feel­ing the pinch from the Bush economy.
"They have seen him come out against work­ers at every turn," says Wind­ham, ​"ergonom­ics, over­time, he's just tried to strip col­lec­tive bar­gain­ing rights from work­ers at the Depart­ment of Defense. I feel con­fi­dent that we'll come out of it with a can­di­date who will defeat Bush and stand up for work­ing people's issues."
Christo­pher Hayes
is the host of MSNBC's All In with Chris Hayes. He is an edi­tor at large at the Nation and a for­mer senior edi­tor of In These Times.