Rumors have flown for many years that DC police rou­tine­ly infil­trate and spy on the fre­quent protests in the nation's Capi­tol. But until now, activists have nev­er been able to iden­ti­fy a spe­cif­ic under­cov­er cop at a protest. Now, after months of piec­ing togeth­er evi­dence, attor­neys Jef­frey Light and Sean Cana­van work­ing with Unit­ed Stu­dents Against Sweat­shop (USAS) have con­firmed that under an assumed name, Metro police offi­cer Nicole Rizzi has par­tic­i­pat­ed in USAS protests against com­pa­nies doing busi­ness in Bangladesh who refuse to sign the Accord on Fire and Build­ing Safe­ty in Bangladesh fol­low­ing the death of as many as 1,129 work­ers in the Rana Plaza fac­to­ry col­lapse.
USAS and its lawyers have numer­ous pieces of evi­dence plac­ing Rizzi at protests under a pseu­do­nym. Dis­trict of Colum­bia Pub­lic Employ­ee Infor­ma­tion List records obtained by In These Times con­firm that Rizzi has been on the DC Met­ro­pol­i­tan Police Depart­ment (MPD) force since Decem­ber of 2003.
USAS filed suit on Mon­day against the Dis­trict of Colum­bia seek­ing an injunc­tion to stop police from spy­ing on the group's activities.
The sto­ry of how Rizzi was uncov­ered reads like a mix of ​"Gos­sip Girl" and ​"The Wire." Activists pieced her iden­ti­ty togeth­er from her obses­sive post­ing to social media sites, includ­ing Twit­ter, Tum­blr, Insta­gram, Face­book, Word­press and Yfrog.
Lacy MacAuley, an activist and media man­ag­er for the Insti­tute for Pol­i­cy Stud­ies, has sus­pect­ed for the past sev­er­al years that a pro­test­er named ​"Mis­sy" was an under­cov­er cop. ​"Mis­sy" seemed to be at every protest, but no one knew her. How­ev­er, MacAuley had no way of prov­ing her suspicions.
Then, in Novem­ber of 2012, MacAuley was at a bar on U Street when a friend rec­om­mend­ed that she fol­low a Twit­ter account of a fun­ny per­son with the han­dle @snufftastic. MacAuley imme­di­ate­ly iden­ti­fied the user in the pho­tographs as the per­son she knew as ​"Mis­sy." The user Tweet­ed fre­quent­ly about the dai­ly grind of being a police offi­cer in DC.
MacAuley says she then spot­ted Rizzi as ​"Mis­sy" at an anti-Key­stone pipeline protest at the Cana­di­an Embassy on March 21, 2013. That was when MacAuley decid­ed to approach Jef­frey Light, an attor­ney who works on police mis­con­duct issues, with her sus­pi­cions. Light and his law part­ner Sean Cana­van began search­ing for evi­dence to peg Rizzi as an under­cov­er police officer.
The trick­i­est part was estab­lish­ing Rizzi's real name. But on @snufftastic, she let clues drop. On August 2, 2012, she Tweet­ed, ​"They used to call me No Sweat Nico because no mat­ter how hot it was at acad­e­my, I nev­er sweat."

Light and Cana­van did a pub­lic data­base search of all police offi­cers in D.C. and found only two named Nicole; one was Rizzi. Pho­tos on ​"Nicole Rizzi"'s Face­book account matched those on the @snufftastic Twit­ter and Instagram.
More­over, a post on Rizzi's since-delet­ed Tum­blr account seemed to indi­cate that Rizzi worked under­cov­er. In response to a post from a read­er ask­ing her how flex­i­ble her dress code was as a police offi­cer, Rizzi said she wore ​"ordi­nary clothes," but made a dis­tinc­tion between her posi­tion and that of a ​"plain­clothes" patrol cop: ​"In the posi­tion I'm in, it's ben­e­fi­cial to wear ordi­nary clothes. Plain­clothes assign­ments too, you wear what would blend in."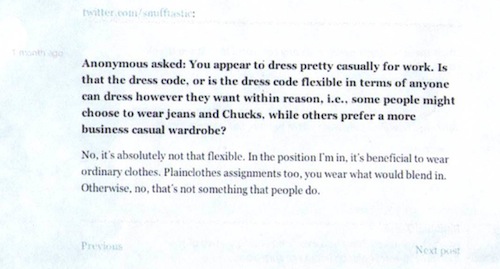 On April 20, MacAuley spot­ted ​"Mis­sy" at a protest out­side of the World Bank and snapped a pho­to­graph of her (above left). Mean­while, Light and Cana­van dug up evi­dence that Rizzi was a police offi­cer, includ­ing a pho­to­graph post­ed on yfrog of Rizzi point­ing out a typo on a piece of mail addressed to the ​"DC Metropo­la­tion [sic] Police Depart­ment." Rizzi's fin­ger par­tial­ly cov­ers up the address line, but it appears to read ​"Direc­tor, Intel­li­gence Branch."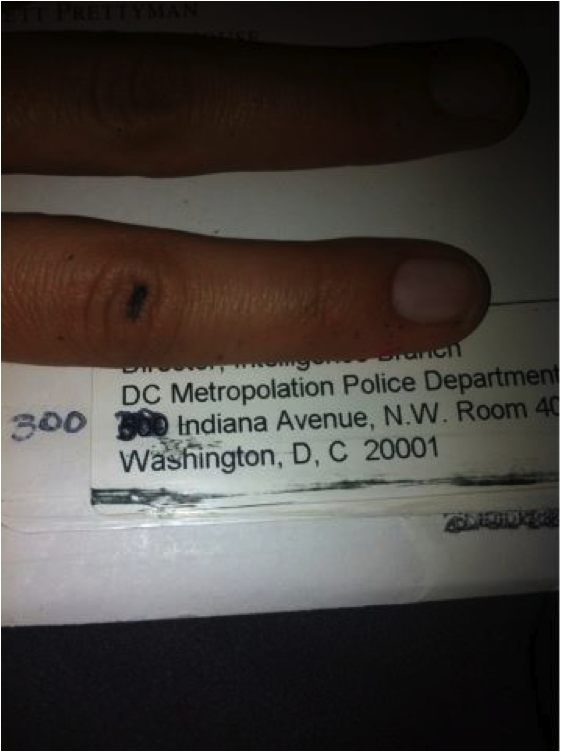 Light then began search­ing for a plain­tiff who would have stand­ing to file a com­plaint against Rizzi for spy­ing. On May 15, Light hap­pened to be walk­ing by a USAS protest out­side a Children's Place cloth­ing store in the Colum­bia Heights neigh­bor­hood of D.C. when he spot­ted Rizzi hand­ing out protest flyers.
Light flagged down USAS orga­niz­er Gar­rett Shishi­do Strain and alert­ed him to Missy's pres­ence. Shishi­do Strain knew just how ​"Mis­sy" had wound up at the protest: He had met her four days ear­li­er at a USAS protest out­side of a Gap. Rizzi iden­ti­fied her­self as ​"Mis­sy Thomp­son," gave Shishi­do Strain her email and phone num­ber, and asked to be informed of future actions so that she could attend. On May 14, Shishi­do Strain emailed her about a last-minute protest at the Children's Place in Colum­bia Heights the next day.
Hav­ing been alert­ed by Light, Shishi­do Strain and oth­er activists filmed Rizzi hand­ing out fly­ers at the May 15 like a nor­mal pro­test­er. Lat­er, Shishi­do Strain would spot Rizzi once more, at a June 29 protest against the Gap.
In ret­ro­spect, Shishi­do Strain believes that Rizzi had noti­fied DC police about the group's plans. ​"One of the steps we usu­al­ly take at our protest is to deliv­er a let­ter detail­ing the human rights abus­es in their sup­ply chain to the store/​business being protest­ed," says Shishi­do Strain. ​"We do not break any laws and if we are asked to leave the store after deliv­er­ing the let­ter, we do. After ​'Mis­sy' began par­tic­i­pat­ing in our events, we were twice blocked from deliv­er­ing let­ters by the Met­ro­pol­i­tan Police Depart­ment, who pre­sum­ably had been tipped off about the time and loca­tion of our events. This occurred at the May 15 Children's Place demon­stra­tion and the June 29 demonstration."
A law enact­ed by the D.C. Coun­cil in 2004 impos­es strict guide­lines on police when they inves­ti­gate or attempt to infil­trate First Amend­ment-pro­tect­ed groups. The Police Inves­ti­ga­tions Con­cern­ing First Amend­ment Activ­i­ties Act of 2004 spec­i­fies that the MPD depart­ments can only inves­ti­gate free speech activ­i­ties if they can prove suf­fi­cient cause that pro­tes­tors are engaged in crime and they have the autho­riza­tion of the Exec­u­tive Direc­tor of the DC MPD Intel­li­gence Fusion Divi­sions (or an appro­pri­ate super­vi­sor of sim­i­lar rank). To send in under­cov­er offi­cers, they have to go through the same autho­riza­tion process again.
But USAS attor­neys Sean Cana­van and Jef­frey Light say the MPD rarely fol­lows this law. To wit, a 2012 inves­ti­ga­tion of the depart­ment by the Office of the Dis­trict of Colum­bia Audi­tor con­clud­ed that the DC police failed to obtain autho­riza­tion for 16 of 20 inves­ti­ga­tions into protest groups between Jan­u­ary of 2005 and Novem­ber 21, 2011. (Anoth­er sev­en cas­es were open dur­ing this peri­od, but the files were destroyed before the review.) The report also found that the MPD nev­er obtained offi­cial per­mis­sion to send in under­cov­er offi­cers to protests, but did so in 17 cases.
The DC Met­ro­pol­i­tan Police Depart­ment did not return request for com­ment. How­ev­er, in response to the audit in 2012, DC MPD Chief Cathy L. Lain­er wrote, the ​"MPD con­tends that the Intel­li­gence Branch has con­sis­tent­ly gone far beyond what is required by the Act."
Light, who filed the case on behalf of USAS, says that under­cov­er sur­veil­lance sows sus­pi­cion among activists and hin­ders col­lec­tive action.
​"If they are putting an under­cov­er [cop] there, then they are putting under­cov­er [police] every­where. That is a big prob­lem for a lot of these groups," says Light. ​"You are try­ing to get peo­ple to come out and protest know­ing that there is a under­cov­er cop there — it's a huge problem."
Shishi­do Strain says his run-ins with Rizzi have already made him wary of strangers who want to get involved in fights for work­ers' rights.
​"I have per­son­al­ly become much more cau­tious with peo­ple who express sup­port for us at actions and oth­ers who express an inter­est in join­ing our actions, if I do not know them already," he says.