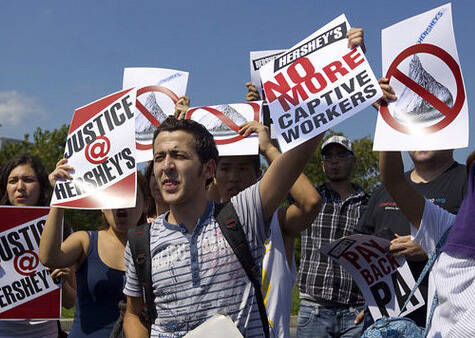 WASHINGTON, D.C. — Last week, in a small victory for guest workers activists, the State Department announced that it had debarred guest workers recruiter Council for Educational Travel USA (CETUSA) from the J-1 cultural exchange guest worker visa program. CETUSA had provided student guestworkers to work in Hershey warehouses in Palmyra, Penn. As I reported last summer, these workers went out on strike with the help of local unions to protest being paid only $20-$40 per week after having pay deducted for high rent and other services.
​"The State Department's ban on CETUSA is a big win for the students, and a blow against the larger trend of labor recruiters and companies using guestworkers to hollow out industries and undercut wages and conditions all over America," National Guest Worker Alliance (NGA) Director Saket Soni said. ​"Corporations like Hershey's and labor recruiters like CETUSA have turned the J-1 cultural exchange program into the country's largest guest worker program, and profited from captive workers earning low wage."
The debarment of CETUSA is a small victory for NGA, as there are many other recruiters still operating in the J-1 guest worker visa program that abuse workers, according to the organization. Advocates say that in order to stop further abuses of guestworkers the J-1 program needs to be reformed to provide greater rights to guest workers and more oversight of recruiters and companies using guest workers.
​"I hope this sends a clear message to other recruiters like CETUSA: we will NOT be your captive workers," said Harika Duygu Ozer, an NGA member and former J-1 student worker at the Hershey's plant from Turkey. ​"Now the State Department needs to make laws so that the next group of workers that are made captive by recruiters don't have to risk being fired and deported or go on strike, just to get their basic rights respected."
The State Department also announced that it will begin a review of how to restructure the oversight and will announce new regulations of the guest workers programs this summer. It's unclear what the rules or regulations will be.
Acting Deputy Assistant Secretary of State Rick Ruth, however, told The New York Times that the new rules will expand the list of occupations that cultural exchange guest workers would be barred from working, including ​"construction and roofing" and other hazardous industries. State Department officials also told the Times ​"they were also considering a ban on most factory and industrial jobs" for cultural exchange guest workers. The State Department also pledged to increase their staff overseeing the cultural exchange guest worker program by 15 from its current level of 40.
​"The real question, though, is whether the State Department going to include real workers' protections in the regulations — in particular, workers' right to organize" says NGA Communications Director Stephen Boykewich. ​"What we found is that the ability of guest workers to organize without fear of intimidation is the most important thing necessary to prevent what we saw at Hershey."
In an effort to pressure the State Department to crack down on more guestworkers who violate the program, the NGA is releasing a list this week of 10 companies that have abused guestworkers that they would like to see the State Department crack down on.
​"Getting CETUSA debarred is an important short-term victory but a larger fight is just beginning," says Boykewich.