The Next Farm Crisis is Here and Farmers Can No Longer Afford to Be Ignored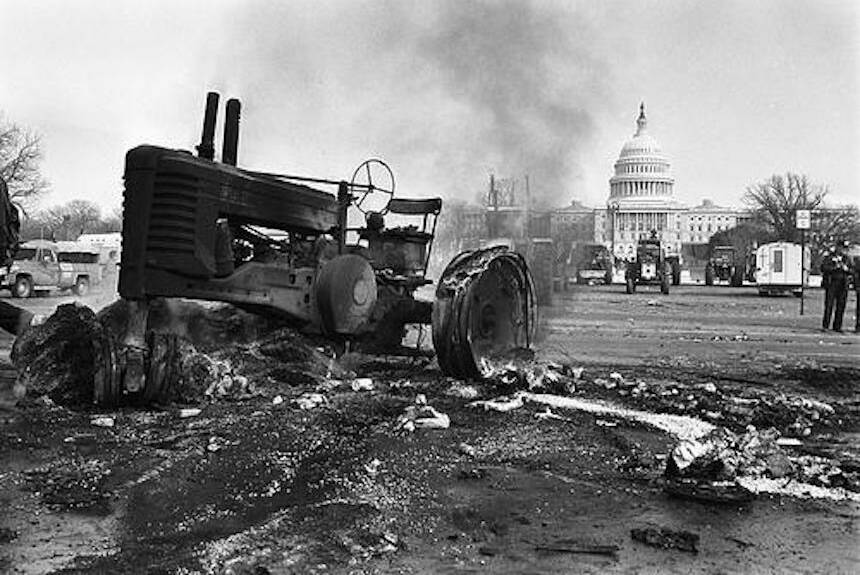 Dur­ing the farm cri­sis of the 1980s, an Iowa farmer asked if I knew the dif­fer­ence between a fam­i­ly farmer and a pigeon. When I said no, he delight­ed in explain­ing: ​"A pigeon can still make a deposit on a new John Deere."
That's fun­ny — except, it real­ly was­n't. Worse, the bit­ter real­i­ty of the trac­tor joke is still true: The farm cri­sis has not gone away, though hun­dreds of thou­sands of farm fam­i­lies have. The eco­nom­ic dev­as­ta­tion in farm coun­try con­tin­ues unabat­ed as agribusi­ness prof­i­teers, Wall Street spec­u­la­tors, urban sprawlers and cor­rupt­ed polit­i­cal elites squeeze the life out of farm­ers and rur­al America.
Remem­ber last year's pres­i­den­tial debates? Trump and Clin­ton talked about the needs of hard-hit work­ing-class fam­i­lies, vet­er­ans and coal min­ers among oth­ers. But, hel­l­loooo, where were farm­ers? Indeed, where was the mul­ti­tude of pro­duc­ers who toil on the lands and waters of this coun­try to bring food to our tables? All went unmen­tioned, even though eco­nom­ic and emo­tion­al depres­sion is spread­ing through their com­mu­ni­ties, thanks to bank­rupt­cy-lev­el prices paid by cor­po­rate mid­dle­men. In the past three years, farm income has declined steadi­ly, plum­met­ing 12 per­cent in just the last year. But these cru­cial-but-endan­gered food pro­duc­ers were total­ly dis­ap­peared by the polit­i­cal cognoscenti.
Actu­al­ly, the farmer has long been for­got­ten in Amer­i­ca's pres­i­den­tial dis­cus­sion. In a New York Times op-ed, Pro­fes­sor A. Hope Jahren report­ed on the dis­cov­ery she made when read­ing through tran­scripts of past debates: ​"Farm pol­i­cy has­n't come up even once in a pres­i­den­tial debate for the past 16 years." That's Bush-Ker­ry, Oba­ma-McCain, Oba­ma-Rom­ney, and Trump-Clin­ton! Not one of them men­tioned the peo­ple who pro­duce our food. Jahren notes that the mon­e­tary val­ue of farm pro­duc­tion alone is near­ly eight times greater than coal min­ing, a declin­ing indus­try whose vot­ers Clin­ton and Trump avid­ly courted.
Pur­chas­ing food has become a polit­i­cal act
This dis­re­gard for farm­ers and food pol­i­cy is not only irre­spon­si­ble, but also polit­i­cal­ly inex­plic­a­ble when you con­sid­er that food is far more than eco­nom­ics to peo­ple. Pur­chas­ing food has become a polit­i­cal act that takes into account cul­tur­al, eth­i­cal, envi­ron­men­tal and com­mu­ni­ty val­ues. This was con­firmed last March in a nation­al sur­vey pub­lished by Con­sumer Reports show­ing that huge per­cent­ages of shop­pers con­sid­er pro­duc­tion issues important:
Sup­port­ing local farm­ers:

91

percent
Reduc­ing expo­sure to pes­ti­cides in food:

89

percent
Pro­tect­ing the envi­ron­ment from chem­i­cals:

88

percent
Pro­vid­ing bet­ter liv­ing con­di­tions for farm ani­mals:

84

percent
Unfor­tu­nate­ly, no mat­ter what We the Peo­ple want, most of the polit­i­cal class will­ing­ly sur­ren­ders farm­ers, and food itself, to indus­tri­al agribusi­ness. That would be that…except for one thing: You! Far from sur­ren­der­ing to the ​"inevitabil­i­ty" of a cor­po­ra­tized food future, the great major­i­ty of Amer­i­cans con­tin­ue to push for­ward with the alter­na­tive future of a local, sus­tain­able, humane — and tasty — food sys­tem that ben­e­fits all.
The ongo­ing bat­tle for our food future pits the agri-indus­tri­al mod­el of huge-scale, cor­po­rate-run oper­a­tions against the agri-cul­tur­al mod­el of sus­tain­able, com­mu­ni­ty-based fam­i­ly farm­ing. The big mon­ey is with the glob­al goliaths of cor­po­rate ag, but the grip the giants once had on the mar­ket­place has been slip­ping as con­sumers and farm­ers (espe­cial­ly younger pro­duc­ers) are mak­ing clear that they pre­fer non-indus­tri­al food. One mea­sure of this is the con­trast­ing for­tunes of biotech vs. organ­ic production.
Biotech's bro­ken promise
The promised ​"mir­a­cle" of genet­i­cal­ly altered crops, intro­duced in 1994 by Mon­san­to, turns out to have been ephemer­al. The prices of cor­po­rate-altered seeds have sky­rock­et­ed, yields from those seeds have not met expec­ta­tions, plant­i­ng GMO crops has forced farm­ers to buy more pes­ti­cides, and con­sumers over­whelm­ing­ly oppose GMO Franken­foods. Thus, few­er farm­ers are using the biotech indus­try's prod­uct: U.S. farm­ers cut their plant­i­ngs of GMO crops by 5.4 mil­lion acres in 2015, and sales of GMO seeds fell by $400 million.
Not only does con­sumer demand for organ­i­cal­ly pro­duced food keep going up, but such major pro­duc­ers as Gen­er­al Mills and Kel­logg are switch­ing to greater use of organ­ic ingre­di­ents. As of last June, the num­ber of Amer­i­ca's cer­ti­fied organ­ic farms was 14,979 (up by more than 6 per­cent from a year ear­li­er), and sales of organ­ic prod­ucts zoomed up by 11 per­cent to $43.3 bil­lion in 2015, about four times more than the growth in con­ven­tion­al food sales. This rise would have gone even high­er, but the demand for organ­ic is now out­strip­ping the sup­ply! Con­sumers clear­ly want to buy more, thus cre­at­ing good oppor­tu­ni­ties for new organ­ic farm­ers — and a bright future for agri-culture.
[If you like what you've read, help us spread the word. ​

"

Like" Rur­al Amer­i­ca In These Times on Face­book. Click on the ​

"

Like Page" but­ton below the bear on the upper right of your screen. Also, fol­low RAITT on Twit­ter @RuralAmericaITT]

Jim High­tow­er
is the author of six books, includ­ing
Thieves in High Places
(Viking
2003
). A well-known pop­ulist and for­mer Texas Com­mis­sion­er of Agri­cul­ture, he cur­rent­ly writes a nation­al­ly-syn­di­cat­ed col­umn car­ried by
75
pub­li­ca­tions. He also writes a month­ly newslet­ter titled
The High­tow­er Low­down
, and con­tributes to the
Pro­gres­sive Pop­ulist
.