Hey Corporate Media, Quit Talking S#&* About the U.S. Postal Service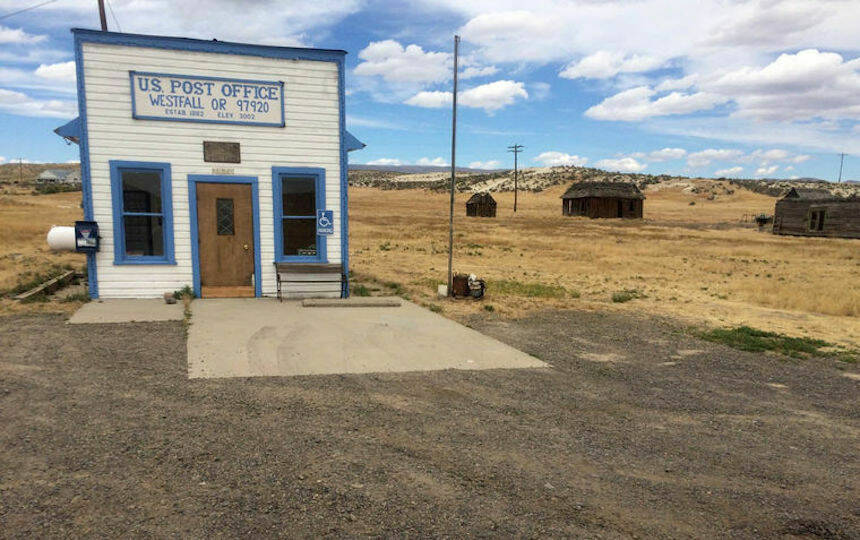 Jour­nal­ism, which is sup­posed to help make sense of our tur­bu­lent world, can't seem to make sense of itself. In addi­tion to ​"news" (which involves report­ing on stuff that's real) we're now get­ting ​"fake news" (stuff that's com­plete­ly made up). But wait — the barons of cor­po­rate news are adding to today's tumul­tuous state of jour­nal­ism by putting out feeds of ​"BS news" (stuff they know is untrue but report­ed as fact, because it advances their polit­i­cal agenda).
For exam­ple, the mighty Wash­ing­ton Post (owned by Jeff Bezos) keeps pub­lish­ing a load of BS to den­i­grate our U.S. Post Office. The paper's lat­est pot shot was in an alarmist edi­to­r­i­al declar­ing, ​"The U.S. Postal Ser­vice con­tin­ues to hem­or­rhage red ink." Embrac­ing their own­er's anti-gov­ern­ment ide­ol­o­gy, the edi­tors grumped that postal unions have made our mail ser­vice out­mod­ed and insol­vent, run­ning up ​"a net loss of $5.6 bil­lion last year."
That is pure bovine excre­ment — and the edi­tors know it. In fact, thanks to our amaz­ing, inno­v­a­tive and effi­cient postal work­ers, the nation's pub­lic post offices racked up a $610 mil­lion oper­at­ing prof­it last year, and a $1.2 bil­lion prof­it the year before. The $5 bil­lion in red ink that the paper's edi­to­r­i­al pro­pa­gan­dists tout­ed is not real, but instead, is a delib­er­ate book­keep­ing hoax cre­at­ed by Con­gress to make the pub­lic think that our Post Office is a hope­less mon­ey los­er that should be privatized.
In 2006, Con­gress piled an arti­fi­cial ​"loss" on the Postal Ser­vice by decree­ing that it must pre-fund the health­care costs of future retirees 75 years in advance. That includes retirees who're not even born yet! No oth­er agency and no oth­er cor­po­ra­tion — includ­ing Ama­zon (owned by Jeff Bezos) — could sur­vive if Con­gress added a $5‑bil­lion-a-year fic­ti­tious loss to their books. Yet, in a shame­ful piece of BS jour­nal­ism, the Post inten­tion­al­ly ignored the true story.
What the Post should have cov­ered was this: While a half-dol­lar hard­ly counts as mon­ey these days — it no longer buys even a small cup of cof­fee. But… there is an amaz­ing half-dol­lar bar­gain out there: a first-class postage stamp. For 50 cents, you get the stamp, 3‑cents in change, and so much more. Stick it on an enve­lope, drop your mis­sive in a mail­box, and Amer­i­ca's phe­nom­e­nal net­work of post office work­ers and let­ter car­ri­ers will deliv­er it in short order to your addressee in any of the 43,000 zip codes of this vast coun­try, from New York City's tallest build­ing to a vil­lage on the floor of the Grand Canyon.
Our pub­lic Postal Ser­vice lit­er­al­ly deliv­ers, and many of our post offices serve as trea­sured com­mu­ni­ty cen­ters — two rea­sons that the U.S. mail ser­vice con­sis­tent­ly ranks high­est among all fed­er­al agen­cies in pub­lic sup­port. So, nat­u­ral­ly, it must be dec­i­mat­ed and ulti­mate­ly eliminated.
What the Post won't be cov­er­ing is what pass­es for log­ic in the back rooms of our Koch-head­ed Con­gress and in the board­rooms of many preda­to­ry cor­po­ra­tions. They keep demo­niz­ing any­thing pub­lic — espe­cial­ly any pub­lic ser­vice that works and is pop­u­lar — because the cor­po­rate pow­ers and the con­gress crit­ters they buy in bulk are deter­mined to pri­va­tize gov­ern­ment. So, these prof­i­teers and plu­to­crat­ic ide­o­logues con­stant­ly put out pro­pa­gan­da like the Post arti­cle, cas­ti­gat­ing the Postal Ser­vice as a mas­sive, mon­ey-suck­ing, dete­ri­o­rat­ing, bureau­crat­ic behemoth.
But here are a few facts they don't want you to real­ize: One, this pub­lic agency pro­vides afford­able mail ser­vice to all, in every com­mu­ni­ty; two, it does this with­out a dime of tax­pay­er mon­ey, financ­ing its entire oper­a­tion with the sale of stamps and ser­vices like bulk mail; and three, it pro­vides hun­dreds-of-thou­sands of sol­id mid­dle-class jobs spread through­out every zip code.
To help keep this pub­lic jew­el out of the hands of a few greed-head­ed, price-goug­ing, low-wage, tax-dodg­ing cor­po­ra­tions, sup­port ​"A Grand Alliance To Save Our Pub­lic Post Offices."

(To find out more about Jim High­tow­er, and read fea­tures by oth­er Cre­ators Syn­di­cate writ­ers and car­toon­ists, vis­it the Cre­ators web­page at www​.cre​ators​.com.)

Jim High­tow­er
is the author of six books, includ­ing
Thieves in High Places
(Viking
2003
). A well-known pop­ulist and for­mer Texas Com­mis­sion­er of Agri­cul­ture, he cur­rent­ly writes a nation­al­ly-syn­di­cat­ed col­umn car­ried by
75
pub­li­ca­tions. He also writes a month­ly newslet­ter titled
The High­tow­er Low­down
, and con­tributes to the
Pro­gres­sive Pop­ulist
.