The 'Sharing Economy' Is a Sham for Workers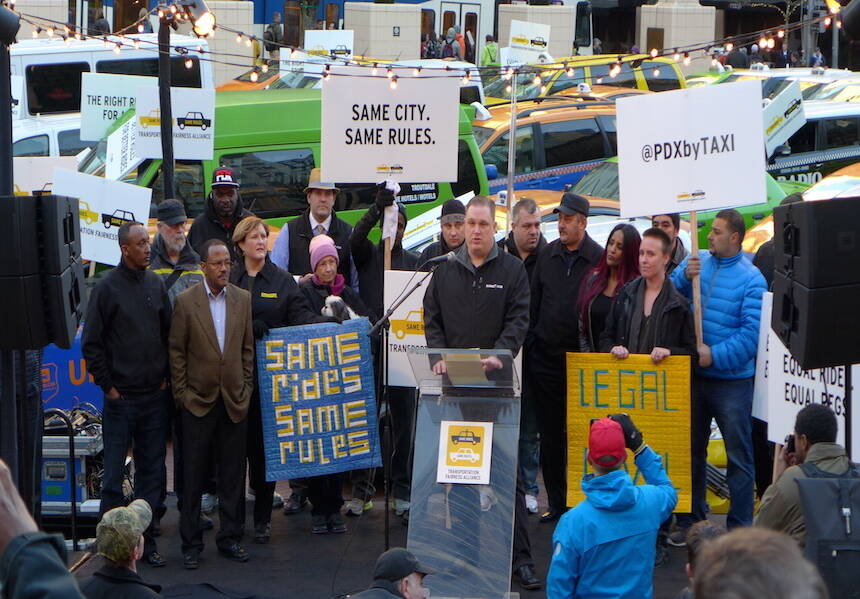 Pouty, whiney, spoiled-bratism is not nice com­ing from a four-year-old — but it's grotesque when it comes from bil­lion-dol­lar cor­po­rate elites like Uber and Lyft.

The two inter­net-based ride-hir­ing brats call them­selves ​"rideshar­ing" com­pa­nies, but that's a deceit, for they don't share any­thing — their busi­ness mod­el relies on folks need­ing a ride to hire a dri­ver through the cor­po­ra­tions' apps. With the bulk of the fare going to out-of-town cor­po­rate hedge funders.

The tow out­fits have swag­gered into cities all across our coun­try, insist­ing that they're inno­v­a­tive, tech-dri­ven genius­es. As such, they con­sid­er them­selves above the fusty old laws that oth­er trans­porta­tion com­pa­nies, like taxis, fol­low. So Uber and Lyft have made it a cor­po­rate pol­i­cy to throw hissy fits when cities — from Los Ange­les to Atlanta, Hous­ton to Port­land — have dared even to pro­pose that they obey rules to pro­tect cus­tomers and drivers.
The lat­est tantrum from the Cal­i­for­nia giants hap­pened in Austin, when the city coun­cil there adopt­ed a few mod­est, per­fect­ly-rea­son­able rules, despite the screams of PR flacks from both out­fits. The petu­lant duo then used fibs and high-pres­sure tac­tics to get enough sig­na­tures on peti­tions to force a spe­cial elec­tion to over­turn the coun­cil's action. Nat­u­ral­ly, being brats, they gave the city an ulti­ma­tum — ​"Vote our way or we will leave town" — and assumed that Austin's tech-savvy vot­ers would flock to do what­ev­er the pop­u­lar ride-shar­ing ser­vice wanted.

But they picked the wrong city. First, they ran a cam­paign of bla­tant lies, as though Aus­tinites would­n't ques­tion them. Then, they shoved a sick­en­ing lev­el of cor­po­rate cash into their cam­paign, appar­ent­ly think­ing that the sheer ton­nage of ads would win the day for them. How­ev­er, the slicks from Cal­i­for­nia turned out to be über-goobers. Despite spend­ing $9 mil­lion (more than the com­bined spend­ing of all city coun­cil can­di­dates in the past decade), they went down, 56-to-44 percent.

Since they did­n't win their cam­paign, Uber and Lyft have now left town in a huff leav­ing their 10,000 Austin workers/​drivers behind to fend for them­selves. Since their work­ers are con­sid­ered con­tract employ­ees, there will be no sev­er­ance pack­age or unem­ploy­ment ben­e­fits for them.

This is part of the new ​"gig econ­o­my — the lat­est cor­po­rate buzz-phrase from Sil­i­con Val­ley to Wall Street. CEOs are hail­ing a Brave New Work­place in which we lucky work­er bees no longer have to be suck in tra­di­tion­al jobs with tra­di­tion­al hours, tra­di­tion­al mid­dle-class pay scales, tra­di­tion­al ben­e­fits, tra­di­tion­al job secu­ri­ty, and all those oth­er fusty ​"tra­di­tion­als" of the old work­place, In fact, in the gig econ­o­my, you're not even both­ered with hav­ing a work­place. Rather, you'll be ​"lib­er­at­ed" to work in a series of short-term jobs in many places, always being on-call through a mobile app on your smart phone or through a temp agency. How excit­ing is that?

Well, they use ​"excit­ing" in the sense of dis­tress­ing and nerve-wrack­ing. The gig econ­o­my means you're on your own — you're not an employ­ee, but an ​"inde­pen­dent con­trac­tor," with no rights and no union. You might have lots of calls to work this week, but there'll be many weeks with no calls. Don't get sick, injured or wreck your car, for no health care or work­ers' comp are pro­vid­ed. A pen­sion? Your retire­ment plan is called ​"adiós chump."

This ​"alter­na­tive work arrange­ment" is not a futur­is­tic con­cept — it's already here and spread­ing fast. And it's not just ride-hir­ing gigs either. Some 16 per­cent of U.S. work­ers are now in this on-call, tem­po­rary, part-time, low-pay, you're-on-your-own econ­o­my, up from only 10 per­cent a decade ago. Cor­po­rate chief­tains (backed by the econ­o­mists and politi­cians they pur­chase) are cre­at­ing what they call a work­force of non-employ­ees for one rea­son: Greed. It direct­ly trans­fers more mon­ey and pow­er from worka­day fam­i­lies into the cof­fers of mon­eyed elites.

Their gig econ­o­my is apt­ly named, for ​"gigs" are crude four-hook fish­ing devices that are dragged by com­mer­cial fleets through schools of fish to impale them, haul them in, and cash in on the pain. And if you don't think the gig econ­o­my is painful, why don't you ask the 10,000 Uber and Lyft work­ers in Austin how they feel about it?

Jim High­tow­er
is the author of six books, includ­ing
Thieves in High Places
(Viking
2003
). A well-known pop­ulist and for­mer Texas Com­mis­sion­er of Agri­cul­ture, he cur­rent­ly writes a nation­al­ly-syn­di­cat­ed col­umn car­ried by
75
pub­li­ca­tions. He also writes a month­ly newslet­ter titled
The High­tow­er Low­down
, and con­tributes to the
Pro­gres­sive Pop­ulist
.