Farm-to-School Movement Fights for a Foothold in Corn Belt Cafeterias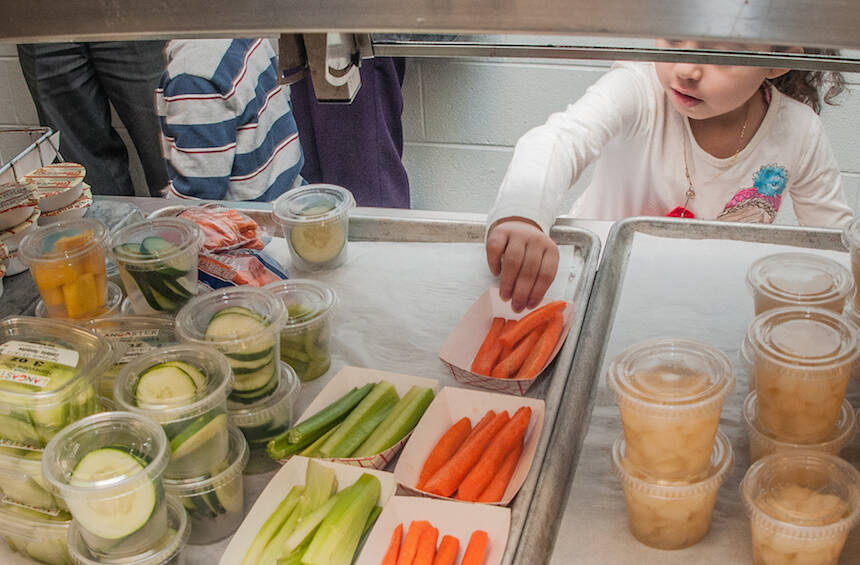 As the move­ment for a local and eth­i­cal food sys­tem con­tin­ues to gain trac­tion, school food is slow­ly but sure­ly becom­ing a focus in the fight for change.
School dis­tricts serve lunch to 30.4 mil­lion stu­dents a day through the USDA's Nation­al School Lunch Pro­gram (NSLP). The NSLP pro­vides cash sub­si­dies and USDA foods to enrolled schools, which in turn pro­vide free and low-cost meals for qual­i­fy­ing stu­dents. In total, meals served through the NSLP amount to as many as 5 bil­lion per year.
Due to the program's scale and the influ­ence of Big Ag inter­ests, the lion's share of food served through the NSLP has typ­i­cal­ly been sourced from large-scale pro­duc­ers, trans­port­ed from afar and heav­i­ly processed. The result­ing meals are often less than nutri­tious. In 2009, the ground beef the USDA bought from five major meat­pack­ers and dis­trib­uted through the pro­gram failed to meet the qual­i­ty stan­dards of most fast food restaurants.
But two ini­tia­tives, the farm-to-school move­ment and the Good Food Pur­chas­ing Pol­i­cy (GFPP), a non­prof­it-backed pol­i­cy ini­tia­tive, are chal­leng­ing this lunch­room real­i­ty, and work­ing to trans­form the food chain sta­tus quo.
The num­bers look promis­ing: the Chica­go Pub­lic School Board vot­ed to imple­ment the GFPP in July, the first city dis­trict out­side of Cal­i­for­nia to do so, and 42 per­cent of school dis­tricts nation­wide are par­tic­i­pat­ing in farm-to-school pro­gram­ming, accord­ing to the 2015 USDA Farm to School Cen­sus.
"Farm-to-school looks dif­fer­ent in every com­mu­ni­ty," says Helen Dom­balis, exec­u­tive direc­tor of the Nation­al Farm-to-School Net­work. "[But] it's a nation­wide effort that we need to under­take … to region­al­ize sup­ply chains, all the way from pro­duc­tion to aggre­ga­tion to pro­cess­ing to distribution."
Larg­er school dis­tricts have pulled off impres­sive food pur­chas­ing feats in recent years, sug­gest­ing that changes to the sup­ply chain are already under­way. But on the ground in Corn Belt states like Illi­nois, where only 6 per­cent of the food con­sumed by res­i­dents is pro­duced local­ly, small­er school dis­tricts face obsta­cles to par­tic­i­pat­ing in this vision of a region­al­ized food sys­tem. Rur­al Amer­i­ca In These Times spoke with sev­er­al school food providers and experts about these obsta­cles, and about the local move­ment can chip away at cor­po­rate pow­er in the food chain.
The long road to local
Get­ting fresh pro­duce into the cafe­te­ria of the Williamsville-Sher­man Com­mu­ni­ty Unit Schools Dis­trict (WCUSD) has been a chal­lenge, says Pauline Osman, the district's dieti­cian. The dis­trict sits 20 miles north­east of Spring­field, Ill., and began push­ing for sub­stan­tive changes in the cafe­te­ria in the 2012 – 13 school year.
Last year, Osman bought direct­ly from a local farmer, but found that the cost was high and the logis­tics of trans­porta­tion com­pli­cat­ed. ​"We paid a pre­mi­um for the farmer's mar­ket pro­duce, even though I worked with one farmer and picked up the toma­toes myself," says Osman. Unfor­tu­nate­ly, she says, many of the toma­toes spoiled quick­ly because wet ground delayed the harvest.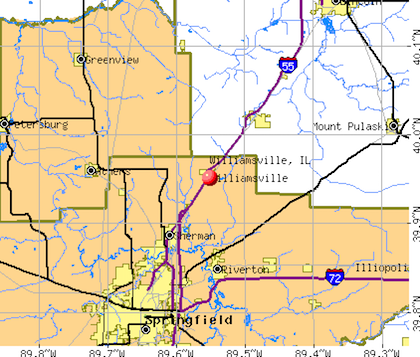 Williamsville, Ill. (Map: City​-data​.com)
For now, the dis­trict will look to the high school's brand new green­house for toma­toes, and per­haps oth­er veg­eta­bles. While the devel­op­ment of a hor­ti­cul­tur­al pro­gram at WCUSD is excit­ing, the pro­duce will like­ly con­tribute a neg­li­gi­ble por­tion of the food the cafe­te­ria serves over the course of the year.
The district's main food dis­trib­u­tor, Cen­tral Illi­nois Pro­duce, sources much of its pro­duce from farms and ven­dors in Cal­i­for­nia, and one veg­etable farm in Wis­con­sin — region­al, maybe, but not local. (Their ​"Illi­nois prod­ucts" page, on the oth­er hand, fea­tures yogurts, sal­ad dress­ing, pre­pared soups, and El Mila­gro tor­tillas.) WCUSD has so far been unable to get Michi­gan-grown apples for a Farm-to-School ini­tia­tive through its dis­trib­u­tor, but hopes that they will be able to in com­ing years.
Ven­dors and dis­trib­u­tors have the great­est poten­tial to shift pur­chas­ing prac­tices, accord­ing to some local school food experts. ​"Ven­dors have the capac­i­ty to pur­chase in large enough quan­ti­ties to real­ly shift the sup­ply chain," says the Nation­al Farm-to-School Network's Dom­balis. Once ven­dors start mak­ing region­al bulk pur­chas­es, she says, farm­ers, food hubs, proces­sors and aggre­ga­tors will catch on, too.
Thir­ty miles to the west of Spring­field, the Jack­sonville School Dis­trict is pur­chas­ing 27 per­cent of its food ​"local­ly" through its dis­trib­u­tors. In the 2014 – 15 school year they were able to select region­al­ly pro­duced foods through sev­er­al dif­fer­ent dis­trib­u­tors, in addi­tion to pur­chas­ing their bread and milk locally.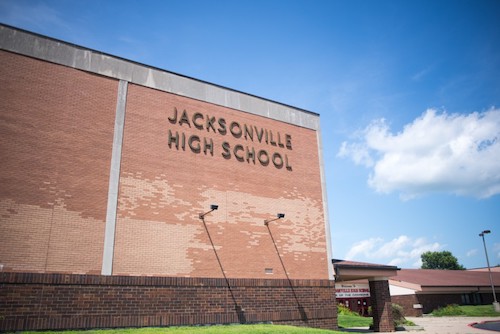 Jack­sonville, Ill., School Dis­trict 117. (Pho­to: Jack­sonville Area Con­ven­tion & Vis­i­tors Bureau)
Like WCUSD, how­ev­er, Jack­sonville has also encoun­tered dif­fi­cul­ties pur­chas­ing direct­ly from local farm­ers. While Jack­sonville was once able to pur­chase some pro­duce through a farm stand, the district's food ser­vice direc­tor Joyce Hiler says, the stand closed sev­er­al years ago and they haven't found an alternative.
"Maybe we have more [pro­duce] in our area that peo­ple are grow­ing," says Hiler, ​"but I don't know how close any local providers would be — as far as get­ting the prod­uct in a time­ly man­ner. There's just a lot of logis­tics to work out."
As dis­trib­u­tors and school dis­tricts in cen­tral Illi­nois, like Jack­sonville and WCUSD, find their foot­ing in a shift­ing food chain, the Nation­al Farm-to-School Net­work is work­ing to pro­vide dis­tricts with sup­port. Edu­ca­tion is half the bat­tle, says Lydia Van Slyke, the state lead for the Illi­nois Farm-to-School Net­work, par­tic­u­lar­ly get­ting kids to real­ize that local pro­duce sim­ply tastes better.
In 2015, the Illi­nois Net­work pilot­ed a ​"Great Apple Crunch" pro­gram, which part­ners schools with apple-pro­duc­ing farms in the larg­er region. On a des­ig­nat­ed day in Octo­ber, the schools have a spe­cial cel­e­bra­tion, and the kids all crunch into an apple at the same time. ​"These are all kids who get apples pre­sent­ed to them all the time because they're cheap and easy and usu­al­ly mealy, and taste ter­ri­ble and have been sit­ting in stor­age in Wash­ing­ton state for a year," Van Slyke says.
Oth­er pro­grams pilot­ed by the Illi­nois Farm-to-School Net­work include the ​"Har­vest of the Month," which pro­vides sup­port for schools to part­ner with farms once a month to get a local­ly avail­able fruit or veg­etable onto kids' plates. The stu­dents do ​"taste tests" of the pro­duce and can vis­it the source farm to learn about the grow­ing process. The rela­tion­ships schools estab­lish with farms for this month­ly pur­chase, Van Slyke says, can hope­ful­ly serve as a step­ping-stone to more reg­u­lar pur­chas­ing from local vendors.
Nur­tur­ing good will with cor­po­rate dollars
The Illi­nois Farm-to-School Net­work has an ambi­tious goal of engag­ing every Illi­nois school dis­trict in a local food event by 2020. As of 2015, around 24 per­cent of school dis­tricts statewide were par­tic­i­pat­ing in farm-to-school pro­gram­ming, with 11 per­cent report­ing plans to start in the future. (Thir­ty-nine per­cent of dis­tricts did not respond to the 2015 USDA Farm-to-School Cen­sus, so the per­cent­age of par­tic­i­pat­ing schools may in fact be mar­gin­al­ly higher.)
But the Nation­al Farm-to-School Net­work is not the only food-ori­ent­ed group look­ing to reach rur­al school districts.
Since 2011, Mon­san­to has been sink­ing funds into rur­al school dis­tricts. Through an edu­ca­tion fund called ​"America's Farm­ers Grow Rur­al Edu­ca­tion," Mon­san­to lets local farm­ers nom­i­nate rur­al school dis­tricts to receive $10,000 or $25,000 grants toward advanc­ing math and sci­ence cur­ric­u­la. By 2014, the fund was giv­ing grants to as many as 15 rur­al Illi­nois districts.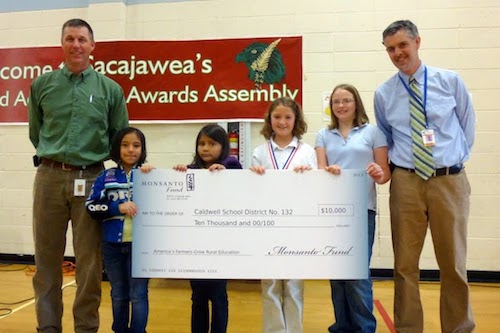 Since 2011, as part of its ​"Amer­i­ca's Farm­ers Grow Rur­al Edu­ca­tion" ini­tia­tive, Mon­san­to has been issu­ing grants in the form of pho­to­genic over­sized checks to rur­al schools across the coun­try. (Pho­to: The Sky­hawk Trail)
Monsanto's fund­ing reach­es beyond school dis­tricts and into the heart of rur­al com­mu­ni­ties. Mon­san­to also offers agri­cul­ture schol­ar­ships and directs small grants toward com­mu­ni­ty orga­ni­za­tions, like 4‑H groups or vol­un­teer fire depart­ments. While such fund­ing is undoubt­ed­ly wel­comed, Monsanto's under­ly­ing inten­tions should be inter­ro­gat­ed. Mon­san­to has an inter­est not in help­ing schools think inno­v­a­tive­ly about their place with­in the food sys­tem, but in pre­serv­ing the sta­tus quo estab­lished in rur­al regions: inten­sive large-scale farms, corn and soy mono­cul­ture and reliance upon the her­bi­cides and genet­i­cal­ly mod­i­fied seed they manufacture.
In Illi­nois, upwards of three-quar­ters of all land under cul­ti­va­tion is plant­ed with corn and soy. Although corn acreage has fall­en by one mil­lion since 2011, soy acreage has risen by a stag­ger­ing 1.1 mil­lion acres in the same win­dow —93 per­cent of which is grown with genet­i­cal­ly mod­i­fied seed. Approx­i­mate­ly three of Illi­nois' 10 mil­lion acres of soy­beans are RoundUp Ready 2 Xtend, a dicam­ba- and glyphosate-resis­tant soy­bean. Although ille­gal to apply to sum­mer­time soy­bean crops, the her­bi­cide Dicam­ba is see­ing height­ened usage this year after Mon­san­to released its new soy­bean strain. Dicam­ba drift has dam­aged 2.5 mil­lion acres of soy­beans across the Mid­west this year — which will like­ly force many farm­ers to switch to the resis­tant strain in time for next grow­ing sea­son. Fur­ther­more, 44 per­cent of Illi­nois grains are grown for export to oth­er coun­tries and most of the mon­ey in the agri­cul­tur­al indus­try does not remain in the community.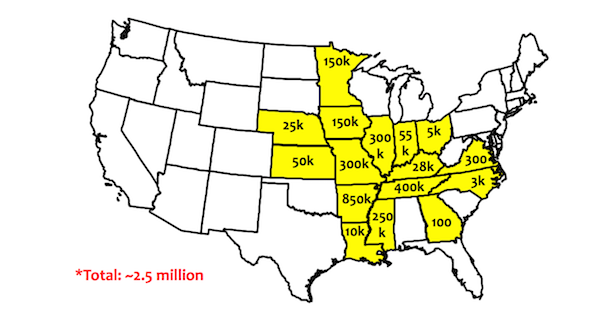 Esti­mates of dicam­ba-injured soy­bean acreage as report­ed by state exten­sion weed sci­en­tists (as of July 19, 2017). Offi­cial dicam­ba-relat­ed injury inves­ti­ga­tions by state depart­ments of agri­cul­ture, how­ev­er, have only report­ed 1,411. (Source: ipm​.mis​souri​.edu)
Accord­ing to data from Feed­ing America's Map the Meal Gap project, the most food inse­cure coun­ties are in the cen­tral and south­ern regions of the state, where corn and soy dom­i­nate the land­scape. The same coun­ties where school sys­tems are hav­ing the most trou­ble procur­ing local foods.
An influx of cor­po­rate mon­ey can influ­ence the ways in which res­i­dents think about the food sys­tem and the role cor­po­ra­tions play in main­tain­ing that sys­tem. In north­west­ern Arkansas, near the cor­po­rate head­quar­ters of Tyson and Wal­mart, food work­ers and res­i­dents have seen first­hand how dif­fi­cult it can be to gar­ner oppo­si­tion to harm­ful cor­po­rate prac­tices when the same cor­po­ra­tions are sup­ply­ing much-need­ed fund­ing for schools and com­mu­ni­ty organizations.
"Tyson and Wal­mart gave away so much mon­ey to the com­mu­ni­ty, to non­prof­its, to church­es, to schools, to uni­ver­si­ties, to muse­ums, to every­thing," says Mag­a­ly Licol­li, exec­u­tive direc­tor of the North­west Arkansas Work­ers Jus­tice Coali­tion (NWAWJC), based in Spring­dale, Ark. Like Mon­san­to, Tyson Foods, the world's sec­ond largest chick­en proces­sor, has a robust grant pro­gram. ​"So it was real­ly hard for us to gain the allies here, local­ly, because peo­ple either respect­ed the cor­po­ra­tions or they are afraid to stand up to the cor­po­ra­tions," she says.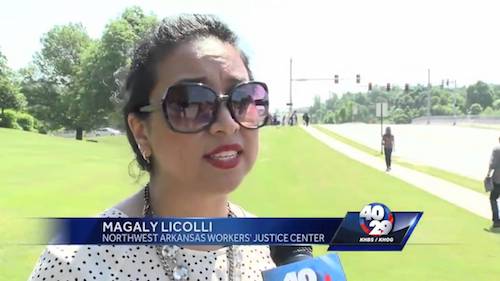 Mag­a­ly Licol­li, exec­u­tive direc­tor of the North­west Arkansas Work­ers Jus­tice Coali­tion. (Image: YouTube / 40 – 29 News)
Licol­li is lead­ing efforts in Fayet­teville, a town near Spring­dale, to imple­ment the GFPP. The pol­i­cy pro­vides munic­i­pal­i­ties with the resources to eval­u­ate the com­pa­nies from which they source food accord­ing to five dif­fer­ent cri­te­ria: ani­mal wel­fare, envi­ron­men­tal sus­tain­abil­i­ty, nutri­tion, prox­im­i­ty to dis­tri­b­u­tion site and fair labor prac­tices. While the GFPP applies not just to a city's school dis­tricts but also to major munic­i­pal insti­tu­tions, it's school dis­tricts that are often a city's largest food purchaser.
The NWAWJC first became inter­est­ed in the GFPP after it helped to doc­u­ment hor­rif­ic labor prac­tices in Tyson-oper­at­ed chick­en pro­cess­ing plants. After see­ing how dif­fer­ent inter­est groups — ani­mal wel­fare groups, work­ers rights groups and envi­ron­men­tal sus­tain­abil­i­ty groups — came togeth­er to secure a promise from Tyson to raise wages and secu­ri­ty stan­dards, Licol­li thought the GFPP could help oth­er cities gain lever­age over large food corporations.
"The good thing about the GFPP is that you force the cor­po­ra­tion to fol­low these stan­dards, because they need to keep the con­tract [with the school] and they need to keep the prof­it," says Licol­li. ​"And it's not only Tyson, but all the sup­pli­ers the school dis­trict gets from."
The GFPP has proven itself a cat­a­lyst for change in the Los Ange­les Uni­fied School Dis­trict (LAUSD), the first to imple­ment the pol­i­cy. Since its adop­tion in 2012, the school dis­trict has increased its local pro­duce pur­chas­es (defined as with­in 200 miles) from 10 per­cent to between 50 and 72 per­cent. More recent­ly, the dis­trict declined to renew a con­tract with Tyson because they did not meet the cri­te­ria for employ­ee welfare.
But the Gold­en State grows near­ly half of the nation's pro­duce, and the LAUSD is the nation's sec­ond-largest pub­lic school sys­tem — in oth­er words, they already have pur­chas­ing pow­er and a pro­duce net­work in place. It remains to be seen how the pol­i­cy could effect change for small­er dis­tricts in the Mid­west and beyond, where bud­gets are pinched and fresh pro­duce is not as read­i­ly available.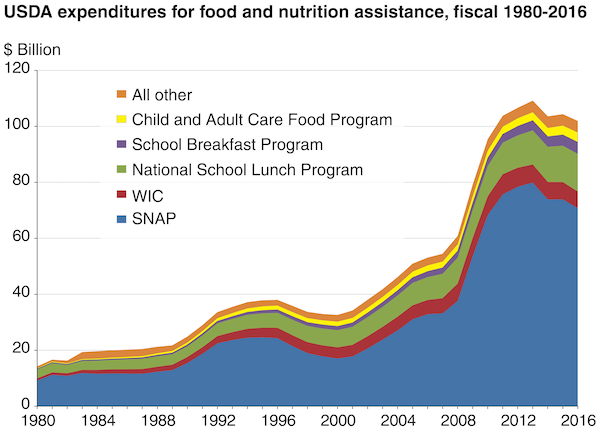 (Source: USDA, Eco­nom­ic Research Ser­vice using data from the depart­men­t's Food and Nutri­tion Service)
As the NWAWJC gears up for its cam­paign, how­ev­er, Licol­li is opti­mistic that their work will begin to lay the foun­da­tion for a more equi­table food sys­tem. ​"We real­ly want to have peo­ple who rep­re­sent all dif­fer­ent val­ues: farm­ers of col­or, food work­ers, envi­ron­men­tal­ists," she says.
"We are like guinea pigs try­ing to explore how this cam­paign will be accept­ed here in rur­al areas. A lot of peo­ple are work­ing toward all of these val­ues that the cam­paign embraces, so we just have to make sure that we are work­ing together."
Eme­line Pos­ner
is a sum­mer
2017
Rur­al Amer­i­ca In These Times edi­to­r­i­al intern.