Federal Appeals Court Rejects Torture Survivor's Case
Darrell Cannon was unjustly imprisoned for more than two decades, yet received just $1,247 in compensation.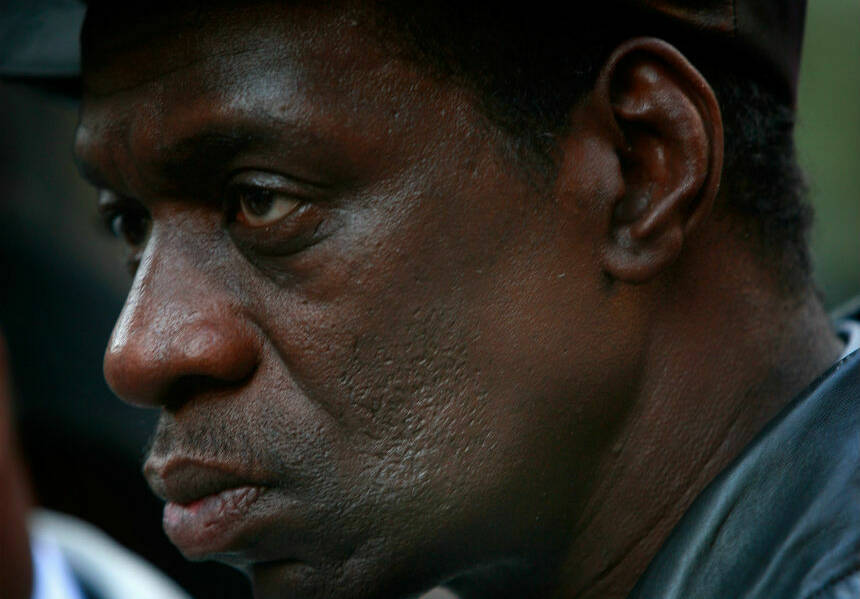 As declared by the Unit­ed Nations in 1997, June 26 is Inter­na­tion­al Day in Sup­port of Vic­tims of Tor­ture. Unfor­tu­nate­ly, the U.S. Court of Appeals may have set an alarm­ing prece­dent for tor­ture sur­vivors around the coun­try with its deci­sion against vic­tim Dar­rell Can­non late last month.
'[G]iven all the things you know now and all the corruption that came to light ... don't you think that it's a thin reed on which you're attempting to hang your resolution to say, given all of that, $3,000 is a fair settlement?'
On May 27, the court shocked Can­non and his sup­port­ers by opt­ing to deny him full com­pen­sa­tion for the bru­tal treat­ment he incurred at the hands of the Chica­go Police Depart­ment start­ing in 1983. Led by the noto­ri­ous Com­man­der Jon Burge, who was fired from his posi­tion in 1993 and con­vict­ed of per­jury in 2010, the Chica­go Police vic­tim­ized at least 120 African-Amer­i­can sus­pects over the course of two decades, includ­ing Can­non, who was tor­tured before being impris­oned unjust­ly for 24 years. Despite a num­ber of oth­er sur­vivors receiv­ing mil­lions of dol­lars from the city of Chica­go, Can­non was left with almost noth­ing — sug­gest­ing that the U.S. legal sys­tem is all too will­ing to aban­don sur­vivors behind a smoke­screen of denial and victim-blaming.
Cannon's lawyers argued his case in front of the three-judge fed­er­al appeals court in Jan­u­ary of 2013. (Full dis­clo­sure: the author rep­re­sent­ed Can­non in the U.S. Court of Appeals.) After sym­pa­thiz­ing with Cannon's sit­u­a­tion at oral argu­ments, the court with­held its deci­sion for 16 months. Then, in a stun­ning rever­sal of form, it reject­ed his appeal in a lengthy opin­ion writ­ten by the very judge who had most strong­ly backed Cannon's posi­tion dur­ing the arguments.
Cannon's crim­i­nal case
Dar­rell Cannon's 31-year quest for jus­tice began in Novem­ber 1983, when he was arrest­ed for the mur­der of a drug deal­er by a con­tin­gent of mid­night-shift detec­tives who worked for Jon Burge. They alleged­ly dragged him to a police car, where Can­non says Detec­tive Peter Dig­nan told him that they had a ​"sci­en­tif­ic way of ques­tion­ing n*ggers." When Can­non refused to talk, he says Sergeant John Byrne, who was Burge's self-admit­ted ​"right hand man," and Dig­nan took him to a remote site on the far south­east side of Chica­go, where they enact­ed a mock exe­cu­tion. After pre­tend­ing to put a shell in his shot­gun, Can­non recounts that Dig­nan forced the bar­rel of the gun into his mouth and pulled the trig­ger. Dig­nan alleged­ly repeat­ed this action two more times. On the third, Can­non says he believed that the back of his head had been blown off.
When Can­non still refused to con­fess to the mur­der, he says, Byrne and Dig­nan threw him into the back­seat of their car, pulled down his pants, and repeat­ed­ly shocked him on the gen­i­tals with a cat­tle prod. Racked with pain, Can­non agreed to coop­er­ate; after the tor­ture stopped, he with­drew his agree­ment. Can­non alleges that Byrne and Dig­nan then admin­is­tered anoth­er round of elec­tric shocks, this time shov­ing the cat­tle prod into his mouth. Can­non then relent­ed and gave a false con­fes­sion that impli­cat­ed him­self in the murder.
Dur­ing his tri­al in 1984, Can­non moved to sup­press his con­fes­sion because it was giv­en under tor­ture, but the motion was denied by Cook Coun­ty Cir­cuit Judge Thomas Mal­oney. (Mal­oney would lat­er go to fed­er­al prison for tak­ing bribes.) Lat­er that year, Can­non was con­vict­ed, but his con­vic­tion was reversed on appeal, due to racial dis­crim­i­na­tion dur­ing jury selec­tion. Can­non was then held in prison for a decade on mur­der charges; final­ly, in 1994, he was re-tried, only to be re-con­vict­ed after Maloney's suc­ces­sor, John Mor­ris­sey, denied him the right to intro­duce new­ly uncov­ered evi­dence that includ­ed 28 cas­es of Chica­go Police tor­ture, includ­ing 16 in which Byrne and Dig­nan were accused of abus­ing oth­er African-Amer­i­can sus­pects. On appeal in 1997, the Illi­nois Appel­late Court ordered the tri­al court to con­duct a new hear­ing on Cannon's motion to sup­press his con­fes­sion, at which time he could intro­duce the new­ly uncov­ered tor­ture evi­dence. In doing so, the Court strong­ly con­demned the pros­e­cu­tors' argu­ments, say­ing, ​"In a civ­i­lized soci­ety, tor­ture by police offi­cers is an unac­cept­able means of obtain­ing con­fes­sions from suspects."
Back in Cook Coun­ty Crim­i­nal Court, Cannon's lawyers pre­sent­ed evi­dence of oth­er acts of tor­ture by Byrne and Dig­nan. They also pro­duced a 1990 Chica­go Police Depart­ment Report that offi­cial­ly found that there was ​"sys­tem­at­ic" tor­ture and abuse under Burge. The same report not­ed that Byrne and Dig­nan were ​"play­ers" in Burge's pat­tern and prac­tice of bar­bar­ic cru­el­ty. Cannon's lawyers also offered a pre­vi­ous­ly sup­pressed 1994 CPD report that specif­i­cal­ly found Can­non had been tor­tured by Byrne and Dig­nan, as well as expert psy­cho­log­i­cal evi­dence that fur­ther cor­rob­o­rat­ed Cannon's claims of torture.
In 2004, the pros­e­cu­tion dis­missed Cannon's case alto­geth­er, like­ly on the unstat­ed grounds that Cannon's con­fes­sion had indeed been made under tor­ture. How­ev­er, the Illi­nois Pris­on­er Review Board refused to release him because of a parole hold from a pri­or con­vic­tion. Final­ly, in 2007, after two parole hear­ings and an order from a Cook Coun­ty Judge, Can­non was released from prison after serv­ing 24 years — nine of which he served in Tamms super­max prison.
Can­non's civ­il case
After his crim­i­nal case was dis­missed in 2004, Can­non filed a tor­ture and wrong­ful con­vic­tion law­suit in fed­er­al court. But he faced a sig­nif­i­cant hur­dle. In 1986, while in a rur­al south­ern Illi­nois prison, Can­non had filed a hand­writ­ten dam­ages com­plaint alleg­ing that he was tor­tured by Byrne and Dig­nan. In response two years lat­er, the city of Chica­go offered him a nui­sance val­ue set­tle­ment amount­ing to $3,000. Cannon's court-appoint­ed attor­ney — a gen­er­al prac­tice lawyer who had nev­er worked on a civ­il rights case, let alone one about tor­ture — advised him to take the deal. Can­non received $1,247 of his set­tle­ment; his lawyer took the rest. And as part of the deal, he signed a broad­ly word­ed release that includ­ed all claims relat­ed to his tor­ture that might arise in the future.
When Can­non filed his sec­ond dam­ages suit after being released from prison, the city and police defen­dants attempt­ed to dis­miss it. They argued that Cannon's pal­try 1988 set­tle­ment agree­ment pre­vent­ed him from seek­ing more com­pen­sa­tion against city offi­cials on all of his claims. Mean­while, start­ing in 1989, evi­dence began to sur­face that the city of Chica­go had engaged in a wide­spread cam­paign through­out the last decade to con­ceal Burge's sadis­tic prac­tices. In 2006, Judge Amy St. Eve held that this cov­er-up con­sti­tut­ed a fraud by the police defen­dants and the city — there­by nul­li­fy­ing Cannon's 1988 set­tle­ment. In oth­er words, had Chica­go not engaged in con­ceal­ing the reign of tor­ture by Burge and his cronies, Can­non might have found it much eas­i­er to argue that he, too, had been includ­ed in the string of vic­tims, and to demand more com­pen­sa­tion as a result.
In July 2007, the Chica­go City Coun­cil held hear­ings on the Burge tor­ture scan­dal. There, sev­er­al Coun­cil mem­bers, along with U.S. Mem­ber of Con­gress Dan­ny Davis, pub­licly urged May­or Richard M. Daley to set­tle all of the out­stand­ing tor­ture cas­es, includ­ing Can­non's. With­in months, the city had set­tled four of the five cas­es for a total of $19.8 mil­lion — and offered Can­non noth­ing. Instead of set­tling, the city poured exten­sive legal fees into fur­ther con­test­ing Can­non's case.
Then, in 2011, Judge St. Eve reversed her pri­or rul­ing. This time, she sided with the city, deem­ing the cov­er-up irrel­e­vant to the issue of fraud. Can­non knew he had been tor­tured, she said; there­fore, he had not been deceived and was not enti­tled to any­thing more than his scant orig­i­nal $1,247.

Can­non appealed to the Sev­enth Cir­cuit Court of Appeals, and in Jan­u­ary 2013, a three-judge pan­el of that court heard oral argu­ments in the case. Led by Judge Ilana Rovn­er, the court repeat­ed­ly upbraid­ed the city's attor­ney. Rovn­er her­self pas­sion­ate­ly rebutted the lawyer's asser­tion that the police defen­dants sim­ply denied that they tor­tured Can­non, stat­ing that ​"they did­n't just ​'deny' — they lied, they cheat­ed, they com­mit­ted fraud, they com­mit­ted cover-ups."
​"Here are the facts," she con­tin­ued. ​"These offi­cers take a man with a pri­or mur­der con­vic­tion. Then they lie, then they tor­ture him into mak­ing a state­ment that leads to a sec­ond mur­der con­vic­tion, then they lie about it, then they destroy evi­dence, then they engage in this incred­i­bly lengthy cov­er-up with oth­er city offi­cials. You've got to help me. [On] [w]hat plan­et does he have a [fair hear­ing] in the courts under those circumstances?"
As the belea­guered city lawyer con­clud­ed his argu­ment, Judge Sarah Bark­er, a for­mer U.S. attor­ney from Indi­ana, focused on the insuf­fi­cient set­tle­ment giv­en to Can­non in 1988: "[G]iven all the things you know now and all the cor­rup­tion that came to light … don't you think that it's a thin reed on which you're attempt­ing to hang your res­o­lu­tion to say, giv­en all of that, $3,000 is a fair settlement?"
The Fed­er­al Court of Appeals decision
On May 27, 2014, the Appeals Court, in a lengthy opin­ion authored by the same Judge Rovn­er, upheld the Dis­trict Judge's deci­sion. In its open­ing para­graph, the court set the tone for its decision:
This appeal casts a harsh light on some of the dark­est cor­ners of life in Chica­go. The plain­tiff, at the time of the events giv­ing rise to this suit, was a gen­er­al in the El Rukn street gang, out on parole for a mur­der con­vic­tion, when he became embroiled in a sec­ond mur­der. Among the defen­dants are sev­er­al dis­graced police offi­cers, includ­ing the infa­mous Jon Burge, a man whose name evokes shame and dis­gust in the city of Chicago.
After recit­ing a ver­sion of the facts that high­light­ed the details of Cannon's crim­i­nal case while for­go­ing any recita­tion of the volu­mi­nous record of cov­er-up that sup­port­ed his claim, the court pro­ceed­ed to reject, one by one, all of the argu­ments that Judge Rovn­er and her fel­low pan­el mem­bers had pre­vi­ous­ly embraced.
The court held that Can­non was bound by the pro­vi­sions of his 1988 release, and he had there­by for­feit­ed his wrong­ful con­vic­tion claim. More­over, it refused to acknowl­edge that this set­tle­ment was the prod­uct of fraud. In doing so, the pan­el ruled that although Can­non ​"knew that Byrne and Dig­nan were lying" when he signed the release, and that these offi­cers ​"sure­ly would have lied about tor­tur­ing oth­ers," Can­non and his court-appoint­ed lawyer pur­port­ed­ly could have ​"pur­sued oth­er avenues" to obtain evi­dence that there was a pat­tern and prac­tice of tor­ture by the offi­cers who tor­tured him. Obvi­ous­ly, Can­non and his lawyer would have been work­ing against a wide-rang­ing cam­paign to cov­er up Byrne and Dignan's tor­ture — but the court, after empha­siz­ing this fact dur­ing oral argu­ments, refused to acknowl­edge its deter­mi­na­tive sig­nif­i­cance in its writ­ten decision.
Fur­ther­more, the pan­el went so far as to erro­neous­ly assert, in the face of a strong evi­den­tiary record to the con­trary, that all of the city's efforts to cov­er up the evi­dence of tor­ture came after Can­non set­tled his case. In doing so, it also min­i­mized the breadth and depth of the cov­er-up and the role of high-rank­ing offi­cials in it, essen­tial­ly reduc­ing the decades of per­jury by Cannon's tor­tur­ers in numer­ous cas­es to a ​"he said, they said" controversy.
The court then high­light­ed Cannon's crim­i­nal his­to­ry, not­ing that he was a gang leader and a ​"con­vict­ed mur­der­er out on parole" at the time of his arrest.
​"It is dif­fi­cult to con­ceive of a just out­come giv­en the appalling actions by almost every­one asso­ci­at­ed with these events," wrote the panel.
In con­clu­sion, the court right­ly assert­ed that the case ​"casts a pall of shame over the city of Chica­go," sin­gling out ​"the police offi­cers who abused the posi­tion of pow­er entrust­ed to them" and the ​"city offi­cials who turned a blind eye to (and in some instances active­ly con­cealed) the claims of scores of African-Amer­i­can men that they were being bizarrely and hor­rif­i­cal­ly abused." Even so, how­ev­er, it refused to find that Can­non's $1,267 net set­tle­ment was unfair.
​"What the offi­cers did to Can­non was uncon­scionable," the court now argued. ​"The set­tle­ment was not."
The pall of shame darkens
Even as the court acknowl­edged the sys­tem­at­ic tor­ture of African-Amer­i­can Chicagoans, how­ev­er, its empha­sis on Cannon's crim­i­nal his­to­ry implied that his gang mem­ber­ship and pri­or mur­der con­vic­tion some­how negat­ed his treat­ment at the hands of city police. In doing so, it effec­tive­ly blamed Can­non for his own ordeal. Con­sid­er­ing that Can­non has now devot­ed his life to quelling gang vio­lence as a CEASE­fire super­vi­sor — and that Byrne and Dig­nan nar­row­ly escaped per­jury con­vic­tion along­side Burge — such jus­ti­fi­ca­tion seems par­tic­u­lar­ly ill-found­ed. On June 9, Cannon's lawyers asked the full court to recon­sid­er the three-judge panel's deci­sion, a request that is very sel­dom granted.
The U.S. Court of Appeals' deci­sion, though gut-wrench­ing, is unfor­tu­nate­ly not unheard of, par­tic­u­lar­ly with regard to Chicago's tor­ture his­to­ry. Over the past 40 years, state and fed­er­al courts as well as pros­e­cu­tors have very sel­dom been open to pro­vid­ing fair jus­tice to the African-Amer­i­can sur­vivors of Burge-relat­ed police tor­ture. More than 100 were sent to prison — a dozen to death row — on con­fes­sions tor­tured from them. At least 20 remain there, some 25 to 30 years lat­er. While rel­a­tive­ly few have been fair­ly com­pen­sat­ed for their tor­ture and wrong­ful con­vic­tions, many more, like Dar­rell Can­non, have received either noth­ing or a mere pittance.
In Cannon's case, had the high­est fed­er­al court in the Mid­west ruled in his favor, it would have been unequiv­o­cal­ly declar­ing that the Chica­go police tor­ture cov­er-up reached up to the high­est lev­els of the local pow­er struc­ture and had last­ed for more than three decades. Just as impor­tant­ly, it could have been cit­ed as fur­ther proof of Byrne and Dig­nan's cru­el his­to­ries by pris­on­ers seek­ing new tri­als whom they'd put behind bars. Final­ly, it would have sent a mes­sage to the city that it should fair­ly com­pen­sate all Burge tor­ture vic­tims. But in an all-too-famil­iar dis­play of fail­ing judi­cial courage, Judge Rovn­er and her col­leagues chose to retreat instead. Their fail­ure to do the right thing leaves us, once again, to con­tem­plate the words of come­di­an and people's philoso­pher Lenny Bruce, who once famous­ly said, ​"In the halls of jus­tice, the only jus­tice is in the halls."
Flint Tay­lor is a found­ing part­ner of the People's Law Office in Chica­go. He is one of the lawyers for the fam­i­lies of slain Black Pan­ther lead­ers Fred Hamp­ton and Mark Clark, has rep­re­sent­ed many sur­vivors of Chica­go police tor­ture over the past
30
years and is coun­sel in sev­er­al ille­gal search and wrong­ful death cas­es brought against the Mil­wau­kee Police Department.