How the FBI Conspired to Destroy the Black Panther Party
The assassination of BPP leader Fred Hampton in 1969 was just the beginning.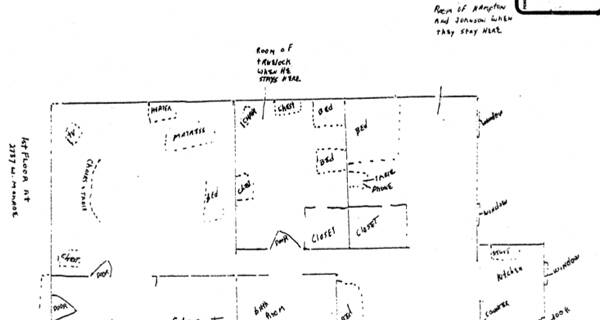 On Dec. 4, 1969, a select unit of 14 Chica­go police offi­cers, under the direc­tion of Cook Coun­ty State's Attor­ney Edward Han­ra­han, exe­cut­ed a predawn raid on a West Side apart­ment that left Illi­nois Black Pan­ther Par­ty (BPP) lead­ers Fred Hamp­ton and Mark Clark dead, sev­er­al oth­er young Pan­thers wound­ed and sev­en raid sur­vivors arrest­ed on bogus attempt­ed mur­der charges. Though Han­ra­han and his men claimed there had been a shootout that morn­ing, phys­i­cal evi­dence even­tu­al­ly proved that in real­i­ty, the Pan­thers had only fired a sin­gle shot in response to approx­i­mate­ly 90 from the police.
The FBI had, in fact, played a central role in the assassinations, and Hanrahan's initial lies were only the top layer of what proved to be a massive cover-up.
In the wake of the raid, Illi­nois BPP Min­is­ter of Defense Bob­by Rush stood on the steps of the bul­let-rid­dled BPP apart­ment and declared that J. Edgar Hoover and the Fed­er­al Bureau of Inves­ti­ga­tion were respon­si­ble for the raid. At the time, Rush had no hard proof to back up his claims. Over the course of the next eight years, how­ev­er, activists and lawyers, myself includ­ed, would even­tu­al­ly dis­cov­er the truth: The FBI had, in fact, played a cen­tral role in the assas­si­na­tions, and Hanrahan's ini­tial lies were only the top lay­er of what proved to be a mas­sive cover-up.
The first evi­dence to sup­port Rush's alle­ga­tion sur­faced in March 1971, when a group of anony­mous activists who called them­selves the ​"Cit­i­zens' Com­mis­sion to Inves­ti­gate the FBI" broke into a small FBI office in Media, Pa. to expro­pri­ate more than 1,000 doc­u­ments. In doing so, the Com­mis­sion exposed the FBI's ​"COIN­TEL­PRO" pro­gram, a secret coun­ter­in­tel­li­gence pro­gram cre­at­ed to, as the L.A. Times put it in 2006, ​"inves­ti­gate and dis­rupt dis­si­dent polit­i­cal groups in the Unit­ed States." Accord­ing to the Commission's pur­loined doc­u­ments, Hoover had direct­ed all of the Bureau's offices to ​"expose, dis­rupt, mis­di­rect, dis­cred­it and oth­er­wise neu­tral­ize" African-Amer­i­can orga­ni­za­tions and lead­ers, includ­ing the South­ern Chris­t­ian Lead­er­ship Con­fer­ence, the Stu­dent Non­vi­o­lent Coor­di­nat­ing Com­mit­tee, the Nation of Islam, Mar­tin Luther King, Stoke­ly Carmichael and H. Rap Brown.
Two years lat­er, it was pub­licly revealed in an unre­lat­ed case that Chica­go Black Pan­ther Par­ty Chief of Secu­ri­ty William O'Neal was a paid infor­mant for the FBI. At the time, I was a young lawyer work­ing with my col­leagues at the People's Law Office on a civ­il rights law­suit we had filed on behalf of the Hamp­ton and Clark fam­i­lies and the sur­vivors of the Decem­ber 4th raid. We quick­ly sub­poe­naed the Chica­go FBI's Black Pan­ther Par­ty files. In response, the FBI pro­duced a small num­ber of doc­u­ments that includ­ed a detailed floor plan of the BPP apart­ment specif­i­cal­ly iden­ti­fy­ing the bed where Hamp­ton slept, which O'Neal had sup­plied to Han­ra­han before the raid by way of his FBI con­trol agent.
For the fol­low­ing two years, we focused on unearthing fur­ther details about the FBI's involve­ment in the con­spir­a­cy and sought the Chica­go office's COIN­TEL­PRO file in order to estab­lish a direct link between the FBI's pro­gram and the raid. When the gov­ern­ment would not pro­duce the file — and Dis­trict Court Judge Joseph Sam Per­ry refused to com­pel them to do so — we turned to the Sen­ate Select Com­mit­tee to Study Gov­ern­men­tal Oper­a­tions for help.
A staff mem­ber of the Com­mit­tee, which was cre­at­ed in the wake of the Water­gate scan­dal to inves­ti­gate ram­pant abus­es by all Unit­ed States intel­li­gence agen­cies, includ­ing the FBI, informed us in late 1975 that there were sev­er­al doc­u­ments in the Chica­go office defin­i­tive­ly estab­lish­ing the link we sought. Armed with this infor­ma­tion, we were able to per­suade Judge Per­ry, who had pre­vi­ous­ly declared those doc­u­ments irrel­e­vant after pri­vate­ly review­ing them, into order­ing the FBI to pro­duce the file. And just as the Select Com­mit­tee had promised, the doc­u­ments revealed the FBI's efforts to foment vio­lence against Fred Hamp­ton and the Chica­go Pan­thers. One doc­u­ment, dat­ed Dec. 3, 1969, specif­i­cal­ly clas­si­fied the antic­i­pat­ed raid on the West Side apart­ment as part of the COIN­TEL­PRO program.
In Jan­u­ary of 1976, our team embarked on what would turn out to be one of the longest civ­il tri­als in fed­er­al court his­to­ry. Two months in, O'Neal's FBI con­trol agent, Roy Mitchell, blun­dered on the wit­ness stand and inad­ver­tent­ly indi­cat­ed that the FBI had not actu­al­ly pro­duced all of the Chica­go Black Pan­ther files Judge Per­ry, like­ly not know­ing what was about to hap­pen, ordered that they do so. The next day, a shak­en Jus­tice Depart­ment super­vi­sor wheeled into court shop­ping carts, on which were stacked almost 200 vol­umes of FBI files on the BPP.
The gov­ern­ment spent the next two weeks pro­duc­ing sev­er­al vol­umes of doc­u­ments each day. The files con­tained direc­tives to destroy the Pan­ther's Break­fast for Chil­dren Pro­gram and dis­rupt the dis­tri­b­u­tion of the BPP news­pa­per, exten­sive wire­tap over­hears and evi­dence that the charis­mat­ic Hamp­ton had been specif­i­cal­ly tar­get­ed for inten­sive sur­veil­lance and disruption.
The last vol­ume pro­duced by the gov­ern­ment was O'Neal's con­trol file. In it was yet anoth­er smok­ing gun: a memo from the Chica­go office to FBI Head­quar­ters request­ing a $300 bonus to reward O'Neal for his infor­ma­tion, which the memo assert­ed was of ​"tremen­dous val­ue." A return memo from Head­quar­ters approved this request.
Despite the over­whelm­ing evi­dence to the con­trary, Judge Per­ry exon­er­at­ed the FBI defen­dants and their lawyers of any wrong­do­ing in sup­press­ing the doc­u­ments and lat­er dis­missed the FBI defen­dants from the case. But in April 1979, the Sev­enth Cir­cuit Court of Appeals over­turned the tri­al judge, find­ing that the FBI and its gov­ern­ment lawyers had obstruct­ed jus­tice by sup­press­ing the BPP files. The Court of Appeals also con­clud­ed that there was sub­stan­tial evi­dence to sup­port the con­clu­sion that the FBI defen­dants, in plan­ning and exe­cut­ing the raid, had par­tic­i­pat­ed in a ​"con­spir­a­cy designed to sub­vert and elim­i­nate the Black Pan­ther Par­ty and its mem­bers," there­by sup­press­ing a ​"vital rad­i­cal-Black polit­i­cal orga­ni­za­tion." The Court fur­ther found there to be con­vinc­ing evi­dence that these defen­dants also par­tic­i­pat­ed in a sep­a­rate post-raid con­spir­a­cy to ​"con­ceal the true char­ac­ter of [their] pre-raid and raid activ­i­ties," to ​"harass the sur­vivors of the raid" and to ​"frus­trate any [legal] redress the sur­vivors might seek."
The next year, this land­mark deci­sion with­stood a chal­lenge in the U.S. Supreme Court. It stands today as judi­cial recog­ni­tion of out­ra­geous fed­er­al and local crim­i­nal­i­ty and cover-up.
How­ev­er, it is impor­tant not to rel­e­gate the Hamp­ton assas­si­na­tion and sub­se­quent con­spir­a­cy to the annals of his­to­ry. We would do well, after all, to remem­ber Direc­tor Hoover's line from a 1964 COIN­TEL­PRO mem­o­ran­dum in which he claimed cred­it for ​"dis­rupt­ing" and ​"neu­tral­iz­ing" the Com­mu­nist Party:
Over the years, our approach to inves­tiga­tive prob­lems in the intel­li­gence field has giv­en rise to a num­ber of new pro­grams, some of which have been most rev­o­lu­tion­ary, and it can be pre­sumed that with a con­tin­ued aggres­sive approach to these prob­lems, new and pro­duc­tive ideas will be forthcoming.
In light of the cur­rent rev­e­la­tions con­cern­ing the sys­temic ille­gal activ­i­ties of the Nation­al Secu­ri­ty Agency and the FBI in the name of fight­ing ter­ror­ism, such ​"new and pro­duc­tive ideas" seem clos­er at hand than ever.
Flint Tay­lor is a found­ing part­ner of the People's Law Office in Chica­go. He is one of the lawyers for the fam­i­lies of slain Black Pan­ther lead­ers Fred Hamp­ton and Mark Clark, has rep­re­sent­ed many sur­vivors of Chica­go police tor­ture over the past
30
years and is coun­sel in sev­er­al ille­gal search and wrong­ful death cas­es brought against the Mil­wau­kee Police Department.