Illinois Attorney General Fights to Stop Jon Burge's Pension Payments
The former police commander has raked in thousands while in prison for lying about torturing detainees.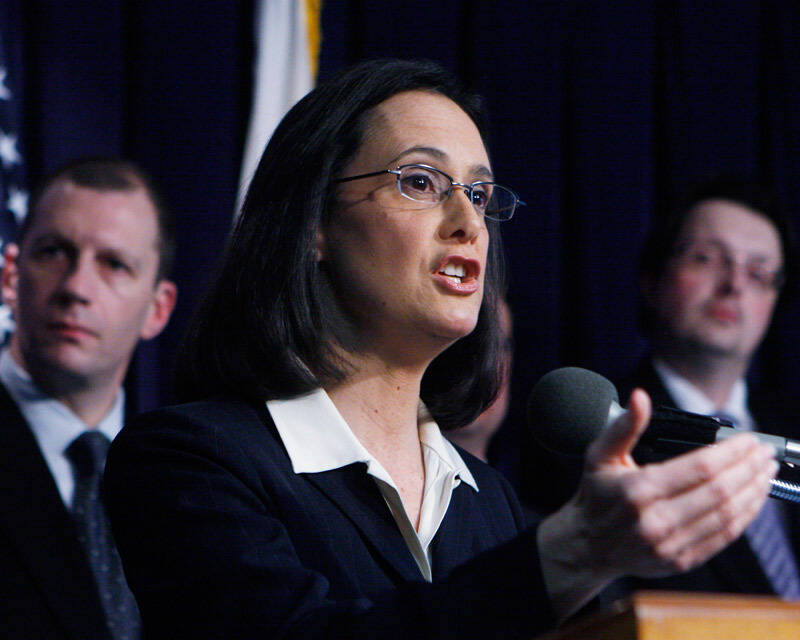 In June 2010, for­mer Chica­go Police Com­man­der Jon Burge was sen­tenced to 4 1⁄2 years in prison for three tor­ture-relat­ed felonies. But while Burge serves his time at the Fed­er­al Cor­rec­tion­al Com­plex in But­ner, N.C., he's con­tin­ued to col­lect his police pen­sion — to the tune of some $36,000 a year. After his con­vic­tion, Illi­nois Attor­ney Gen­er­al Lisa Madi­gan, act­ing on behalf of the peo­ple of the state of Illi­nois, went to court in an attempt to stop that cash flow.
After Cook County Associate Judge Rita M. Novak dismissed the case, the Illinois Appellate Court overturned her decision. In doing so, the court noted that Burge was 'widely believed to have sanctioned and participated in physical abuse and torture of arrestees in order to obtain confessions.'
On Jan. 22, 2014, the Illi­nois Supreme Court heard argu­ments in Madigan's case, Peo­ple v. Burge. The ques­tion argued before the court was whether Madi­gan had the pow­er to chal­lenge the con­tin­u­ing life­time pay­ments to Burge.
City, coun­ty, state and fed­er­al tax­pay­ers have already foot­ed a bill amount­ing to more than $100 mil­lion over the course of two decades to inves­ti­gate, pros­e­cute and defend Burge and his cronies—and to com­pen­sate some of his vic­tims. Still, Burge's lawyers, like­ly fund­ed by the Fra­ter­nal Order of Police based on past behav­ior, argued that the police pen­sion board's 2011 deci­sion to con­tin­ue to pay him could not be chal­lenged in court. (The FOP did not return requests for comment.)
The board's orig­i­nal 4 – 4 deci­sion was based on the propo­si­tion that Burge's con­vic­tion for lying under oath about whether he tor­tured detainees did not relate to, arise out of, or con­nect to his work as a police offi­cer. Giv­en the noto­ri­ous cir­cum­stances of Burge's sen­tenc­ing, this res­o­lu­tion fos­tered wide­spread out­rage, par­tic­u­lar­ly in the African-Amer­i­can com­mu­ni­ty. Madi­gan filed suit less than a month lat­er to halt the payments.
After Cook Coun­ty Asso­ciate Judge Rita M. Novak dis­missed the case, the Illi­nois Appel­late Court over­turned her deci­sion. In doing so, the court not­ed that Burge was ​"wide­ly believed to have sanc­tioned and par­tic­i­pat­ed in phys­i­cal abuse and tor­ture of arrestees in order to obtain con­fes­sions." Burge and the pen­sion board then sought review of the deci­sion in the Illi­nois Supreme Court. This high court, which only agrees to review about one in 20 cas­es, nonethe­less grant­ed Burge and the board the right to appeal.
Dur­ing the argu­ments on Jan­u­ary 22, the arcane-sound­ing legal issues dis­cussed by jus­tices and lawyers were framed by over­ar­ch­ing con­cerns about the pen­sion board's 2011 deci­sion. Those ques­tions includ­ed whether the board's even­ly split deci­sion, vot­ed for only by the four cur­rent or for­mer police offi­cers present, had been a legal­ly bind­ing one. Anoth­er was whether it could be rea­son­ably con­clud­ed that Burge's even­tu­al con­vic­tion — lying in fed­er­al court about whether he par­tic­i­pat­ed in the ser­i­al tor­ture of arrestees dur­ing his tenure as a police offi­cer — was, in fact, unre­lat­ed to his police work. And a third was whether the tax­pay­ers can chal­lenge such a deci­sion via Madi­gan, giv­en that nei­ther Burge nor the board had an inter­est in appeal­ing it.
But there are oth­er old­er, equal­ly trou­bling ques­tions that sur­round the saga. Burge was first sus­pend­ed in 1991 for alleged­ly tor­tur­ing Andrew Wil­son in 1982. The police board fired him for this offense in 1993, and his appeals were exhaust­ed in 1995, mak­ing the deci­sion final. Nonethe­less, in 1997, Burge start­ed to qui­et­ly col­lect his pension.
After the court-appoint­ed spe­cial prosecutor's 2006 report found that Burge had tor­tured Wil­son ​"beyond a rea­son­able doubt," a furor arose about the for­mer com­man­der liv­ing com­fort­ably in Flori­da on his police pen­sion. That report also led to a wide­ly pub­li­cized City Coun­cil tor­ture hear­ing in the sum­mer of 2007, dur­ing which Alder­man Ed Smith said Chica­go could no longer allow Burge ​"to live off the fat of this city." Mean­while, the Chica­go Sun-Times, in a ban­ner edi­to­r­i­al, urged Chica­go to ​"PULL HIS PENSION."
How­ev­er, the Daley admin­is­tra­tion did noth­ing beyond fun­nel­ing addi­tion­al mil­lions to defend Burge — and ulti­mate­ly, Daley him­self — in the civ­il cas­es brought by Burge's exon­er­at­ed vic­tims in the fol­low­ing years.
The lin­ger­ing doubts about Burge's right to his pen­sion were com­pound­ed in 2009, when for­mer Chica­go Police Super­in­ten­dent LeRoy Mar­tin tes­ti­fied at a depo­si­tion that, if Burge had been fired, he would have only been enti­tled to a lump sum pay­ment of what he'd con­tributed to the super­an­nu­a­tion fund over the course of his 21-year career, instead of life­time checks sup­ple­ment­ed by city funds. But con­trary to the unam­bigu­ous deci­sion of the police board and the review­ing courts, Mar­tin then assert­ed that, in fact, the depart­ment had per­mit­ted Burge to retire, there­by pro­tect­ing his right to col­lect his pen­sion start­ing at age 50.
While this seems hard to fath­om, Burge main­tained in his 2010 tri­al that he'd retired in 1997 with­out men­tion­ing his fir­ing — tes­ti­mo­ny that went unchal­lenged by gov­ern­ment pros­e­cu­tors. And in 2011, the board opt­ed to con­tin­ue pay­ing the pen­sion Burge had begun to pock­et more than ten years prior.
Attor­ney Gen­er­al Madigan's cur­rent bat­tle with Burge and his lawyers could go on for sev­er­al years: If the Supreme Court deems that she has the legal right to chal­lenge Burge's pay­ments, she'll have to return to court again to do just that. To date, May­or Emanuel's lawyers have not joined forces with Madi­gan. And, like Daley before him, Emanuel has not spo­ken out on either side of the issue.
Burge, who rose in the ranks from patrol­man to Com­man­der in record time, has been said to have friends in high places. In an era where the Illi­nois Supreme Court and the leg­is­la­ture are poten­tial­ly scal­ing back the hard-earned pen­sions of law-abid­ing pub­lic work­ers and their fam­i­lies, it will be telling to see, once again, just how high Burge's clout reach­es in this scandal-within-a-scandal.
Flint Tay­lor is a found­ing part­ner of the People's Law Office in Chica­go. He is one of the lawyers for the fam­i­lies of slain Black Pan­ther lead­ers Fred Hamp­ton and Mark Clark, has rep­re­sent­ed many sur­vivors of Chica­go police tor­ture over the past
30
years and is coun­sel in sev­er­al ille­gal search and wrong­ful death cas­es brought against the Mil­wau­kee Police Department.