Striking Federal Contractors: Thanks for the Raise, Obama, But We Want $15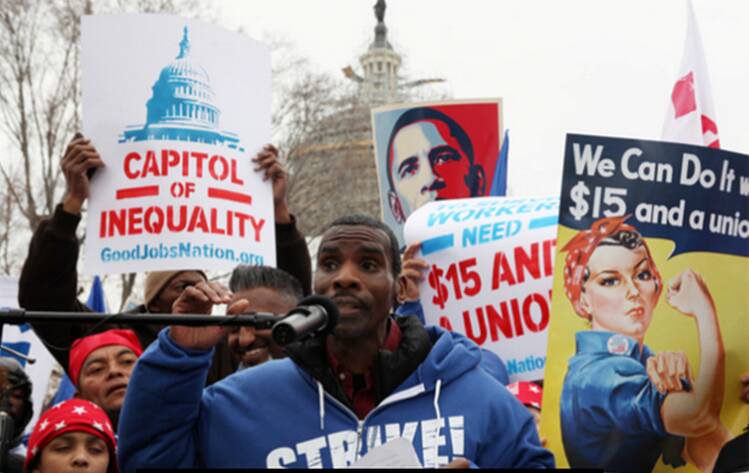 For the first time in history, federal contract workers at the U.S. Capitol building walked off the job Thursday, fighting for a $15 minimum wage, better benefits and the right to unionize. They joined workers from the Pentagon, the Smithsonian museums, the National Zoo and other federal contract workers in the nation's capital.
According to the New York Times, the employees — food service workers and janitors at some of Washington, D.C.'s most popular tourist attractions and busiest federal government buildings — are urging President Obama to sign executive orders that would prioritize federal contracts to companies who could guarantee workers a $15 minimum wage, health insurance and paid leave.
Though Obama signed an executive order in February that mandates a $10.10 minimum wage for all new federal contract workers, the 800 workers and supporters who rallied on Thursday are demanding higher wages and more protections.
As ThinkProgress reported, the federal government is essentially the largest employer of contract workers in the country. Though they are serving the government, these subcontractors are private companies and make massive profits — while many employees can barely make ends meet.
Workers can count some Democratic congressional leaders as allies. According to the Huffington Post, on Monday, Rep. Raul Grijalva (D-Arizona), co-chair of the Congressional Progressive Caucus, said that even though Republicans are cautioning against executive action following Democratic losses in last week's midterm elections, Obama should seize the opportunity. Grijalva and his co-chair Rep. Keith Ellison (D-Minnesota) hope to push the executive orders.
"The president is in a pivotal position to go assertively with executive orders to create a political balance and an economic balance," Grijalva told reporters on a conference call.
Members of the Progressive Caucus joined Thursday's march, including Ellison and Rep. Judy Chu (D-Calif.).
Marching outside the Capitol with federal workers on strike for a #livingwage of $15/​hr. #GoodJobs pic​.twit​ter​.com/​u​G​o​6​k​VRlst

 — Judy Chu (@RepJudyChu) November

13

,

2014
Ellison told the crowd, ​"We want more than minimum wage. Who wants a minimum anything? Do you want a minimum marriage?"
The one-day strike was organized by the Good Jobs Nation campaign, which is backed by the Service Employees International Union (SEIU) and has led nine other strikes involving federal contract workers in D.C. since May of last year.
Marina Fang
is a Fall
2014
editorial intern at In These Times. She is a senior at the University of Chicago. She has also written for The Huffington Post and ThinkProgress. Follow her on Twitter: @thefanger.