SEIU Health Care Local Backs Four Republican Power Players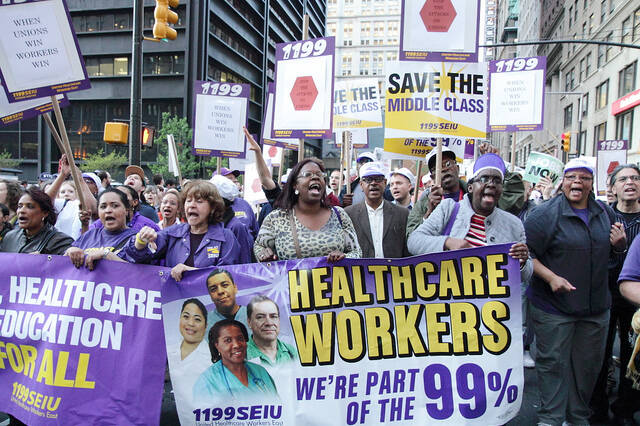 A prominent progressive union in New York is throwing its support behind a few influential Republican state senators.
According to the New York Post, 1199SEIU United Health Care Workers East donated $6,500 to State Sen. Dean Skelos, who leads the Republican majority in the state legislature. In addition, it either endorsed or contributed money to three other Republican state senators, one of whom heads New York's Senate Republican Campaign Committee.
The health care workers union is also working to try to turn the GOP-controlled State Senate Democratic in November's elections — a goal that seems at odds with donating money to four Republican state legislators.
Local 1199's spokesman Kevin Finnegan told the New York Post that ​"we're just keeping our relationships open."
Traditionally staunch supporters of the Democratic Party, some unions have begun to question their relationship with the party. For instance, teachers' unions have become increasingly angered by Democrats who are embracing free market education reform. In some cases, unions are channeling their frustrations into an alliance with Republicans. In this year's midterm elections, two trades unions, the Laborers and the Operating Engineers, have contributed to a prominent pro-business super-PAC that funds centrist Republican congressional candidates.
However, it is unusual for a union like 1199SEIU to throw support behind Republican candidates. According to its website, Local 1199 actively promotes progressive causes like fair wages, immigration reform and greater access to healthcare, and has recently spoken out against stop and frisk. The union was at the forefront of the Civil Rights Movement, organizing female, black, and Hispanic health care workers in New York City as early as the late 1950s, and its founder, Leon Davis, was suspected of Communist ties and forced to testify before the House Committee on Un-American Activities (HUAC) in 1948, though he later denied that he was a Communist.
It's debatable whether running into the arms of the GOP can be a successful strategy to recenter unions' political concerns. But when a union with a history as progressive as 1199SEIU's starts giving money to Republicans, it's clear that labor is desperate for an alternative to a Democratic Party perceived as unresponsive to its needs.
Be one of the first
Help kick off the new era of In These Times! Without a media that brings people together and creates a written record of the struggles of workers, their voices will be fragmented and forgotten.
The mission of In These Times is to be that written record, and to guide and grow those movements.
We have a lot of work ahead of us, and that work starts today. Early support is the most valuable support, and that's why we're asking you to pitch in now. If you are excited for this new era of In These Times, please make a donation today.
Marina Fang
is a Fall
2014
editorial intern at In These Times. She is a senior at the University of Chicago. She has also written for The Huffington Post and ThinkProgress. Follow her on Twitter: @thefanger.