Student Activists Demand Harvard Sever Ties with Teach for America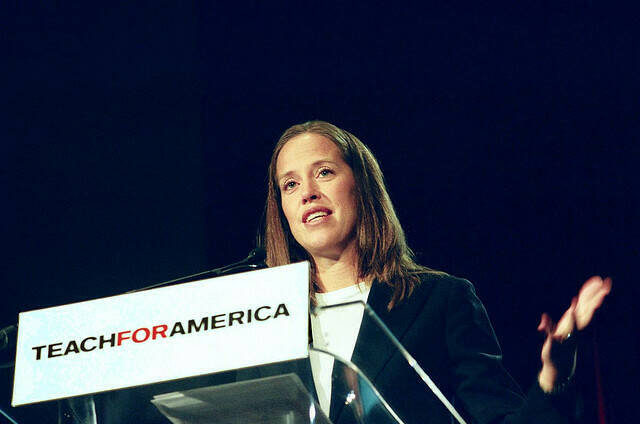 Teach for America, long associated with recruiting elite college students to teach in low-income communities, is facing mounting opposition from students at the very universities from which it recruits.
On September 26, members of Harvard's Students Labor Action Movement (SLAM) delivered a letter to the school's president, Drew Gilpin Faust, demanding that Harvard discontinue its relationship with TFA unless the organization makes major reforms.
These Harvard students are part of a national movement headed by United Students Against Sweatshops (USAS), which contends that TFA plays a major part in the privatization of public education by policymakers. TFA was originally founded to fill a nationwide teacher shortage in the 1990's but has since taken on an influential role in the education reform movement. TFA sends teachers to non-union charter schools, and many of its alumni have become prominent advocates for market-based education reforms like test-based evaluations of teachers and the elimination of teacher tenure. Through its 501©4 spinoff Leadership for Educational Equity, TFA has been described as playing key roles in education policy, school boards and local and national politics, and has injected big bucks into local school board elections like one in Minnesota this fall.
USAS, which has received $58,650 in donations from the AFT in the recent past, is urging TFA to only send recruits to communities with teaching shortages, provide more training for teachers and end its relationship with corporations like Exxon Mobil and JP Morgan. TFA's corporate partners grant signing bonuses to students who defer high-paying jobs and join TFA.
Harvard students gave university officials until October 8 to respond, but the school has yet to take any action. On Wednesday, TFA's co-CEO Matthew Kramer, himself a Harvard alum, responded to the students' campaign. He acknowledged that the organization's aims have changed but that there are still not enough talented teachers in low-income communities.
"Everywhere in the country principals say, it is hard to find great people who want to teach in my school with my kids," Kramer told the Harvard Crimson. ​"Having access to more people who want to do that is absolutely critical."
In 2013, Harvard was the top source of TFA's recruits among medium-sized schools, according to the organization's statistics.
In recent years, TFA has come under fire for its controversial approach to education. The program recruits recent college graduates and places them in low-income schools for two years. Participants often report being ill-prepared for their difficult teaching environments, as the program trains its teachers for only five weeks before they begin teaching.
TFA members often replace more qualified and experienced teachers, and as public schools slash their budgets, they are increasingly relying on TFA recruits to fill their ranks. For example, after one of Chicago Public Schools' recent rounds of layoffs of over a thousand teachers, the district allocated more funding for TFA.
Launched in March, the USAS campaign's ultimate goal is to stop TFA from recruiting on college campuses. This past spring, it embarked on a ​"truth tour" to ​"expose the dark side of corporate education reform."
Update: This post has been changed to reflect the fact that USAS has received donations from the AFT.
Be one of the first
Help kick off the new era of In These Times! Without a media that brings people together and creates a written record of the struggles of workers, their voices will be fragmented and forgotten.
The mission of In These Times is to be that written record, and to guide and grow those movements.
We have a lot of work ahead of us, and that work starts today. Early support is the most valuable support, and that's why we're asking you to pitch in now. If you are excited for this new era of In These Times, please make a donation today.
Marina Fang
is a Fall
2014
editorial intern at In These Times. She is a senior at the University of Chicago. She has also written for The Huffington Post and ThinkProgress. Follow her on Twitter: @thefanger.