Feticide Laws Are Disproportionately Used Against Women of Color
Purvi Patel's 20-year prison sentence for a miscarriage is part of a larger pattern.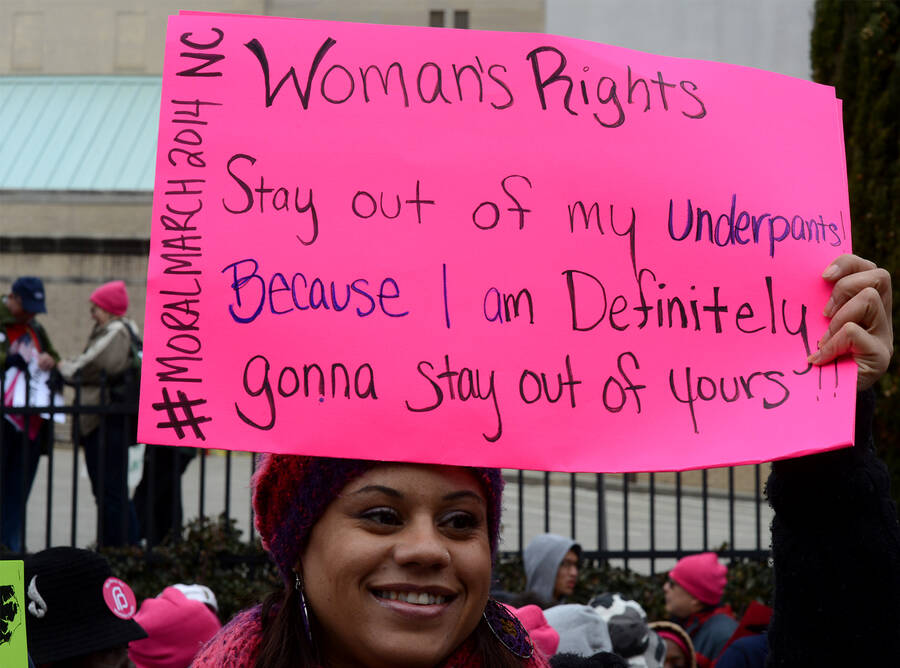 On July 13, 2013, Purvi Patel arrived at the emer­gency room of St. Joseph Region­al Med­ical Cen­ter in Mishawa­ka, Indi­ana, bleed­ing from her pelvis. On Feb. 3, 2015, she would become the first woman in the Unit­ed States to be charged, con­vict­ed and sen­tenced to prison on a feti­cide charge. Patel's con­vic­tion rep­re­sents a broad­er trend of the jus­tice sys­tem pun­ish­ing women — par­tic­u­lar­ly low-income women of col­or — for birth out­comes that are deemed suspicious.
It's hard to ignore the fact that the only two women prosecuted under Indiana's feticide law were working class women of color, both non-white faces in the heart of the American Midwest.
The facts sur­round­ing Patel's case remain con­test­ed months after the trial.
What's known from the pre­sent­ed by the pros­e­cu­tion and the defense is that after Patel arrived at the hos­pi­tal she ini­tial­ly denied hav­ing had a mis­car­riage. A doc­tor from St. Joseph Region­al Med­ical Cen­ter report­ed her to the police. She even­tu­al­ly admit­ted she had mis­car­ried, and after a failed attempt to resus­ci­tate the fetus, had aban­doned its body in a dump­ster. ​"I assumed because the baby was dead there was noth­ing to do," Patel told law enforce­ment offi­cials.
Indi­ana is one of many states with a law on the books ban­ning ​"know­ing­ly or inten­tion­al­ly terminat[ing] a human preg­nan­cy" except to remove a dead fetus or per­form a legal abor­tion. Patel was charged with vio­lat­ing this law by using the abor­ti­fa­cients miso­pros­tol and mifepri­s­tone with­out the super­vi­sion of a doc­tor and out­side the 20-week ges­ta­tion peri­od in which abor­tion is legal in Indi­ana. She was also charged with crim­i­nal­ly neglect­ing a depen­dent. To rec­on­cile the seem­ing­ly con­tra­dic­to­ry charges of killing an unborn fetus and aban­don­ing a live baby, the pros­e­cu­tion argued that there had been an unsuc­cess­ful abor­tion attempt, and the baby was deliv­ered alive.
Pros­e­cu­tors pre­sent­ed evi­dence that Patel ordered the drugs from a phar­ma­cy in Chi­na, includ­ing text mes­sages between her and a friend, and emails Patel exchanged with the com­pa­ny. While the drugs can be legal­ly pre­scribed in the Unit­ed States, it's against the law to order them online.
A tox­i­col­o­gy report, how­ev­er, was unable to find evi­dence of drugs in Patel's or her baby's body. Accord­ing to the med­ical exam­in­er, there is no reli­able way to test for the drugs or the metab­o­lized remnants.
The evi­dence that proves the crux of the sec­ond charge — that Patel's baby was born alive — is wide­ly con­test­ed by activists and law experts. The prosecution's foren­sic pathol­o­gist, Joseph Prahlow, tes­ti­fied that at approx­i­mate­ly 25 to 30 weeks, the fetus should have been viable. To prove that the fetus was not still­born Prahlow used a wide­ly dis­cred­it­ed test that orig­i­nat­ed in the 17th cen­tu­ry called the ​"lung float test."
The con­cept behind the test is fair­ly sim­ple. After per­form­ing an autop­sy a med­ical exam­in­er would take out the liv­er and lungs of a fetus. ​"The the­o­ry is if you put both in water…and the lungs float and the liv­er sinks then that means the baby had to have tak­en a breath," says Gre­go­ry J. Davis, assis­tant state med­ical exam­in­er for Ken­tucky and a pro­fes­sor of pathol­o­gy and lab med­i­cine at the Uni­ver­si­ty of Ken­tucky. But, he says, ​"the float test was deemed out­dat­ed and unre­li­able as far back as, I think, 1902."
The most recent edi­tion of Knights Foren­sic Pathol­o­gy, a wide­ly used text­book, says, ​"There are too many record­ed instances when con­trol tests have shown that still­born lungs may float … to allow it to be used in tes­ti­mo­ny in a crim­i­nal trial."
The foren­sic pathol­o­gist who tes­ti­fied for the defense main­tained that the fetus was still­born and that its lungs weren't devel­oped enough to breathe.
Despite the con­flict­ing evi­dence, Patel was con­vict­ed and sen­tenced to 30 years in prison, 10 of which were suspended.
Indiana's feti­cide law
One of the biggest ques­tions sur­round­ing Patel's con­vic­tion is whether the law was ever meant to be used against preg­nant women.
Accord­ing to lawyer Kather­ine Jack, who pro­vides coun­sel for the repro­duc­tive-jus­tice group Nation­al Advo­cates for Preg­nant Women, ​"All indi­ca­tions are that that law was intend­ed to reach ille­gal abor­tion providers … not women them­selves who have sought an ille­gal abortion."
The first time Indiana's feti­cide law was used against a preg­nant woman was in the case of Bei-Bei Shuai, a Chi­nese immi­grant who attempt­ed sui­cide in 2010. She sur­vived, but her baby died two days lat­er. Shuai's attor­neys attempt­ed to get the feti­cide charge dropped in the Indi­ana appel­late court, argu­ing that the law was not being used as intended.
Shuai plead­ed guilty to a less­er charge, so the issue was nev­er resolved in court.
"It's bad pol­i­cy," says David Orentlich­er, a pro­fes­sor at the Robert H. McK­in­ney School of Law in Indi­anapo­lis who stud­ies health care law. ​"If … some­thing you do … caus­es harm to your fetus, that's a crime. There's a lot of things preg­nant women can do that could be harm­ful to their fetuses."
Because attempt­ing a crime is pun­ish­able by law, under the inter­pre­ta­tion of the Indi­ana law used in Patel's case, a woman could earn jail time even if there's no feti­cide involved. ​"What you'll hear from pros­e­cu­tors is it's all about intent," says Jack. ​"It's … open­ing a Pandora's Box to inves­ti­gate every­thing preg­nant women do or say."
Accord­ing to Pub­lic Radio Inter­na­tion­al, 38 states cur­rent­ly have feti­cide laws. Of those, 23 have laws that apply to the ear­li­est stages of preg­nan­cy, with lan­guage such as ​"any state of ges­ta­tion," ​"con­cep­tion," ​"fer­til­iza­tion" or ​"post-fer­til­iza­tion".
The oth­er Purvi Patels
It's hard to ignore the fact that the only two women pros­e­cut­ed under Indiana's feti­cide law were work­ing class women of col­or, both non-white faces in the heart of the Amer­i­can Midwest.
In the most­ly Irish-Catholic sub­urb of South Bend, Indi­ana, Patel and her fam­i­ly stood out. The child of reli­gious­ly con­ser­v­a­tive Hin­du immi­grants from India, Patel worked to sup­port her fam­i­ly and also lived with her ail­ing par­ents and grand­par­ents. Her preg­nan­cy result­ed from an affair with a mar­ried man and, accord­ing to her defense, she didn't want her par­ents to find out.
A study con­duct­ed by Lynn Pal­trow, exec­u­tive direc­tor of Nation­al Advo­cates for Preg­nant Women, and Jeanne Flavin, a soci­ol­o­gy pro­fes­sor at Ford­ham Uni­ver­si­ty, doc­u­ment­ed 413 arrests of women for actions that author­i­ties deemed harm­ful to their fetus­es between 1973 and 2005. Of the 368 women for whom infor­ma­tion on race was avail­able, 59 per­cent were women of col­or. Since 2005, the researchers have iden­ti­fied 380 addi­tion­al cas­es. Accord­ing to Pal­trow, the major­i­ty of those women had no inten­tion of end­ing their preg­nan­cies and went on to have healthy children.
"Some people's preg­nan­cies have always been looked at more by soci­ety," says Sue Ellen Braun­lin, a doc­tor and the co-pres­i­dent of the Indi­ana Reli­gious Coali­tion for Repro­duc­tive Justice.
The same goes for parenting.
A U.S. Depart­ment of Health and Human Ser­vices study found that ​"minor­i­ty chil­dren, and in par­tic­u­lar African Amer­i­can chil­dren, are more like­ly to be in fos­ter care place­ment than receive in-home ser­vices, even when they have the same prob­lems and char­ac­ter­is­tics as white chil­dren." Accord­ing to fos­ter-care expert Dorothy Roberts,writing in PBS's Front­line, ​"a recent study of Philadel­phia hos­pi­tal records dis­cov­ered that African Amer­i­can and Lati­no tod­dlers hos­pi­tal­ized for frac­tures were more than five times more like­ly to be eval­u­at­ed for child abuse, and more than three times more like­ly to be report­ed to child pro­tec­tive ser­vices, than white chil­dren with com­pa­ra­ble injuries."
Abor­tion is legal in Indi­ana, but that didn't stop the doc­tor who admit­ted Purvi Patel from decid­ing that the cir­cum­stances of her mis­car­riage were sus­pi­cious. Legal abor­tion doesn't stop New York hos­pi­tals serv­ing low-income women from being more like­ly to test new moth­ers for drugs, and to then turn pos­i­tive results over to child pro­tec­tion ser­vices. And it didn't stop a black woman from being arrest­ed in Hous­ton for alleged­ly aban­don­ing her chil­dren in a mall food court while inter­view­ing for a job 30 feet away.
The crim­i­nal­iza­tion and sur­veil­lance of low-income preg­nant and par­ent­ing women of col­or is impos­si­ble to address in a pro-choice cen­tered move­ment. While orga­ni­za­tions like NOW, NAR­AL and Planned Par­ent­hood have all released state­ments con­demn­ing Patel's con­vic­tion, the cen­tral mes­sage of the pro-choice move­ment con­tin­ues to fail to address the assault on the repro­duc­tive rights of women of col­or. The the­o­ret­i­cal idea of choice fails to cap­ture the inequal­i­ty of oppor­tu­ni­ties that many women of col­or have in their repro­duc­tive lives that range from a lack of access to abor­tion cen­ters to under­fund­ed school dis­tricts and over policed neigh­bor­hoods that place their chil­dren at risk.
In 1994, at a nation­al abor­tion-rights con­fer­ence for the Black Women's Cau­cus, black women decid­ed to start a new move­ment with their lived real­i­ty at the fore­front, removed from the pro-choice nar­ra­tive of their white coun­ter­parts. They called it repro­duc­tive jus­tice. The frame­work they cre­at­ed goes beyond the legal­iza­tion of abor­tion to tack­le the prison indus­tri­al com­plex and the school-to-prison pipeline, eco­nom­ic inequal­i­ty and police bru­tal­i­ty, crim­i­nal jus­tice and health­care reform — all issues that inter­sect with motherhood.
This is the frame­work used by the orga­ni­za­tions like Indi­ana Reli­gious Coali­tion for Repro­duc­tive Jus­tice, Nation­al Advo­cates for Preg­nant Women and RH Real­i­ty Check that advo­cate for women of col­or such as Purvi Patel and Bei-Bei Shuai. But until the ​"pro-choice" nar­ra­tive is trans­formed, until the repro­duc­tive rights move­ment works to incor­po­rate and cen­ter the lives of women who live under inter­sect­ing axes of oppres­sion, until women who look like Purvi Patel or Bei Bei Shuai lead orga­ni­za­tions like NOW and NAR­AL, there will be more Patels, more Shuais, more women of col­or who are pun­ished for preg­nan­cy and par­ent­ing deci­sions and fun­neled into the prison indus­tri­al com­plex—where repro­duc­tive health­care bare­ly exists.
Rachelle Hamp­ton
is a Sum­mer
2015
edi­to­r­i­al intern at In These Times. She's a sopho­more study­ing jour­nal­ism at North­west­ern Uni­ver­si­ty and is involved with the black stu­dent life mag­a­zine, Pulse, and the North­west­ern alum­ni magazine.