A Year Post-Ferguson, the Nation's Youngest and Boldest Movement Debates Reform vs. Revolution
A firsthand report from Cleveland at the first-ever Movement for Black Lives national strategy session.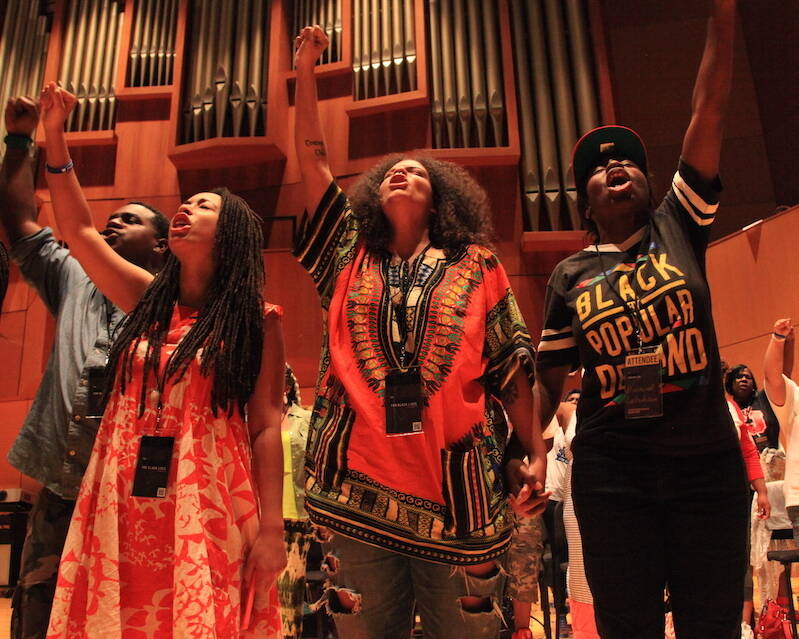 In the first con­fer­ence of its kind — and the first con­fer­ence of any kind for me, a 19-year-old jour­nal­ism stu­dent — hun­dreds of activists con­verged at Cleve­land State Uni­ver­si­ty from July 24 to 26 for the inau­gur­al Move­ment for Black Lives Con­ven­ing (M4BL). The gath­er­ing of ​"free­dom fight­ers" aimed to con­tin­ue the con­ver­sa­tion about police bru­tal­i­ty and oth­er issues fac­ing the black com­mu­ni­ty in America.
Elzie is 25. A quarter of a century of experience with the history of this country and she's ready to completely overhaul the system. It's a pretty common stance among millennial activists.
On the last day, atten­dees wit­nessed a 14-year-old black boy being arrest­ed for intox­i­ca­tion. What hap­pened next is dis­put­ed, as most alter­ca­tions between black peo­ple and the police are. I was not on the scene, but I believe the activists' account: Unarmed activists were pep­per-sprayed, includ­ing a 12-year-old girl.
The clash itself, between near­ly 2,000 black activists and one of the most unjus­ti­fi­ably vio­lent police forces in the coun­try, was almost inevitable. What was extra­or­di­nary was that the pro­test­ers per­se­vered through the pep­per-spray — in a city in which Tamir Rice was killed to pre­vent a teenag­er from enter­ing a police sta­tion — and the teenag­er was released into the cus­tody of his moth­er instead of tak­en to jail, in what activist Cher­rell Brown called a ​"com­mu­ni­ty de-arrest."
If any­thing can sum up the over­all vibe of the M4BL, includ­ing the spir­it that car­ried pro­test­ers through the de-arrest, it's the two unof­fi­cial anthems of the con­fer­ence: Kendrick Lamar's ​"Alright,", released in 2015 on the rapper's crit­i­cal­ly acclaimed To Pimp a But­ter­fly and Assa­ta Shakur's chant from her 1973 open let­ter, ​"To My People",
"It is our duty to fight for our freedom.
It is our duty to win.
We must love each oth­er and sup­port each other.
We have noth­ing to lose but our chains."
Played or chant­ed at the open­ing and clos­ing cer­e­monies, the end of ses­sions and the alter­ca­tion with the police, both the song and the chant are mes­sages of black love and resis­tance. Writ­ten more than 40 years apart, they empha­size the some­times uneasy coex­is­tence between the cur­rent gen­er­a­tion of activists and those who came before them. The ques­tion that seemed to be on all minds was how to incor­po­rate the vic­to­ries of past move­ments for racial jus­tice — but not their mistakes.
In atten­dance were DeR­ay Mckesson, named by the Los Ange­les Times as one of the ​"new civ­il rights lead­ers" of the 21st cen­tu­ry; Miss Major Grif­fin-Gra­cy, a trans woman activist and com­mu­ni­ty leader who par­tic­i­pat­ed in the Stonewall riots of 1969; chil­dren young as 5; Black Pan­ther polit­i­cal pris­on­ers who had served as many as 44 years in jail; mil­len­ni­al-head­ed orga­ni­za­tions like the Dream Defend­ers and the Black Youth Project; and the fam­i­ly mem­bers of Rekia Boyd, Emmett Till, Michael Brown and dozens of oth­er black peo­ple mur­dered by police or vigilantes.
When I saw the age make­up of the con­fer­ence I expect­ed there to be ten­sion, eye-rolling on the part of younger activists and con­tempt from the old­er gen­er­a­tion. It was nowhere to be found. Lam­ont Lil­ly of Worker's World described the inter­gen­er­a­tional moment as ​"hum­bling." He says, ​"Here I was …sit­ting at the feet of giants, a new gen­er­a­tion tak­ing notes from the old field gen­er­als." There seemed to be an under­stand­ing that a new move­ment could not oper­ate in a vac­u­um, with­out the sup­port and knowl­edge of a gen­er­a­tion that's already been tested.
It had the feel­ing of a giant fam­i­ly reunion — a lot of love and a lot of his­to­ry. Ever-present were the unfin­ished lega­cy of the Civ­il Rights Move­ment, the sab­o­taged end of the Black Pan­thers and the cur­rent moment of Black Lives Mat­ter — a yet-to-be-defined, move­ment attempt­ing to com­bine the best of Mal­colm X and Mar­tin Luther King, Jr.
Ses­sion top­ics ranged from AIDS activism to com­bat­ing trans­pho­bia to work­shops on self-care to black work­ers in the labor move­ment, but run­ning beneath the sur­face of every con­ver­sa­tion was the ques­tion of whether to reform and engage in exist­ing insti­tu­tions or just dis­man­tle the entire sys­tem. It is a ques­tion that was nev­er defin­i­tive­ly answered in past racial jus­tice move­ments and formed a divide between every­one from Mal­colm X and Mar­tin Luther King, Jr. to dif­fer­ing seg­ments of the Black Pan­ther Party.
"I think I was slight­ly lean­ing towards reform on August 9, 2014 [the day Michael Brown was shot]," said Net­ta Elzie in a ses­sion on map­ping police vio­lence. Elzie is a St. Louis res­i­dent who, along with DeR­ay Mckesson, has been doc­u­ment­ing the move­ment since the death of Brown (both were pro­filed in May by the New York Times Mag­a­zine). ​"Know­ing what I know [now]," she says, ​"I just had to imag­ine a world where the police don't even exist. Why fix a sys­tem that was nev­er for us?"
Elzie is 25. A quar­ter of a cen­tu­ry of expe­ri­ence with the his­to­ry of this coun­try and she's ready to com­plete­ly over­haul the sys­tem. It's a pret­ty com­mon stance among mil­len­ni­al activists. Search through the Twit­ter feeds of any young black activist and you are like­ly to find an ele­ment of rev­o­lu­tion. For the youngest peo­ple in the move­ment, the ones raised in a world where the term ​"post-racial soci­ety" was start­ing to become accept­able, where Mar­tin Luther King, Jr. has his own hol­i­day, and hey, there's even a black pres­i­dent — for these twen­ty-some­things to be con­vinced that the whole sys­tem is rot­ten, for them to have giv­en up any hope of last­ing reform with­out a com­plete dis­man­tling of exist­ing struc­tures, is dis­heart­en­ing to say the least. It speaks of a move­ment com­plete­ly sev­ered from the ones that came before it, a move­ment that won't be stopped at vot­ing rights laws or affir­ma­tive action.
The his­to­ry of racist polic­ing in Amer­i­ca backs up Elzie's point that the sys­tem ​"was nev­er for us." As The Atlantic​'s Ta-Nehisi Coates writes in his new book, Between the World and Me—an angry, blis­ter­ing cri­tique that acknowl­edges the hope­less­ness of achiev­ing racial jus­tice while still demand­ing we strug­gle for it — ​"In Amer­i­ca, it is tra­di­tion­al to destroy the black body."
Police were nev­er meant to pro­tect and serve black peo­ple. Quite the reverse: The first for­mal polic­ing units in the South were slave patrols. Fol­low­ing the Civ­il War, these vig­i­lante groups evolved into mod­ern police depart­ments pri­mar­i­ly as a way to con­trol freed slaves and enforce Jim Crow. It's easy to con­clude that if the root of the tree is rot­ten, one should cut it down and start over. But where to start that process when it's not one tree but a jungle?
Many at the con­fer­ence espoused a ​"both/​and" approach. ​"You need peo­ple that are going to reform the sys­tems and you need peo­ple who are going to try to shut those sys­tems down at the same time," said Samuel Sinyang­we, a data sci­en­tist and pro­gram coor­di­na­tor at Pol­i­cyLink. He helped Mckesson and Elzie to cre­ate the first com­pre­hen­sive data­base of police shoot­ings in the Unit­ed States.
And while Sinyangwe's spe­cial­ty is pol­i­cy reform, he and oth­er activists acknowl­edge there are lim­its to the via­bil­i­ty of either reform or rev­o­lu­tion, with­out address­ing the root of it all: the racism deeply embed­ded in Amer­i­cans. ​"There's a part, though, that goes beyond pol­i­cy reform, it comes down to peo­ple and their thoughts about black people."
That's where it gets messy. How do we con­tin­ue to try to prove our human­i­ty to those who don't believe it exists? There are two strains of thought. One of them, embod­ied by black celebri­ties from Don Lemon to Charles Barkley, is what's known as ​"respectabil­i­ty pol­i­tics." Used to shout down activists who aren't march­ing in three-piece suits or aren't het­ero­nor­ma­tive or just don't fit neat­ly into the san­i­tized lega­cy of MLK, respectabil­i­ty pol­i­tics seek to val­i­date black people's human­i­ty by fit­ting them into a ​"respectable" mold — one defined by white, mid­dle-class norms. Vehe­ment­ly reject­ed by Black Lives Mat­ter activists, this mod­el ignores sys­temic issues that espe­cial­ly affect low-income black peo­ple, like the prison indus­tri­al com­plex, hous­ing dis­crim­i­na­tion and cycli­cal poverty.
The oth­er strain of thought is that our lives have to first and fore­most to mat­ter to our­selves. It is the mes­sage implic­it in Kendrick Lamar's ​"Alright" and Assata's chant. It is the mes­sage behind #care­free­black­girls, the hash­tag-based move­ment to cel­e­brate and take joy in black women not in spite of their skin col­or, but because of it. This rad­i­cal self-love was expressed time and time again through­out the con­fer­ence, in the de-arrest and in the sim­ple hugs and count­less queries of ​"hey sis, you okay?" I received over the weekend.
"As dif­fi­cult as it may be to face the real­i­ty that for cen­turies, con­sti­tu­tions and pol­i­tics have sug­gest­ed that a black life mat­ters sub­stan­tial­ly less than a white one, we owe it to our­selves to breathe love into the lan­guage we use with and amongst each oth­er," said Flo­rence Adibu at a Breathe-In, Teach-In I attend­ed ear­li­er this year at North­west­ern Uni­ver­si­ty. The pro­gram was sim­i­lar to the M4BL con­fer­ence, a night that grap­pled with ​"the polic­ing of Black­ness" through speak­ers and pan­els. Adibu's words could have been the unof­fi­cial creed of M4BL: ​"The act of anoint­ing the words we use with the love that has sus­tained us in the midst of anti-black vio­lence, to me is a rev­o­lu­tion­ary act."
Rachelle Hamp­ton
is a Sum­mer
2015
edi­to­r­i­al intern at In These Times. She's a sopho­more study­ing jour­nal­ism at North­west­ern Uni­ver­si­ty and is involved with the black stu­dent life mag­a­zine, Pulse, and the North­west­ern alum­ni magazine.