Meet the Berniecrat On Her Way to the U.S. House After One of This Year's Biggest Progressive Wins
Pramila Jayapal was one of the first down-ballot candidates to receive Bernie Sanders' endorsement—and now she's advancing to the November election, where she's expected to easily win the heavily Democratic district.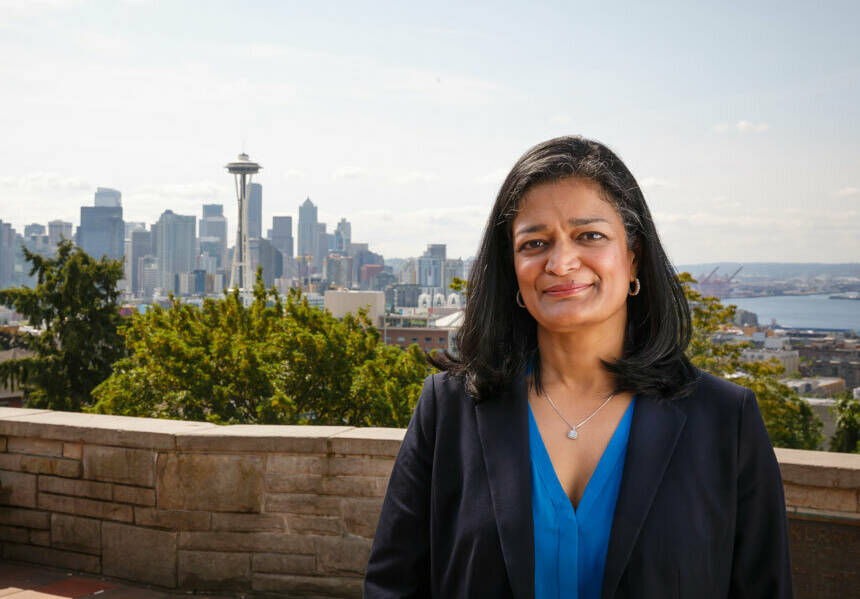 Prami­la Jaya­pal scored one of the biggest pro­gres­sive vic­to­ries of 2016, win­ning the Demo­c­ra­t­ic pri­ma­ry for Washington's lib­er­al 7th Dis­trict House seat with 38 per­cent of the vote, 17 points ahead of her near­est oppo­nent. Jaya­pal also has the dis­tinc­tion of being one of the first down-bal­lot 2016 can­di­dates to receive Bernie Sanders' endorse­ment. On the eve of her August 2 pri­ma­ry, Sanders said, ​"When you think of the polit­i­cal rev­o­lu­tion, I want you to think about Pramila."
I've always said, it's not about electing me, it's about electing "we."
Now she's advanc­ing to the Novem­ber elec­tion, where she's expect­ed to eas­i­ly win the heav­i­ly Demo­c­ra­t­ic district.
Born in 1965 in Chen­nai, India, Jaya­pal came to the Unit­ed States at 16 to study at George­town, going on to earn an MBA from North­west­ern. She emerged onto the Seat­tle polit­i­cal scene in the after­math of 9⁄11, found­ing a group to bat­tle dis­crim­i­na­tion against Arab, Mus­lim and South Asian com­mu­ni­ties. It would evolve into the largest immi­grant advo­ca­cy orga­ni­za­tion in Wash­ing­ton State. As a state sen­a­tor, Jaya­pal spon­sored leg­is­la­tion to raise the min­i­mum wage — a bill also up for a vote in the Novem­ber elec­tion — and intro­duced the Wash­ing­ton Promise Schol­ar­ship Pro­gram, which would pro­vide stu­dents with finan­cial needs and top grades two free years of com­mu­ni­ty college.
In These Times caught up with Jaya­pal by phone in late August to dis­cuss what's at stake with a Trump pres­i­den­cy — and what it would mean to be a U.S. Rep­re­sen­ta­tive with the pow­er of a move­ment behind her.
You won your pri­ma­ry by 17 per­cent­age points in a three-way race. How?
My mes­sage is res­onat­ing with peo­ple: mak­ing this econ­o­my work for work­ing fam­i­lies, tak­ing gov­ern­ment back from the wealthy. Peo­ple want some­body who is account­able to reg­u­lar folks and not to huge corporations.
It mat­ters when you have a real base and a real knowl­edge of the com­mu­ni­ties you're rep­re­sent­ing. That's why we orga­niz­ers need to be run­ning for polit­i­cal office. The things I'm run­ning on are things I've worked on my entire life: Social Secu­ri­ty, sin­gle-pay­er health­care, free col­lege, the Fight for $15, racial jus­tice, gen­der jus­tice, envi­ron­men­tal justice.
It's also about how we're run­ning the cam­paign. It's a move­ment cam­paign. We had 1,000 vol­un­teers. We knocked on 70,000 doors. We made over 140,000 phone calls. We were talk­ing to peo­ple. We were lis­ten­ing to what they have to say. I've always said, it's not about elect­ing me, it's about elect­ing ​"we."
What are your take­aways from Bernie Sanders' campaign?
Peo­ple are ready for a polit­i­cal rev­o­lu­tion. They want peo­ple of prin­ci­ple in pow­er. They want to be part of the move­ment that helped imple­ment that change. No sin­gle per­son, whether it's Bernie Sanders or me or any­body, is going to be able to do this on their own. We need a big­ger, stronger, broad­er move­ment. That's what Bernie has shown us. A lot of peo­ple are think­ing about run­ning for office now, think­ing of being engaged in the polit­i­cal process in a very dif­fer­ent way.
You've sound­ed the alarm about a Trump pres­i­den­cy. What would you say to ​"Nev­er Hillary" supporters?
It's not about par­ty uni­ty. As an immi­grant woman of col­or, I can­not afford to have Trump come close to the White House. We do tremen­dous dam­age to the coun­try if Trump wins with 40 per­cent of the vote because a bunch of peo­ple stay out and vote for third par­ty can­di­dates. A lot is at stake.
A Trump pres­i­den­cy will require an enor­mous amount of defense to stop ter­ri­ble things from hap­pen­ing. With a Clin­ton pres­i­den­cy, we will be on the offense. There will be times when we'll have to be on the defense, but we will also be able to work with the White House to try to push our ideas forward.
Are there any Bernie sup­port­ers in Con­gress you hope to work with?
A lot. Many of the mem­bers of the Con­gres­sion­al Pro­gres­sive Cau­cus: Kei­th Elli­son, Raúl Gri­jal­va, Zephyr Tea­chout, if she gets elect­ed, Russ Fein­gold in the Sen­ate. There's a whole group of Bernie sup­port­ers I am very excit­ed about work­ing with.
What role do you think the Pro­gres­sive Cau­cus should play — both in Con­gress and in the Demo­c­ra­t­ic Party?
It needs to con­tin­ue to put for­ward a pro­gres­sive vision of Amer­i­ca with spe­cif­ic action items and pieces of leg­is­la­tion. Some­times, that comes in the form of ​"mes­sage" bills that the move­ment can orga­nize around even if they won't pass. And some­times it's bud­get pro­vi­sos and oth­er mea­sures that fly very much under the radar but actu­al­ly move things in the right direc­tion. It's going to have to be a com­bi­na­tion of tac­tics, includ­ing work­ing and talk­ing with oth­er peo­ple. Even if they're not going to come on board for the whole agen­da, they may come on board for a piece of it.
What pro­gres­sive mea­sures have a chance of pass­ing under Clinton?
Immi­gra­tion reform, a $15 min­i­mum wage, poli­cies around afford­able child­care, paid sick leave and some tax reforms. Ban­ning cor­po­rate inver­sions and insti­tut­ing a finan­cial trans­ac­tions tax might be hard­er, but she has embraced them. Free col­lege. Extend­ing Medicare to a larg­er pop­u­la­tion. Health­care has been a crit­i­cal issue for her, and I do think she is on board to look at an option that gets us clos­er to single-payer.
Some say Trump's rise sig­nals a divide between white men and oth­er Amer­i­cans. Would you address that as a mem­ber of Congress?
A lot of lay­ers are involved. White men are con­cerned with their eco­nom­ic future, and my plat­form is about address­ing the scarci­ty that peo­ple are feel­ing: that they're one health cri­sis away from bank­rupt­cy, or can't afford to send their kids to col­lege, or can't earn a liv­ing wage that allows them to buy a home or put food on the table. Those are real issues — not just for white men but across the board. So there's a place for white men in our move­ment going for­ward. We have to address this fear and scarci­ty on an eco­nom­ic lev­el, and then maybe we can get at some of the oth­er pieces of the fear on a racial lev­el as well.
How do you plan to address sys­tem­at­ic racial injustice?
The crim­i­nal jus­tice sys­tem is one obvi­ous way. But even with­in the crim­i­nal jus­tice sys­tem, it isn't just get­ting rid of the pri­vate prison indus­tri­al com­plex, and it's not just get­ting rid of the felony mis­de­meanor cat­e­go­ry. It's also about legal rep­re­sen­ta­tion. Look at the pub­lic defense sys­tem: It's so bro­ken. The jury sys­tem: It's so bro­ken. The pros­e­cu­to­r­i­al sys­tem: It's so bro­ken. There's still no representation.
Edu­ca­tion is anoth­er huge buck­et. I've spent a lot of time work­ing on the oppor­tu­ni­ty gap — get­ting rid of sus­pen­sions and find­ing alter­na­tive ways to man­age chal­lenges in the class­room so that you don't have African-Amer­i­can kids get­ting sus­pend­ed when they're 2.
Wealth and inequal­i­ty are anoth­er piece. An Insti­tute of Pol­i­cy Stud­ies report says the aver­age black fam­i­ly would need 228 years to get the wealth of the aver­age white fam­i­ly. One of the report's rec­om­men­da­tions is to audit how fed­er­al poli­cies lead to inequal­i­ty. Many poli­cies, like the mort­gage tax deduc­tion, allow the wealthy to get wealthier.
What about the gen­der inequal­i­ty that's part of wealth inequality?
It's so huge. In the state Sen­ate, I intro­duced a bill to put $5.25 mil­lion into pre-appren­tice­ship pro­grams specif­i­cal­ly for women and peo­ple of col­or, because unless you tar­get invest­ments at women and at peo­ple of col­or, you do not get rid of that inequity. There are entire indus­tries that are pri­mar­i­ly low-wage women of col­or. If we were to focus on lift­ing up the wages of those indus­tries, we would actu­al­ly dra­mat­i­cal­ly affect the earn­ing poten­tial and the liv­ing con­di­tions of women of color.
What is the most effec­tive way to apply pres­sure, inside and out­side Congress?
We need to devel­op some new struc­tures that sup­port inside-out­side orga­niz­ing. Right now, folks on the out­side orga­nize and come up with a strat­e­gy and then try to push the per­son on the inside. When you have a move­ment orga­niz­er on the inside, then you can actu­al­ly cre­ate that struc­ture where we're plan­ning togeth­er. Not that we do all of our plan­ning togeth­er, but at least some of it is hap­pen­ing togeth­er. It's very excit­ing to think about hav­ing a crit­i­cal mass on the inside, and not just one person.
Rachelle Hamp­ton
is a Sum­mer
2015
edi­to­r­i­al intern at In These Times. She's a sopho­more study­ing jour­nal­ism at North­west­ern Uni­ver­si­ty and is involved with the black stu­dent life mag­a­zine, Pulse, and the North­west­ern alum­ni magazine.