Fight Against 'Right-to-Work' Not Over in Michigan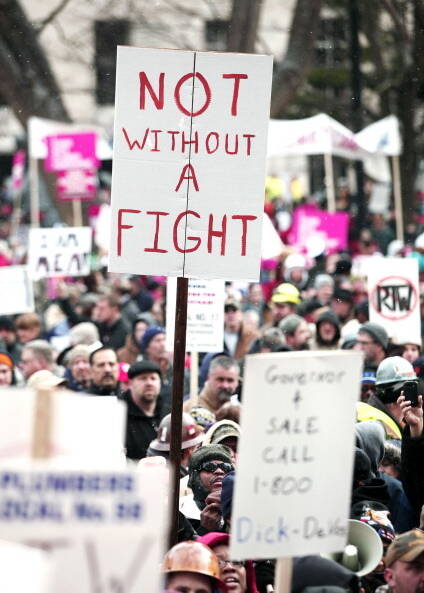 Last Decem­ber, Gov. Rick Sny­der out­raged unions and pro­gres­sives when he abrupt­ly signed two bills into law mak­ing Michi­gan the 24th so-called ​"right-to-work" state.
The laws — Pub­lic Act 349, gov­ern­ing pub­lic-sec­tor work­ers, and Pub­lic Act 348, apply­ing to the state's approx­i­mate­ly 600,000-strong pri­vate-sec­tor union work­force — allow work­ers to get union ben­e­fits such as con­trac­tu­al­ly guar­an­teed wages with­out pay­ing manda­to­ry union mem­ber­ship dues. Orga­nized labor has wide­ly decried right-to-work laws as dan­ger­ous to unions' finan­cial bases and, ulti­mate­ly, detri­men­tal to all workers.
Gov. Snyder's deci­sion sparked three sep­a­rate legal chal­lenges. Last Thurs­day, the state Court of Appeals ruled 2 – 1 on the suit filed by pub­lic employ­ees against P.A. 349, the pub­lic-sec­tor right-to-work law. The court upheld the law, but unions have vowed to appeal, as well as to pur­sue two oth­er law­suits and a polit­i­cal cam­paign to oust Sny­der and the Repub­li­can-con­trolled state legislature.
Hen­ry William Saad and Pat Donofrio, two judges appoint­ed by for­mer Michi­gan Repub­li­can Gov. John Engler, wrote the Court of Appeals' major­i­ty opin­ion. The judges deter­mined that the ​"polit­i­cal, eco­nom­ic and social con­tro­ver­sies under­ly­ing the enact­ment of P.A. 349 are unre­lat­ed" to the court's duty to inter­pret the state constitution.
Instead, these two judges wrote that they ruled on the ​"lim­it­ed, nar­row" ques­tion brought for­ward by the plain­tiffs: Whether the state leg­is­la­ture or the Michi­gan Civ­il Ser­vice Com­mis­sion, a state gov­ern­ment body that is part of the exec­u­tive branch, had juris­dic­tion over union fees.
The major­i­ty decid­ed state law­mak­ers had such pow­er, uphold­ing the law. But dis­sent­ing judge Eliz­a­beth Gle­ich­er — appoint­ed by for­mer Demo­c­ra­t­ic Gov. Jen­nifer Granholm — argued that the Civ­il Ser­vice Com­mis­sion was estab­lished pre­cise­ly to ​"insure that the polit­i­cal pref­er­ences or the leg­is­la­ture would not infect" pub­lic employees.
Some ana­lysts feel that the major­i­ty deci­sion did not ful­ly reflect the con­text of the acts' pas­sage. ​"Right-to-work was passed dur­ing one of the most unde­mo­c­ra­t­ic and par­ti­san ses­sions in Michi­gan his­to­ry," says Roland Zul­lo, a research sci­en­tist at the Uni­ver­si­ty of Michigan's Insti­tute for Labor and Indus­tri­al Rela­tions. ​"A friend­lier court could have matched these facts against the orig­i­nal pur­pose of the Civ­il Ser­vice Com­mis­sion and decid­ed differently."
Now, a group of Michi­gan labor unions rep­re­sent­ing pub­lic employ­ees plans to fight the decision.
​"The rul­ing is almost cer­tain to be appealed to the state Supreme Court," says Karen Mur­phy, spokes­woman for the Michi­gan State Employ­ees Asso­ci­a­tion, which is one of the law­suit plain­tiffs and which rep­re­sents about 4,700 of the 36,000 union­ized state gov­ern­ment work­ers affect­ed by right-to-work.
Win­ning any sub­se­quent court chal­lenge, how­ev­er, will be tough for Michi­gan unions.
Anoth­er plain­tiff in that suit, Unit­ed Auto Work­ers (UAW) Local 6000, rep­re­sents about 17,500 Michi­gan gov­ern­ment work­ers. One UAW offi­cial, who asked to remain anony­mous so he could dis­cuss the case can­did­ly, said that the state Supreme Court's Repub­li­can lean­ings will make per­suad­ing its jus­tices to over­rule the Court of Appeals a ​"dif­fi­cult task." The offi­cial not­ed that, like the Michi­gan Court of Appeals, Repub­li­can gov­er­nors appoint­ed the major­i­ty of the state Supreme Court justices.
While unions rep­re­sent­ing pub­lic employ­ees respond to the Court of Appeals deci­sion, a sep­a­rate law­suit filed joint­ly by ACLU of Michi­gan and Michi­gan unions before Ing­ham Coun­ty Cir­cuit Judge William Col­lette has yet to be heard.
That suit seeks to over­turn both right-to-work laws, alleg­ing the laws were passed in an unde­mo­c­ra­t­ic process that vio­lat­ed the state Open Meet­ings Act. On Decem­ber 6, 2012, the plain­tiffs point out, the Repub­li­can-con­trolled state leg­is­la­ture locked Capi­tol doors to bar some jour­nal­ists and mem­bers of the pub­lic from entry.
​"Because the statute was enact­ed while the pub­lic was being locked out of the capi­tol," explains ACLU of Michi­gan staff attor­ney Dan Korobkin, ​"the law should be inval­i­dat­ed, which is a rem­e­dy pro­vid­ed by the Open Meet­ings Act itself."
Michi­gan Attor­ney Gen­er­al Bill Schuette, a Repub­li­can, has now twice appealed to dis­miss the ACLU case — and Judge Col­lette has let the case pro­ceed both times. But Col­lette has also said from the bench that ACLU has a ​"real uphill bat­tle" in its fight against right-to-work. Accord­ing to Korobkin, the tri­al date has been set for March 2014.
Addi­tion­al­ly, the Michi­gan AFL-CIO has filed a suit in fed­er­al court con­tend­ing that the new right-to-work laws vio­late pro­vi­sions of the Nation­al Labor Rela­tions Act. Giv­en that sim­i­lar law­suits against oth­er state right-to-work laws, such as leg­is­la­tion in Indi­ana, failed, it is not clear if the fed­er­al chal­lenge has legs.
The best chance unions have to over­turn right-to-work, then, may be through vot­ing out Sny­der and Repub­li­can state law­mak­ers in the Novem­ber 2014 elec­tion. ​"I believe the issue will be cen­tral to the 2014 elec­tion," says Zul­lo. ​"Labor has a large task in that they will have to alter the com­po­si­tion of the legislature."
In the mean­time, pub­lic employ­ee unions must bar­gain for a new con­tract: Col­lec­tive bar­gain­ing agree­ments relat­ing to Michi­gan civ­il ser­vice employ­ees expire on Decem­ber 31.
Zul­lo sus­pects that ​"unions have their plat­forms in place" in these upcom­ing nego­ti­a­tions and ​"lit­tle will change" right away in unions' bar­gain­ing posi­tions because of right-to-work. ​"The more sig­nif­i­cant change will be long-term," Zul­lo says.
Full dis­clo­sure: Unit­ed Auto Work­ers is a web­site spon­sor of In These Times.
Matthew Blake
is a free­lance jour­nal­ist based in Chica­go. He has writ­ten for the
Chica­go Jour­nal, Wash­ing­ton Month­ly, Wash­ing­ton Inde­pen­dent
and
The Nation
, among oth­er publications.