In a recent arti­cle, Wash­ing­ton Post food colum­nist Tamar Haspel took author and jour­nal­ist Michael Pol­lan to task for blam­ing the farm bill for the siz­able price dif­fer­ence between junk food and fresh veg­eta­bles. She wrote:
"…Pol­lan, whose work I'm a fan of, held up a pack­age of Twinkies (which cost 99 cents) and a bunch of car­rots ($2.99). The Twinkies are a com­plex food with 39 ingre­di­ents, and the car­rots are ​'a very sim­ple bunch of roots,' he said. So why do the car­rots cost so much more?"
Haspel added: ​"The idea that whole­some foods are expen­sive and junk foods are cheap because of the sys­tem of sub­si­dies in the farm bill per­vades the con­ver­sa­tion about food pol­i­cy. But that idea has one very big prob­lem. It's false."
She points out that veg­eta­bles would cost more to pro­duce than the corn and soy in junk foods, regard­less of the fed­er­al sub­si­dies deter­mined by the farm bill. Accord­ing to one of the econ­o­mists with whom Haspel spoke, those sub­si­dies account for only ​"a pen­ny and a half" of the cost of the Twinkies and three cents worth of the cost of the carrots.
This point is worth exam­in­ing — and it points to a much larg­er, more com­plex set of facts about our food sys­tem. As Pol­lan and oth­er farm pol­i­cy reform advo­cates rou­tine­ly point out, the impacts of gov­ern­ment farm pro­grams reach far beyond those that can be eas­i­ly trans­lat­ed into quan­ti­ties and prices.
Gov­ern­ment-sub­si­dized crop insur­ance, farm loans, tax cred­its, agri­cul­tur­al research and edu­ca­tion, as well as envi­ron­men­tal and pub­lic-health exemp­tions for farm­ing have all helped shape the basic struc­ture and func­tion of the agri-food industry.
The Twinkie-car­rot exam­ple is sim­ply a con­ve­nient, acces­si­ble entry point to those who are new to learn­ing about our nation's many mis­placed pub­lic pol­i­cy pri­or­i­ties. And treat­ing it as the begin­ning and end of the dis­cus­sion dis­tracts from use­ful pub­lic discourse.
Pri­or to the 1970s, fed­er­al farm pro­grams exist­ed as a way to keep enough fam­i­ly farm­ers on the land to pro­vide food secu­ri­ty for the nation. The basic strat­e­gy was to sta­bi­lize farm incomes at lev­els that would keep farm­ing prof­itable and food prices afford­able. The 1970s brought a dra­mat­ic shift, as agri­cul­tur­al effi­cien­cy became the goal. The mod­el of choice for accom­plish­ing this new pol­i­cy objec­tive was indus­tri­al­iza­tion: spe­cial­iza­tion, stan­dard­iza­tion and con­sol­i­da­tion of control.
Farm pro­grams shift­ed from sta­bi­liz­ing the farm-food econ­o­my to sub­si­diz­ing the agri-food indus­try. And the farm bill shift­ed from sup­port­ing food pro­duc­tion and dis­tri­b­u­tion to food man­u­fac­tur­ing and mar­ket­ing. The pri­ma­ry advan­tage for row crops like corn and soy over fruits and veg­eta­bles is that field crops were eas­i­er to indus­tri­al­ize and it was eas­i­er to devel­op farm poli­cies to mit­i­gate the risks inher­ent in their industrialization.
For exam­ple, fruit and veg­etable pro­duc­tion involved poten­tial­ly hun­dreds of dif­fer­ent crops and pro­duc­tion sys­tems, where­as com­mod­i­ty crop pro­duc­tion has been spe­cial­ized to include just a hand­ful of plants — corn, soy­beans, wheat, rice, sug­ar cane, beets and a few oth­ers — using stan­dard­ized pro­duc­tion prac­tices. With this stan­dard­iza­tion, farm­ers were able to grow and con­sol­i­date. As a result, farms became larg­er and owned by few­er oper­a­tors. Farm con­sol­i­da­tion made it much eas­i­er to influ­ence the effi­cien­cy of pro­duc­tion using a sim­pler and more man­age­able set of farm poli­cies, such as crop insur­ance and com­mod­i­ty-linked direct payments.
The indus­tri­al­iza­tion of Amer­i­can agri­cul­ture was well intend­ed. But it failed to pro­vide food secu­ri­ty: A high­er per­cent­age of Amer­i­cans are food-inse­cure today than dur­ing the 1960s. It has also fueled an epi­dem­ic of obe­si­ty and diet-relat­ed health prob­lems that threat­en the phys­i­cal and eco­nom­ic future of the country.
We know now that ​"cheap food" will not elim­i­nate hunger. Even our pub­lic food-assis­tance pro­grams leave food secu­ri­ty up to the recip­i­ents' food choic­es at the gro­cery store. And we have focused on pro­vid­ing cheap calo­ries and have done essen­tial­ly noth­ing to ensure that the agri-food sys­tem will actu­al­ly meet the nutri­tion­al needs of any­one — let alone meet the basic food needs of every­one. Instead, we have allowed food pro­cess­ing, dis­tri­b­u­tion, and retail­ing to become dom­i­nat­ed, if not out­right con­trolled, by a few giant agribusi­ness cor­po­ra­tions that have to com­pete with oth­er pub­licly trad­ed cor­po­ra­tions for investor capital.
This means they have been under con­stant pres­sure to increase sales by more than the increas­es in food con­sump­tion asso­ci­at­ed with nor­mal pop­u­la­tion growth — which has been grow­ing about 1 per­cent per year. To meet this goal, these cor­po­ra­tions make foods with addic­tive prop­er­ties to max­i­mize con­sump­tion — which is how we end­ed up with Twinkies on the shelves. But human stom­ach capac­i­ty is lim­it­ed. And a more promis­ing strat­e­gy for main­tain­ing cor­po­rate growth has been to sell more foods whose val­ue comes from some­thing oth­er than the food itself.
Rather than pro­vide food secu­ri­ty, fed­er­al sub­si­dies have pro­vid­ed these food com­pa­nies with cheap, reli­able sources of raw mate­ri­als to be man­u­fac­tured into what Pol­lan calls ​"food-like substances."
You see, only about 15 per­cent of retail food costs paid by con­sumers are account­ed for by the cost of agri­cul­tur­al raw mate­ri­als paid to farm­ers. This is down from 35 to 40 per­cent dur­ing the 1960s and ear­ly 1970s. The ​"non-farm" food costs include trans­porta­tion, man­u­fac­tur­ing, pack­ag­ing, mar­ket­ing and cor­po­rate prof­its. For exam­ple, the farm share of a consumer's dol­lar spent for fresh veg­eta­bles is about 25 cents but is only about 5 cents for bread, because the cost of bread includes more man­u­fac­tur­ing, pack­ag­ing and advertising.
Per­haps more impor­tant for food man­u­fac­tur­ers, gov­ern­ment farm pro­grams ensure a sta­ble, as well as abun­dant, sup­ply of raw mate­ri­als. Farm­ers can focus on max­i­mum pro­duc­tion with tax­pay­ers absorb­ing most of the risks of over­pro­duc­tion. This allows food man­u­fac­tur­ers to finance con­tin­u­ing expan­sion with­out the risk of scarci­ty or high cost of raw materials.
By focus­ing on food items that can min­i­mize the cost of raw mate­r­i­al rel­a­tive to retail val­ue — like Twinkies — the cor­po­ra­tion can grow faster than actu­al food is con­sumed. It has been eas­i­er to add val­ue to cheap corn and soy by mak­ing Twinkies than to add val­ue to car­rots, although big car­rots are some­times chopped into ​"baby car­rots" and sold for a premium.
In order for mar­kets to actu­al­ly serve the col­lec­tive inter­est of soci­ety, as econ­o­mists sug­gest today's mar­kets do, sev­er­al con­di­tions would need to exist. Con­sumers would have to have accu­rate infor­ma­tion about the nutri­tion­al val­ue of the foods they eat and their ulti­mate health con­se­quences. But most do not. There would need to be a large num­ber of alter­na­tive proces­sors, dis­trib­u­tors, retail­ers, and oth­er providers of a wide vari­ety of foods. Obvi­ous­ly there is not. Con­sumers would need ​"real" food choic­es rather than ​"illu­sion­ary" food choic­es cre­at­ed by pro­cess­ing and adver­tis­ing. Per­sua­sive and mis­lead­ing adver­tis­ing would need to be pro­hib­it­ed, par­tic­u­lar­ly to kids — and it is not. These are essen­tial con­di­tions of an authen­tic free-mar­ket economy.
Our epi­dem­ic of obe­si­ty, diet-relat­ed dis­ease, and per­sis­tent hunger are nat­ur­al con­se­quences of a failed food sys­tem that has been propped up for near­ly 50 years by failed gov­ern­ment farm poli­cies includ­ing the farm bill. Even if mar­kets worked effec­tive­ly, they would not pro­vide food secu­ri­ty. Hunger is a con­se­quence of income and eco­nom­ic inequity, not food scarci­ty. We will not fix farm pol­i­cy or our food sys­tem until we are will­ing to con­front these realities.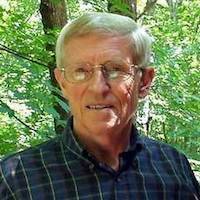 John Ikerd
was raised on a small dairy farm in south­west Mis­souri. He received his BS, MS, and Ph.D. degrees in agri­cul­tur­al eco­nom­ics from the Uni­ver­si­ty of Mis­souri. After work­ing in pri­vate indus­try, he spent
30
years in var­i­ous pro­fes­so­r­i­al posi­tions at North Car­oli­na State Uni­ver­si­ty, Okla­homa State Uni­ver­si­ty, Uni­ver­si­ty of Geor­gia and the Uni­ver­si­ty of Mis­souri before retir­ing in ear­ly
2000
. He now spends most of his time writ­ing and speak­ing on issues relat­ed to sus­tain­abil­i­ty with an empha­sis on eco­nom­ics and agri­cul­ture. He cur­rent­ly resides in Fair­field, Iowa and is the author of sev­er­al books includ­ing
Essen­tials of Eco­nom­ic Sus­tain­abil­i­ty
,
Sus­tain­able Cap­i­tal­ism
,
A Return to Com­mon Sense and Cri­sis and Oppor­tu­ni­ty: Sus­tain­abil­i­ty in Amer­i­can Agri­cul­ture
and
A Rev­o­lu­tion of the Mid­dle
.