San Francisco Union Members and Occupy Protesters 'Foreclose' Wells Fargo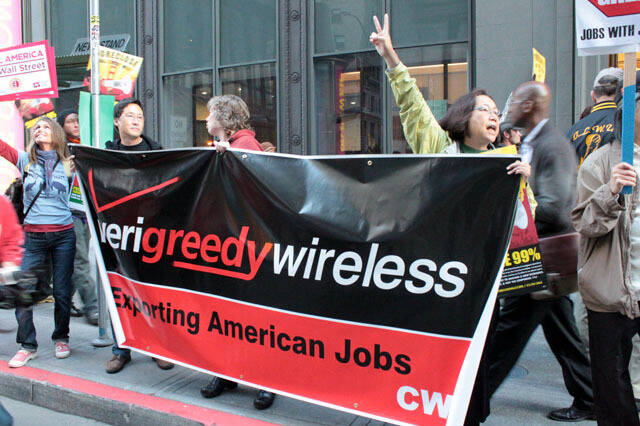 SAN FRANCISCO — With ​"We are the 99%!" chants echoing across the streets and placards with slogans like: ​"Ya Basta!" and ​"Make the Banks Pay!/¡Que Pagan los Bancos!", ​"people power" was very visible in downtown San Francisco Wednesday.
A few hundred people on the frontlines of the economic crisis protested in front of Wells Fargo bank's headquarters, as a smaller group of people attempted to block four entrances to the building and shut it down. They posted large foreclosure notices — held up with ​"We Are the 99% stickers — on bank doors. Eleven people were arrested, cited and released.
Angry over big bank bailouts, predatory lending, tax loopholes, the foreclosure crisis and mounting attacks on the poor and working class, people turned out in the early morning hours at the Occupy SF encampment in front of the U.S. Federal Reserve building, and then marched to Wells Fargo. The action — which belied news reports that San Francisco hasn't lived up to rich activist history during the last month — was the latest in a growing popular protest movement across the nation by people fed up with injustice spawned by levels of inequality not seen in America since just before the 1929 stock market crash.
Many labor organizations participated, including teachers, The California Nurses Association (CNA), UNITE HERE Local 2850, and Jobs with Justice, who held up large banners reading ​"Veri-Greedy Wireless" (CWA and IBEW workers continue to negotiate a new contract with Verizon after a major strike in August.) The crowd was loud, vocal and organized.
"One of the biggest current labor struggles happening in the country right now is happening at Verizon," Gordon Mar of Jobs With Justice said. ​"We're here to link the Verizon labor struggle with the whole fight against Wall Street greed. The Verizon labor fight is one of the most extreme examples of corporate greed right now — with the gross overcompensation of the top executive happening at the same time trying to push workers wages and benefits down drastically."
Max Bell Alper, with UNITE HERE Local 2850, said he was participating because of his family's experiences and what he has seen and heard among workers.
"We're seeing this happen to thousands of our members across the country. They are losing their homes and not being able to make ends meet," Alper said. ​"For me, my parents lost their home. Then they moved into my uncle's home, and that was foreclosed on. Now my grandmother is facing foreclosure. First it was with Wells Fargo, and now it is with Chase. I think enough is enough. While these banks got bailed out with our money, we got kicked out."

​"When you have people gathered and surrounding the bank demanding to be recognized and respected, then for each individual inside that bank, they are forced to ask themselves: ​'What am I doing? What role am I playing in this?' That's how the policies change," said Nell Myhand, Oakland Homeower Clinic Coordinator for Causa Justa :: Just Cause, a housing and immigrant rights organization in the Bay Area (full disclosure: I have worked for that organization).

Author and journalist Naomi Klein made a surprise appearance on Wednesday, telling the crowd: ​"Occupy Wall Street is not a place. It's a frame of mind. We will not pay for your crisis. This moment is about saying: No More. And more than that, we want our money back!"

With the unemployment rate still very high and a tsunami of foreclosures in California, communities of color and working-class Americans are demanding debt/​mortgage relief, employment that pays a sustainable wage, and an end to profiting off foreclosures and private immigrant detention center schemes. These communities are bearing the brunt of the economic crisis.

Pilar Schiavo, 36, a CNA organizer from Oakland told the SF Bay Guardian: ​"I'm fed up with social inequity. I'm tired of corporate America buying politicians and passing laws to benefit the rich."

Laurene Francois, of CJJC and one of the 30 people who barricaded the entryways of Wells Fargo, said: ​"We came here today to demand a moratorium on all the foreclosures that are happening, and to demand that families be kept inside their houses. I am here as a queer woman of color, as an organizer, as an individual, and as a Haitian daughter of first generation Haitian immigrant parents. We are the 99 percent!"

15 million families owe more on their mortgage then their home is worth. Manuel de Paz, for instance, has owned his Oakland home for 10 years. He is not in the grips of foreclosure but is typical of a lot of people struggling to pay on an inflated mortgage. He works 12 hours a day just to meet his mortgage payment based on the $325,000 that he paid for is home — now worth only about $150,000.

​"More than 70 percent of my personal income goes to the mortgage. … I want to negotiate with the Bank of America. I called the bank and spent hours being passed from department to department. They aren't helping me. They are taking advantage," de Paz said.
 Since 2007, 2.5 million foreclosures have taken place across the nation. Another 6.9 million homes are in the process of being foreclosed on, and a projected 5.7 million borrowers are at risk of foreclosure.

​"This is a big labor struggle, [about] whether workers can have decent jobs with decent benefits, so its important that people support this struggle," Sheila Tulley, a lecturer at San Francisco State University, member of the California Faculty Association and a member of Jobs with Justice.
Rose Arrieta
was born and raised in Los Angeles. She has worked in print, broadcast and radio, both mainstream and community oriented — including being a former editor of the Bay Area's independent community bilingual biweekly El Tecolote. She currently lives in San Francisco, where she is a freelance journalist writing for a variety of outlets on social justice issues.