Nations around the world have been meet­ing for more than two decades to solve the loom­ing prob­lem of cli­mate change. Dur­ing their most recent gath­er­ing — held last Novem­ber in the Moroc­can city of Mar­rakesh — they intend­ed to iron out some of the glar­ing issues remain­ing from the much-laud­ed 2015 Paris Agreement.
In Paris, coun­tries agreed on a goal to lim­it glob­al warm­ing to two degrees Cel­sius above pre-indus­tri­al lev­els. This is a thresh­old that sci­en­tists gen­er­al­ly agree is the point of no return. Yet, shock­ing­ly, almost every­one agrees that the Paris accord — even if com­plete­ly enforced — would fail to achieve that goal.
The arro­gance problem
There's an even more basic prob­lem, though, which aris­es from our gen­er­al arro­gance about the plan­et itself. That arro­gances lies in our assump­tion that we have all of the infor­ma­tion that we need to make accu­rate pre­dic­tions about the earth's inher­ent­ly com­plex cli­mate systems.
What's becom­ing clear, how­ev­er, is that we bare­ly under­stand how these sys­tems work; and fur­ther­more, that there are fac­tors at play which now make even the most dis­mal pre­dic­tions of cli­mate sci­en­tists down­right optimistic.
Greenland's ice sheet is a good exam­ple. Cli­mate sci­en­tists pre­dict­ed a cer­tain amount of melt­ing and decay of the sheet, but those pre­dic­tions are prov­ing to be far wide of the mark. The death spi­ral of the ice sheet has accel­er­at­ed in ways that sci­en­tists sim­ply couldn't predict.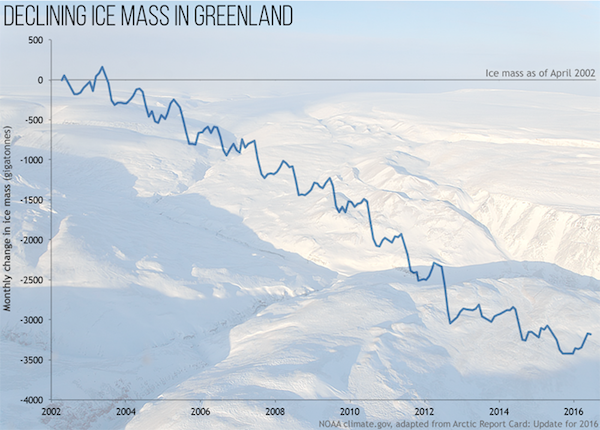 As it has since 2002, the Green­land ice sheet con­tin­ued to lose mass in 2016. (Info­graph­ic: noaa​.gov)
So, first, we have a glob­al cli­mate agree­ment that won't stop the huge impacts of glob­al warm­ing. And sec­ond, there's a very high like­li­hood that even the Paris Agree­ment, such as it is, is based on mod­els that we erro­neous­ly believe are correct.
Some sci­en­tists pre­dict that the melt­ing of the Green­land ice sheet alone could pro­duce four feet of ocean rise. That's enough to put big chunks of coast­line around the world underwater.
Yet we don't have to wait to see the impact of glob­al cli­mate change. Small island nations have already become the front line. The gov­ern­ments of Palau, Kiri­bati, Fiji, and the Mal­dives are work­ing to buy land in oth­er coun­tries to relo­cate their res­i­dents. Rather than just a truth that is ​"incon­ve­nient," these nations face the prospect of being wiped com­plete­ly from the world map.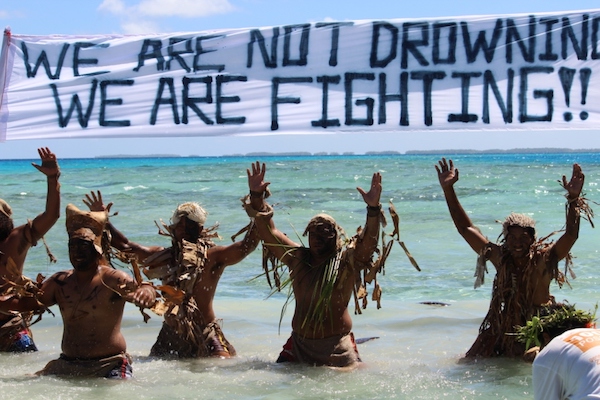 Ris­ing sealevels are over­tak­ing the Pacif­ic Island nation of Kiri­bati. They aren't alone. (Pho­to: 350​.org)
One would think that such a cog­ni­tive dis­so­nance — island nations who con­tributed the least to glob­al warm­ing are the ones being dri­ven to extinc­tion by those who con­tributed the most — would lead to real push-back by the peo­ple most affect­ed. But while those nations have been vocal advo­cates for glob­al action at inter­na­tion­al cli­mate change gath­er­ings, they have failed to take more con­fronta­tion­al actions against the nations that are now killing them off. Part of the rea­son is their depen­dence on for­eign aid from the very nations that are caus­ing their demise, and the sad lega­cy of colo­nial­ism that has left deep finan­cial ties between the island nations and their for­mer colonizers.
It's a sur­re­al moment: Indi­vid­u­als and nation-states would gen­er­al­ly employ the nor­mal rules of fault and lia­bil­i­ty to deal with these harms. Yet those rules — seem to be sus­pend­ed. And nature and ecosys­tems have gen­er­al­ly been for­got­ten in the mix.
The right to climate
In 2010, a small group of lawyers began work­ing with gov­ern­men­tal offi­cials in the Mal­dives to pro­pose anoth­er course. Small island nations would have gone on the offense, using their leg­is­la­tures and gov­ern­ments to hold oth­er nation­al gov­ern­ments and cor­po­ra­tions account­able for cli­mate change impacts. For the first time, these island nations would have sought not only direct com­pen­sa­tion from those actors for past and cur­rent harms, but court orders stop­ping cli­mate-change-caus­ing emissions.
While not sup­plant­i­ng inter­na­tion­al agree­ments like the Paris accord, advo­cates of this work would cre­ate a dif­fer­ent path. They would rely on tra­di­tion­al rules of lia­bil­i­ty, com­pen­sa­tion, and injunc­tive relief to stop ongo­ing harm. They would oper­ate par­al­lel to those car­ry­ing out the imple­men­ta­tion of glob­al agree­ments, hedg­ing bets on which path can stop island nations from dis­ap­pear­ing into the sea.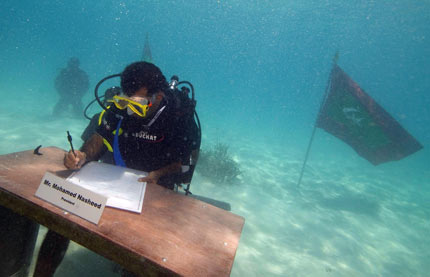 In 2009, Mal­dives Pres­i­dent Mohamed Nasheed signs a dec­la­ra­tion call­ing for a glob­al reduc­tion in car­bon emis­sions dur­ing the first under­wa­ter cab­i­net meet­ing in the Mal­dives. (Pho­to / cap­tion: www1​.rfi​.fr)
This small group of lawyers and gov­ern­ment offi­cials in Mal­dives devel­oped a frame­work that would cod­i­fy a ​"right to cli­mate" for the peo­ple of those islands and the islands them­selves, with­in either nation­al leg­is­la­tion or new con­sti­tu­tion­al amendments.
Indeed, the ​"right to cli­mate" is not a new right, but an ancient one. It is the right to have con­di­tions con­ducive to life, and the right to self-deter­mi­na­tion and sur­vival. A fed­er­al judge in the Unit­ed States recent­ly rec­og­nized that such a right is cen­tral to bedrock guar­an­tees of life and liberty.
Account­abil­i­ty: juris­dic­tion and com­pen­sato­ry damages
Pre­cise­ly because indus­tri­al­ized and indus­tri­al­iz­ing nations around the world have vio­lat­ed those rights by past and con­tin­ued emis­sions, the actors respon­si­ble for those emis­sions must be held direct­ly account­able. Nation-states and res­i­dents would enforce those rights. They would file law­suits with­in island nation courts against ener­gy cor­po­ra­tions and nation­al gov­ern­ments that have tak­en lit­tle action to ensure their emis­sions do not cause glob­al harm.
Deter­min­ing which actors are most respon­si­ble for the sink­ing of island nations wouldn't require new math. Part of the Paris accord requires the com­pi­la­tion of data on emit­ters in all nation­al sig­na­to­ries. Much of that infor­ma­tion is already com­mon­ly avail­able. It is there­fore pos­si­ble, for instance, to say that Duke Ener­gy — a util­i­ty cor­po­ra­tion oper­at­ing in the Unit­ed States — is par­tial­ly respon­si­ble, to a cer­tain per­cent­age, for the fate of the peo­ple of Kiribati.
Because the harm from those emis­sions is inflict­ed direct­ly on the peo­ple and ecosys­tems of island nations, domes­tic courts with­in those nations would have juris­dic­tion over those law­suits. Law­suits would seek both com­pen­sato­ry dam­ages — for past, cur­rent, and future harm — as well as injunc­tive relief order­ing cor­po­ra­tions and gov­ern­ments to cease harm­ing the peo­ple and ecosys­tems of those island nations.
Cor­po­ra­tions and gov­ern­ments most like­ly lack any assets with­in the island nations that could be tak­en to sat­is­fy an award. There­fore, suc­cess­ful plain­tiffs would present both those awards and court orders to the courts of oth­er nations for enforce­ment. Iron­i­cal­ly, it is cor­po­ra­tions them­selves that have pio­neered the very multi­na­tion­al sys­tem of debt lia­bil­i­ty that would make such enforce­ment possible.
At the very least, those judg­ments would begin to estab­lish a clear and legal cause-and-effect that has been large­ly absent from the world stage. Even if those judg­ments were blocked from col­lec­tion for one rea­son or anoth­er, they would begin to force action in ways that the genial, place-at-the-table glob­al cli­mate accords have been unable or unwill­ing to force.
Reg­u­lat­ing harm, legal­izes harm
The sheer immen­si­ty of the impacts of glob­al warm­ing forces us to rec­og­nize that humans on this plan­et do, indeed, have the pow­er to bring the earth's com­plex web of life crash­ing to the ground. Not only is this bad for all oth­er liv­ing beings on the plan­et, but our col­lec­tive actions also place the very sur­vival of the human race in the balance.
Up until now, the law and gov­ern­ments of indus­tri­al­ized nations have attempt­ed to pro­vide pro­tec­tion for the plan­et through a sys­tem of envi­ron­men­tal reg­u­la­tions, which have come up short. Those reg­u­la­tions are often draft­ed by the very cor­po­ra­tions osten­si­bly reg­u­lat­ed by them. They most often serve to legal­ize indus­tri­al prac­tices, such as frack­ing for oil and gas. These prac­tices cause severe harm to the envi­ron­ment (includ­ing glob­al warm­ing pollution).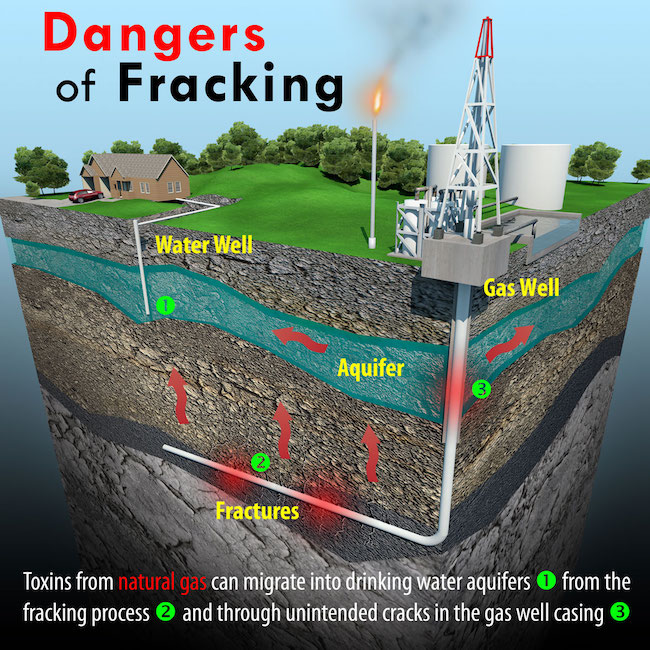 The dan­gers of frack­ing. (Info­graph­ic: celdf​.org)
While indige­nous nations have long seen nature as some­thing oth­er than a ​"thing" that can be bought and sold, West­ern sys­tems of law con­tin­ue to clas­si­fy nature and ecosys­tems as mere­ly prop­er­ty. Because of that, the more nature that can be owned, the more can be legal­ly destroyed by the owner.
The com­mu­ni­ty rights movement
That's start­ing to change in the Unit­ed States. Over the past fif­teen years, three dozen munic­i­pal gov­ern­ments across the coun­try have adopt­ed local laws rec­og­niz­ing that nat­ur­al com­mu­ni­ties and ecosys­tems have a right to exist and flour­ish. Part of a move­ment toward ​"com­mu­ni­ty rights," these com­mu­ni­ties have deter­mined that the sur­vival of ecosys­tems in their munic­i­pal­i­ties is so inter­twined with their own well-being, that nature must be pro­tect­ed by the high­est pro­tec­tions avail­able with­in the law.
In 2008, the peo­ple of Ecuador blazed an inter­na­tion­al path toward the ​"rights of nature" by includ­ing recog­ni­tion of ecosys­tem rights with­in their nation­al con­sti­tu­tion. Since then, res­i­dents have brought enforce­ment cas­es under those pro­vi­sions. They have suc­ceed­ed in judi­cial recog­ni­tion of the con­sti­tu­tion­al rights of rivers and oth­er nat­ur­al com­mu­ni­ties in Ecuador.
While sci­en­tists and cli­mate nego­tia­tors most­ly speak in terms of human impacts, we must begin to see the plan­et and its atmos­phere as an ecosys­tem unto itself, wor­thy of being accord­ed the high­est rights-pro­tec­tions. Thus, not only are some com­mu­ni­ties work­ing to adopt a human ​"right to cli­mate" as part of their laws, but many are also work­ing to adopt a ​"right of the cli­mate" — the right of the planet's ecosys­tem to be healthy and unaf­fect­ed by human-caused glob­al warm­ing emis­sions. This is a recog­ni­tion that the cli­mate itself, as an inte­gral func­tion of plan­et earth, must be rec­og­nized as hav­ing rights of its own; rights that we are duty-bound to pro­tect and enforce.
If we fail to use this piv­otal moment to tran­scend our 18th cen­tu­ry gov­ern­ing sys­tems, which gen­er­al­ly ignore nature and ecosys­tems, then over the next sev­er­al decades small islands nations will see their very coun­tries under­wa­ter. If we do not evolve toward a sys­tem of law and gov­er­nance that incor­po­rates an indige­nous under­stand­ing of nature, then over the next sev­er­al decades we could suf­fer a thou­sand more cli­mate con­fer­ences and it won't make a bit of difference.
There is a dif­fer­ent path, one that com­mu­ni­ties in the Unit­ed States and activists in oth­er nations are pio­neer­ing. They're mov­ing for­ward with the under­stand­ing that the change that is need­ed won't imme­di­ate­ly be embraced at the inter­na­tion­al lev­el. Rather, it will require first mak­ing change at home, where it is pos­si­ble to do so now, in our own communities.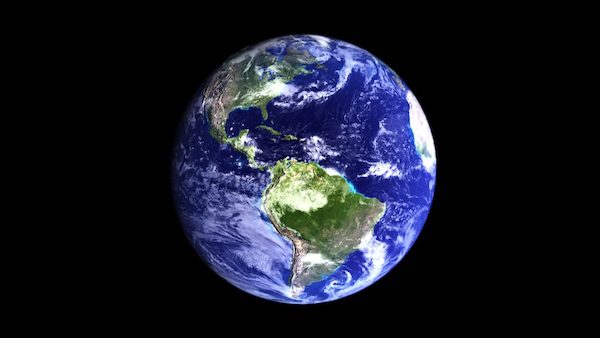 "Earth" by Kevin Gill. (Pho­to: Flickr / Cre­ative Commons)
(​"Com­mu­ni­ty Rights Paper #15 — Stop­ping Cli­mate Change: The Slow Train to Nowhere" was orig­i­nal­ly pub­lished on the Com­mu­ni­ty Envi­ron­men­tal Legal Defense Fund (CELDF) web­site and is repost­ed on Rur­al Amer­i­ca In These Times with per­mis­sion from the author. For fur­ther read­ing on the com­mu­ni­ty rights move­ment, check out a copy of We the Peo­ple: Sto­ries from the Com­mu­ni­ty Rights Move­ment in the Unit­ed States by Thomas Linzey and Anneke Campbell.)
[If you like what you've read, help us spread the word. ​

"

Like" Rur­al Amer­i­ca In These Times on Face­book. Click on the ​

"

Like Page" but­ton below the bear on the upper right of your screen. Also, fol­low RAITT on Twit­ter @RuralAmericaITT]