Editor's Note: The Com­mu­ni­ty Envi­ron­men­tal Legal Defense Fund (CELDF) is a non­prof­it pub­lic inter­est law firm that works to advance demo­c­ra­t­ic, eco­nom­ic, social and envi­ron­men­tal rights over those of cor­po­ra­tions. In its own words, the orga­ni­za­tion ​"assists com­mu­ni­ties across the Unit­ed States to chal­lenge the unjust and harm­ful eco­nom­ic sys­tem we live under." Thomas Linzey, a fre­quent Rur­al Amer­i­ca In These Times con­trib­u­tor, is CELDF's co-founder and exec­u­tive direc­tor. In the fol­low­ing essay he dis­cuss­es strat­e­gy — what works and what doesn't when it comes to accel­er­at­ing sys­temic change.
While I shouldn't be sur­prised any­more when some­one at a con­fer­ence asks why CELDF's com­mu­ni­ty orga­niz­ing doesn't take on cap­i­tal­ism direct­ly, the ques­tion still star­tles me. The inti­ma­tion is that our work nib­bles around the edges, rather than being focused on direct­ly chang­ing the under­ly­ing eco­nom­ic sys­tem that rewards com­mu­ni­ty-destroy­ing behav­ior. There­fore, the ques­tion sug­gests, CELDF's work is des­tined to fail.
Not only does the ques­tion reflect a mis­un­der­stand­ing of our work, it also buys into the myth of how sys­tems change.
For decades now, lib­er­al aca­d­e­mics and activists have decried the way our eco­nom­ic sys­tem works. They've picked our sys­tem apart piece by piece, while doing var­i­ous post-mortems on the ways that cap­i­tal­ism has respond­ed to every­thing from the Great Depres­sion to envi­ron­men­tal­ism. They've writ­ten enough books to fill a library, giv­en enough speech­es for every­one to have grown tired of hear­ing them, and tak­en up enough of the pub­lic space so that the con­tours of the ele­phant in the room have now been ful­ly dis­sect­ed ad nau­se­um.
From one van­tage point, they've done yeoman's work: Fash­ion­ing a com­pre­hen­sive cri­tique of cap­i­tal­ism has not been an easy task. This is par­tic­u­lar­ly true in the face of the rabid ​"free mar­ket" func­tionar­ies who march in lock­step across every tele­vi­sion and news­pa­per. But from anoth­er van­tage point, that cri­tique has birthed a lit­mus test for activism that is impos­si­ble to achieve. It says that unless you're propos­ing a whol­ly pack­aged sys­tem of replace­ment, and the means for that whole­sale replace­ment, then the work you're doing doesn't have a prayer of chang­ing anything.
Is whole­sale replace­ment nec­es­sary? Per­haps, but the eco­nom­ic mod­els drawn up in lec­ture halls like­ly aren't the sub­sti­tutes. Those are gen­er­al­ly mired in the ​"old left" way of think­ing — plac­ing trust in gov­ern­ment rather than in pri­vate mar­ket actors. One could argue, how­ev­er, that both sys­tems have equal­ly tor­tured Earth on the rack, the only dif­fer­ence being whether pri­vate cor­po­ra­tions or gov­ern­ments are at the wheel.
Back to basics
So, we need to start with the fun­da­men­tals. As his­to­ri­an Richard Gross­man once declared, the bedrock func­tion­ing of all cur­rent eco­nom­ic sys­tems requires con­trol over Earth's resources, and the labor nec­es­sary to extract them. For that pur­pose, those eco­nom­ic sys­tems cre­ate cen­tral­ized author­i­ties that either con­trol nat­ur­al resources and labor them­selves, or cre­ate the con­di­tions for pri­vate enti­ties to do so.
In the Unit­ed States, our fed­er­al and state legal sys­tems fall into the lat­ter cat­e­go­ry — serv­ing to pro­tect, insu­late and enhance the author­i­ty of pri­vate enti­ties to run the show.
This is why ecosys­tems and nature are con­sid­ered ​"prop­er­ty" in the eyes of the law. It's why the own­er of those ecosys­tems has the legal author­i­ty to destroy them. It's why work­ers lack con­sti­tu­tion­al rights in the work­place against their employ­ers, why oil and gas can be legal­ly tak­en from landown­ers with­out their per­mis­sion under ​"forced pool­ing" laws, and why peo­ple with­in their own cities, towns, vil­lages and coun­tries are pro­hib­it­ed from ban­ning cor­po­rate fac­to­ry farms, genet­i­cal­ly mod­i­fied organ­isms, oil and gas extrac­tion, and a litany of oth­er harm­ful cor­po­rate projects.
Those wish­ing to change that sys­tem must come to grips with the fact that peo­ple do not embrace whole­sale change imme­di­ate­ly. First, a cor­po­rate hog farm sites next door to them, or pes­ti­cide spray­ing threat­ens their organ­ic gar­den. Log­i­cal­ly, their focus is on stop­ping those activ­i­ties that are threat­en­ing to harm them.
When they learn that the cur­rent sys­tem of law forces them to endure those harms, they begin to under­stand that what is hap­pen­ing in their com­mu­ni­ty is not an iso­lat­ed exam­ple. Instead, their prob­lem is struc­tur­al, and not eas­i­ly fixed. With­out the community's first­hand expe­ri­ence, and the guid­ance of those who have seen it before, a cri­tique of the sys­tem at the out­set sim­ply finds no purchase.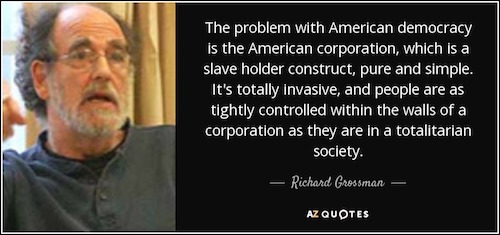 (Image: AZ quotes)
Chang­ing the sys­tem by seiz­ing it
CELDF's work offers a frame through which to under­stand that world. It works with those peo­ple on the receiv­ing end of the sys­tem, to become the ones who change it.
They begin chang­ing it by seiz­ing their munic­i­pal gov­ern­ments to free them­selves from a num­ber of con­trol­ling legal doc­trines of the past. These include: cor­po­rate con­sti­tu­tion­al ​"rights" that guar­an­tee that cor­po­rate deci­sions over­ride com­mu­ni­ty deci­sion-mak­ing; the author­i­ty of state gov­ern­ment and the fed­er­al gov­ern­ment to pro­tect busi­ness enti­ties by pre­empt­ing the com­mu­ni­ty from adopt­ing laws that inter­fere with cor­po­rate pro­pos­als; and the legal doc­trines that require the state government's pre-approval for law­mak­ing by the community.
By forc­ing a recog­ni­tion of their own right to gov­ern them­selves, and using that right to stop that which is harm­ing them, peo­ple and com­mu­ni­ties seek to put cap­i­tal­ism in a box. It is a box in which projects that vio­late the rights of com­mu­ni­ties and nature are pro­hib­it­ed. Those projects that do not vio­late rights, are not prohibited.
The work seeks noth­ing less than to remove cen­tral­ized con­trol over nature and peo­ple by build­ing a bul­wark of rights for human and nat­ur­al com­mu­ni­ties. With those forced changes to the sys­tem, is it still capitalism?
Would any­one care if it was?
Through those exi­gen­cies of the moment, it is time to cre­ate a new eco­nom­ic and polit­i­cal sys­tem piece by piece — one that has, per­haps, nev­er been seen before. The new­ness of the moment, far from giv­ing us pause, should instead val­i­date our belief that it's the only work worth doing.
(​"Cap­i­tal­ism: The Ele­phant in the Room" was first pub­lished on CELD­F's web­site and is repost­ed on Rur­al Amer­i­ca In These Times with per­mis­sion from the author. For more infor­ma­tion about the Com­mu­ni­ty Envi­ron­men­tal Legal Defense Fund, click here.)