Rehabilitating a Monster: George W. Bush and the Bankruptcy of Civility Politics
On the laundering of a war criminal.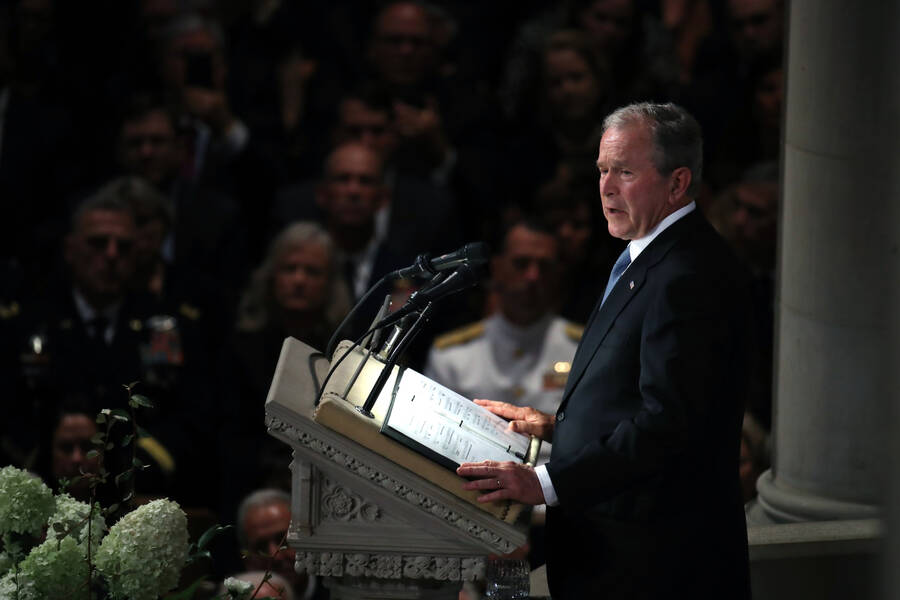 The death of an Amer­i­can states­man adds a new vol­ume to the body of tra­di­tion which so vig­or­ous­ly demands that we excul­pate and rewrite the his­to­ry of the dead. In the case of John McCain, the machine of rein­ven­tion began to creak and whirr before a sin­gle clod of earth was thrown. The mourn­ers who stood behind the lectern to mark the pas­sage of McCain were them­selves noto­ri­ous char­ac­ters plucked from the exten­sive chap­ters of U.S. empire — from Barack Oba­ma to Hen­ry Kissinger to George W. Bush. The cast­ing aside of bipar­ti­san divi­sions in defense of ​"Amer­i­can great­ness" was both an affir­ma­tion of Wash­ing­ton's polit­i­cal class, and a legit­imiza­tion of their immense pow­er. There, shel­tered inside a house of god, a flock of griev­ing mon­sters inton­ing hymns and call­ing for uni­ty laid bare the cru­el­ty of the Amer­i­can psy­che, which remains unmoved by death abroad.
One would think that history would have long destroyed any semblance of nostalgia for George W. Bush, but the political fanfiction abounds—in spite of it.
What draws the most fever­ish pomp and cir­cum­stance in the Unit­ed States is the death of the politi­cian, no mat­ter their crimes. The obses­sive cov­er­age of John McCain's metic­u­lous­ly planned, five-day mourn­ing peri­od is only the lat­est install­ment. The late sen­a­tor's pro­ces­sion was one of grandeur, with Democ­rats and Repub­li­cans fill­ing the pews, each tak­ing pos­ses­sion of his­to­ry in order to sanc­ti­fy John McCain and extol the fab­ri­cat­ed virtues of the coun­try he once served. Among them was none oth­er than George W. Bush, who stood before a throng of bereaved col­leagues and spoke of how McCain ​"respect­ed the dig­ni­ty inher­ent in every life." George W. Bush would know a thing or two about human dig­ni­ty, as he vio­lent­ly stripped so many of it him­self. Only a few years have crawled by since the Sen­ate Intel­li­gence Com­mit­tee's inves­ti­ga­tion into the CIA's deten­tion and enhanced inter­ro­ga­tion pro­gram — which cul­mi­nat­ed in a report that was more than 500 pages long.
For the Amer­i­cans who now obsess over the cha­rade of civil­i­ty, the graph­ic details have had lit­tle impact on their atti­tude towards George W. Bush, who sur­vived his two terms immune from pros­e­cu­tion. A dis­til­la­tion of the Amer­i­can fix­a­tion with respectabil­i­ty and keep­ing up polit­i­cal appear­ances comes from The New York­er​'s Susan B. Glass­er, who wrote on Sep­tem­ber 1 that John McCain's funer­al ​"was a meet­ing of the Resis­tance." Archi­tects of war and human suf­fer­ing thumb­ing their nose at the divi­sive­ness of polit­i­cal the­ater con­vinced Glass­er that a cav­al­cade of influ­en­tial mourn­ers con­sti­tutes a mean­ing­ful oppo­si­tion. The columnist's descrip­tion of McCain's wake was mawk­ish, bor­der­ing on absurd. Glass­er writes, ​"For a moment, at least, [Democ­rats and Repub­li­cans] still lived in the Amer­i­ca where Oba­ma and Bush and Bill Clin­ton and Dick Cheney could all sit in the same pew, in the same church, and sing the same words to the patri­ot­ic hymns that made them all teary-eyed at the same time."
It isn't that, col­lec­tive­ly, Amer­i­cans have short his­tor­i­cal mem­o­ries, but that they will­ful­ly ignore the ruinous con­se­quences of rein­ven­tion. The laity sim­ply do not care, and the Fourth Estate has all but facil­i­tat­ed Bush's come­back. It's for this rea­son that a for­mer pres­i­dent, who over­saw an apoc­a­lyp­tic shock and awe cam­paign, was reha­bil­i­tat­ed as a home­ly and whole­some painter. George W. Bush, whose admin­is­tra­tion wan­ton­ly poi­soned Iraq with near­ly 10,000 rounds of deplet­ed ura­ni­um, and gave license to tor­ture and indef­i­nite incar­cer­a­tion with­out due process in off­shore deten­tion sites like the noto­ri­ous Guan­tá­namo Bay, was invit­ed last year to sit across from Ellen DeGeneres and share self-dep­re­cat­ing barbs with Jim­my Kim­mel to the ben­e­fit of his pro­mo­tion­al book tour. Miss­ing were the images of chil­dren suf­fer­ing the after­math of U.S.-made radioac­tive weapon­ry and the haunt­ing pho­tographs of Iraqi men lan­guish­ing in Abu Ghraib. There was no mean­ing­ful dis­cus­sion of the glob­al sur­veil­lance appa­ra­tus that tar­get­ed and racial­ized Mus­lims. The body politic has not even come to terms with the full extent of this blood­bath. One would think that his­to­ry would have long destroyed any sem­blance of nos­tal­gia for George W. Bush, but the polit­i­cal fan­fic­tion abounds — in spite of it.
Writ­ing for Esquire in March, author Charles P. Pierce marked the anniver­sary of the inva­sion and sub­se­quent occu­pa­tion of Iraq, which he said the for­mer cra­dle of civ­i­liza­tion has not recov­ered from. ​"The most remark­able result of all," Pierce wrote, ​"is that almost nobody paid any real price for their role in this night­mar­ish escapade. … The green rooms should have emp­tied as a day of atone­ment. George W. Bush should have spent the day in the stocks." Fast for­ward a mere six months and the same Charles P. Pierce finds him­self ​"moved to a kind of opti­mism" by eulo­gies deliv­ered over the heavy air of a representative's death, a num­ber of which may very well have been com­posed by speech­writ­ers. ​"This was a funer­al with more than one pur­pose — to cel­e­brate the pass­ing of John McCain and to sum­mon a rebirth of pol­i­tics that did not so much reek of grift and vod­ka," Pierce argues. I can't attest to whether or not the smell of vod­ka was present in the cathe­dral that day, but the mias­ma of nation­al­ism — the vio­lent rack­et which so effort­less­ly con­quers and exter­mi­nates — bathed the room. Pierce dou­bled down, decry­ing what he described as ​"lefty hot takes." He wrote, ​"House is on fire. Don't care who brings a hose." The reck­less­ness of lib­er­al dis­course around Trump has led to this rav­en­ous hunger for a sav­ior that will lib­er­ate them from his embar­rass­ing brutish­ness, and most recent­ly that's result­ed in con­jur­ing up fire­fight­ers at a funeral.
Roqayah Chamsed­dine
is a writer, researcher, and host of the Delete Your Account pod­cast. Her work has appeared in The Syd­ney Morn­ing Her­ald, ELLE Mag­a­zine, Splin­ter, Over­land Jour­nal, among others.