A Healthcare Industry Built on Premature Death
On the cruelty of private healthcare corporations.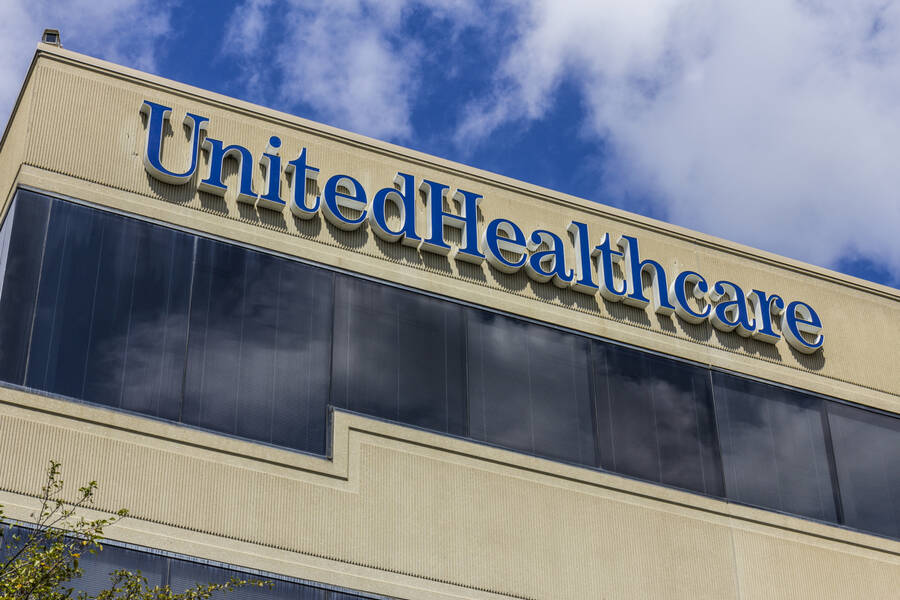 In Indi­ana, a school super­in­ten­dent is fac­ing three felony charges after using her son's insur­ance in Jan­u­ary to help a sick stu­dent access a doc­tor and pre­scrip­tion antibi­otics. Dr. Casey Smither­man, who on Feb­ru­ary 1 resigned from Elwood Com­mu­ni­ty School Cor­po­ra­tion, has helped the 15-year-old stu­dent before, accord­ing to reports: She pur­chased his clothes, and even helped clean his house. This time, she had noticed his absence from school and took it upon her­self to bring him to a med­ical cen­ter. In an apolo­getic pub­lic state­ment, the super­in­ten­dent explained that she was aware that the stu­dent did­n't have insur­ance and so, out of con­cern for his well-being, want­ed to do all she could ​"to help him get well." Court doc­u­ments reveal the total insur­ance claim was $233.
The industry is an architecture of misery, extracting profits from suffering.
Near­ly one year ago, Dr. Smither­man was a cel­e­brat­ed pres­ence in Elwood. In June of last year, she received a glow­ing pro­file in Indi­ana's Her­ald Bul­letin and enthu­si­as­tic appro­ba­tion from James Snapp, Super­in­ten­dent of the Browns­burg Com­mu­ni­ty School Cor­po­ra­tion. ​"I think in a time when our stu­dents were fac­ing greater chal­lenges with pover­ty increas­ing, Casey real­ly con­nect­ed with fam­i­lies, whether that was con­nect­ing them with the food pantry or the cloth­ing pantry," Snapp explained to The Her­ald Bul­letin. Smither­man's atti­tude was made explic­it in this pro­file: ​"Kids can't learn if they're hun­gry and are scared to go home," she told The Her­ald Bul­letin. The num­ber of chil­dren liv­ing in pover­ty in the state of Indi­ana is a stag­ger­ing 301,000. In Smither­man's dis­trict alone, at least 78 per­cent of stu­dents qual­i­fy for free or reduced-cost lunch­es. The pover­ty rate in Elwood: 24.2 per­cent.
Indi­ana pros­e­cu­tor Rod­ney Cum­mings has argued that while Smither­man's actions should­n't jeop­ar­dize her career, ​"there have to be some con­se­quences." It appar­ent­ly isn't enough to watch Amer­i­cans fall into inca­pac­i­tat­ing debt in order to access life-sav­ing med­ical care: Those who pro­vide suc­cour in times of hard­ship must be held to even greater account. The impulse to dis­ci­pline acts of sol­i­dar­i­ty is espe­cial­ly cru­el in a sys­tem that leaves the poor to fend for them­selves. Smither­man's case fur­ther empha­sizes the inten­si­ty of the health­care indus­try's aggra­va­tion of class inequal­i­ty, the result of which leaves impov­er­ished com­mu­ni­ties at the mer­cy of exploita­tive pop-up emer­gency clin­ics and vol­un­teer-based road­side med­ical ser­vices that com­pel fam­i­lies to camp out in their vehi­cles some­times two days in advance for a chance at care.
The recent death of attor­ney and dis­abil­i­ty rights activist Car­rie Ann Lucas demon­strates the cru­el­ty of pri­vate health­care cor­po­ra­tions, which act as the ver­i­ta­ble death pan­els the poor were told to fear if the pri­vate health insur­ance mar­ket were mean­ing­ful­ly chal­lenged. Forty-sev­en-year-old Lucas, a legal assis­tant for the Col­orado Cross-Dis­abil­i­ty Coali­tion, was forced to ration insulin, the price of which has been ris­ing steadi­ly. Unit­ed­Health­care, the pri­vate insur­er tasked with facil­i­tat­ing the med­ical treat­ments Lucas need­ed to live, denied her access to a spe­cif­ic inhaled antibi­ot­ic in order to save them­selves $2,000. The com­pa­ny raked in a total rev­enue of $56.5 bil­lion in 2018. Her death came ​"after an arbi­trary denial from an insur­ance com­pa­ny caused a pletho­ra of health prob­lems, exac­er­bat­ing her dis­abil­i­ties and even­tu­al­ly lead­ing to her pre­ma­ture death," Lucas' obit­u­ary reads.
The death of Lucas is not the first, nor will it be the last, of its kind. In 2015, a crowd­fund­ing cam­paign was pub­lished on behalf of an Okla­homa moth­er, Oran­na Cun­ning­ham, diag­nosed with stage 4 nasopha­ryn­geal can­cer. In 2014, her insur­er Aet­na not only denied her CAT scans, but denied fund­ing for Pro­ton beam ther­a­py, which would have cost $92,000 and pos­si­bly saved her life. Aetna's 2015 finan­cial data reveals that in 2014 the com­pa­ny's total rev­enue was rough­ly $58 bil­lion. Aet­na's CEO at the time was Mark Bertoli­ni, who has over­seen the insur­ance giant since 2010, is ​"the rich­est per­son in Hart­ford," accord­ing to Forbes, with a for­tune of $180 million.
The descrip­tion of the fundrais­er for Cun­ning­ham reveals the full bar­bar­i­ty of insur­ance com­pa­nies like Aet­na, and the pain of the fam­i­lies who are forced to beg for some­body—any­body—to help them. The fam­i­ly was only able to raise $17,810, and in May 2015 Oran­na died at the age of 54. In Novem­ber 2018, an Okla­homa jury award­ed the fam­i­ly $25.5 mil­lion, one juror say­ing that Oran­na Cun­ning­ham was ​"failed at every turn," and anoth­er juror declar­ing that ​"Aet­na need­ed to pay."
Vic­tims of preda­to­ry insur­ance com­pa­nies are hang­ing on by the thinnest of ropes, often­times work­ing them­selves to the bone even when their bod­ies can­not han­dle it. Take, for exam­ple, leg­endary gui­tarist Dick Dale, who passed away on March 16 at the age of 81. He was left tour­ing in his final years in order to stay alive. ​"I can't stop tour­ing because I will die. Phys­i­cal­ly and lit­er­al­ly, I will die," he said in 2015. Despite his med­ical needs, and the fact that he was ​"dou­ble insured," insur­ance com­pa­nies were refus­ing to pay for nec­es­sary sup­plies Dale required to avoid stoma infec­tions that result­ed in excru­ci­at­ing pain and humil­i­at­ing colosto­my bag rup­tures, in one case while he was on tour, just before he was about to take the stage. ​"My fecal mat­ter went down my legs, up my pants, my beau­ti­ful cow­boy shirt — every­thing," Dale revealed to Bill­board. ​"We didn't have a back­up pair of pants, because it was a one-off. [My wife] took every­thing off and washed my jeans, my stock­ings, my shoes, my shirt, every part of me. Then we wrung them out wet, and I did the con­cert with wet pants and shirts. After that, I sat at the merch table, and signed for five and a half hours, me still in my wet clothes."
A report from Dal­las Morn­ing News tells the sto­ry of Heather Pow­ell who, after being shot and left par­a­lyzed, need­ed in-home aids to wash her body and cook her food. In 2017, Pow­ell's insur­er Supe­ri­or Health­Plan decid­ed to cut the hours she'd be under the care of an aid from 12 hours to 7, declar­ing the ser­vices ​"not med­ical­ly nec­es­sary." The Dal­las Morn­ing News report dis­clos­es, ​"Alone for 17 hours a day. Unable to move. In pain. Pow­ell began to plan her suicide."
This is no fault in the sys­tem: The indus­try is an archi­tec­ture of mis­ery, extract­ing prof­its from suf­fer­ing. Accord­ing to a report pub­lished in 2017 by The Doc­tor-Patient Rights Project, insur­ance com­pa­nies ​"denied treat­ment cov­er­age to one-in-four (24 per­cent) patients with a chron­ic or per­sis­tent ill­ness or con­di­tion; 41 per­cent of the patients denied cov­er­age were denied once, while 59 per­cent were denied mul­ti­ple times." Thir­ty-four per­cent of patients who had been denied cov­er­age were forced to put off treat­ment, despite hav­ing a chron­ic ill­ness. An astound­ing 70 per­cent of treat­ments for a chron­ic ill­ness denied by insur­ers were for con­di­tions referred to as ​"seri­ous." The grim reaper dis­guis­es him­self in many forms, in this case that of an insur­ance agent.
The case of Dr. Casey Smither­man unveils the bound­less ruth­less­ness of the health­care sys­tem, one which pun­ish­es the sick, deny­ing them the care that they are right­ful­ly deserv­ing of. ​"I'm not jus­ti­fy­ing what I did," Smither­man told CBS News in Jan­u­ary. ​"But I also think it's hard to look in the face of that sick kid and so until you're in that boat you don't know."
Dr. Adam Gaffney, instruc­tor in med­i­cine at Har­vard Med­ical School and a pul­monary and crit­i­cal care doc­tor at the Cam­bridge Health Alliance, tells In These Times that his expe­ri­ence as a physi­cian has con­tin­ued to reaf­firm the need for a ​"de-com­modi­tized, free-at-point-of-use nation­al health program."
"You see peo­ple harmed by our sys­tem — patients going with­out need­ed care, skip­ping dos­es of med­ica­tions because they can't afford copays, avoid­ing tests," he says. ​"You quick­ly real­ize that the idea that patients need ​'skin in the game' to ensure they appro­pri­ate­ly ​'con­sume' health­care is a moral trav­es­ty of an idea, an insult to the sick: almost nobody wants health­care they do not need." Being a patient and nav­i­gat­ing the trau­mat­ic and unfa­mil­iar med­ical world is dif­fi­cult enough, Dr. Gaffney says. ​"We need not com­pound that suf­fer­ing," he argues, ​"with finan­cial wor­ries, med­ical bills, the anx­i­ety of insur­ance net­works and high deductibles, the fear of bankruptcy."
Roqayah Chamsed­dine
is a writer, researcher, and host of the Delete Your Account pod­cast. Her work has appeared in The Syd­ney Morn­ing Her­ald, ELLE Mag­a­zine, Splin­ter, Over­land Jour­nal, among others.