We Can't Stop the Horrors of Trump's Immigration Crackdown Unless We Reckon With Obama's Role
As Trump threatens sweeping raids, it's important to remember how we got here.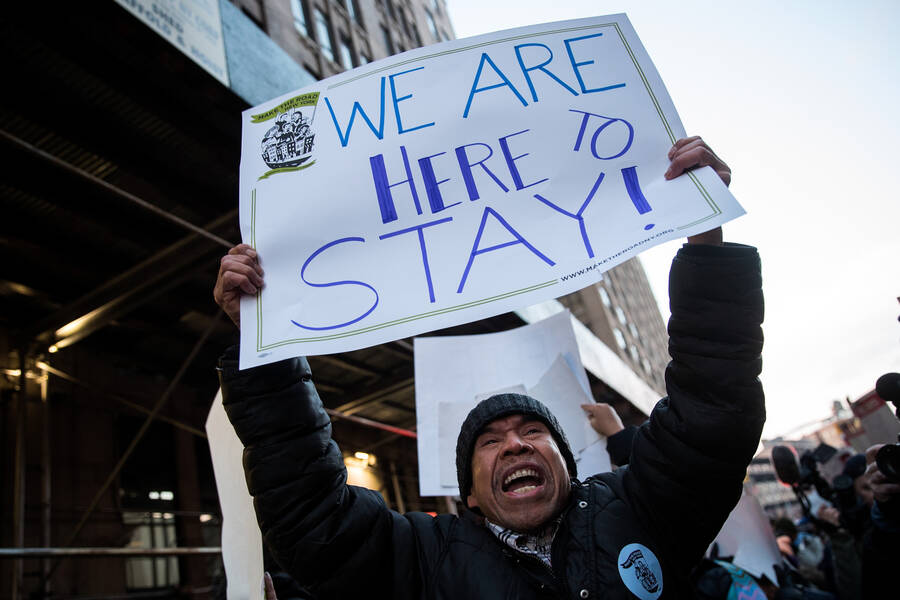 The makeshift encamp­ment out­side of the McAllen Bor­der Patrol sta­tion in McAllen, Texas — an over­crowd­ed slum where asy­lum seek­ers are forced to sleep on the ground out­side in piles with­in a nar­row com­pound fence — is a har­row­ing exam­ple of the insti­tu­tion­al bru­tal­i­ty at the heart of bor­der polic­ing and immi­gra­tion con­trol. Those fit­ting the nation­al secu­ri­ty state's clas­si­fi­ca­tion of ​"ille­gal alien" are sub­ject­ed to vio­lent admin­is­tra­tive deten­tion process­es and a myr­i­ad of enforce­ment pro­ce­dures intend­ed to dis­cour­age unau­tho­rized bor­der cross­ings, includ­ing fam­i­ly sep­a­ra­tion. And now they face Trump's renewed threat to unleash sweep­ing depor­ta­tion raids this week­end. Trump's spec­tac­u­lar crack­down — while an esca­la­tion — is not new: These abus­es are an endur­ing lega­cy of the Oba­ma pres­i­den­cy, which — along with pre­vi­ous admin­is­tra­tions — laid the ground­work for the poli­cies being con­demned today.
The liberal impulse to absolve the Obama administration of responsibility in order to sanitize the former president's record collapses in the face of what we know happened inside the facilities Obama oversaw.
Tar­get­ing aid workers
The Oba­ma years saw Ari­zon­a's noto­ri­ous SB 1070, as well as the fed­er­al pros­e­cu­tion of human­i­tar­i­an work­er Dan Mil­lis who pro­vid­ed water, food and first aid sup­plies for migrants (Mil­lis was cleared of wrong­do­ing). In 2013, bor­der patrol agents were caught on cam­era destroy­ing water jugs, steal­ing blan­kets and inten­tion­al­ly sab­o­tag­ing oth­er sup­plies left out for migrants. The Oba­ma admin­is­tra­tion, which spent an astound­ing $18 bil­lion on bor­der enforce­ment the pre­vi­ous year alone, took no action to stop this treach­ery. The same year bor­der patrol agents were caught obstruct­ing aid sup­plies, there was a vio­lent con­fronta­tion at San Ysidro dur­ing which bor­der patrol agents pep­per sprayed migrants who were accused of rush­ing across the bor­der. Accord­ing to avail­able Cus­toms and Bor­der Pro­tec­tion (CBP) data, between 2012 and 2016, bor­der patrol agents were using pep­per spray an aver­age of 1.3 times per month.
Long­stand­ing immi­gra­tion pol­i­cy aims to pun­ish not only those who fit the state's clas­si­fi­ca­tion of ​"ille­gal oth­er," but those offer­ing reprieve, includ­ing cler­gy mem­bers and human rights advo­cates. This trend has esca­lat­ed under the Trump admin­is­tra­tion: No More Deaths vol­un­teer Scott War­ren is being retried after a jury refused to con­vict him for sup­ply­ing two migrants cross­ing the Sono­ran Desert with clean clothes, food and beds. If con­vict­ed, War­ren faces 10 years in prison. Amnesty Inter­na­tion­al describes the state's tar­get­ing of advo­cates like War­ren as ​"polit­i­cal­ly moti­vat­ed legal harass­ment" that flouts both U.S. and inter­na­tion­al law. Amnesty's report also argues the unlaw­ful sur­veil­lance watch­list of jour­nal­ists, lawyers, and human rights defend­ers com­piled by the Depart­ment of Home­land Secu­ri­ty has a chill­ing effect on human­i­tar­i­an relief.
Dis­plac­ing and impris­on­ing people
The crim­i­nal­iza­tion of aid work­ers stems from the pro­found dehu­man­iza­tion of immi­grants them­selves. Sophia E. Gurulé, a staff attor­ney for the immi­gra­tion prac­tice of the Bronx Defend­ers, rep­re­sents indi­gent peo­ple detained dur­ing their depor­ta­tion pro­ceed­ings. She tells In These Times that in Sep­tem­ber of 2018 she wit­nessed an Immi­gra­tion and Cus­toms Enforce­ment (ICE) attor­ney refer to a per­son as a ​"bar­bar­ian" dur­ing a bond hear­ing to jus­ti­fy that per­son­'s con­tin­ued incar­cer­a­tion and fam­i­ly sep­a­ra­tion. ​"When the State employs racists like this, it shows their true moti­va­tions: to police, incar­cer­ate and deport Black and brown peo­ple no mat­ter the dev­as­ta­tion they inflict on fam­i­lies," she says. ​"We can­not repeat their racist rhetoric and per­pet­u­ate this dehumanization."
Gurulé describes a depor­ta­tion appa­ra­tus that mir­rors the oppres­sive crim­i­nal jus­tice sys­tem: Peo­ple are detained for what is the equiv­a­lent of ​"pre-tri­al deten­tion," and they are impris­oned due to pover­ty, she notes. In 2018, immi­gra­tion judges rou­tine­ly set medi­an bonds at $7,500, which means that donat­ing to bond funds is cru­cial, Gurulé says, to ​"help lib­er­ate peo­ple from jails so they can fight for their right to stay in the Unit­ed States with the imme­di­ate sup­port of their fam­i­ly, friends, com­mu­ni­ty and legal services."
Bren­da Val­ladares, vol­un­teer orga­niz­er with immi­grant rights group Movimien­to Cosecha, has wit­nessed first-hand the impact of immi­gra­tion poli­cies on immi­grant com­mu­ni­ties. Val­ladares, who spent a month walk­ing with the migrant car­a­van from Ciu­dad de Méx­i­co to Tijua­na, tells In These Times that Trump arrived dur­ing a peri­od when Cen­tral Amer­i­can nations, specif­i­cal­ly Hon­duras, Nicaragua and El Sal­vador, are going through pro­found inter­nal polit­i­cal turn­ing points, caus­ing more chil­dren and moth­ers to flee. In Hon­duras, the deep-root­ed his­to­ry of U.S. exploita­tion of the peo­ple and the land includes a direct role in 2009 coup. In Nicaragua, the U.S.-backed ​"con­tra" war against the San­din­ista gov­ern­ment unleashed a tor­rent of hor­rors, from kid­nap­pings and tor­ture to rape and wide­spread executions.
Caging chil­dren
The rise in the num­ber of women and chil­dren attempt­ing to cross the bor­der dur­ing the Oba­ma admin­is­tra­tion was labeled a ​"human­i­tar­i­an cri­sis" by media out­lets and law­mak­ers. In 2014, dur­ing a CNN-host­ed town hall event, Hillary Clin­ton talked about send­ing a clear mes­sage to this vul­ner­a­ble com­mu­ni­ty: ​"Just because your child gets across the bor­der, that doesn't mean your child gets to stay." At the time, Vox writer Dara Lind said Clin­ton's pro­pos­al would ​"mean end­ing asy­lum as we know it." Oba­ma made fam­i­ly deten­tions a cor­ner­stone of his response to dis­place­ment from Cen­tral Amer­i­ca, defy­ing crit­i­cisms from immi­grant orga­ni­za­tions, main­stream human rights groups, and the U.S. government's own Com­mis­sion on Civ­il Rights.
The Oba­ma admin­is­tra­tion's prac­tice of fam­i­ly deten­tion esca­lat­ed under Trump to become fam­i­ly sep­a­ra­tion, while the num­ber of child migrants in deten­tion has climbed, arguably play­ing a role in the ris­ing death toll among chil­dren. ​"This means that [some] deten­tion cen­ters that were cre­at­ed to inflict tor­ture and trau­ma to a demo­graph­ic of most­ly men, are now being used against women and chil­dren as well. Chil­dren can­not endure those same con­di­tions," Val­ladares says.
With Don­ald Trump at the helm, there has been a greater pub­lic focus on the con­di­tions of chil­dren and moth­ers. Yet there is a glar­ing fail­ure to exam­ine the vio­lence against men, includ­ing those with crim­i­nal con­vic­tions and migrat­ing work­ers, which has result­ed in the sup­pres­sion of the largest demo­graph­ic in the deten­tion pop­u­la­tion. Accord­ing to Val­ladares, this neg­li­gence has allowed for their deten­tion and depor­ta­tion to be per­mis­si­ble. ​"This is some­thing the Oba­ma admin­is­tra­tion did a lot," she says. ​"They excused the 3 mil­lion depor­ta­tions by say­ing that they were ​'crim­i­nals.' The label con­tin­ues to be used today, even though the rea­son why peo­ple are get­ting crim­i­nal charges is for doing things that have been inten­tion­al­ly crim­i­nal­ized to increase the num­ber of deportations."
Val­laderes empha­sizes, ​"We need to chal­lenge this bad and good immi­grant narrative."
A cul­ture of violence
The lib­er­al impulse to absolve the Oba­ma admin­is­tra­tion of respon­si­bil­i­ty in order to san­i­tize the for­mer pres­i­den­t's record col­laps­es in the face of what we know hap­pened inside the facil­i­ties Oba­ma over­saw. Between Jan­u­ary 2010 and Sep­tem­ber 2017 there were 1,224 sex­u­al abuse claims ​"pri­mar­i­ly about inci­dents that took place in ICE cus­tody," as The Inter­cept report­ed. Doc­u­ments pub­lished by CBS News reveal that from Octo­ber 2014 to July 2018, 4,556 sex­u­al abuse com­plaints were report­ed to the Office of Refugee Reset­tle­ment, the orga­ni­za­tion in charge of over­see­ing unac­com­pa­nied migrant minors. In 2014, as depor­ta­tions surged, a hunger strike at the North­west Deten­tion Cen­ter in Taco­ma, Wash­ing­ton began. At its peak there were 1,200 women tak­ing part in the strike, accord­ing to strike sup­port­ers, hop­ing to draw atten­tion to depor­ta­tions, liv­ing con­di­tions and abuse they faced at the hands of ICE agents. In one jar­ring case a bor­der patrol agent con­front­ed a 15-year-old high school stu­dent named Jahveel Ocam­po, threat­ing her with rape, accord­ing to a com­plain filed by the girl: ""Right now, we close the door, we rape you and f*** you. If you coop­er­ate with us, we can deport you to Mex­i­co. Oth­er­wise, we will take you to jail and deport your entire fam­i­ly." This was in 2009.
While they received far less atten­tion, these atroc­i­ties were no secret. In an inter­view with Democ­ra­cy Now!, undoc­u­ment­ed immi­gra­tion activist Maru Mora-Vil­lal­pan­do said at the time that the Oba­ma admin­is­tra­tion had crim­i­nal­ized migrants and decid­ed to ​"van­ish" undoc­u­ment­ed peo­ple from the coun­try. The Amer­i­can Civ­il Lib­er­ties Union pub­lished a report based on more than 30,000 pages of gov­ern­ment doc­u­ments that include alle­ga­tions of child abuse, neglect, denial of med­ical ser­vices and phys­i­cal abuse dat­ing between 2009 and 2014—what the ACLU describes as ​"a fed­er­al immi­gra­tion enforce­ment sys­tem marked by bru­tal­i­ty and law­less­ness." The Oba­ma admin­is­tra­tion's ​"felons not fam­i­lies" cam­paign and explo­sive depor­ta­tion pol­i­cy cul­mi­nat­ed in what advo­cates described as a ​"cul­ture of cru­el­ty," where abuse in deten­tion was com­mon­place and reached the lev­el of torture.
Despite these facts, his­tor­i­cal revi­sion­ism pre­vails. Writ­ing for Salon ear­li­er this month, Aman­da Mar­cotte referred to the elec­tion of Don­ald Trump as mark­ing ​"the end of the treat-migrants-like-peo­ple era," claim­ing that the Oba­ma admin­is­tra­tion was requir­ing Bor­der Patrol agents to ​"treat detained immi­grants like human beings." This nar­ra­tive of a kinder, gen­tler immi­gra­tion sys­tem hav­ing exist­ed under Barack Oba­ma is like­ly the rea­son viral pho­tographs show­ing chil­dren in cages — tak­en dur­ing Obama's tenure — being quick­ly mis­at­trib­uted to Don­ald Trump, even by estab­lish­ment fig­ures like Oba­ma speech­writer Jon Favreau.
Since Trump has been in office, there have been 26 known immi­grant deaths at adult deten­tion facil­i­ties, but chil­dren in CBP cus­tody have not been spared. Car­los Her­nan­dez Vázquez, a 16-year-old Guatemalan teenag­er, was the fourth to die after being interned by CBP. The facil­i­ty in McAllen, Texas where Car­los was held is described by The New York Times as ​"a giant open ware­house [with] chain link fenc­ing sep­a­rates groups of peo­ple." And where there are deaths inside cages, there are deaths near the bor­der. The remains of 127 asy­lum seek­ers were recov­ered in south­ern Ari­zona last year alone thanks in part to the efforts of vol­un­teer orga­ni­za­tion Águilas del Desier­to, or Eagles of The Desert, whose mem­bers comb scorched ter­rain for hope­ful signs of the miss­ing, and the remains of the dead. In Fal­fur­rias, Texas, an hour's dri­ve to the near­est bor­der cross­ing, foren­sic anthro­pol­o­gists uncov­ered 52 bur­ial plots filled with the skele­tal remains of migrants. Bones were found inside trash bags and shop­ping bags, and some not in any bags at all. In the last 15 years alone, at least 700 have died pass­ing through due to dehy­dra­tion and heat­stroke. As bor­der mil­i­ta­riza­tion con­tin­ues, with bipar­ti­san sup­port, there will be more bod­ies in the desert.
Fight­ing back
Reac­tion to bor­der atroc­i­ties is not all hand wring­ing. In 2015 Jen­nicet Gutiér­rez, activist and found­ing mem­ber of La Famil­ia: Trans Queer Lib­er­a­tion, inter­rupt­ed an orna­men­tal Pride Month event at the White House to demand that Barack Oba­ma ​"release all LGBTQ immi­grants from deten­tion and stop all depor­ta­tions." Gutiér­rez was heck­led, booed and thrown out, but not before Oba­ma made his dis­dain clear: ​"You're in my house," he said. ​"Shame on you."
Speak­ing to In These Times, Gutiér­rez argues that in order to under­stand what is hap­pen­ing under the Trump admin­is­tra­tion, ​"peo­ple in our com­mu­ni­ties need to under­stand what was hap­pen­ing under the Oba­ma admin­is­tra­tion. Part of the account­abil­i­ty must include that under Oba­ma, close to three mil­lion peo­ple were deport­ed. It is the high­est num­ber of depor­ta­tions of any admin­is­tra­tion in U.S. history."
Gutiér­rez, who is also an active mem­ber at the nation­al polit­i­cal orga­ni­za­tion Mijente, says that at the time of her White House protest it was dif­fi­cult to get peo­ple to under­stand that the Oba­ma admin­is­tra­tion was com­plic­it in these human rights abus­es because of the wide­ly held belief that he was on the side of immi­grant com­mu­ni­ties. "[Cam­paigns like #Not1More] are ways to hold Democ­rats account­able and remind them that we will nev­er for­get the harm, pain, and ter­ror they cre­at­ed in our com­mu­ni­ties," Gutiér­rez underscores.
The Trump era has seen its own share of protests, many of which are focused on high­light­ing the sys­temic nature of the U.S. pol­i­cy on immigration.
Sophie Ell­man-Golan, Nev­er Again Action (NAA) orga­niz­er, tells In These Times that Jew­ish activists are doing just that. Moti­vat­ed by bor­der atroc­i­ties, 102 activists asso­ci­at­ed with NAA have been arrest­ed thus far, with the pos­si­bil­i­ty of fur­ther arrests to come. ​"Impris­on­ing peo­ple in con­cen­tra­tion camps, vil­i­fy­ing and round­ing up peo­ple who are deemed ​'out­siders,' and turn­ing away asy­lum seek­ers and immi­grants hits close to home for Jews," Ell­man-Golan says. ​"We've seen this before, and we won't wait for it to get worse to take action."
Eli Val­ley, writer, artist and author of Dias­po­ra Boy: Comics on Cri­sis in Amer­i­ca and Israel, explains that the lan­guage used by orga­ni­za­tions like NAA shows a blend of Jew­ish val­ues and con­scious­ness that so many have want­ed to see in action. ​"It's amaz­ing to see it emerg­ing on the streets in a spon­ta­neous man­ner, some­times by peo­ple who had nev­er before found an out­let to express [these val­ues], filled with the feroc­i­ty of his­to­ry and mem­o­ry dur­ing the cur­rent crisis."
Val­ley, whose art­work has chal­lenged lead­ing Demo­c­rat fig­ures on their response to the immi­gra­tion cri­sis and their own capa­bil­i­ty in per­pet­u­at­ing it, argues that ​"while Repub­li­can Lead­er­ship bears the brunt of the blame for delib­er­ate­ly exac­er­bat­ing a cri­sis into actu­al crimes against human­i­ty, Demo­c­ra­t­ic lead­er­ship has not put up near­ly enough fight, and has not mar­shaled the full scope of its pow­ers since win­ning the House, against an admin­is­tra­tion adamant about pur­su­ing poli­cies of eth­nic cleansing."
Trump's zero-tol­er­ance pol­i­cy is a ruth­less con­tin­u­a­tion of exist­ing U.S. pro­to­col, which allows for this admin­is­tra­tion to lav­ish in the cru­el­ty of an immi­gra­tion sys­tem that is designed to bru­tal­ize. But Don­ald Trump was right about the ware­hous­ing of immi­grants and the tools he inher­it­ed. The cages were already built.
Roqayah Chamsed­dine
is a writer, researcher, and host of the Delete Your Account pod­cast. Her work has appeared in The Syd­ney Morn­ing Her­ald, ELLE Mag­a­zine, Splin­ter, Over­land Jour­nal, among others.