Beyond Girl Power: The Answer to the Commodification of Feminism Is a Women-Led Socialist Movement
Liberals are whitewashing feminism and watering down the legacies of socialist women. We mustn't let them rewrite history.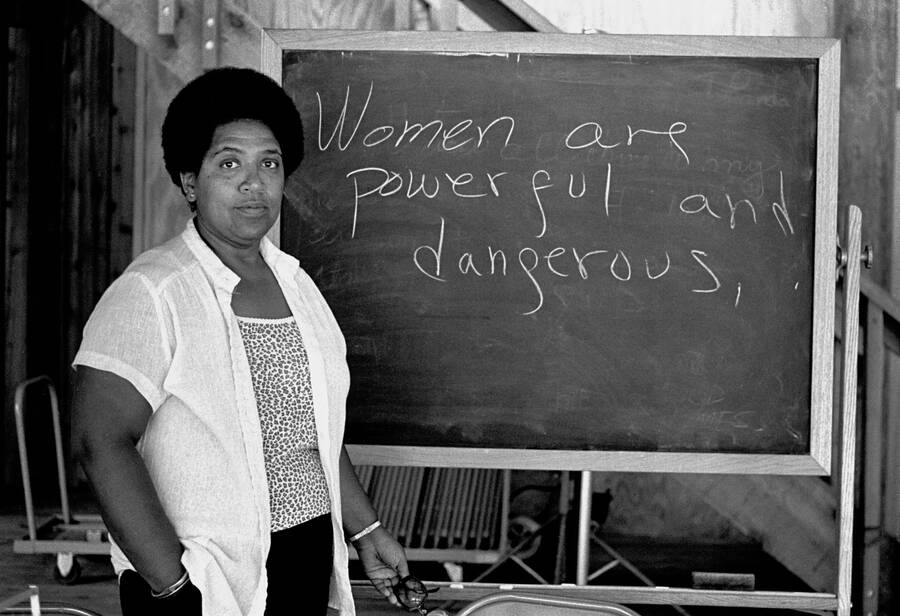 "If Hillary was pres­i­dent, we'd all be at brunch right now" became a lib­er­al requiem in the months that fol­lowed Clin­ton's 2016 pres­i­den­tial loss. The phrase was designed not only to excuse fel­low pro­test­ers of their polit­i­cal lethar­gy dur­ing the Oba­ma era, which became their modus operan­di, but also to infuse a bud­ding move­ment against Don­ald Trump with detach­ment from the leg­isla­tive con­se­quences pro­duced by Hillary Clin­ton and their own his­to­ry of polit­i­cal apa­thy. The Oba­ma admin­is­tra­tion's lega­cy of human rights abus­es, of which Clin­ton was a bene­fac­tor, includ­ed sur­veil­lance pro­grams, exten­sive drone war­fare and extra­ju­di­cial assas­si­na­tions, as well as mass depor­ta­tions, and made use of pow­ers that are now at Don­ald Trump's disposal.
This is symp­to­matic of lib­er­al fem­i­nism, which is embell­ished with ill-defined trap­pings of ​"sol­i­dar­i­ty" and ​"gen­der equal­i­ty" — an evoca­tive land­scape of raised fists and cul­tur­al icons like Princess Leia turned resis­tance fig­ures, but lit­tle polit­i­cal substance.
We saw this through­out the ​"Year of the Woman," as 2018 midterm can­di­dates shame­less­ly mar­ket­ed the ​"girl pow­er" brand — a white­washed ver­sion of fem­i­nism that con­fus­es women's mil­i­tary or polit­i­cal pow­er with liberation.
In the run-up to the midterm elec­tions, the call to diver­si­fy the leg­is­la­ture by ​"elect[ing] more women" became inescapable, lead­ing to cam­paign adver­tise­ments that bear down on ​"girl pow­er." The most aggres­sive exam­ple was a cam­paign video by MJ Hegar, for­mer Air Force com­bat pilot and author of Shoot Like A Girl. In the ad, the now for­mer Demo­c­ra­t­ic can­di­date for Texas' 31st con­gres­sion­al dis­trict is decked out in leather and rid­ing a motor­cy­cle as view­ers are made to con­sid­er her three tours in Afghanistan. Respond­ing to her oppo­nent, Repub­li­can John Carter, who had referred to the fight to hold on to his con­gres­sion­al seat as ​"a war," the video flash­es images of Hegar in uniform.
"Respect­ful­ly con­gress­man, you don't know shit about war," Hegar says, imply­ing that her par­tic­i­pa­tion in a ruth­less occu­pa­tion is proof of her ​"girl pow­er" toughness.
The cam­paign's pièce de résis­tance was the voice of Hegar chal­leng­ing Carter with a tired but effec­tive ques­tion: ​"Are you just afraid you'll lose to a girl?" The digs at Carter are part of Hegar's long-set­tled approach to pol­i­tics. Hegar was first intro­duced to the pub­lic on a wide scale after the release of Shoot Like A Girl, in March of 2017. In the era of ​"Nasty Women," a pejo­ra­tive reclaimed by racial­ly uncon­scious lib­er­al fem­i­nists with the inten­tion of chan­nelling a kind of cool-girl tough­ness, Shoot Like A Girl was a hit, and a film adap­tion of the mem­oir is cur­rent­ly in devel­op­ment, like­ly to star Angeli­na Jolie.
Hegar's advo­ca­cy on behalf of impe­r­i­al fem­i­nism — which appro­pri­ates the lan­guage of women's rights to advo­cate for wars of impe­ri­al­ism — was fur­ther empha­sised by her nation­al­ism. In an essay for For­tune on the 17th anniver­sary of Sep­tem­ber 11, Hegar echoed the ​"clash of civ­i­liza­tions" rhetoric fuel­ing the War on Ter­ror, warn­ing of ​"the dan­ger of grow­ing ene­mies" while describ­ing the events as her generation's moment ​"to look around and take stock of who was with us and who was against us."
Yet Hegar's cam­paign, which gained the sup­port of the nation's lead­ing polit­i­cal action com­mit­tee for women can­di­dates, Emi­ly's List, was wide­ly cat­e­go­rized as an answer to tra­di­tion­al pow­er struc­tures. Stand­ing up for wom­en's rights suit­ed Hegar inso­far as it ignored the role of the Unit­ed States, and specif­i­cal­ly West­ern insti­tu­tions, in the dom­i­na­tion and exter­mi­na­tion of Third World women, includ­ing the count­less women killed in the ruth­less war on Afghanistan that Hegar proud­ly took part in.
Where left-wing fem­i­nism neces­si­tates transna­tion­al resis­tance against cap­i­tal­ism and impe­ri­al­ist vio­lence against women, lib­er­al fem­i­nism — as illus­trat­ed by Hegar's cam­paign — tells women that they too can take part in this vio­lence if they would only devel­op their own cru­el and mil­i­ta­rized girl's club.
The dri­ve to orga­nize more women into office, in oth­er words, is not enough. Despite the glam­or­iza­tion of the elec­toral process, the bal­lot box is no great lib­er­a­tor of women. In this moment, it is imper­a­tive that there be a dis­tinc­tion made between social­ist fem­i­nism and lib­er­al fem­i­nism — and to be cau­tious of the way that the lat­ter is increas­ing­ly adept at dress­ing itself in the cloth of radicalism.
The type of lib­er­al fem­i­nist ide­ol­o­gy espoused by Hegar and oth­ers, has divid­ed the eman­ci­pa­tion of women from its rev­o­lu­tion­ary foun­da­tion. Instead of direct­ly chal­leng­ing impe­ri­al­ism, this ide­ol­o­gy works dili­gent­ly in the ser­vice of vio­lent cap­i­tal­ist hege­mo­ny. In the Unit­ed States, the mobi­liza­tion of women for com­bat is char­ac­ter­ized as a dis­rup­tion of sta­t­ic gen­der roles with­in the mil­i­tary, and yet their pur­pose with­in these mil­i­tary insti­tu­tions reaf­firms the patri­ar­chal under­cur­rents of war and the moral bank­rupt­cy of the patri­o­tism which rein­forces it. Fem­i­nism in the ser­vice of cap­i­tal­ist impe­ri­al­ism demands women abdi­cate respon­si­bil­i­ty and sol­i­dar­i­ty for one anoth­er, with­out con­cern for the glob­al impli­ca­tions of their gen­dered mil­i­tary fetishism. This pur­suit of vio­lence requires that women exert pow­er over com­mu­ni­ties regard­ed as alien in order to civ­i­lize them. It is here that we see women become ves­sels of hege­mo­ny, indulging in impe­r­i­al dom­i­na­tion schemes in order to ​"lib­er­ate" oth­er women, deny­ing them not only their liveli­hood but var­i­ous forms of capital.
Social­ist fem­i­nism, on the oth­er hand, demands not only inter­na­tion­al sol­i­dar­i­ty, but an under­stand­ing of impe­ri­al­ism as a cal­cu­la­tive force of sup­pres­sion and, in the words of Vladimir Lenin, ​"if it were nec­es­sary to give the briefest pos­si­ble def­i­n­i­tion of impe­ri­al­ism we should have to say that impe­ri­al­ism is the monop­oly stage of capitalism."
Hegar's cam­paign was no anom­aly, and her face quick­ly joined the ros­ter of oth­er women who've decid­ed to run for office or seek reelec­tion in order to estab­lish a leg­isla­tive foothold in a polit­i­cal envi­ron­ment mired by prej­u­di­cial and vio­lent atti­tudes towards women. Here we find can­di­dates with estab­lish­ment bona fides like Ann Kirk­patrick (D‑Ariz.), a deficit hawk who cast the decid­ing vote against clos­ing Guan­tá­namo and vot­ed against the Dodd-Frank finan­cial reg­u­la­tion bill when she served in Arizona's first dis­trict from 2009 to 2011, and again from 2013 to 2017. This time around, her cam­paign was a top recip­i­ent from the Wall Street-backed House Vic­to­ry Project. An anony­mous donor who was approached by the orga­ni­za­tion and lat­er declined join­ing told The New York Times that the House Vic­to­ry Project ​"is tak­ing the Wall Street the­o­ry of ​'oth­er people's mon­ey' and apply­ing it to pol­i­tics. They want to be the ones to deliv­er the check, to be the play­ers." Mega-donor financ­ing in sup­port of Kirk­patrick and oth­er Democ­rats undoubt­ed­ly means that ven­ture cap­i­tal­ists, investors and lead­ing Sil­i­con Val­ley fig­ures are look­ing to use their fund­ing as a means to exert polit­i­cal influence.
Then there's Demo­c­rat Elis­sa Slotkin, who was just elect­ed a con­gres­sion­al rep­re­sen­ta­tive of Michi­gan and is heiress to the Hygrade's hot dog for­tune. Slotkin oppos­es Medicare for All and ran pri­mar­i­ly on her expe­ri­ence in the CIA and George W. Bush's Nation­al Secu­ri­ty Coun­cil. Much like Hegar, Slotkin relied heav­i­ly on the lan­guage of mil­i­tary servi­tude dur­ing her cam­paign, using patri­o­tism as a bipar­ti­san uni­fi­er. In an inter­view with TIME, Slotkin empha­sized the Demo­c­ra­t­ic Par­ty's duty to coop­er­ate with Repub­li­cans and reclaim their ​"Amer­i­can val­ues," and railed against what she described as polit­i­cal ​"vit­ri­ol." Like Hegar, Emily's List advo­cat­ed on behalf of Slotkin, describ­ing her as a ​"nation­al secu­ri­ty leader." Repub­li­can Women For Progress PAC went as far as to run a $50,000 ad for Slotkin, which turned out to be a win­ning ven­ture for both: Slotkin defeat­ed Rep. Mike Bish­op and hand­ed Democ­rats anoth­er House seat.
Rewrit­ing his­to­ry in ser­vice of ​"girl power"
"Girl pow­er" is not just a ban­ner in which women can­di­dates wrap them­selves to add a veneer of fem­i­nism — it's also used to rewrite history.
In Good­night Sto­ries For Rebel Girls, a book series mar­ket­ed as an ​"anti-princess" chron­i­cle of hero­ines in the vein of lib­er­al fem­i­nism, read­ers are not only intro­duced to Fri­da Kahlo, the artist behind ​"Marx­ism Will Give Health to the Ill," but also to Mar­garet Thatch­er, who had once cat­e­go­rized fem­i­nism as ​"poi­son." Rebel Girls is mate­r­i­al explic­it­ly pro­duced in order to fur­nish young girls and women with fem­i­nist icons, but which simul­ta­ne­ous­ly white­wash­es the role of fig­ures like Thatch­er, whose bru­tal­i­ty not only defined her polit­i­cal career but her very char­ac­ter. Kahlo, the steely com­mu­nist whose cof­fin was adorned not only with flow­ers but the ham­mer and sick­le, is now remod­eled as a ​"boss lady," a puerile expres­sion of fem­i­nist "'empow­er­ment." Kahlo was depict­ed along­side the likes of Glo­ria Steinem, who once know­ing­ly worked for — and even defend­ed—a CIA-fund­ed anti-com­mu­nist front group, and for­mer Sec­re­tary of State Clinton.
The illus­trat­ed book was a fore­see­able crowd pleas­er, break­ing fundrais­ing records and rak­ing in a mind-numb­ing $1.2 mil­lion. The pro­jec­t's suc­cess was encour­aged not only by way of super­fi­cial media cov­er­age, but also an all-star cast of celebri­ty endorsers who lent their voic­es to the audio­books, includ­ing bil­lion­aire Melin­da Gates, as well as Hillary Clin­ton, whose wide­ly pre­dict­ed vic­to­ry the authors had intend­ed to use as an accom­pa­ni­ment to the book's release.
This pop-fem­i­nist exhi­bi­tion­ism is ide­o­log­i­cal­ly emp­ty, and demands not only that adher­ents ignore the crimes of their impe­ri­al­ist hero­ines — but com­pels women to con­front patri­ar­chal insti­tu­tions by mass pro­duc­ing fem­i­nist appar­el, glo­ri­fy­ing women engag­ing in the bar­bar­i­ty of impe­ri­al­ist war and encour­ag­ing the pro­lif­er­a­tion of women CEOs. Where left-wing women con­front the glob­al exploita­tion of women work­ers, estab­lish­ment ​"girl pow­er" responds with a tooth­less game of dress up where ​"the future is female" and the work­place over­seer is a bad bitch.
Wen­di Muse, host of the Left POCk­et Project and a Ph.D. Can­di­date in His­to­ry at New York Uni­ver­si­ty, argues that empha­siz­ing the ​"right" words — and not lib­er­a­to­ry actions — has result­ed in the cel­e­bra­tion of those whose con­duct has direct­ly harmed oth­ers, espe­cial­ly women and girls. ​"What we see, for exam­ple, is a lib­er­al fem­i­nist embrace of Hillary Clin­ton and dis­gust toward the young Black Lives Mat­ter and cli­mate change activists who protest­ed her," she contends.
Anoth­er ele­men­tal fea­ture of such dis­plays is the dilu­tion of his­tor­i­cal, left-wing women, and the exploita­tion of their like­ness. The insur­rec­tionary aes­thet­ic of Audre Lorde, a self-described ​"Black les­bian fem­i­nist social­ist" whose work has pio­neered the way our move­ments engage with race, wom­an­hood, homo­pho­bia and cap­i­tal­ism, was so con­ve­nient for the ide­o­log­i­cal­ly hol­low mas­ter­minds behind the viral ​"Nasty Woman" T‑shirt that she was sand­wiched into a deck of play­ing cards. In Sis­ter Out­sider, Audre Lorde reads prophet­ic as she describes the impor­tance of defin­ing her own lega­cy or else ​"be crunched into oth­er peo­ple's fan­tasies … and eat­en alive."
And in the lead-up to Inau­gu­ra­tion Day, a cam­paign to print and dis­trib­ute ​"new images that reject the hate, fear and open racism" of Don­ald Trump was launched with the inten­tion of cre­at­ing a visu­al­ly strik­ing response to his elec­tion. The effort, spear­head­ed by an art coali­tion that is part­nered with the Wom­en's March, raised a stag­ger­ing $1.3 mil­lion. The viral hit from the series was a poster fea­tur­ing a Mus­lim woman, her hair cov­ered in an Amer­i­can flag. ​"We the peo­ple are greater than fear," it reads. Hoda Kate­bi, who writes the blog Joo­Joo Azad, explains that ​"this sim­pli­fi­ca­tion of iden­ti­ty and essen­tial­iza­tion of sym­bols — be it a hijab or ​'wom­an­hood' — and lib­er­als' inabil­i­ty to hold account­able their heroes of rep­re­sen­ta­tion are also direct­ly respon­si­ble for allow­ing many vio­lent, anti-fem­i­nist poli­cies or cul­tur­al out­looks to exist simul­ta­ne­ous to pro­gres­sive pol­i­tics or ideology."
Kate­bi, who is the author of Tehran Street­style, host of #BecauseW­ev­eRead and a Chica­go-based com­mu­ni­ty orga­niz­er, con­tin­ues, ​"It's so deeply inte­gral that we do not lose sight of our­selves for rep­re­sen­ta­tion that is shal­low, sim­plis­tic and not all-encom­pass­ing. And com­pro­mis­es after all are the destruc­tion of our true his­to­ries, ide­olo­gies, and move­ments for liberation."
Toward a social­ist feminism
While domes­tic U.S. con­cerns occu­py most — if not all — space with­in lib­er­al fem­i­nist dis­course, under­stand­ing the con­di­tions of glob­al strug­gles is a require­ment to build inter­na­tion­al­ist coali­tions against cap­i­tal­ism. Muse, whose dis­ser­ta­tion inves­ti­gates Por­tuguese Africa's impact on the Brazil­ian Left, argues that, in spite of the vic­to­ry of fas­cist pres­i­den­tial can­di­date Jair Bol­sonaro, Brazil pro­vides an exam­ple of women vig­or­ous­ly reclaim­ing their space in soci­ety in the face of eco­nom­ic aus­ter­i­ty. ​"We see so much rig­or­ous left fem­i­nism com­ing out of places like Brazil, where its first woman pres­i­dent was removed from office in a 2016 coup and replaced with some­one who froze pub­lic spend­ing," she argues. ​"A large part of their strug­gle has been an insis­tence on the state to imple­ment poli­cies that explic­it­ly seek to pro­vide an envi­ron­ment in which women and girls of low­er eco­nom­ic back­grounds are no longer restrict­ed from access to basic rights," says Muse.
Lib­er­al feminism's answer to glob­al white suprema­cy is not an inter­na­tion­al­ist van­guard but self-indul­gent patri­o­tism, cos­tumed in mil­que­toast slo­ga­neer­ing and imagery. Its impo­tence is most con­spic­u­ous in the face of mil­i­tant white nation­al­ism, where it speaks affa­bly and urges polit­i­cal civil­i­ty.
In Dou­ble Jeop­ardy: To Be Black and Female, social­ist author Frances M. Beale asserts that ​"If the white groups do not real­ize that they are, in fact, fight­ing cap­i­tal­ism and racism, we do not have com­mon bonds." White women, Beale argues, must real­ize that the rea­son for their con­di­tion is found ​"with­in the Sys­tem" and that absolute lib­er­a­tion is only attain­able through the destruc­tion of capitalism.
As we gear up for anoth­er ros­ter of women can­di­dates in 2020, we need to be alert to the dan­gers of ​"girl pow­er" trap­pings and reject any attempt to dis­guise mil­i­tarism as fem­i­nism or racism as rad­i­cal­ism. It is for this rea­son that any exam­i­na­tion of the rev­o­lu­tion­ary trans­for­ma­tion of soci­ety is incom­plete with­out address­ing the piv­otal role of left­ist women such as Lorde and Kahlo, espe­cial­ly their con­tri­bu­tions to the his­to­ry of work­ing-class strug­gle. Their com­mit­ment to wom­en's lib­er­a­tion is not only bathed in fierce anti-cap­i­tal­ism but is insep­a­ra­ble from con­fronta­tions with impe­ri­al­ism, and the advance­ment of inter­na­tion­al­ism, mak­ing them piv­otal forces in dis­rupt­ing the insti­tu­tion­al fem­i­nist tra­di­tion. It is left-wing women who — despite hav­ing had their con­vic­tions doc­tored and the chron­i­cles of their lives dis­mem­bered of near­ly all sub­ver­sive ener­gy — remain inspi­ra­tional forces in our past and present his­to­ry of the fear­less, lib­er­a­to­ry strug­gle against capitalism.
Roqayah Chamsed­dine
is a writer, researcher, and host of the Delete Your Account pod­cast. Her work has appeared in The Syd­ney Morn­ing Her­ald, ELLE Mag­a­zine, Splin­ter, Over­land Jour­nal, among others.